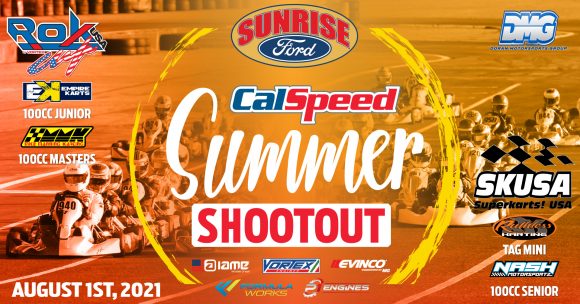 The CalSpeed Summer Shootout presented by Sunrise Ford is a competition karting event that aims to crown the best of the best in air-cooled karting across 4 classes: Tag Mini, 100cc Junior, Senior, and Masters. Drivers will compete for Tickets to ROK Vegas in 100cc Junior and Masters, while Tag Mini and 100cc Senior will compete for SKUSA SuperNationals tickets. Additionally, $1000 will be awarded to the winner of each class to help them make the trip! Both the Mini Rok and Mini Swift engines will be legal in the Tag Mini category, both Vortex VLR and the Iame KA engine packages will be legal for both the 100cc Senior and Masters classes, while the 100cc Junior class will be VLR only. All classes will be astride the Evinco Blue tire, with a set of tires being included with the entry. For more information, or if you have any questions about the event, reach out to Mike Smith at 951-506-9363, or via email at mike@calspeedkarting.com
Classes…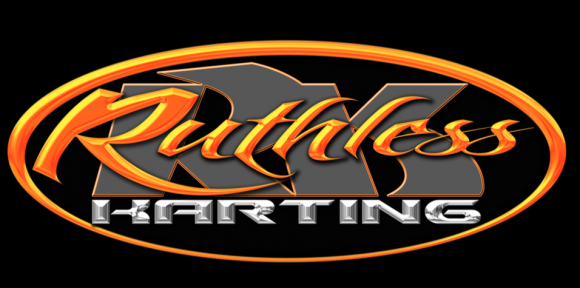 Ruthless Karting Tag Mini [9-13 yrs] (245 lbs)- Vortex Mini Rok OR IAME Mini Swift engine allowed
Empire Karts 100cc Junior [12-15 yrs] (310lbs) – ONLY Vortex VLR allowed
NASH Motorsportz 100cc Senior [14+ yrs] (360lbs) – Vortex VLR OR IAME KA engine allowed
Mike Manning Karting 100cc Masters [32+ yrs] (380lbs) – Vortex VLR OR IAME KA engine allowed
Entry Fee and Tires…

Tag Mini entry will be 315*, while the 100cc classes will be at 325*, with each entry getting a set of Evinco Blue tires with it. Tires will be available for pick up morning of the event, August 1st.
*WALK UP ENTRIES ONLY NOW – $65 for Mini, $375 for 100cc classes
Track Configuration and Practice…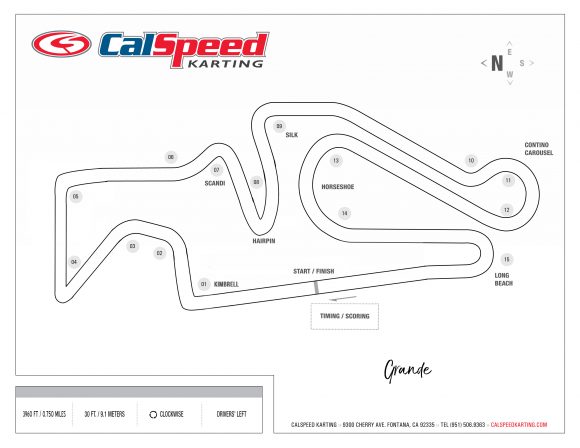 While most of the month of July will be on Grande counter clockwise, The CalSpeed Summer Shootout will take to the Grande clockwise layout, or "forward" for long time CalSpeed patrons.
The track will be put in place for regular open practice on Wednesday and Friday, July 28th and 30th, with competitors sharing the track with rentals and other regular attendees of CalSpeed.
On Saturday the 31st however, a time-certain schedule will be in place, with class restrictions in place for the 4 classes on offer, plus a few other normal classes seen on a typical practice day at CalSpeed. ShootOut classes will have their own run groups, while groups for 125cc (shifters and tag) as well as a novice/break in session, and a micro session may all be potential run groups.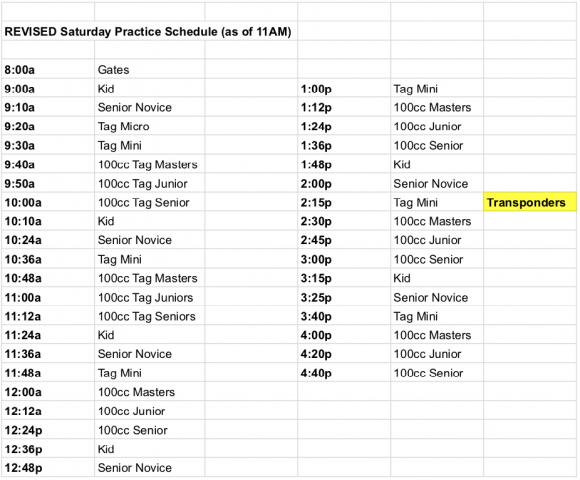 Pit Map…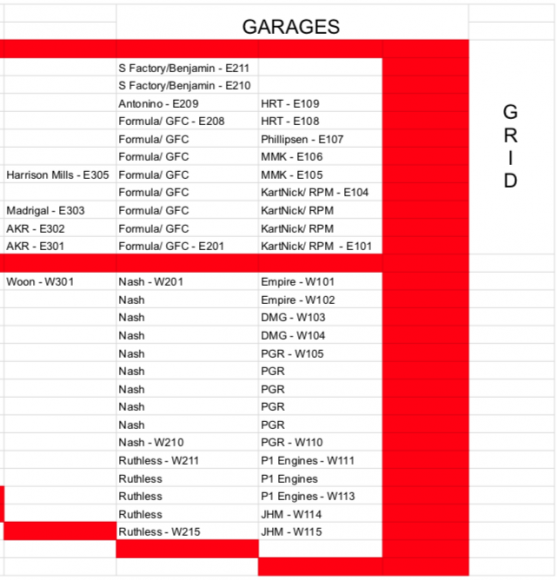 Race day format for 'The SHOOTOUT'…
With only 4 classes on the docket for race day, there will be plenty of time to not only put a spot light on the talent on track, but give plenty of laps for drivers to do battle. The day will start out with a 10 minute practice session, followed by a green/white/checkered qualifying, with racing taking place over a Pre-Final and Final to see who brings home the tickets to Vegas…
Format-
Practice: 10 Minutes
Qualifying: Green/White/Checkered
Pre-Final: 14 laps, 12 for Mini
Final: 22 laps, 20 for Mini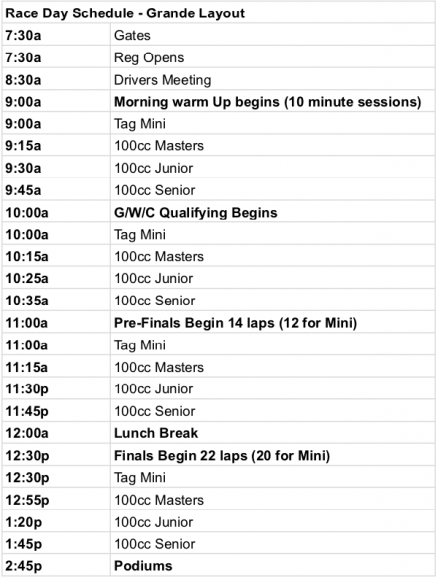 The Prizes…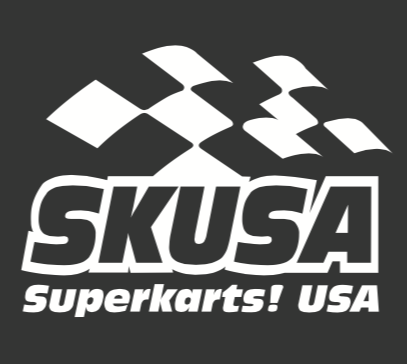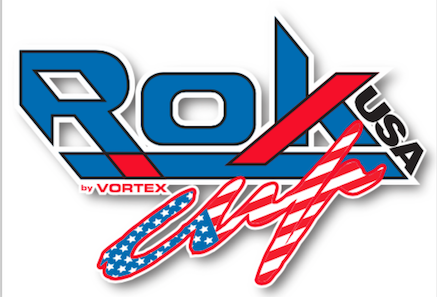 Each class will be racing for $1000, and tickets to the biggest and most prestigious karting events for SKUSA and ROK Cup USA:
The SKUSA SuperNationals XXIV at the Rio All Suites Hotel & Casino December 1-5, and the ROK Vegas event at Paris/Planet Hollywood just off the strip November 3-7.
The Tag Mini and 100cc Senior classes will be fighting for SuperNats tickets, while the 100cc Junior and 100cc Masters categories will aim to take home tickets to ROK Vegas…


$100 will be awarded to the 'P1 Engines Pole Award' winner in each class, while an additional $100 will be awarded to the overall fastest lap on the weekend per category via the 'Formula Works Fast Lap Award'..
Broadcast Booth sponsored by DMG Motorsports…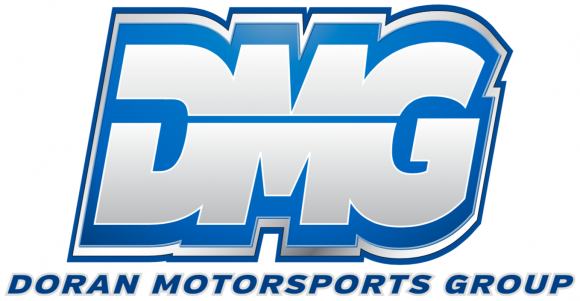 Event coverage for this event will be of the same high level seen from all of CalSpeed's events in the past, from class-by-class previews ahead of the event, to play by play announcing broadcast online during the event from the Broadcast Booth on the grid. That play by play will be coming from CalSpeed's Mike Smith, with additional interviews throughout the event posted online by Sean Buur, all brought to you by our broadcast partner for this event, DMG Motorsports!
SmittyHappens is on Mixlr