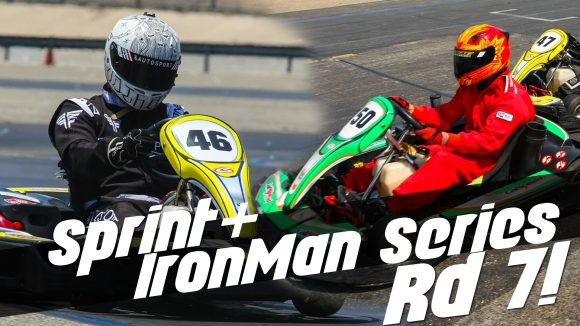 Practice/Quali
Classico is the shortest track here at CalSpeed and drivers were quick to make blistering paces for this round of the Sprint Series. Kevin Erikson has been putting down his best in the last few rounds and was ever-so-close to again pulling off a pole. He was bested by some pretty amazing types in a window of 2/10ths: Randy McKee off-pole, winner of Sprint Round 6 and Thomas Blackledge on-pole, current leader of the season.
Quali Results

| | | |
| --- | --- | --- |
| 1) | Thomas Blackledge | 51.763 |
| 2) | Randy McKee | 51.877 |
| 3) | Kevin Erikson | 51.956 |
| 4) | Samuel Hunt | 52.078 |
| 5) | Tom Zevin | 52.119 |
---
Heat 1A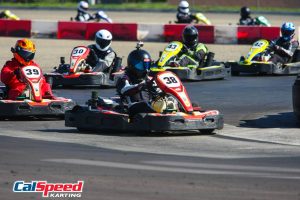 The first heat of the day saw Scott Milne and Blackledge dueling immediately from the get go. Tyler Rousseau, currently 7th in points and lately scoring his season bests each round, was starting 5th and after only a couple laps, brought the battle to Milne. However, the catch up would soon become a struggle as Milne began walking away from the rest of the field. With the flag just up ahead, Long Beach saw the battle for P2 grow 5 karts large. Rousseau came out on top from the mess, some of which brought a penalty or two upon some drivers. Checkered was nicely handed to Milne for his first ever heat win, followed by Rousseau and then Blackledge as the main beneficiary of another driver's penalty.
Heat 1A Results

| | |
| --- | --- |
| 1) | Scott Milne |
| 2) | Tyler Rousseau |
| 3) | Thomas Blackledge |
| 4) | Caden Thure |
| 5) | Donnie Clarke |
---
Heat 1B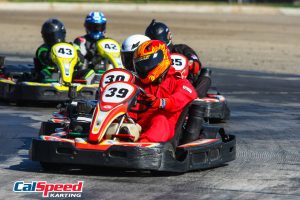 During Round 6, McKee managed a perfect points day, winning both his heat and the main– was he going to pull it off again as the pole sitter in 1B? As the green flag flew, McKee started off strong while Don Diego Veloria swept through turn 4 to jump ahead of Samuel Hunt for the P2 position. A huge train of drivers swallowed up Hunt with Danny Bopp then sitting in P3 with Diego Alvarado in tow. There was still quite a distance to cover to reach the two front runners so it wasn't until a blue flag situation about halfway through that the gap closed. Alvarado was the fastest of the bunch as the top 4 approached the white flag. The final lap would end with no hoopla however as none of them made a move all the way to the checkered!
Heat 1B Results

| | |
| --- | --- |
| 1) | Randy McKee |
| 2) | Don Diego Veloria |
| 3) | Danny Bopp |
| 4) | Diego Alvarado |
| 5) | Samuel Hunt |
---
Heat 1C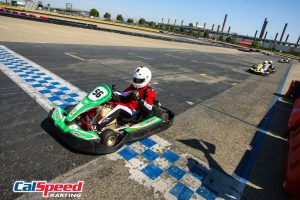 A great start for Kevin Erikson in heat 1C had him running off at the green flag. Nathan Isaacson and Seth Willits were battling it out for the third position when Isaacson went for the inside pass down the hill towards the Grande corner to come out ahead. Erikson, having to hold off the two behind, would have to deal with Willits' much quicker pace. Ultimately, Willits managed an excellent move through the Classico Esses to take hold of the lead. Through the white flag and onto the checkered, he would take the win after starting in 5th.
Heat 1C Results

| | |
| --- | --- |
| 1) | Seth Willits |
| 2) | Kevin Erikson |
| 3) | Nathan Isaacson |
| 4) | Daniel Eaton |
| 5) | Tom Zevin |
---
C-Main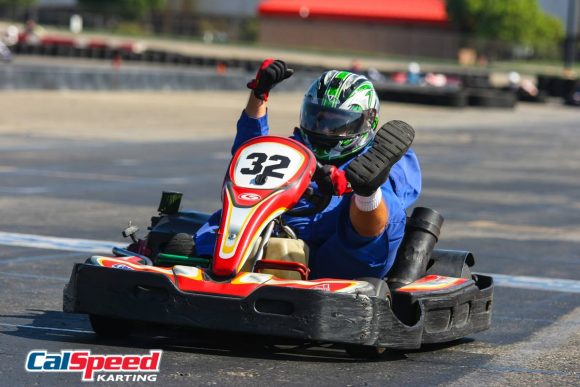 Our mains began with Doug Yauney leading the C-Main like it was no one else's business with multiple kart lengths. Clayton Herndon and Long Ma, new to the Sprint Series, would put their best foot forward to try and catch up with Yauney. As the rest of the field settled into a long chain of drivers, the halfway mark passed and soon too came the white flag. Ma and Herndon had now switched places with Ma in P2. They would duel briefly through the Grande hairpin but Ma would maintain his P2 as they approached the checkered.
C-Main Results

| | |
| --- | --- |
| 1) | Doug Yauney |
| 2) | Long Ma |
| 3) | Clayton Herndon |
| 4) | Vince Horst |
| 5) | Paul Rodriguez |
---
B-Main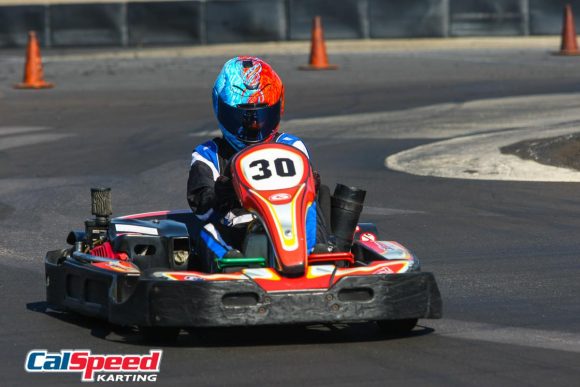 Spencer Russell was off to a good start in the B-Main, jumping from 3rd and straight to 1st. Joseph Perry latched on to P2 as the two pushed onward attempting to maintain a good draft. Closing in on the two was the cluster of Sheng Wu, David Cody, and Jetson Lieser. With 4 laps to go, Lieser took a few peeks going down the hill but no success would take place yet. The white flag came out and a second place fight raged on between Perry, Wu, and Lieser and Wu would take action in the Grande hairpin, ahead of the other two. The Classico Esses served as the final battleground and all 3 would tangle as Lieser emerged to grab P2 and Wu settling for P3 after some penalties shuffled a few drivers around.
B-Main Results

| | |
| --- | --- |
| 1) | Spencer Russell |
| 2) | Jetson Lieser |
| 3) | Sheng Wu |
| 4) | Joseph Perry |
| 5) | David Cody |
---
A-Main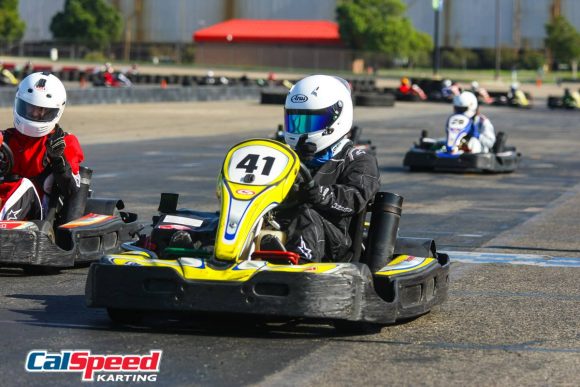 The top 7 drivers in the A-Main would shuffle entirely as lead change after lead change would set the stage for the final race of the day. A string of 6 drivers huddled together in a front pack while McKee and Willits shuffled for the lead. With 6 laps to go, Blackledge maneuvered masterfully through the Esses for a pass landing him in P2 after starting 7th. Very quickly, he became the new leader going through Scandi ahead of Willits and Erikson, the latter of which having yet to podium in the Sprint Series. The lead pack stood at 5 drivers not letting up on their efforts to move forward. No one was about to make it easy for their opponents here as Willits went for the pass in Carousel but would be quashed back into 2nd by Blackledge. For the 4th time this season, Blackledge would take home the win with Willits in P2 and Erikson rounding out the podium.
A-Main Top 10 Results

| | |
| --- | --- |
| 1) | Thomas Blackledge |
| 2) | Seth Willits |
| 3) | Kevin Erikson |
| 4) | Scott Milne |
| 5) | Tyler Rousseau |
| 6) | Daniel Eaton |
| 7) | Don Diego Veloria |
| 8) | Nathan Isaacson |
| 9) | Samuel Hunt |
| 10) | Randy McKee |
---
The skinny on the points championship? Samuel Hunt and Kevin Erikson are now inside the top 10 in points. Everyone has moved up, including points leader Thomas Blackledge. What was previously a 60 point lead to Don Diego Veloria in 2nd place, is now 87 points. The battle for the rest of the Sprint podium is now 45 points across Veloria, McKee, and Alvarado, the latter of which is expected to bow out for several more races this season. That leaves some hopeful efforts for Caden Thure who will have to replicate his first round performance if he hopes to bring the fight to the front once more.
On the flip side, the Summer standings are looking a bit more different. McKee's perfect day last round still keeps him in the front while Willits and John Rice (absent from Round 7) tie for 2nd. It's certainly too early to say who will bring that sub-championship home…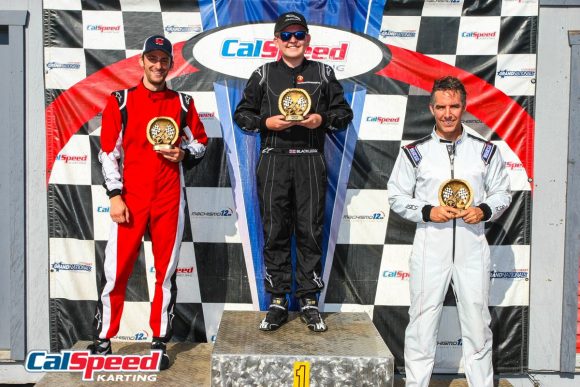 Sprint 2017 Current Standings (With Drop)
| | | | |
| --- | --- | --- | --- |
| 1) | Thomas Blackledge | 1480 | (545) |
| 2) | Don Diego Veloria | 1397 | (483) |
| 3) | Randy McKee | 1366 | (486) |
| 4) | Diego Alvarado | 1352 | (0) |
| 5) | Caden Thure | 1315 | (449) |
| 6) | Seth Willits | 1284 | (162) |
| 7) | Tyler Rousseau | 1245 | (177) |
| 8) | Kevin Erikson | 1225 | (290) |
| 9) | Dmitry Korotkov | 1176 | (0) |
| 10) | Samuel Hunt | 1157 | (282) |
Sprint 2017 Summer Standings (With Drop)
| | | |
| --- | --- | --- |
| 1) | Randy McKee | 300 |
| 2) | Seth Willits | 295 |
| 3) | John Rice | 295 |
| 4) | Thomas Blackledge | 290 |
| 5) | Tyler Rousseau | 285 |
| 6) | Kevin Erikson | 285 |
| 7) | Calvin Ku | 285 |
| 8) | Scott Milne | 285 |