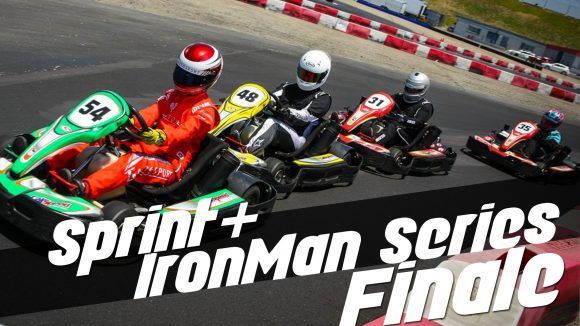 Icing on the cake, cherry on top, whatever you would proverbially call winning the last race of a stellar season: that's the storm cooked up by Sprint Series Round 10. The stage was set to find out who would take the final two steps of the podium and this round's drivers put on battles that did not disappoint.
Practice/Quali
Going into the third group of qualifying, the question was this: would anyone be able to out-do Jetson Lieser's 1:06.709 from the second group? With the session under way, it looked like Tyler Rousseau would be able to pull it off. As the clock counted down however, not a one had been able to reach the 1:06 range until finally Don Diego Veloria managed to slide in, Rousseau as well. Still, it wouldn't be quite enough. Robert Hernandez came up from the ranks and nabbed off-pole, his highest result ever, slotting right behind Lieser's pole position for round 10.
Quali Results

| | | |
| --- | --- | --- |
| 1) | Jetson Lieser | 1:06.709 |
| 2) | Robert Hernandez | 1:06.878 |
| 3) | Don Diego Veloria | 1:06.916 |
| 4) | Tyler Rousseau | 1:06.941 |
| 5) | John Rice | 1:07.115 |
---
Heat 1A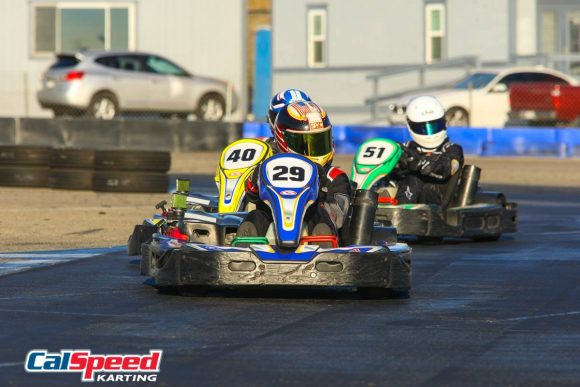 From the get go, Lieser and Rousseau linked up to make haste ahead of the rest for heat 1A. Scott Milne starting 4th was able to jump ahead of Caden Thure in 3rd but these top 4 would all stick closely together. Rousseau ran slightly wide in turn 4, leaving the door just open enough for Lieser to steal the lead while Milne and Thure held on. Lots of nudging going on amongst drivers for P3 between Mark Sternberg, Thure, Ivan Martinez, and Milne– the pushing and shoving saw Sternberg now in position for third. With the white flag now in the air, contact at Long Beach in the lead group brought Martinez into light as the main beneficiary, grabbing third for the checkered behind Lieser and Rouseau.
Heat 1A Results

| | |
| --- | --- |
| 1) | Jetson Lieser |
| 2) | Tyler Rousseau |
| 3) | Ivan Martinez |
| 4) | Scott Milne |
| 5) | Mark Sternberg |
---
Heat 1B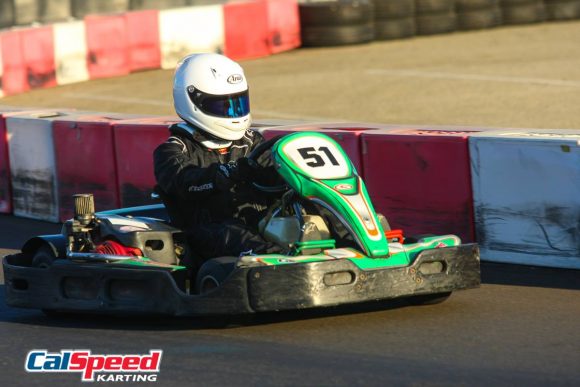 Hernandez's good run in qualifying put him on pole for heat 1B but previous podium winners John Rice and 2017 Champ TJ Blackledge were hot on his heels. Blackledge immediately took the lead at turn 4 and their top 3 broke away. With Blackledge bolting forward and Hernandez just hanging on, Rice would be left to contend with Dmitry Korotkov. The two would tussle constantly until Korotkov finally got ahead. Blackledge took the checkered with Hernandez in tow and Korotkov third.
Heat 1B Results

| | |
| --- | --- |
| 1) | Thomas Blackledge |
| 2) | Robert Hernandez |
| 3) | Dmitry Korotkov |
| 4) | Randy McKee |
| 5) | Michael Hottinga |
---
Heat 1C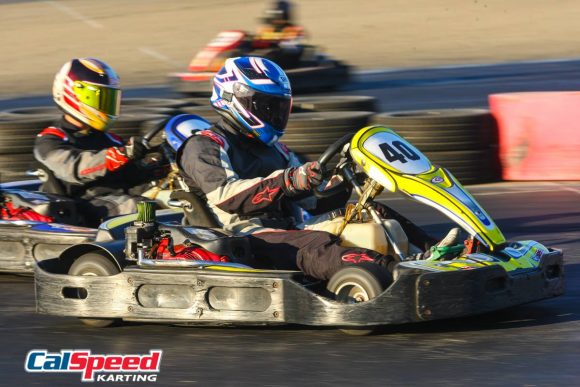 On pole for heat 1C was Don Diego Veloria, in a points fight to keep a hold of his overall 2nd in the 2017 Championship. Rival Thure finished 6th in his heat earlier in the day so finishing higher than that was a tad important… He led the way at the green with Daniel Eaton, Luis Calderon, and Lucas Dziemidok following. Eaton would not let up in any way, attempting attacks at every corner possible. Veloria's pace was still amazing however, and Dziemidok, now in P3, would not be able to get quite in reach of the top 2. At the white flag, he would fight with Calderon and Owen Lerman but kept his defenses strong to wrap up the race behind Veloria and Eaton.
Heat 1C Results

| | |
| --- | --- |
| 1) | Don Diego Veloria |
| 2) | Daniel Eaton |
| 3) | Lucas Dziemidok |
| 4) | Luis Calderon |
| 5) | Owen Lerman |
---
C-Main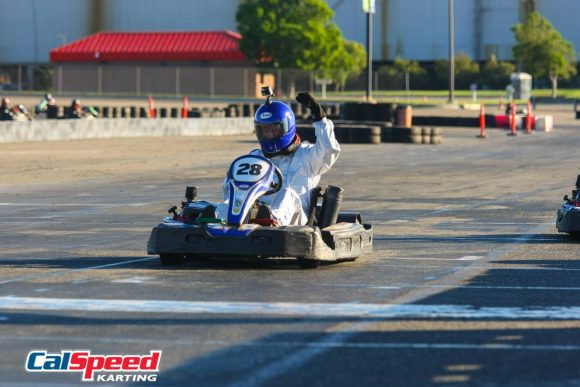 C-Main's green flag saw Masa Tanaka taking the lead unquestionably, leaving a trail of dust behind. The rest of the field however would not be able to cruise away so easily. Early on, multiple drivers shuffled around at Long Beach; keeping an eye on a bee swarm lends little detail to the viewer. That said, David Cody and Paul Rodriguez emerged in the front of the P2 pack with Mark Walton and Juan Ricart chasing them down feverishly. The latter held sternly onto third, hanging right behind P2 driver Cody, pushing the rest out of the picture. M. Tanaka pulled off a cruise ship win followed by Cody and Ricart.
C-Main Results

| | |
| --- | --- |
| 1) | Masa Tanaka |
| 2) | David Cody |
| 3) | Juan Ricart |
| 4) | Tony Wika |
| 5) | Wayne Adams |
---
B-Main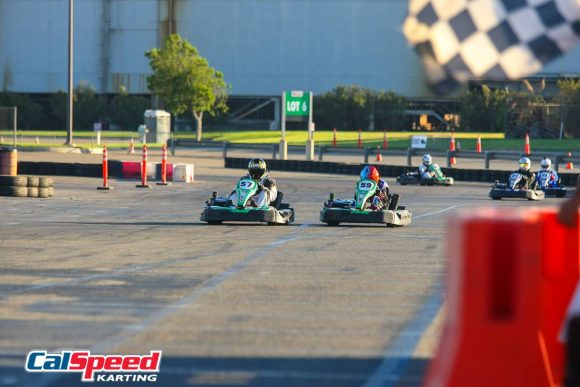 The start of the B-Main had Spencer Russell quickly making strides ahead of Brian Starr and Eric Monteith. The latter two would be spotted at Carousel, Horseshoe, Turn 4– every corner imaginable– running side by side allowing Russell to get away. Matt Steele crept up on the Monteith-Starr duel with Monteith somehow managing to reel in Russell right before the white flag. A battle for P3 ensued between Starr and Steele while Russell and Monteith ran two by two out of Carousel. It was a game for the two as they drag raced for the finish with Monteith coming out on top, Russell following and Steele third.
B-Main Results

| | |
| --- | --- |
| 1) | Eric Monteith |
| 2) | Spencer Russell |
| 3) | Matt Steele |
| 4) | Brian Starr |
| 5) | Tony Chen |
---
A-Main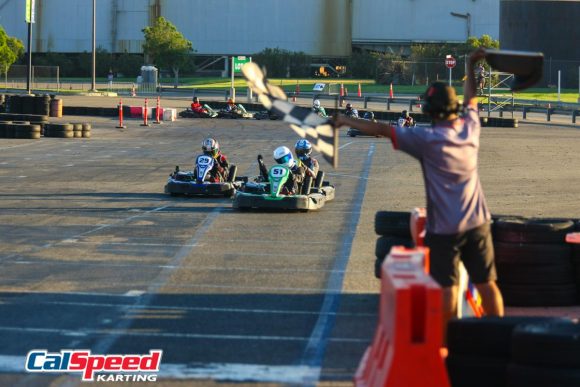 Eyes were all on the top 3:
Don Diego Veloria- pretty much had P2 in the bag for the championship, but had yet to stand on the top step at any Sprint Series round
Jetson Lieser- having just wrapped up his first season in LO206 at Tri-C Karters, vying very aggressively for any position forward
Thomas Blackledge- your 2017 Sprint Series champ, quite simply an undoubted threat to anyone in front of him
And green. Winning the final race of the season always has a sort of special feel to it– each of the top 3 marched into the A-Main with this top of mind, all with varying strategies to meet that goal. From the get-go, Veloria and Lieser took to dogfighting, swapping the lead a few times. From the outside looking in, it became immediately apparent that Blackledge was going to wait patiently while conversely, Lieser had no qualms about delving out aggressive attacks against Veloria. Blackledge had only to wait for the door to be opened for him… At four laps to go, it seemed like Lieser had the better exit from Contino but no, Veloria in this round was at his very best and staved him off. The white flag was now held high, and it was as this writer predicted: Lieser dove for one final shot at the Long Beach corner leaving the door wide open for Blackledge to take the advantage, passing both drivers for that 1st place cherry on top of a superb 2017 Sprint Series season as Winter, Summer, and Overall Champion!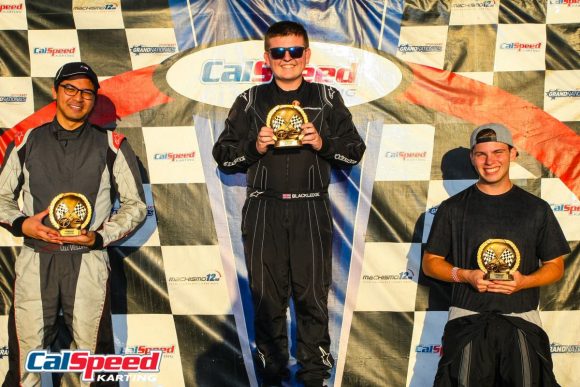 A-Main Top 10 Results

| | |
| --- | --- |
| 1) | Thomas Blackledge |
| 2) | Don Diego Veloria |
| 3) | Jetson Lieser |
| 4) | Daniel Eaton |
| 5) | Tyler Rousseau |
| 6) | Scott Milne |
| 7) | Robert Hernandez |
| 8) | Ivan Martinez |
| 9) | Luis Calderon |
| 10) | Randy McKee |
---
Sprint 2017 Top 10 Final Standings (With Drop)
| | | | |
| --- | --- | --- | --- |
| 1) | Thomas Blackledge | 2370 | (545) |
| 2) | Don Diego Veloria | 2219 | (479) |
| 3) | Caden Thure | 2148 | (445) |
| 4) | Randy McKee | 2114 | (480) |
| 5) | Tyler Rousseau | 2037 | (177) |
| 6) | Kevin Erikson | 1896 | (118) |
| 7) | Eric Monteith | 1764 | (0) |
| 8) | Tony Wika | 1746 | (80) |
| 9) | Spencer Russell | 1740 | (335) |
| 10) | Owen Lerman | 1696 | (307) |
Sprint 2017 Summer Sub-Championship Final Standings (Top 3)
| | | |
| --- | --- | --- |
| 1) | Thomas Blackledge | 1180 |
| 2) | Tyler Rousseau | 1115 |
| 3) | Scott Milne | 1115 |