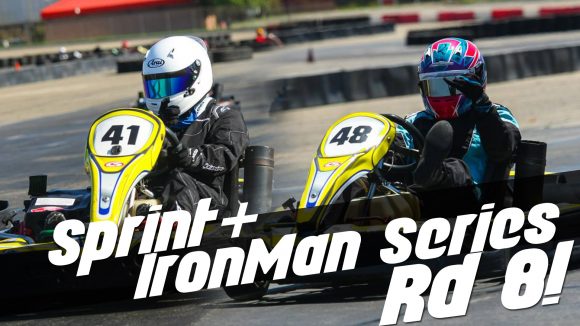 Returning to counterclockwise after a few month's hiatus, the curveball that was Classico CCW for Sprint Series Round 8 presented new scenarios with the freshly repaved Esses and Silk corners, almost completely changing the strategies needed for drivers to push on through. It was anyone's guess as to what would happen this triple digit weekend and it looked to be that a first time winner would end up taking the mantel…
Practice/Quali
Starting the day off strong, Kevin Erikson took to qualifying with ease, having put up consistently great numbers in the past few rounds. Multiple round winner from 2016, Luis Calderon, made a last minute surprise appearance this round, also showing that he still has what it takes to come out on top. As quali wrapped up, Caden Thure earned pole with a swift 54.377, besting teammate Thomas Blackledge by a 10th of a second.
Quali Results

| | | |
| --- | --- | --- |
| 1) | Caden Thure | 54.377 |
| 2) | Thomas Blackledge | 54.491 |
| 3) | Scott Milne | 54.514 |
| 4) | Luis Calderon | 54.604 |
| 5) | Kevin Erikson | 54.655 |
---
Heat 1A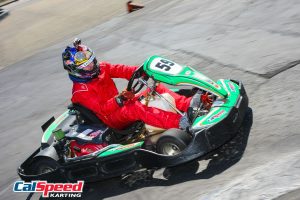 Going into the first heat of the day, heat 1A saw multiple top contenders in the front as well as Calderon, P3 in the 2016 championship. Thure led the way, creating significant distance over the rest after continuously going purple. Calderon pushed forward with all efforts while Don Diego Veloria latched onto his bumper. As the white flag arrived, we saw Veloria for the pass, diving into the Esses ahead of Calderon. With the checked looming ahead, the two drove side by side in the bypass, but Veloria maintained the advantage to grab second in the heat race.
Heat 1A Results

| | |
| --- | --- |
| 1) | Caden Thure |
| 2) | Don Diego Veloria |
| 3) | Luis Calderon [2R] |
| 4) | Randy McKee |
| 5) | Jetson Lieser |
---
Heat 1B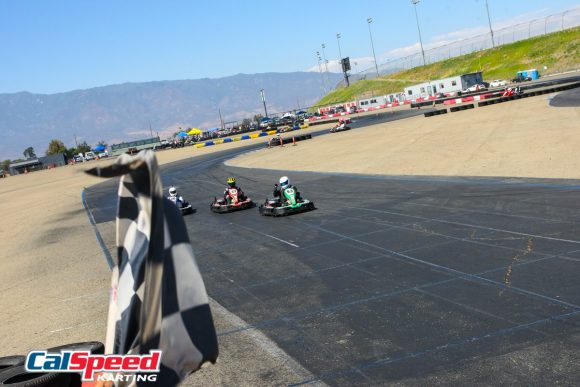 Right away, heat 1B saw 2R driver Cameron Rose jumping into the second position behind Blackledge on pole. As Erikson pushed them ahead, the 3-pack broke away. It was a rather quiet race moving forward, as all three stood in line, making nary a move in offense or defense. On the final lap, Erikson threw himself deep into the bypass, but it wouldn't stick. Blackledge sailed across start/finish for the win, followed by Rose and Erikson.
Heat 1B Results

| | |
| --- | --- |
| 1) | Thomas Blackledge |
| 2) | Cameron Rose [2R] |
| 3) | Kevin Erikson |
| 4) | Ivan Martinez |
| 5) | Calvin Ku |
---
Heat 1C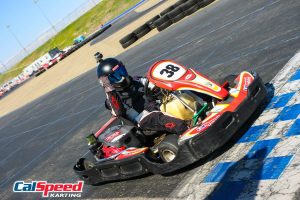 It was Scott Milne with the helm in heat 1C and Tyler Rousseau proving aggressive straight from the get-go, causing shuffles between himself, Eric Monteith and Samuel Hunt. Milne luckily moved away from the infighting as Rousseau, now in P3, put on the pressure repeatedly throughout the race, making move after move against Hunt. The proverbial wrench was about to get thrown at the leaders with a a blue flag situation looming in 3 laps to go. Luckily it was a breeze of a pass– the white flag came and Rousseau finally managed to stick a pass on the inside of the hairpin, taking 2nd as they came up the hill while Milne scored the heat win.
Heat 1C Results

| | |
| --- | --- |
| 1) | Scott Milne |
| 2) | Tyler Rousseau |
| 3) | Samuel Hunt |
| 4) | Eric Monteith |
| 5) | Owen Lerman |
---
C-Main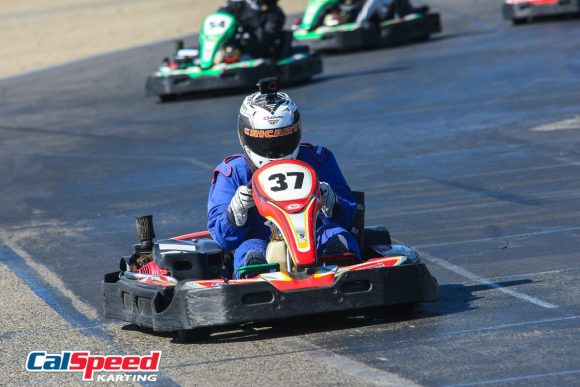 C-Main was dominated by Juan Ricart as he took off at the green while the rest decided to put battling as the priority. A battle for P2 ensued quickly between Paolo Tovar, Celso Pierre, Thomas Haake, Vince Horst, and Nathan Brakband. As the jockeying for position allowed Ricart to move ahead unscathed, the rest of the top pack slowly but surely spread itself out with Pierre about a half second away from P1. Brakband slightly further away kept P3 for the majority of the race going mano-e-mano with Tovar in 4th a couple laps to go. At the checkered, Ricart grabbed an uncontested win followed by Pierre 2nd and Brakband 3rd.
C-Main Results

| | |
| --- | --- |
| 1) | Juan Ricart |
| 2) | Celso Pierre |
| 3) | Nathan Brakband |
| 4) | Paolo Tovar |
| 5) | Nicolas Bel |
---
B-Main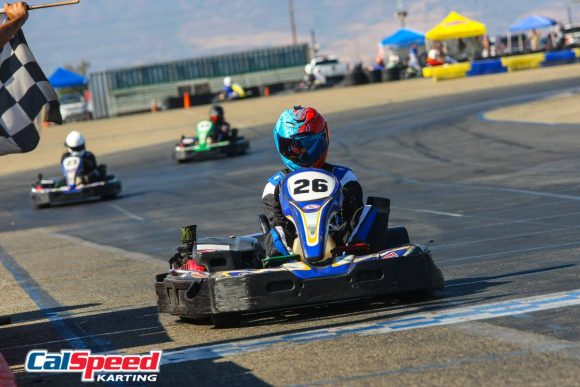 B-Main proved to be a very exciting race as pass after pass took place in the front pack with every single lap, so much so that penalties were going to be a key facet affecting the final results. Spencer Russell broke through the madness to lead the latter half of the main. James Lieser kept pace right behind but Russell managed to pull purple laps multiple times. A miraculous effort from Tom Zevin saw him move 7 whole spots forward as he stole away P2 to slot just ahead of Lieser. With the infighting allowing Russell to make distance, he took the checkered for the B-Main for the second round in a row to earn the A-Main transfer.
B-Main Results

| | |
| --- | --- |
| 1) | Spencer Russell |
| 2) | Tom Zevin |
| 3) | James Lieser |
| 4) | George Puckhaber |
| 5) | Matt Steele |
---
A-Main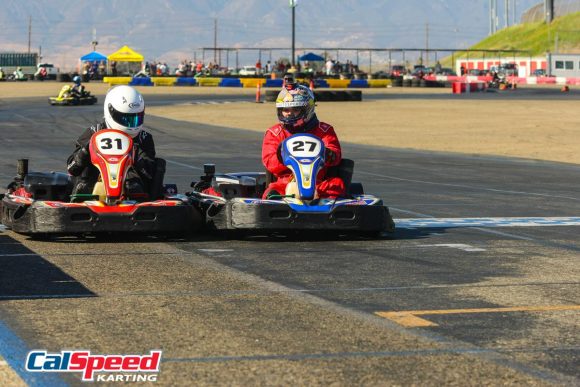 Pole sitter Thure was having a perfect day so far, and winning this final race was the only goal remaining. Pairing up with Blackledge from the getgo, their team effort gapped the field immediately. Meanwhile, Milne in P3 had his sights set on catching up with the two, if not at least maintaining his spot– if he could pull it off, this would be his first podium in the Sprint Series. With the stacked experience of Rose [2R] and championship contender Rousseau starting right behind, the threats for lost points were high. Our eyes were glued on the top 2. Was anyone going to make a move? Playing nice was not in the usual repertoire of moves for either but the gloves certainly came off at the white flag. Yes, it happened into the Esses– Thure dove on the inside to come side by side with Blackledge, barely coming out ahead on the exit. Now squarely nose to tail, Blackledge was not going to make this an easy keep. Through the bypass, he managed to gain a hair more speed to make for a photo finish: Thure held on however, nabbing his first career win, a perfect day for him we might add, by a slim .007 seconds!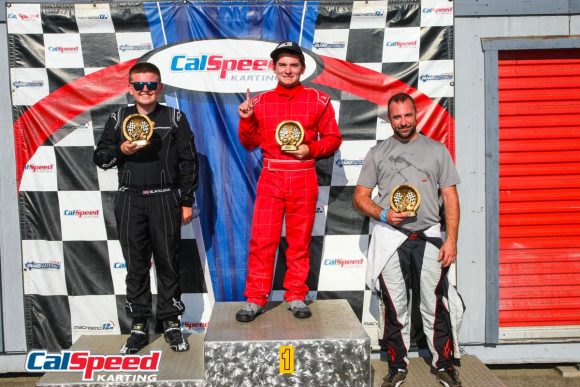 A-Main Top 10 Results

| | |
| --- | --- |
| 1) | Caden Thure |
| 2) | Thomas Blackledge |
| 3) | Scott Milne |
| 4) | Tyler Rousseau |
| 5) | Cameron Rose [2R] |
| 6) | Luis Calderon [2R] |
| 7) | Don Diego Veloria |
| 8) | Kevin Erikson |
| 9) | Jetson Lieser |
| 10) | Calvin Ku |
---
Sprint 2017 Current Standings (With Drop)
| | | | |
| --- | --- | --- | --- |
| 1) | Thomas Blackledge | 1775 | (545) |
| 2) | Don Diego Veloria | 1664 | (483) |
| 3) | Caden Thure | 1615 | (449) |
| 4) | Randy McKee | 1611 | (486) |
| 5) | Tyler Rousseau | 1525 | (177) |
| 6) | Kevin Erikson | 1484 | (290) |
| 7) | Seth Willits | 1446 | (0) |
| 8) | Samuel Hunt | 1401 | (282) |
| 9) | Diego Alvarado | 1352 | (0) |
| 10) | Spencer Russell | 1349 | (335) |
Sprint 2017 Summer Sub-championship Standings (With Drop)
| | | |
| --- | --- | --- |
| 1) | Thomas Blackledge | 585 |
| 2) | Scott Milne | 575 |
| 3) | Tyler Rousseau | 565 |
| 4) | Randy McKee | 563 |
| 5) | Kevin Erikson | 544 |