Welcome to the 2021 Sprint Series Season! Spicing things up a little for the intro, drivers hit the track on Nuotivo this time rather than what would traditionally be Classico CCW during the opener. While wind conditions were a little bit dicey here and there, the on track action was sure to set the stage for what looks to be a very exciting year to come…
Qualifying
We went over quite a few names in the Event Preview and one of those names in particular would certainly make a showing. That driver would be Tommy Haake. Finishing top 5 in last year's season, he made sure to bring his A-game for the intro and stormed through the field for a 1:02.102 qualifying time. It'll be great to see what he's got in store for this year!
Qualifying Top 5
| | | |
| --- | --- | --- |
| 1) | Tommy Haake | 1:02.102 |
| 2) | Ethan Chen | 1:02.160 |
| 3) | Heather Perrin | 1:02.198 |
| 4) | Chris Fox | 1:02.240 |
| 5) | Brett Lopinsky | 1:02.310 |
Heat 1A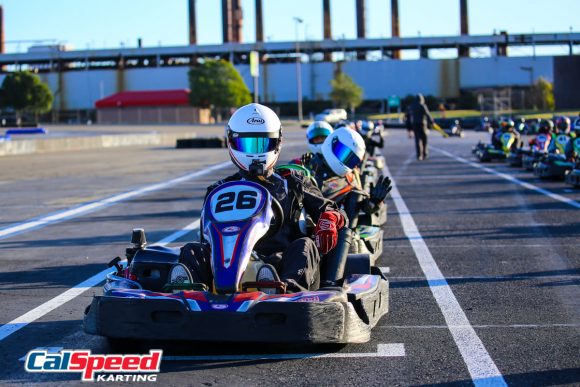 Green flag had Haake on pole for heat 1A with a multitude of drivers crowding the front pack. As the race wore on, Chris Fox in P2 allowed no breathing room for Haake, and the two would stay within a tenth of one another throughout the race. By the end of the heat, Haake would keep Fox at bay to cross the checkered first while the battle for 3rd would be won out by Vince Azua.
Heat 1A Results
| | |
| --- | --- |
| 1) | Tommy Haake |
| 2) | Chris Fox |
| 3) | Vince Azua |
| 4) | Michael Martin |
| 5) | Tony Wika |
Heat 1B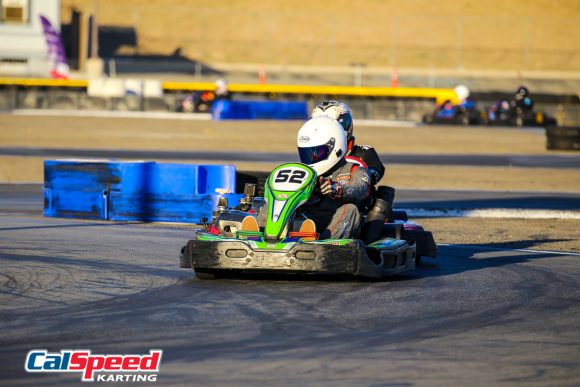 Heat 1B began with Mike Gonzales shooting forward to take the lead at the start. Another name highlighted in the Preview would be Matthew McCoy, though a starting position of P10 spelled for a lot of cutting teeth. McCoy would indeed make headway towards the top while Gonzales steered the helm against his counterparts. McCoy finally caught up to the front pack but would have to contend with Brett Lopinsky to see how the top 3 would finish. The trio would finish in order of Gonzales, McCoy and Lopinsky to wrap up heat 1B.
Heat 1B Results
| | |
| --- | --- |
| 1) | Mike Gonzales |
| 2) | Matthew McCoy |
| 3) | Brett Lopinsky |
| 4) | Jacob Reis |
| 5) | Ethan Chen |
Heat 1C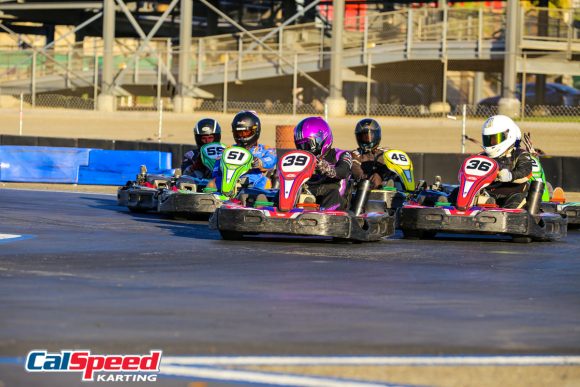 It was all forward momentum for drivers in heat 1C with both Evan Lawrence and Vladimir Orlov making quick domination over the field. Ronnie Swaim Jr meanwhile hooked onto the top 2 but would be met with a charge from the likes of Devins Baker lap after lap. Lawrence kept pace ahead of Orlov while Baker eventually moved to 3rd. The latter continued to duel with Swaim and ultimately finished P3 behind Lawrence 1st and Orlov 2nd.
Heat 1C Results
| | |
| --- | --- |
| 1) | Evan Lawrence |
| 2) | Vladimir Orlov |
| 3) | Devins Baker |
| 4) | Ronnie Swaim Jr |
| 5) | Juan Ricart |
C-Main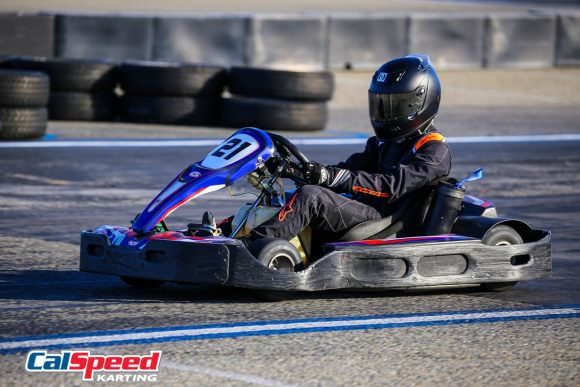 The first C-Main of the 2021 Sprint Series saw Albert Yeh and Miles Silva leading the pack from the get-go. Each would go their own way, leaving the rest of the field behind to battle for 3rd position. Several drivers looked like they'd be the one to take it, but by the checkered flag, rounding out the top 3 for C-Main behind Yeh and Silva would be Ernesto Sanchez.
C-Main Results
| | |
| --- | --- |
| 1) | Albert Yeh |
| 2) | Miles Silva |
| 3) | Ernesto Sanchez |
| 4) | Shelby Blecker |
| 5) | Luke Lofaro |
B-Main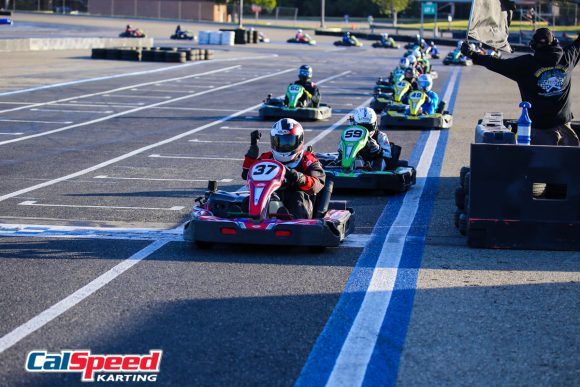 The drivers to watch in the B-Main would be Jeremy Aldridge and Frank Hsu– neither of them started close to the top. Although Randy Mermell would maintain the lead for several laps, the aforementioned pair cut through driver after driver. By the checkered, Aldridge would have the win followed by Hsu over Mermell.
B-Main Results
| | |
| --- | --- |
| 1) | Jeremy Aldridge |
| 2) | Frank Hsu |
| 3) | Randy Mermell |
| 4) | Jake Boyd |
| 5) | Damian della Santina |
A-Main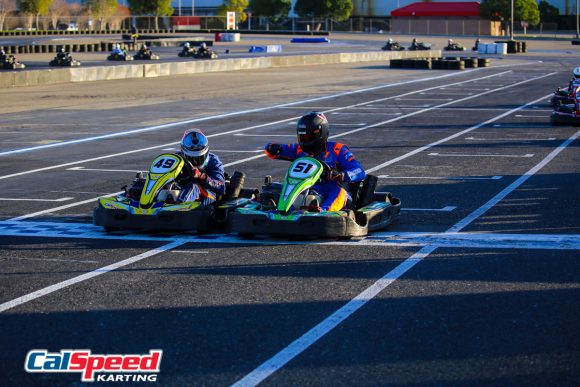 The A-Main would prove to be an exciting show as the top 10 are currently all very eager contenders for the 2021 Championship. Although Haake's earlier performance placed him at the helm at the green, rivals Lawrence and Gonzales made quick work of stealing the lead away. The theme of the race: non-stop lead changes. While the pair took to dogfighting, Haake once again regained P1 and the rest of the pack shuffled dramatically. Meanwhile McCoy's inroads towards the top would eventually see him lined up just ahead of Lawrence, ready to lay an attack on leader Haake. Their entire top group shuffled more with McCoy now in the lead. It would only last a moment however, as Swaim took over with only a few laps to go. From there, it would be an exciting drag race to the finish between himself and McCoy— ultimately it would be Swaim with the Sprint Series win just ahead of McCoy and Lawrence for Round 1 of the 2021 season!
Also new for this year is the Sportsman Experience subcategory in the Sprint Series– this SE sub-cat is for newer drivers and those that carry a bronze license. Thus far, it's looking like Ethan Chen is the top ranking SE driver in the Sprint Series. We'll be looking forward to seeing how he develops throughout the season!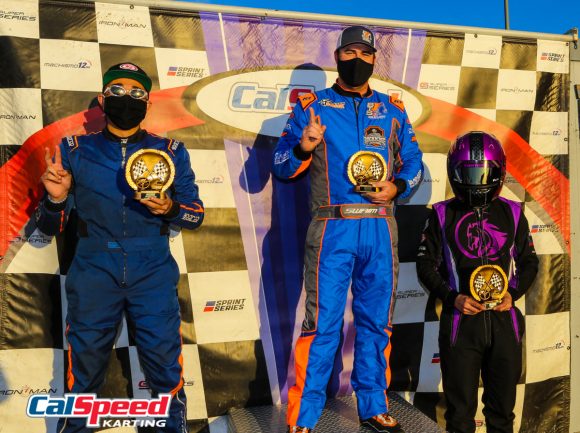 The 2020 Sprint Series season wraps up with Diego Alvarado as the new Champion! Behind him, the points were already tight… but with the books all closed, it turns out that Matt Steele, by an oh-so-slim 2 points, would win out 2nd Overall just ahead of Donnie Clarke in 3rd for the 2020 season!
A-Main Results
| | |
| --- | --- |
| 1) | Ronnie Swaim Jr |
| 2) | Matthew McCoy |
| 3) | Evan Lawrence |
| 4) | Tommy Haake |
| 5) | Chris Fox |
| 6) | Mike Gonzales |
| 7) | Vladimir Orlov |
| 8) | Juan Ricart |
| 9) | Jacob Reis |
| 10) | John Rice |
Sprint Series 2021 Current Points Standings
| | | |
| --- | --- | --- |
| 1) | Matthew McCoy | 290 |
| 2) | Evan Lawrence | 290 |
| 3) | Ronnie Swaim Jr | 285 |
| 4) | Tommy Haake | 285 |
| 5) | Chris Fox | 275 |
| 6) | Mike Gonzales | 275 |
| 7) | Vladimir Orlov | 267 |
| 8) | Jacob Reis | 251 |
| 9) | Juan Ricart | 249 |
| 10) | Brett Lopinsky | 244 |