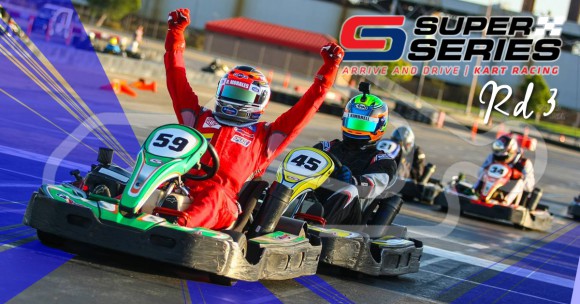 The debut of the Tecnico circuit in the Super Series came under threatening skies in the second round of the 2015 campaign, with the threat coming to fruition prior to the completion of the day. Moved to the third round on the calendar for 2016, Mother Nature once again toys with the drivers in the Super Series, as the forecast is once again anything but clear skies ahead.
Regardless of what color the skies are, as long as the ground is dry we'll see over 100 drivers take to the youngest of the CalSpeed layouts, looking to etch their name to the shortlist of winners and podium finishers. And to get a little better look at just who the contenders are, let's take a closer look at the field, and front runners in each category…
CalSpeed Driver Focus: Adam Nagao; Still looking for #1…
For my second Driver Focus, I caught up with recent IronMan winner Adam Nagao, who is regarded as one of the brightest new stars in the series. Improving immensely over his three years in the series, Nagao starts his 4th year where he left off in 2015: at the front contending for the title. While still looking for that elusive first win in the Super Series, Adam was able to score a podium late last year, and has been inside the top five numerous times; achingly close to the top step. Here is my interview for this month's "Driver Focus" with Adam Nagao:
Mike Smith: Adam, congrats on your recent IronMan win! That is the second time that you have finished at the sharp end on the Tecnico layout; what is it about this track that seems to click with you?
AN: It's something about the way the corners come together which makes it possible for lots of passing, and at the same time you can pull away. In every driver's mind before a race they want to "pull away", this is one of the few tracks that you can work through the field AND pull away. I love how Tecnico sets up one on one battles at the end where you know there is only one other person you have to worry about, and you can have a real battle.
MS: Let's rewind a little bit; my first memory of you is from a clinic I think back in 2013, where I had to reign in an Adam of a slightly different level. Tell us a little about that rookie year, and your Super Series journey thus far.
AN: My first year of CalSpeed was trying to learn how to deal with changing conditions, it took a while to realize that you can't just memorize what to do. Everything is constantly changing, the kart, the weather, and track conditions. I now have learned what I can do in order to reduce my weaknesses, and increase my strengths in a kart which is what Sport Karting is all about. It's been very interesting moving up from the back of the Super Series field to the front, as I have literally raced EVERYONE on the field. You come to learn how certain drivers react to circumstances, and you can play it to your advantage.
MS: How did you first come to hear about CalSpeed, and what made you decide to come out here and race the Super Series? Did you have any prior racing experience?
AN: My CalSpeed career first started with my longtime friend Rene Hourian who was doing a lot of indoor, and eventually came across CalSpeed as the next step. CalSpeed was the first time I had ever tried racing competitively, so I started from the back. After figuring out the funding, I realized I could start running full time, and the goal has always been the same: "Be one of the guys that can jump into anything and be fast". Also with the hope that skills, and techniques that I learn at CalSpeed will apply to later racing.
MS: Do you do any other racing outside of the Super Series, or if not, have plans to in the future?
AN: I hope to in the future get into higher levels of karting, and eventually some road racing. I have always enjoyed working with my hands, and building my own kart or car would be a very fun adventure.
MS: Last year we saw you fight at the sharp end most every race, coming up just short of the win on more than one occasion (and podium for that matter). What is different for you this year that will see you score that elusive first Super Series win?
AN: At the end of last year I realized it's not some crazy natural ability that makes the front runners good. It's that they are always on it, they are constantly looking for that final tenth on every lap. I found myself happy being "in the top 5", but now every lap I am out there trying to find the final tenth.
MS: With Sport Kart Grands registration opening this week, I am reminded of your win on Super Sunday in your Semi Final race. While you have a Sprint Series win, a pair of IronMan wins, and a Super Series podium, would you consider that win your biggest achievement yet?
AN: While the Semi Final win at Grands was definitely a perfect race for me; I've always said that Machismo is my most favorite race of the year. With such a competitive field, it's not good enough to be perfect yourself, the entire team has to be perfect for 12 hours in order to win. This past year, Taylor [Hays] and I struggled in qualifying, however we had a pretty perfect race day.
MS: Going back to Tecnico, you were the guest instructor at the clinic that morning, and went on to win the IronMan that day. What are some of the tricks to the layout, and what do you think makes it one of the more challenging circuits on the schedule?
AN: On other tracks, you might mess up a corner slightly and only have that speed loss till the next corner which is very soon. On Tecnico, if you mess up a corner you are bleeding time for almost half a lap. Whether it's from out of the hairpin to up the hill, or from up to hill all the way until the straight. Every lap needs to be perfect or your time will suffer a lot.
I also love how the draft plays out on Tecnico. You can draft, and go faster; however, it's still relatively easy to pass. Which makes for some very fun, and dramatic racing.
MS: You have picked up right where you left off in 2015, once again fighting at the front and are currently 3rd in points. What were your goals for the season coming in, and would you say things are on track?
AN: The biggest goal of the season is to be consistent enough that I am able to fight for the Super Series title at the end of the year, and a Top five at Sport Kart Grand Nationals. I know I can compete with the front runners on a given day, but the question is can I do it on a round to round basis.
MS: Thanks for taking the time Adam, and good luck the rest of this season!
AN: Thanks buddy, I look forward to having some good battles on track!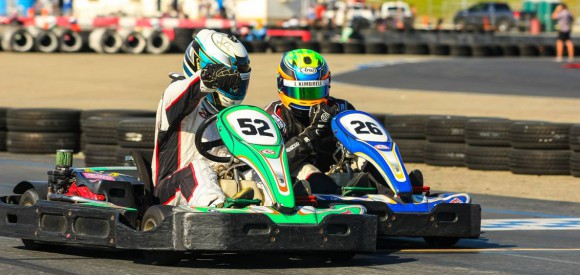 Flashback: A look at the only two prior runs on the newest of CalSpeed layouts…
Last year saw the debut of the Tecnico layout in the Super Series in the second round of the championship in February, having only been run at the Sport Kart Grand Nationals the prior year. Logan Calvin would kick things off with pole position, following it up with a win and a second in his two heats, as Scott Kennedy found his way around for the win. That second place would be bigger than anyone knew at the time…
For his part Kennedy's win backed up a 3rd he had in his first heat, but it was Wes Dent going perfect in his heat races with a pair of wins that saw him sorted #1 for the start of the A-Main. Unfortunately the green flag would never fly on the B or A Mains, as the skies would open up in the final laps of the C-Main, bringing the event to a halt. By virtue of his pair of wins, Dent would be awarded the top spot, with the aforementioned Calvin and Kennedy along side.
The Fall round would see the event run to its end, but would start the same way the winter round had: Logan Calvin on pole. And like the time before, Calvin would follow up a win in heat one with a second in heat two, this time being bested by his brother Miles. And like last time, he would see himself in the off pole ranked spot heading into the A-Main, this time via a pair of heat victories for Jon Kimbrell. Also scoring wins in the heat races were Adam Nagao, Wes Dent, Diego Morales, and Sergio Bravo.
Kimbrell would lead the field off into the esses, but Calvin would find himself having to fight back as both Dent and Nagao would slot in ahead. Calvin would eventually work is way back up to the top spot, and with the infight from 3rd on back, it would become a mano-e-mano fight between Calvin and Kimbrell. And a fight it was as each driver pulled no punches and traded the top spot several times in the final laps, with the final run to the finish ending in a drag race that saw Calvin win by just .061 seconds. Diego Morales was able to come out on top of the fighting behind the lead duo, and would score the final podium spot.
Top 5 Returning Drivers on Tecnico:
Logan Calvin- 1 win, 2 podiums, 2 heat wins, 4 Heat T3's, 2 poles, 1 Fast Laps
Wes Dent- 1 win, 1 podium, 3 heat wins, 4 Heat T3's, 1 Fast Lap
Jon Kimbrell- 1 podium, 2 heat wins, 2 Heat T3's
Adam Nagao- 1 heat win, 4 Heat T3's, 1 Fast Lap
Miles Calvin- 1 heat win, 2 Heat T3's
Smitty's Spotlight: Time to go 'Backwards'…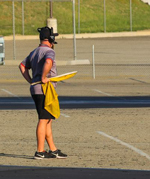 Aside from the track layout specifics themselves, heading in the 'wrong direction' at CalSpeed brings with it a slew of new challenges; blind and decreasing radius corners, tougher qualifying, and changing surfaces to name a few. Every time we go counter clockwise these things will be in effect.
Let's look at the corner types first: turn 4 (kornakurva) and Contino are in every single one of the CCW layouts, and are a couple of the most challenging corners to be fast and consistent on. Turn 4 is a long, decreasing radius corner; a driver's vision is tested here every lap and is a mainstay of these layouts. Contino changes between the last part of the esses section for this layout as well as Classico reverse, but is also in place when we do Grande CCW, albeit with a much faster entry.
Next is the 'Bypass Corner', which is the final right hander that drivers must tackle before finishing out a lap on the counter clockwise tracks. Put in place to bring RPM's down a couple years back, it is the only regularly used corner that never sees competition karts on it, and therefore is not paved with slurry. This 'off surface' corner is notoriously low on grip, and with its off-camber nature, is arguably one of the toughest corners for Sport Karters at CalSpeed.
The last bit is the short run to start your lap when qualifying; unlike the 'forward' directions where you have nearly a full lap to sort out your ride, drivers have only a couple of corners to do it before their first time lap starts. To score pole position in the Super Series is a tough ask; to do it on a CCW layout means you are one of the best in the business in adapting, and wringing out the most from a lap.
Aside from the track and qualifying challenges, there also seem to be drivers that just seem to excel when we head to these tracks, and one of those is Wes Dent. That said it doesn't look good for him to be in attendance this weekend, which certainly opens up a spot in the A-Main if that is indeed the case. Another driver not in attendance this weekend is Darren Mercer, who although may not be considered a specialist on Tecnico, he is one of the best at CalSpeed, and his absence means yet another open spot at the sharp end. There are a couple of drivers that WILL be in attendance this weekend that I have my eye on, and the first of which is Marcin Balazy. Fresh off a podium run at the most recent IronMan race on this layout, Balazy matched both Nagao and Kimbrell step for step until the final pitstops, and could have a breakout run this weekend. The other driver I am putting the spotlight on is the #2 Nationally ranked Andrew Wood; doing a one-off this weekend, the last time Wood was on Tecnico he picked up a pair of 4th's, a 2nd and a win from pole in day one of the Grands last year. He is someone who could definitely throw a wrench into things this weekend…

The Overall Championship: Elder Calvin goes 2 for 2; holds strong lead into round #3…
Heading into round #3, the stats say we need to keep an eye on the guy currently 4th in the standings, the defending champ Logan Calvin. On Tecnico he has the best record, scoring pole position in each of the two races run on the layout thus far, as well as finishing on the podium both times. Start to finish, he's the guy to beat on paper. The #3 guy in the standings is Adam Nagao, and it can be argued that his best shot at scoring a 'W' in the Super series is on this layout. He and Tecnico seem to click, and he's carrying some momentum via his win in the IronMan from two weeks ago, so he's certainly one to watch. But how about the guy sitting second? There isn't much to say about Patrick Britain and Tecnico, as he didn't run Super Series last year, and his lone IronMan start on the layout was a forgettable one. That said, he did perform well on the layout when it debuted at the Sport Kart Grands in 2014, scoring a win and a second, so he definitely knows how to get around the joint.
But how about our point leader, Miles Calvin? He is only the fourth driver to win two in a row, sharing that distinction exclusively with former National Champs Jon Kimbrell, Aaron Downs, and Logan Calvin. This is the Miles Calvin that we had seen glimpses of in season's past, but it really does seem like he is in top form right now, and here to stay. Could a hat trick be in the cards? I caught up with Miles ahead of this weekend to get his thoughts…
M.Smith: Miles, congrats on a stellar start to the 2016 season. Two in a row! You have got to be feeling pretty good about the way things are going so far…
Miles Calvin: Thank you. It has been a great start to the season. Coming into the year, I knew I had to make things happen and get the season off on the right foot if I was going to contend. The surprising thing is I have had to work in both my first heats in both events, as my qualifying has been average at best. So I feel like my race craft is right where I want it, I just got to get this qualifying thing down again and make my life a little easier.
MS: You had mentioned in last months Driver Focus that you take things one event at a time. Does such a strong start to the season get you to look at the points a bit more, and perhaps drive a little more big picture?
MC: I do definitely take it one event at a time. I even try to take it one race at a time. At the end of the year, all you can do is add up the points. The only thing in my control is the next race. That's kind of how I look at it. Now to say I don't think about the big picture would be a lie as well. Entering the season, when you want to contend for a Championship, you have to go in with a certain mindset. You have to know the risks you are willing to take and pass on the chances that may put you in trouble. A good day can go real bad with one bad decision. It has taken quite a few years to understand that fine line, and sometimes it comes easier to others, but I have had to work for this and I finally feel that I am in the perfect mindset to win this Championship.
MS: Registration for the Sport Kart Grands opened earlier this week; do you view these rounds that are on the same tracks a little different (Sportivo, Tecnico, Grande CCW), or is Grands prep not really a part of the equation right now?
MC: I think every time you take the track on a Grand's Track, it's a learning opportunity. I really feel confident on Sportivo and Grande CCW, but it's always nice to have that one trick up your sleeve that you were able to try in the Super Series or practice. You never know when that opportunity will present itself and when you are racing against some of the best karters in the world, you need to have that little bit to help separate you from your competition. When saying that though, it's not always about passing moves either. Driving defensive lines and mastering them is a key component when it comes to leading on the white flag lap.
MS: Going back to Tecnico and this weekend, what are your thoughts going in, and what will be some things to watch for from you point of view?
MC: Tecnico definitely lives up to its name. It's a very fun track to drive but you have to be smart when racing it. Going for a pass in the wrong corner can hurt you more than just following. There are definitely limited opportunities here and you always have to be aware of your competition. The off camber corner right before the straight is the most essential corner to get right. Some people have that corner mastered and can make moves there routinely. Others don't and if you are not careful it can ruin both of your races. I think with this track more than any other; you are going to need a good qualification time. It's hard to make runs up the field with the limited passing areas and with the track being so technical, it is less kart dependent and the guys that are upfront are there for a reason. It's going to be a fun day and I am excited to finally post the result on this track that I know I am capable of and hopefully make it 3 in a row!!
Top 10 Overall Standings
| | Driver | Points |
| --- | --- | --- |
| 1) | Miles Calvin | 775 |
| 2) | Patrick Britain | 737 |
| 3) | Adam Nagao | 729 |
| 4) | Logan Calvin | 725 |
| 5) | Aaron Scott | 720 |
| 6) | Sergio Bravo | 701 |
| 7) | Sergio Serrano | 700 |
| 8) | Darren Mercer | 692 |
| 9) | Charles Eichlin | 682 |
| 10) | Andres Prieto | 678 |
The Masters Championship: A surge could be coming from the depths of the standings…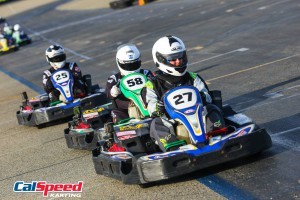 With Sergio Bravo having a strangle hold on this class, we will more often than not be looking at possible 'fly's in the ointment' in his campaign this season, and for round #3 on Tecnico, that could be Nathan Hood. Currently sitting #7 in points, Hood hasn't had the start to the season he wanted, but has shown good pace in each of the first two rounds. This weekend he returns to the site of his best ever points finish, where a pair of 2nds and a top 15 finish in the A-Main saw put up 344 points. This could be just the boost he needs to get back where he was at the tail end of last year, that saw him climb up to 5th overall.
And speaking of boosts, it won't take much for the rest of the drivers around Hood to also bump up to the next level; namely that of Mark Connell (#3), and Vince Burke (#4). These two drivers have been the most consistent of the group, and just a little nudge more could see them hit the consistent 300+ days, instead of the regularly high 200's they live in currently. The podium fight in this class is shaping up to be a great one, with much of the top ten capable making the push for the hardware this season…
Top 5 Masters Standings
| | Driver | Points |
| --- | --- | --- |
| 1) | Sergio Bravo | 701 |
| 2) | Diego Morales | 657 |
| 3) | Mark Connell | 586 |
| 4) | Vince Burke | 556 |
| 5) | Steve Spring | 533 |
The Grand Masters Championship: Sabella bringing the challenge…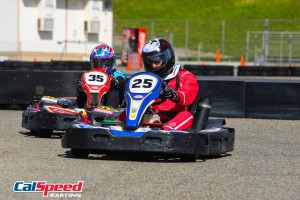 The back to back champ is seeing a new crop of challengers once again in 2016, and if Dennis Kimbrell is going to make it a hat trick of championships, he'll have his work cut out for him. Dennis will be leading the way this weekend in the standings, and is no slouch on the Tecnico layout, scoring his second best result of the season last year at the Fall race. He'll need to keep that kind of performance up too, as every one of the challengers to his throne, both new and old, are looking to be in attendance tomorrow.
At the head of that group is Joe Sabella, fresh off one of his career best days last month, and looking hungry to move up the ranks. Sabella is putting the time in, and the effort is showing on track, and in the standings as he moved into second this past round. Just one point behind and another new challenger to the status quo is Roger Adams. Adams didn't have as good a run in round two as he did the opener, but I would be surprised if he returned to form this weekend on Tecnico. After that you have a pair of perennial challengers for the podium in Jeff Latimer, and Steve Frame, who will be joined by fellow title challenger Brian Starr this weekend. This will be Starr's 2016 debut, and I am looking forward to see where he ends up out of the gate.
Top 5 Grand Masters Standings
| | Driver | Points |
| --- | --- | --- |
| 1) | Dennis Kimbrell | 363 |
| 2) | Joe Sabella | 339 |
| 3) | Roger Adams | 338 |
| 4) | Jeff Latimer | 294 |
| 5) | Steve Frame | 262 |
The Rookie Championship: Schuoler on top; Ulmer driver to watch…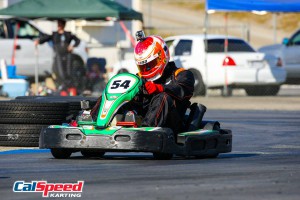 Justin Schuoler is looking like the number one contender so far in the 2016 rookie class, showing the way over the rest of the full-time rookies in the first two rounds. Everyone behind him is improving steadily as well though, and one thing we do know about the rookie championship fight, as that there is such thing as a 'second half driver' phenomenon. Just because a driver is out to a lead, does not mean he can't be caught, as we have seen multiple times in this category. Of the group in the top five, I have an eye on Daniel Ulmer this weekend; this guys has been putting in some work as of late, and with the tutelage of Michael Wojdat, we could see him grow fairly quickly.
Giving Ulmer a bit of a possible boost is the fact that at the time of this writing, both his closest rivals look to not be in attendance; John Rice is confirmed to be absent, and Ryan Piscotty has yet to sign up. Alex Bermudez will be here, but he is slated to miss multiple rounds this year, and isn't in the title cards.
Top 5 Rookie Standings
| | Driver | Points |
| --- | --- | --- |
| 1) | Justin Schuoler | 385 |
| 2) | Alex Bermudez | 267 |
| 3) | John Rice | 261 |
| 4) | Ryan Piscotty | 210 |
| 5) | Daniel Ulmer | 175 |


The Team Championship: T4 – Midvale's consistency sees them take the top spot…
We head into the third round of the championship with a T4 team still at the helm, but now the are the lone entry from that stable still in the top 5. T4 – Midvale has carrying the flag for the organization, with its drivers (Scott, Carter, Burke) all putting up solid numbers two rounds in a row. Their pair of near 800 days promotes them to the top spot, the only team to back up their strong performance for back to back rounds (798, 799).
The only two teams to out score them are the former leaders, the Nagao led T4 – SAAKA in round 1 (802) and the Miles Calvin helmed CRD Gold in round 2 (805), the pair currently sitting in 6th and 8th respectively.
Cracking into the top 5 are a pair of big movers from the Arkham camp; Teams Gingersnap (Eichlin, Stanovich, C.Britain) and Shield (P.Britain, Marascio, Juarez), the pair moving up four and five spots respectively. Each team improved on their season opener by 50+ points, and with each team organized to do more of the same, we could see them continue the march to wards the sharp end. In their way will be the 2015 Team Championship organization, as the Logan Calvin led bunch (Calvin Racing Development, CRD – Calvin, Jasinski, Cody Calvin) currently sits 4th, and the Andres Prieto led 'Fast and Furious' crew (Prieto, Kimbrell, Arnott) moved up into the second spot. With each group looking like there is more in the tank, it will be interesting to see how things progress through the rest of the spring, and the more technical layouts.
Top 5 Team Standings
| | Team | Points |
| --- | --- | --- |
| 1) | T4 - Midvale | 1597 |
| 2) | Fast and Furious | 1527 |
| 3) | Arkham Gingersnap | 1492 |
| 4) | CRD | 1478 |
| 5) | Arkham Shield | 1474 |

Remember to catch the CalSpeed SportKart Spotlight, presented by Growler Garage every month after the Ironman and Sprint Series races. Missed the latest episode? Watch it here, as guest analyst 2015 IronMan Series Champ Taylor Hays joins Host Patrick Britain and Race Director Mike Smith.