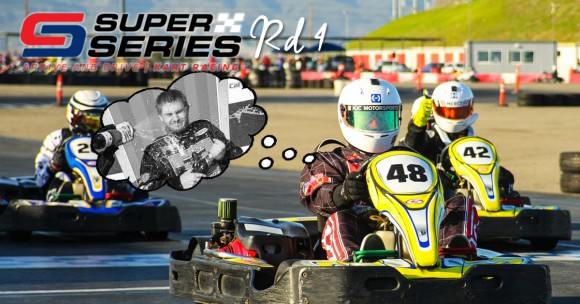 To think Grande CCW is just like the original, just going the opposite direction is obviously a joke if you ask those that have raced on the .75 mile circuit before. Heading in the reverse around this joint brings with it a whole new challenge, and it is anything like its counterpart, which will be the host for next month's round #5.
No, Grande CCW is its own animal; and not one to be taken lightly. Coming off a packed house at the Race Clinic last week as well as a sold out entry list for both the IronMan and Sprint Series events, and it is obvious that everyone gets just how tough this place can be, and is aptly prepared. Now through the quarter-distance mark in the championship, let's look at what we can expect for round #4, and some of the developing stories throughout the field…
CalSpeed Driver Focus: The Winningest driver in CalSpeed history; Logan Calvin
He has won the Super Series Championship twice, is a two-time National Champion, is the reigning champion in both; and is coming off his 11th career win in the series – 2 more than any other driver. Oh, and he's currently tied for the point lead again. When it comes to CalSpeed, it seems there is no one better at finding the top step, and I got a chance to catch up with him ahead of this weekend's event. Here is my interview for this months "Driver Focus" with Logan Calvin:
Mike Smith: Logan, congrats on your victory in Round #3, the 11th in your career. It was a mix of the usual suspects, as well as some fresh faces that you had to beat to earn that win; Do you approach any of these races differently depending on who you are battling with for the win?
LC: Well of course, you have to approach every driver different in some way. I was fortunate to have Miles in the top pack to work with. Knowing you have a teammate to work with makes life a lot easier when battling at the top.
MS: Last round moved you into a tie for the point lead with your brother, albeit after a single drop is counted. How has the start of this season differed from last year, where we also saw you with a win and a pair of podiums in the first 3 rounds?
LC: This year is going according to plan, I'm getting the most out of each round and that's all you can do. Granted I'm tied with Miles for the points lead (with a drop) but I still see it as 40 points down. Miles has had an unheard of start to the season and to only be 40 points down from that, I am very pleased with. It's a long season and I'm nearly where I want to be.
MS: Let's talk about how you got into racing. I remember meeting an inexperienced, teenaged younger Calvin brother at the 2008(?) USIKC in Phoenix, perhaps a bit in his elder brother's shadow; You have certainly grown to have made your own mark, and are widely regarded as one of, if not the best in our Sport. But how did it all start for Logan Calvin?
LC: Exactly, it all started back in 2008 at USIKC. As you said I was typically in my brother's shadow. He got into karting after racing Speedway and I followed suit. Being so young and surrounded by so much talent with SPV I was able to learn a little from each. Over the years being involved with such a high caliber of talent, it always made me push and strive to the best I could.
MS: You made the transition to outdoor competition karting a few years back; what did you see as some of the biggest hurdles or challenges when making that step, and what are some of the differences between the two disciplines from your point of view?
LC: Competition karting requires a lot more time to test. Setup is crucial in competition karting which hence requires lots of testing. Being rather new in the competition karting world I'm still making hurdles to figuring out how to better my kart. Opposed to sport karting every little tenth in lap time makes all the difference. Last round of LAKC I believe 2nd- 14th in qualifying was all within 2 tenths.
MS: Actively racing in both disciplines here at CalSpeed, what brings you back to sport karting every year? What is it about sport karting and the Super Series that you enjoy the most?
LC: Super Series brings an aspect of racing you can't get anywhere else. In the Super Series it's all about race craft. The chess match on the track is what makes it so much fun for me.
MS: Let's talk stats: You are a two-time and the reigning Super Series Champion, a two-time and reigning Sport Kart Grands National Champion, and you find yourself at the top, or very close to it in the Super Series record books. Are stats something that you drive to achieve, or do you just view them as an afterthought?
LC: Well stats are a result of performing well. We all strive to do the best we can, that's why we race. The stats are a consequence of that. So, I guess you can say I care about the stats. They're something to be proud of.
MS: Season goals for you must be to win races and championships in this sport; but what are your goals or aspirations for racing outside of Sport Karting?
LC: Yeah I've always thought about the bigger picture. I've always looked up to drivers such as Craig Stanton. My senior year in high school for my senior project I job shadowed Craig as a professional race car driver. Since then, it's always been in the back of my head. As of now I'm taking the required steps to get there. Currently I'm coaching at Strom Motorsports in a BMW E46 and so far I'm loving it. I'm always looking for the next opportunity to better my racing resume.
MS: Grande CCW this weekend, a joint you have won on a couple of times before, and have scored the pole position four times; Can you give us your take on this circuit, and not only what you think we can expect here tomorrow, but perhaps some of the tricks of the trade to getting around this joint a bit better?
LC: Grande CCW is probably one of my favorite tracks. In racing, typically the left foot can easily separate drivers. Grande CCW offers a lot of threshold braking zones which will take a lot of feel to master. As far as any tricks of the trade… Only CRD will be getting that information.
MS: Thanks for taking the time Logan, and good luck the rest of this season!
LC: No worries. Thanks, and see you tomorrow.
Flashback: A Look Back at the History Making 2015 Grande CCW Spring Race…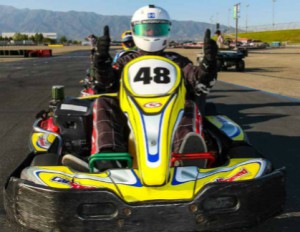 Grande Counter Clockwise has played host to some pretty memorable moments over the years, but perhaps the biggest happened in the 4th round of the championship in 2015. It was in this event that the very first, and up to this point, only "Perfect Day" happened in the Super Series. Many drivers had come close before in scoring the pole, both heat wins, and the A-Main win, but never could quite seal the deal. In fact, Jon Kimbrell had come oh-so-close at the opener that year, but would be passed for the lead in the A-Main by Logan Calvin, finishing second by just .020 seconds…
Instead the honor would be earned by Kimbrell's stepbrother, and the reigning National Champion at the time, Aaron Downs. Downs would start the day by snagging his first ever pole on the circuit over Justin Tolman, and the aforementioned Logan Calvin. This was step one in the Perfect Day, and it would see him start from the point in his first heat race, a race that he won over Chris Huerta by just .193 seconds at the line; Check box number two. This would see him line up alongside Darren Mercer for heat two, and after a race long battle, would come out on top again by a close margin, this time just .368 seconds. Step three accomplished.
The A-Main would once again see Downs take on Mercer, but also Wes Dent and Adam Nagao, each winners of heat races that day. In fact, it was Dent that looked to put the Perfect day in doubt the post, stealing away the top spot on lap 9, with Downs slotting back in to 2nd. There he would stay until coming to the white, where he would make his move on past Dent by turn #1. With Dent now in a fight with Mercer and Nagao for the second spot, Downs stretched out to a 'comfortable' lead, and sealed the deal on the Perfect Day by just .307 seconds over Mercer and Dent.
Top 5 Returning Drivers on Grande CCW:
Jon Kimbrell- 3 wins, 4 podiums, 5 heat wins, 12 Heat T3's, 4 Fast Laps
Logan Calvin- 2 wins, 3 podiums, 7 heat wins, 16 Heat T3's, 4 poles, 5 Fast Laps
Aaron Downs- 2 wins, 4 podiums, 4 heat wins, 10 Heat T3's, 1 pole
Darren Mercer- 1 win, 2 podiums, 5 heat wins , 12 Heat T3's, 1 pole, 3 Fast Laps
Sergio Bravo- 1 podium, 7 heat wins, 14 Heat T3's, 3 Fast Laps
Smitty's Spotlight: The Mental Side of Racing…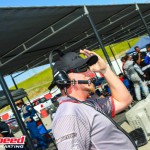 In this past Race Clinic I brought up the mental side of racing; not the chess match stuff that I have talked about numerous times, but more of a state of mind that can effect how we drive/race. This actually stemmed from a chat with another driver about how he didn't like coming to Grande CCW because of numerous bad experiences there. I have spoke about a similar thing with my sim racing; specifically racing at Darlington, a track I have hated for years, and always dreaded racing at. Well, I was able to overcome this stigma after a chat with this same driver, and an article he found, so this time around I have tried to do the same.
Now I have fancied myself to not be a 'mental driver', meaning that things don't typically bother me while on course, or at least don't adversely affect what I do behind the wheel. While this is still mostly true, I definitely was entering the Darlington race with a negative mindset, and it in turn had an adverse result on each lap I ran. Primarily, my ability to let things not bother me on course, and my ability to analyze what was happening on course; I wasn't able to dial in the little things in my driving to get faster, and when things went wrong, they would get to me much quicker and worse than ever – even the small stuff.
When I changed my attitude towards the track (symbolize 'taking a deep breath'), I was a helluva lot more in tune with what was going on, and ended up doing the best I have ever done – I won. And the thing about the mental side, is it doesn't matter what you are driving; even here at CalSpeed, how you approach each and every session (your state of mind) has a direct result in what you can accomplish. Darren Mercer once told me that he worked on this exclusively for a whole season, and that it made a huge difference for him. If you can clear your head, and enter the event with a positive mind the little things will get that much better and more consistent. It won't all of the sudden make you great if you haven't turned a lap (no substitute for seat time), but it will absolutely help you do well what you're already good at.
So this weekend, make a conscious effort to eliminate any negative thought from your mind from the moment you wake up, and keep that mindset throughout the day; let's see what happens…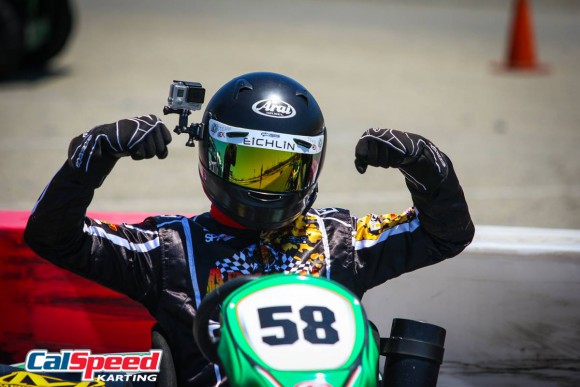 The Overall Championship: Usual Suspects vs The 'New Kids'
Charles Eichlin leads the 'new kids on the block' in 4th, with the expected faces of brothers Calvin, Bravo and Britain taking up the rest of the top 5. Aside from the rest of the 'new kids' (Nagao, Scott), expect a few new drivers inside the top 10 after this weekend, most likely that of usual suspect Jon Kimbrell (12th) who has had a rougher start to his year, but is fresh off a podium last weekend in the IronMan. This is mostly to do with the fact that three drivers currently inside the top 10 will be absent from round #4: #8 Diego Morales, #9 Sergio Serrano, and #10 Darren Mercer. Along with 'Kimby', I think that #11 Andres Prieto has a good shot of making it in as well, especially with his new focus in finding the pace he needs. Ole Matty Hart is right on the cusp as well, but will need another 360 or so point day like he had last round to make it happen I think. This will make it 5 on 5 or so between the usual suspects and the new kids, and it will be interesting to see if the latter can make any more inroads towards the hardware spots.
But going back to the top 5 and possible changes at the sharp end, I think that Miles maintains the top spot after this weekend; mainly because he has such a good toss to work with. Logan should definitely be putting pressure on him though this round, and has to be counted as one of the favorites for the 'W'; he and Kimby combined have won half the races at the place.
And I know I said it last round too, but I think we can expect something big out of Nagao this round as well; the kid has just got these CCW tracks dialed in, and with the added experience of the previous round, I think he'll be in that much better shape to find that elusive first win. And to that point how about the runner up last round, ole Chuck Eichlin? I hit him up for a few questions ahead of a round he is quite prepared for, and here's what he had to say:
M.Smith: Charles, this is certainly a great start to the season; sitting 4th in points, and coming off your second career podium last month. Last year you weren't able to race the whole season, but 2016 is looking quite well so far! What were your goals coming into the season?
Charles Eichlin: Thanks Mike. I'm really pumped that I'm currently 4th in the points. Like you said, last year I wasn't able to run the whole season, but I did grab my first podium and I now know what it takes to get back onto it. I may not have a win yet, but I feel it's only a matter of time before that happens. As far as goals for this year are concerned, grabbing an A-Main win is my highest goal for this year. I came into this season wanting to prove that I could run with the veterans and challenge for podiums. I feel like I have shown that I can do that and I would like to continue to score big points and stay in the overall hunt through the rest of the year. I may be sitting in a pretty good spot right now, but we've only raced 3 rounds and a lot can change between now and November.
MS: Tell us a little about what it is like at the sharp end of these A-Main races. In your opinion, what does it take to break through from just making the race, to challenging for top 5's, podiums and wins?
CE: Let me just say that making an A-Main nowadays is an accomplishment in itself. The field is so stacked with talent now that B-Mains look like A-mains. That being said, I feel like the past couple rounds have really opened my eyes to what it takes to get into that Top 5 group. Before I used to be so concerned about just making it to the front that I found my self getting frustrated when I would lose just one position. This would lead to making mistakes and then it just snowballs as I continued to lose spots. I feel like this year I am much more relaxed when I'm driving out there. Losing a spot doesn't mean I can't just get it back in a couple turns. It's a chess game and I'm starting to figure it out. Having patience out there can be key. Knowing when to make a move and when not to make a move can either get you a spot and lose you a spot. The speed was always there, but the patience wasn't. I feel like that is the biggest thing for me this year that has allowed me to challenge the front runners and grab my second podium last round.
MS: This weekend is the last time to run on one of the Grands Tracks before the event this June; I have asked others before, but what is your take: Do you concentrate on the task at hand, or are you trying to prepare for the Grand Nationals when we are on these layouts? Also, for drivers making their debut at the Grands this year, how can these few rounds help them prepare?
CE: For me this year, I'm focusing all my efforts to the Super Series. Grands is still up in the air for me due to my schedule this year. So I'm focusing on the task at hand this time around. For drivers who are running Grands for the first time, these next few rounds leading up to it, especially Round 4 this Saturday, can be a great place to start fine tuning your skills. As the layout this weekend will be one the layouts that is set for Grands, focus on really learning what you are good at and what you are not. This will help you so much when Grands actually rolls around. Another thing that is so important for Grands is knowing how to qualify. Qualifying at Grands is even more important than it is in the Super Series as each of your heats starts with a qualifier. If you struggle at qualifying, then focus on that these next few rounds so you can place yourself higher up in the order for the heats. I personally find that the higher you get in the order, the cleaner the racing usually gets. All in all, it comes down to what you feel is your weakest skill right now. What new drivers need to do is find out what their weak skill is and focus on improving it. Do all the Super Series before Grands, do all the clinics (do them even after Grands, they will make you so much better), ask your fellow drivers about some corners you are having trouble with. Don't be afraid to ask, they will be willing to help you out (most of the them).
MS: You ran the Race Clinic this past weekend to prepare for this weekend's race; how important is practice, and what do you try and work on when you come to the track and not in a race situation?
CE: Practice is such a big thing for me. It was one of the reasons I ran the IronMan Series last year, just to get seat time and try different things in a race environment. Doing the clinics though is also such a great way to practice because it allows you to try things that you could never do in a race. Trying different passes in corners that people don't expect, seeing how they react to it, does it work, does it not work. It allows you to gather all this information without the stress of having to worry about positions or times. Of course getting out there and just putting down some flying laps is also helpful. It allows you to fine tune your line and get faster times. The clinics allow you to talk to your fellow drivers and find out how they are taking a turn that you may be struggling with. Trying different entries into a corner and seeing if your times are faster. People underestimate the amount of information you can get from doing a clinic session, so that's why I try to do them as much as my schedule allows it.
Top 10 Overall Standings
| | | |
| --- | --- | --- |
| 1) | Miles Calvin | 775 |
| 2) | Logan Calvin | 775 |
| 3) | Sergio Bravo | 772 |
| 4) | Charles Eichlin | 740 |
| 5) | Patrick Britain | 737 |
| 6) | Adam Nagao | 729 |
| 7) | Aaron Scott | 723 |
| 8) | Diego Morales | 708 |
| 9) | Sergio Serrano | 700 |
| 10) | Darren Mercer | 692 |
The Masters Championship: The deepest sub-category podium fight in the Series…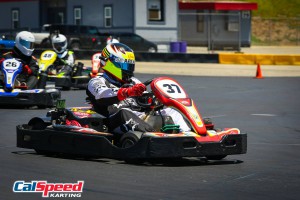 Honestly, the fight for the Masters podium is probably my favorite one right now; While Bravo is being Bravo, Morales is just a tick behind, but that will become two ticks with Morales gone this weekend. And remember, the Colombian also mentioned he wasn't sure he was going to run the full calendar this year (although this could be the regular fanfare we have come to know from the Sport Karting veteran), so who knows what's in store for the current #2.
Which brings me to the fun part: 3rd on back is just crazy. The playing field among these guys back into the teens of the standings is pretty damn close, especially when you look at the potential they all have. Current third place runner and #3 Nationally Ranked Masters driver Mark Connell is the de-facto man to beat in this group, and he proves it every time he shows up to the track. He has a huge group of guys looking to move up into that last hardware paying spot however, and they all have made strides leading up and into this season. Remember the surge I spoke of in last round's preview? Well it manifested in Chris Carter; here's a guy who is driving as good as he did a couple years ago when he helped his team to a championship. Just one point out of the top 10 in the standings, Carter is also just over 100 out of the top 5, which is all to play for with 9 rounds remaining. And this story is echoed throughout the Masters standings; the question is, who is gonna step up this month?
Top 5 Masters Standings
| | | |
| --- | --- | --- |
| 1) | Sergio Bravo | 772 |
| 2) | Diego Morales | 708 |
| 3) | Mark Connell | 603 |
| 4) | Ariel Rubio | 558 |
| 5) | Vince Burke | 556 |
The Grand Masters Championship: More to This Championship Than Meets the Eye…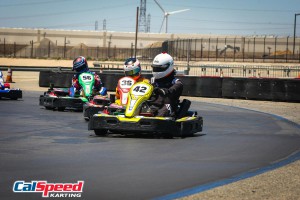 Dennis Kimbrell returned as the top point maker in round #3, but his closest rival Joe Sabella backed up his strong run from the round prior, and wasn't too far off of the perennial leader. Meanwhile there are some developments deeper in the standings that are easily overlooked:
Missing the first two rounds, Brian Starr returned to the series right were he left off in 2015, putting up the second highest point haul for the group; currently down in the 11th spot in the standings, I'll be keep an eye on the steady climb until when the second drop comes into play. Jeff Latimer put up his best run of the season thus far, and with it moved into the 4th spot, just in front of Tom Zevin, who is making his debut run in the Grand Masters category here in 2016. I also want to keep an eye on rookie Tony Wika in this group; while in his first year, I think he could make some noise in this category, and could climb up from that 7th place in the standings sooner than later…
Top 5 Grand Masters Standings
| | | |
| --- | --- | --- |
| 1) | Dennis Kimbrell | 433 |
| 2) | Joe Sabella | 393 |
| 3) | Roger Adams | 342 |
| 4) | Jeff Latimer | 330 |
| 5) | Tom Zevin | 309 |
The Rookie Championship: Bermudez to Miss Races; Will It Be Enough for Schuoler and Co?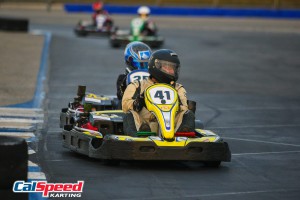 Slated to miss a few races this year, current #1 driver Alex Bermudez is doing a pretty good job of staying out front in this category, much to the chagrin of the rest of the rookie's in this year's class. Bermudez is on the entry list again this weekend, and will be looking to pad his total point column more than anything else, as he knows he will indeed miss more than the allotted two drops. His closest challenger is that of Justin Schuoler, who actually ran in both the IronMan and Sprint Series' this past weekend, so it will be curious to see how he does this round with the added seat time. Schuoler has been the definitive 'best of the rest' but perhaps we'll see a little more out of him tomorrow.
Behind the top two are Diego Alvarado, Tony Wika, and John Rice; Rice has been sitting inside the top five for the duration but slipped from third to fifth after missing this past round. For the former two, missing the opening round got them off to a slow start, but round three saw them nearly match the point haul from Schuoler, so there could yet be big things in store there. Unfortunately, Alvarado is confirmed to be missing this round, so we'll be keeping an eye on Wika to step up big in the points.
Top 5 Rookie Standings
| | | |
| --- | --- | --- |
| 1) | Alex Bermudez | 500 |
| 2) | Justin Schuoler | 385 |
| 3) | Diego Alvarado | 293 |
| 4) | Tony Wika | 284 |
| 5) | John Rice | 261 |


The Team Championship: Midvale Still on Top; Strength Can Be Found Elsewhere in the Top 5…
Adding in a drop for the current standings makes all the difference, and starts to show a clearer picture of just who is still in the game. Midvale has held on to the top spot for a pair of rounds now, and hasn't been outside the top couple of positions, but it should be noted that of the top teams, it is Fast and Furious with the most Total Points on hand. Aside from the standings being so close, we may not see much change in the top 5 as near every driver will be in attendance; the lone exception being CRD – Gold's Drew Zeller. It will be up to his teammates Miles Calvin and Chris Millar to carry the torch, and could be a great chance for the latter to shine this weekend.
There are also a few teams just on the outside of the top 5 I am keeping an eye on, and it won't take much of a push to see them break into the top 5; that said, they'll all need to grab a gear if they are gonna get back into championship contention. Like the other categories, there is still a lot of season to play out, but there is such thing as too deep a hole to dig out of…
Top 5 Team Standings
| | | |
| --- | --- | --- |
| 1) | T4 - Midvale | 1744 |
| 2) | Fast and Furious | 1621 |
| 3) | CRD | 1618 |
| 4) | CRD-Gold | 1611 |
| 5) | T4-Witcher | 1590 |

Remember to catch the CalSpeed SportKart Spotlight, presented by Growler Garage every month after the Ironman and Sprint Series races. Missed the latest episode? Watch it here, as guest analyst and current point leader Miles Calvin joins Host Patrick Britain and Race Director Mike Smith.