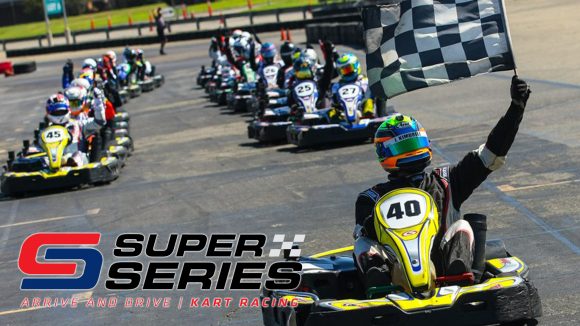 Classico CCW could be the decider in the 2017 championship…
Now into the the final stretch of the Super Series season, just three races remain to close out the 2017 campaign, and cinch up the many title fights up and down the field. Classico Counter Clockwise is the home for this weekend's contest, just the fifth time this course has been in use over the past eight seasons. While rarely used, the twists and turns of this layout will look familiar, as nearly every driver has run on the tracks that share these same corner names. The Esses; Silk; Hairpin; Bypass… There will be action a-plenty in this, the 8th round of the championship, with some drivers thinking points, others thinking survival, but all seeking victory. We are almost guaranteed a first time winner on this layout, so let's take a look at who to watch for in this month's preview…
Classico CCW Flashback: Maiden win for Aaron Scott – 2016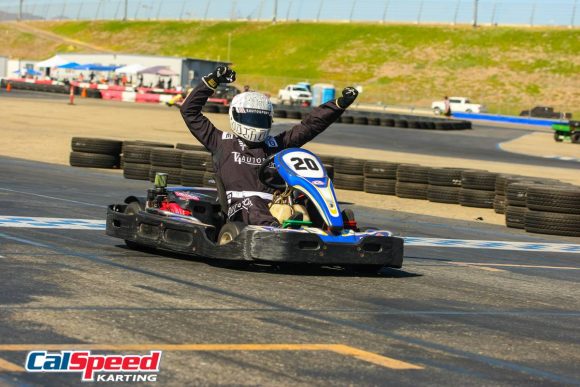 While last month's visit to the Classico circuit meant taking to the oldest track on the circuit, this month's change in direction sees a layout that has been used less than any other. Only used once a year for the past 4 seasons, the Classico CCW track has had a different winner for every edition. Some of the biggest names in Sport Karting have found the top step here, a place that is part Tecnico, and part Grande CCW; and one of the toughest challenges of the season. Last year this race once again was the stage for an exciting day of racing, with a brand new name etching his name into the record books as a Super Series winner…
From last year's online mag:
"Coined the 'Brothers War' ahead of the 9th round of the 2016 Super Series Championship, the championship fight between brothers Miles and Logan Calvin would get off to an exciting start with four rounds remaining. Classico CCW would be the stage for this, the first of the final four battles, and it would be the elder brother Miles striking first with not only the overall pole position, but a pair of heat race wins to start P1 in the A-Main. Not to be out matched, Logan too scored wins in each of his heat races, and the two title contenders monopolized the front row. But while Miles may have earned the top starting spot via his earlier qualifying prowess, it would be Logan leading away from lap one. There he would stay for several laps, leading a train of drivers that had anything but the status quo on their minds, as everyone 3rd on back jostled for position. And while several drivers made inroads to the front, only one driver truly showed to be a threat against a Calvin scoring the victory, and that was Aaron Scott. Pegged in the event preview as the closets thing to a chink in the Calvin armor, Scott proved that his season long strength against the brothers had not been extinguished, and by lap five had moved up to 3rd, right on the back bumper of Miles. With Scott now in striking distance, Miles could no longer push his brother around, and made the move to take over the lead. To the dismay of Logan, Scott would make his way through as well, and even worse was the rest of the hungry group of drivers now on his bumper. The younger Calvin would get the worse end of the deal, as his fight went from a possible podium, to fighting with the masses in what must have seemed 'all versus me'. He would eventually finish 8th.
At the front it would be a mano-e-mano fight between Miles and Aaron, with the latter working with the point leader for several circuits before finally making the move with just a few laps to go. With a couple seconds in hand to third, Scott would score the pass for the lead at the end of lap 11, getting inside of Miles through Kornacurva. Calvin would continue to pressure Scott, and while he was able to get along side through the final corners to the checkered, Scott would prove too much, scoring his maiden victory in the CalSpeed Super Series. Miles would settle for second and with it the best points day seen from any driver in 2016, while Sean Fite would scoring his first ever podium with a very strong charge from 8th on the grid."
Top 5 Drivers on Classico CCW:
Aaron Scott- 1 win, 2 podiums, 4 Heat T3's, 1 pole, 1 Fast Lap
Sergio Bravo- 1 win, 1 podium, 3 heat wins, 6 Heat T3's
Jon Kimbrell- 1 win, 1 podium, 3 heat wins, 4 Heat T3's, 3 Fast Laps
Wes Dent- 1 win, 1 podium, 1 heat wins, 4 Heat T3's
Logan Calvin- 2 podiums, 4 heat wins, 6 heat top 3's
Pro Class: 7 for 7; 8th time could be the charm for a repeat winner…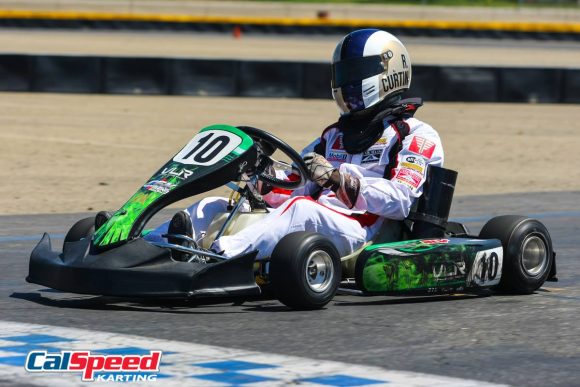 It is pretty incredible that in seven races we have had seven different winners, with Jetson Lieser the latest to add his name in the win column. With the news at last month's Town Hall meeting that this will be the only season of the Pro Class, the drivers in this category are running out of time to pad their stats or etch their name in the history books. With no driver scoring more than one win thus far, the battle to be the first to do so adds a bit of prestige to scoring a win in this class. And with an entry list mostly comprised of former winners, we are likely to see just that this weekend.
The three leading the way are the top two in the standings -Alyssa Yauney and Jon Kimbrell- as well as last month's winner Jetson Lieser, who is hoping for a three-peat after winning in the VLR Spec Class last weekend at Tri-C. All three look to be equal in their chances for the win, and it is anyone's guess who may come out on top; although only Yauney lacks seat time on this particular layout.
The championship too is heating up, as while once thought done for the season earlier this year, Jon Kimbrell has vowed to make the final three races of the year and finish things out. There isn't much between him and Yauney for the title, and while both will be gunning to be the first 2-time winner, the championship will also be in the mix…
Top 3 Pro Class Standings (After 2 Drops)
| | | |
| --- | --- | --- |
| 1) | Alyssa Yauney | 1967 |
| 2) | Jon Kimbrell | 1912 |
| 3) | Sean Bradley | 1717 |
Overall Championship: Britain chases his first Super Series championship…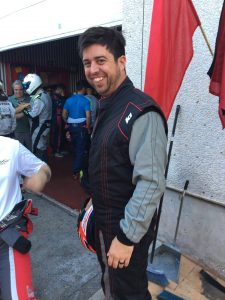 The season Patrick Britain has put together this year is for sure one of the most consistent in Super Series' history, and he heads into tomorrow's event with a 75-point lead over his closest challenger. With a pair of drops that will only allow him to lose just over 30 points per round, the odds are very much in his favor moving forward. For Britain, this weekend has got to be all about securing his first ever Super Series title, and he has the luxury of really racing just one other driver: Taylor Hays. Hays himself is having one of, if not his best season in his career as well, but he'll need a lot of things to not only go his way, but against Britain to steal this one away. The point leader needs to just maintain a 66-point lead by the end of the day to call himself Champion…
While the probability of how the championship will go is perhaps a little more straight forward, the battle for the rest of the four hardware paid positions is anything but. Taylor Hays was able to pull out to a 40-point advantage on fellow season-long top three companion Charles Eichlin after last round, and after his emotional win at the Classico Grand Prix, Jon Kimbrell sits just 11 points astern of Chuck. These three drivers enjoy just under a 100-point cushion on the rest of the field, and with only 51 points between them, it is more a question of what order they will finish on the podium, than IF they will finish on the podium. There are still three rounds to play, and all three have what it takes to snag the #2 spot.
Our eyes now turn to the battle for the final piece of hardware on the 5-driver podium, with a very close group of drivers all in the hunt to claim it. 5th-7th in the standings look like the most likely players, as Diego Morales (8th) has said he will be missing the rest of the season, while Jake Hood is out as well, with a 'maybe' attached to Huerta for round #8. If Huerta can show, he'll need to claw some of the 57 points he is arrears of Sean Fite, the current holder of fifth on the roster. Indeed, it looks like Fite, Bill Kreig, and Alyssa Yauney are the main players in this battle for 5th, and only 27 points across the three heading into tomorrow. Of the three, Kreig has the most experience, and not only is a former winner in this series, but has found himself on the overall podium before as well. Both Fite and Yauney are two of the rising stars in Sport Karting here at CalSpeed, each having their career best seasons here in 2017. With two drops allowed, this weekend will be pivotal in seeing what is needed to secure the final spot on the block, and in that regard, Kreig also has the advantage with the most consistent season thus far…
Top 10 Overall Standings (After 2 Drops)
| | | |
| --- | --- | --- |
| 1) | Patrick Britain | 2001 |
| 2) | Taylor Hays | 1926 |
| 3) | Charles Eichlin | 1886 |
| 4) | Jon Kimbrell | 1875 |
| 5) | Sean Fite | 1767 |
| 6) | Bill Kreig | 1758 |
| 7) | Alyssa Yauney | 1740 |
| 8) | Diego Morales | 1733 |
| 9) | Chris Huerta | 1710 |
| 10) | Jake Hood | 1690 |
Masters Championship: Classico GP proves turning point in championship hunt…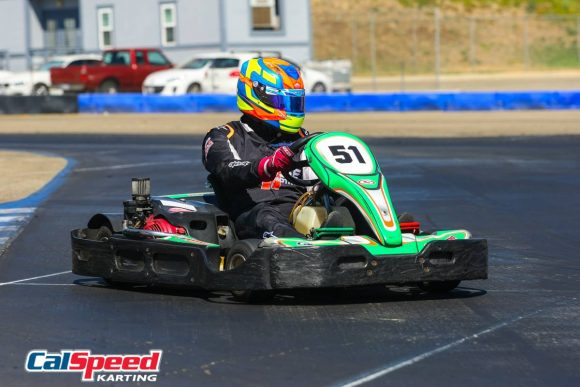 It was a full house at the Classico GP, with the best in the business out to play, including the biggest names in the Masters category. Five time champion Sergio Bravo and reigning Master Champion Mark Connell paced the Masters contingent to no-one's surprise, but it was 2016 Rookie of the Year Alexander Bermudez that scored the third highest point haul of the day, eclipsing even Diego Morales. And with Morales still slated to miss the rest of the season, that run not only slotted him into third in the provisional standings, but sees him just 49 points astern of Jose da Silva and 32 behind Steve Spring for the title. For his part, da Silva came through with a decent day at the GP, scoring more than all of his challengers save the aforementioned Bermudez. He is also the only one of the contenders to have scored a podium in the Series, earning his first earlier this season. That said, both of these two drivers trail Spring in regards to drops, with Spring's 295 the strongest of anyone fighting for hardware in this class. He also enters this round with a renewed sense of purpose after the GP, and I think we could see something big from him this weekend.
Outside the top three are two drivers ever so close together, Chris Carter (5th) and Nathan Hood (6th), the former having by far the best season of his career here in 2017. There just isn't any other way to put it; Carter is putting together a season to remember, and definitely cannot be counted out of this Masters fight. Next to Spring he has the next best drop in the group, but he'll need to not rely on that and instead reel in the top guys to have a shot at this one. Same goes for Hood, who although has had a very consistent season, also needs to go find some big points to get back into this game with just three rounds remaining.
Top 5 Masters Standings (After 2 Drops)
| | | |
| --- | --- | --- |
| 1) | Diego Morales | 1733 |
| 2) | Jose da Silva | 1620 |
| 3) | Steve Spring | 1603 |
| 4) | Alexander Bermudez | 1571 |
| 5) | Chris Carter | 1535 |
Grand Masters Championship: Tony Wika stamps authority on the class; now guy to beat…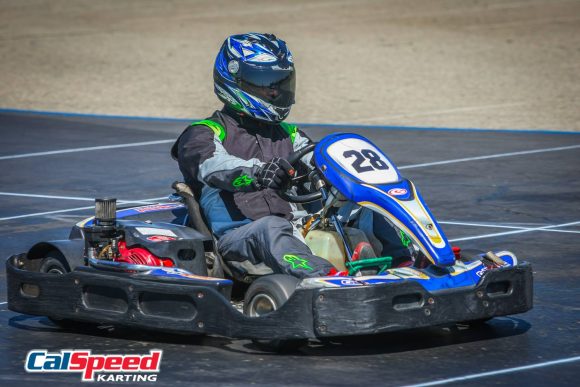 The guy with the momentum in the category is Tony Wika; two rounds ago was his career best race, until last round where he scored an A-Main berth in a very stacked Classico GP field. Seemingly coming out of nowhere after missing the first round of the season, Wika's steady improvement sees him now essentially the leading in a very coveted Grand Masters class. His 33-point advantage over long-time P2 driver Joe Sabella is a wake up call I think to the rest of the class to grab a gear, as Wika is now the de-facto guy to beat. For sure Sabella will be answering that call this weekend, and is a driver who has been putting in a lot of work to improve on his solid foundation. With Tom Zevin absent this round, it will be Sabella looking to take the fight to Wika unhindered from his season-long rival, a focus well needed for the challenger. Zevin will be hoping his 172 drop will keep him from losing too many points this weekend, and at least stay in the #3 spot upon his return for the final two races of the year. Of course the guy looking to find that little extra is Jeff Latimer, a multi-time podium finisher in this class, he will be pushing to close the gap not only to Zevin, but hoping to reel the top two in this title fight as well. It's going to be a big round for the Grand Masters drivers, and certainly an exciting one to watch!
Top 5 Grand Masters Standings (After 2 Drops)
| | | |
| --- | --- | --- |
| 1) | Dennis Kimbrell | 1225 |
| 2) | Tony Wika | 1126 |
| 3) | Joe Sabella | 1093 |
| 4) | Tom Zevin | 1090 |
| 5) | Jeff Latimer | 1058 |
Rookie Championship: Title to be wrapped up this weekend; fight continues for podium…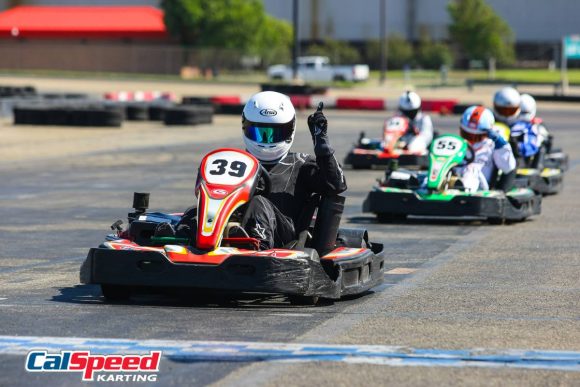 The newly crowned Sprint Series champion will most likely earn another title this weekend, as Thomas Blackledge needs just 96 points to score the mathematical clinch here in round #8. While perhaps a forgone conclusion, sewing things up this weekend will firmly move the spotlight to the ongoing fight for the rest of the top three that goes on behind him.
2nd-5th are the ones in this conversation, with Alfredo Anguiano continuing to hold down the second spot in the standings with three races to go. He's been consistent throughout the season, steadily making improvements round after round, making it harder and harder for those behind him to chase him down. Still, finding a little bit more should be his focus heading into the end of the year, as his challengers have been able to outscore him a couple times already. Those primary challengers are Lucas Dziemidok and Daniel Eaton, each able to find some very solid points since they started a few races ago. This is especially the case in Dziemidok, who has even found a 300-point day and the A-Main this season. The pressure is certainly on to perform at 100% these last few races, as every position could be the difference in where, or IF you make it on the podium…
Top 5 Rookie Standings (After 2 Drops)
| | | |
| --- | --- | --- |
| 1) | Thomas Blackledge | 1599 |
| 2) | Alfredo Anguiano | 925 |
| 3) | Lucas Dziemidok | 707 |
| 4) | Mark Sternberg | 692 |
| 5) | Daniel Eaton | 644 |
Sportsman Sub-Championship: 1 round down, 3 to go for first Sportsman title…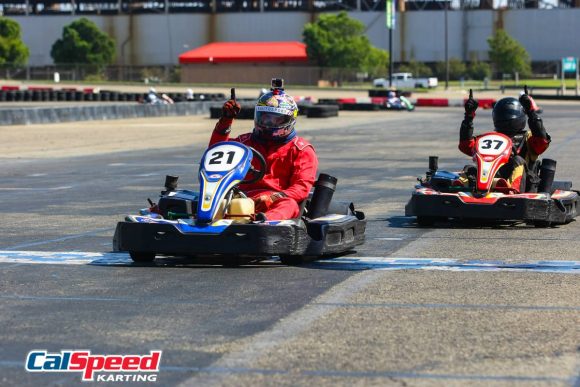 The new Sportsman sub-championship kicked off this past round, and the new successor to the Rookie championship started off on the right foot, with drivers from both the Sprint and the Super Series scoring big points. Regular Sprint series front runner Caden Thure showed his time in the feeder series has paid off, putting up the most points in the category via some solid heat races and an A-Main berth. He leads over Tony Wika and Sheng Wu, another two drivers putting up A-Main performances, currently sitting well within striking distance heading into round #2. For Wika it was a career best performance, while Wu is the highest in the overall standings of the Sportsman drivers running the full year. This trio certainly has a leg up after the opening round, but with one drop everyone is still in the hunt as we head into Classico's reverse direction.
Not only do I think we'll see some stronger performances out of some of the other drivers in the top 10, we have a couple drivers making their first start of the year tomorrow that could also make some noise. Sprint Series standouts Seth Willits and Sam Hunt are on the entry list, and if they are anywhere near what Thure put up as fellow Sprint Series drivers, this championship will get blown wide open. There are certainly a lot of drivers that could make something big happen, and after this weekend we will have a better idea of just who all the players will be.
Top 10 Sportsman Standings
| | | |
| --- | --- | --- |
| 1) | Caden Thure | 279 |
| 2) | Tony Wika | 260 |
| 3) | Sheng Wu | 251 |
| 4) | Ivan Martinez | 199 |
| 5) | Lucas Dziemidok | 194 |
| 6) | Daniel Eaton | 192 |
| 7) | Brian Starr | 190 |
| 8) | Doug Lewen | 190 |
| 9) | Edison Noboa | 178 |
| 10) | Sean Bradley | 177 |
Heavy Championship: Jason Collins looking to sew things up early…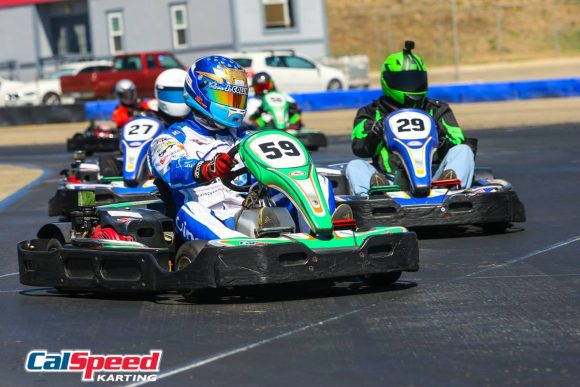 Unless something crazy happens, this one looks to be going to Jason, but given the point swings we have seen in this class, probably not going to see a clinch situation because neither he nor Michael Collins have any drops. Instead we'll be looking at 'probable' situations moving forward, with a 200+ point lead right around the 'clinch' mark when we reach one race to go…
Top 3 Heavy Standings
| | | |
| --- | --- | --- |
| 1) | Jason Collins | 1007 |
| 2) | Michael Collins | 814 |
| 3) | Jiri Dlab | 548 |
Team Championship: Cruise control for "The Boys"…


With the way the 'T4 – Boys Are Back In Town' team is running, it looks like it may be all but cruise control in the Team Championship, with the lineup of Taylor Hays, TJ Blackledge, and Chris Carter showing the way. Hays and Carter are putting up career years, while Blackledge is putting on one of the best rookie performances we have seen. From here on out it should just be 'hit your marks and let the points take care of themselves' for the top squad…
Top 5 Team Standings (After 2 Drops)
| | | |
| --- | --- | --- |
| 1) | T4 - BABIT | 5060 |
| 2) | T4 Engineers +1 | 4403 |
| 3) | Glorious S. Gang | 4152 |
| 4) | JAL Racing | 3676 |
| 5) | Elite S. Gang | 3546 |