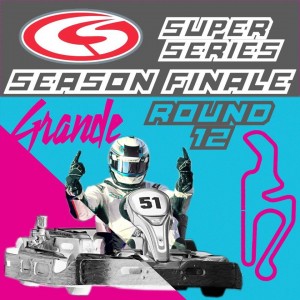 The Championship Finale for the 2015 Super Series season is upon us, and while many of the titles up for grabs have been decided, there are still yet places in the hardware to be earned, never mind the final podium of the year as well. It will all take place on the Grande configuration, as the field of nearly 100 drivers take to the layout for the second time this year, looking to end the year on a high note. For some it is a final chance to push and achieve goals for the year, while others will have an eye for 2016, and look to carry some momentum into the new season with a strong finish tomorrow. It will be an event full of talent as well, as the entirety of the top 25 in points will be in attendance, with several other potential spoilers on the entry list for one off appearances.
And once the final flag of the year is dropped, and the champagne sprayed for the last time on the podium, we'll all gather together to crown those that found success in their 2015 campaigns at the CalSpeed Awards Banquet. Whether on track or off track, this will be a day to remember…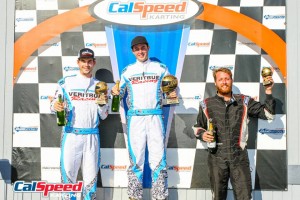 A look back at Grande: Round 5; May 2nd
The spring race on the Grande circuit would see a first time pole sitter in Wes Dent, as well as eight different winners for the eight heat races, showing no clear favorite once things got underway for the A-Main. Brothers Calvin would lead the field away at the drop of the green, with Miles taking control over Logan; the two working together for the duration of the 15 lap race. Jon Kimbrell and Sergio Bravo would enter the mix in the later stages of the race, but the advantage was still held by a Calvin at the conclusion of every lap.
On the final lap Logan looked to make his move in arguably the most predictable spot on the .75 mile circuit, as he looked to the inside of the final corner, Long Beach. The elder brother knew it was coming however, and Miles kept it on the bottom, blocking his would be attacker. Logan switched to the outside, seemingly setting up the over-under move, but Miles covered it as well, forcing Calvin to take his momentum to the outside. That momentum allowed Logan to secure the win, his second on the season, with Miles finishing second and Jon Kimbrell rounding out the podium.
An interesting point to make here is that not only were the Calvins the ones battling it out the last time we were here, but we also saw Miles lead Logan just a few weeks ago, with Logan winning there too. Could it be 'third times a charm' for Miles Calvin?
Regardless of who is out front, for everyone this will be the first clockwise track we have run since the Classico GP in August, and the first time we have gone down into Long Beach since we were on Sportivo in July. But the Long Beach corner is different when running Grande, as we carry a lot more speed from out of Contino and through Horseshoe, making it the favorite spot for passing, and arguably the most exciting corner to watch. Whether on the inside or the outside, with help or a one-on-one drag race, there is no better corner to end a season on than this one.
Top 5 Returning Grande Drivers
Logan Calvin: 2 Wins, 5 podiums, 9 Heat Wins, 16 T 3's, 3 Poles, 7 F.L.
Jon Kimbrell: 1 Win, 5 podiums, 7 Heat Wins, 12 T 3's, 6 F.L.
Darren Mercer: 1 win, 3 podiums, 5 Heat Wins, 13 T 3's, 1 F.L.
Sergio Bravo: 1 win, 2 podiums, 5 Heat Wins, 16 T 3's, 1 Pole, 9 F.L.
Bill Kreig: 1 win, 2 podiums, 2 Heat Wins, 6 T 3's, 2 F.L.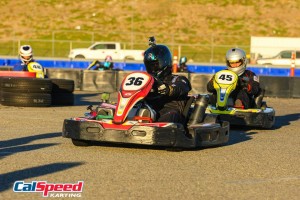 Smitty's Spotlight: Final hardware to be decided; an eye towards 2016…
Season Finale's usually a mixed bag depending on who you talk to; some want their season's to continue on and ride there successes as long as possible, while others are more than happy to get the next season started, ready to put the year behind them. For others it is the start of something brand knew, whether making their first start, or preparing and practicing for their first full season, and they are eager to prove what they can do.
While there are still a few places in the hardware that are still up for grabs, many of homes for the 2015 silver cups have been decided, and Saturday's finale will be icing on the cake for many of the competitors on the entry list. The main areas of contention will be the final 4 spots in the overall podium, and the Grand Masters division, which has several still in the hunt, but not enough room for all.
Tomorrow we will also see several drivers taking to the track with an eye to the future, with some of those drivers already making some noise here in 2015, namely that of Marcin Balazy. Balazy is following the same path as many others that have come before him; coming in too late to vie for the current season's rookie title, and accumulating too many starts to be eligible for the next years try. Instead he looks to do what guys like Darren Mercer, Aaron Scott, and Sean Fite have done, and that's forgo the rookie fight to become one of the front runners in their first full season.
There are a few others in the Series that will be looking to carry on the strong improvements this season and into the next as well, with drivers like Alyssa Yauney and Sergio Serrano starting out slower, but now are regulars in the A-Main, and could really be serious threats in 2016.
Then you have the drivers who have groomed their skills in the inaugural Sprint Series this year, either looking to move up exclusively, or do double duty for the rookie title and Sprint championship in 2016. The first chance we will really get to see what 2016 could look like will be the Clinic on the 19th of December, a pseudo drivers combine for competitors and teams preparing for the new year. With all of the driver values for the new season finalized, teams will be able to get there first look at the who's who for 2016, and we could see a lot of foundations built on that Saturday.
All in all, tomorrow will mark the end of a record season, and I am really excited to see the final battles sort out, the groundwork being laid for the new year, as well as the chance to say few nice words at the Banquet. Bring on the Finale!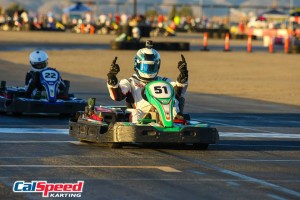 The Overall Championship: Logan Calvin is the 2015 Super Series Champ!
MS: Logan, you have had a career season here in 2015, scoring your second CalSpeed Super Series Championship, while setting and breaking numerous records along the way, including the coveted most wins category. Can you sum up how the year went, and what it means to you?
LC: Thanks Mike, 2015 has been my best year to date for my racing career. 2015 was very similar to my 2012 breakout season with the addition of the Karting World Championship. Summing up the year I would have to say I couldn't be happier with how it went. The season was more than I would have expected and I'm trying to stay humble.
MS: The Super Series isn't the only success you found this year, also scoring the National Championship at the Sport Kart Grand Nationals for the second time, as well as putting in a strong performance at the Kart World Championship in Italy. Being a monthly championship, how does the Super Series compare to all the other types of racing events you have done?
LC: The Super Series is completely different due to how long the season is. It's different for a couple reasons. To be able to grab the super series championship you have to be near perfect for an entire year. Just that in itself requires a lot of mental toughness. Another big factor is the ability to be able to adapt to multiple tracks. Being twelve rounds long with a different track each race requires the ability to adapt to the different lines, passing zones, and track conditions. One cool thing about the series is seeing different drivers grow throughout the year. At the beginning of the year you find yourself racing the favorites and by the end of year find yourself getting beat by drivers like Matt Hart. The Super Series allows for multiple drivers to be competitive and grow through the year. I'd say at that least fifteen drivers are capable of winning on any given day. Being able to win five this year requires more than just skill, a little bit of luck always has to be on your side if you want to win in any series.
MS: As mentioned before, you have set and broken a few records this year; are the stats and records something that mean a lot to you, or is it just about the on track action that keeps your attention?
LC: Umm that's a tough question to answer, I would say both. We are all racing for a trophy and to put our names in record books, but if it wasn't fun or credited it wouldn't mean anything. I believe they go hand in hand. The track action and competitiveness makes for a fun weekend which brings the sold out races, which in turn makes it something to be proud of when you are able to snatch a record or trophy.
MS: Having wrapped things up one round early, what is the approach for the final race, and do you change anything from the prior rounds when the results mattered for the title chase?
LC: Going into this last race I'm going for the win just like any other race. With the championship being locked up I believe it will allow me to be more aggressive and possibly take more risk. On the flip side I am still competing for the team championship, so bringing home the most points possible is still the priority.
MS: We've talked already a little about 2016, and what your plans might be; will we be seeing Logan Calvin in the Super Series next year as a driver, and/or will we see the Calvin Racing Development banner in 2016 as well?
LC: 2016 is going to be a busy year for me as I'm trying to put more time into my competition karting. It's hard to say if I'll be back next year for the Super Series, but it's hard to fathom letting Jon Kimbrell win another championship if I don't show up. While the Super Series is up in the air I will be at SKGN to defend my title. Sorry Mike don't really have a concrete answer with what next year holds with Super Series or CRD. If the stars align with no conflicting dates, I'll be there to defend my championship.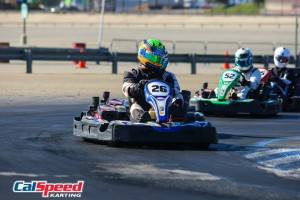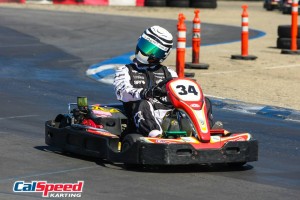 The Podium Battle: Six drivers, and only four spots…
I may have Jon Kimbrell and Wes Dent singled out in this group of six, but they still aren't safely inside the top 5 yet, according to the math. That said, they do have a hefty advantage on the drivers behind, with Kimbrell nearly 100 points clear of 5th and Dent 65 points ahead. Because of this, the likelihood of them getting knocked off the podium is pretty low, but where on the podium is certainly in question, especially between the two of them. Jon 'only' has 29 points on Wes, a spread that has been covered four times this season by his challenger…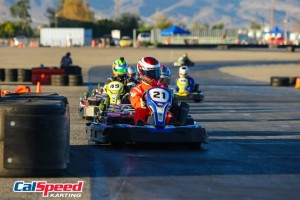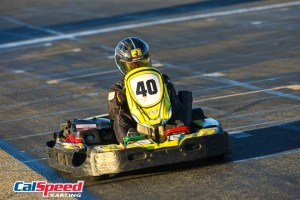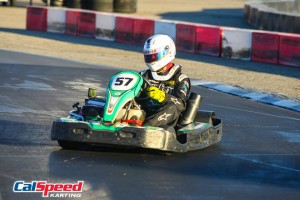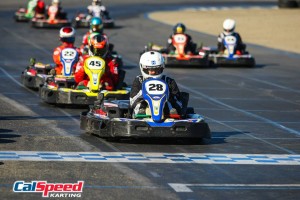 From 4th on back the excitement just ramps up, as just 36 points separates Taylor Hays, Sergio Bravo, Darren Mercer, and Adam Nagao in the hunt for the final two spots on the 5-driver podium. With the spread so close, it is really anyone's guess as to how it will turn out, but there are a couple things to keep in mind:
Sergio Bravo is outside of the top 3 for the first time really since the season first started, and along with Hays, have basically lived inside the top 5 all year; Bravo with two wins and Hays being the most consistent of the bunch. That said, both of them have been beaten the past two rounds by both of the two guys on the outside looking in. Bravo doesn't have much to fall back on, but Hays could use his series high throw out to his advantage if the entire group has a rough round.
As it was mentioned, both Nagao and Mercer have outscored Hays and Bravo these past two rounds, and to add to the momentum, they are both coming off one of their best rounds of the year. Give another little nod to Mercer on this one too; he has done two less rounds then the rest of the group, and is still in the thick of things.
It may not be for the championship, but this battle has turned into a fine one…
Podium Battle
2. Jon Kimbrell    +94    (268)
3. Wes Dent          +65    (308)
4. Taylor Hays      +19    (325)
5. Sergio Bravo      3261 (292)
6. Darren Mercer  -14    (0)
7. Adam Nagao      -17    (257)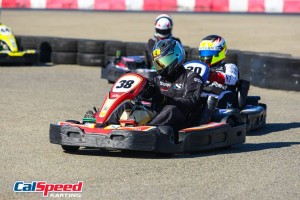 The Masters Championship: Sergio Bravo makes it 5 for 5…
MS: Sergio, your name is synonymous with the Masters Class, being the only driver to bring home the Super Series sub-championship since its inception, scoring your 5th in a row this season. What does this championship mean to you, and does it still mean as much as the first one?
SB: Not many guys can say they've won anything five times in a row much less a Championship and at probably the most competitive series anywhere – so I'm very thankful and proud of that. There were some great battles in some of those earlier Championships.
MS: I know you have said before that you are going for the Overall Championship whenever you start the season; is the Masters championship something that you don't really keep an eye on unless you 'need to', or do you always have one eye on the overall, and one eye on your fellow Masters drivers?
SB: It's hard not to look at the standings after each race so I pretty much know where I sit most of the time. But at each race and on track, I'm focused on the Overall. I've been really fortunate to be a contender for the Overall every year, finishing Top 5 Overall every year so far, so I only really focus on who those top five to seven guys are at the time, Master or otherwise.
MS: While this is your fifth Super Series Masters championship, you were also able to finally seal the deal on the Masters National Championship this year at the Sport Kart Grands. How do these two championships compare to you?
SB: How a Grands or SS Championship is earned is unique to each. I'm really glad to have gotten the 'monkey off my back' for a Grands Masters Championship but I still hope to add a Grands Overall podium before I leave racing – and thereby collecting another Masters National Championship along the way too.
MS: As one of the few 'elder statesman' able to take the fight to the sharp end of the field, from your perspective, what are some of the biggest challenges drivers face in the Super Series when trying to not only make the A-Main on a regular basis, but score overall wins and championships?
SB: Well that's easy, the 'biggest challenges' are…every other driver in front of you. This is a super competitive series but your eyes and focus need to be on how to move to the front and not just where you are at that moment.
MS: As arguably the most successful of your team in the overall standings, could we see you spearhead a challenge for the team title in 2016, or is the focus in your group more about the individual driver results, regardless of the 3-driver squad?
SB: My team, with co-captains Bill Krieg and Kirk FeldKamp, have had some good success in nurturing drivers. Last year Roman was runner-up rookie-of-the-year and has good success in competition karts this year. Both Nathan and Jake Hood have made A Mains and Jake won his first heat race this year, and Tom Kwasniak has also made improvements. On track, my personal goals are of course important but I'm grateful to have had the support of my teammates, on and off track, while pursuing Championships.
Top 3 Masters Standings
1. Sergio Bravo      3261   (292)
2. Diego Morales  2993   (0)
3. Jose da Silva      2876   (268)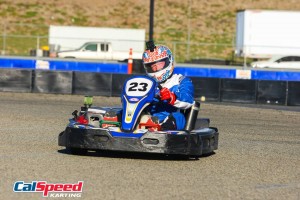 The Grand Masters Championship: Kimbrell on the verge of back-to-back titles…
With Dave Messimer's absence, Dennis Kimbrell looks to have all but secured his second Grand Masters title in as many years, sitting just 39 points astern heading into tomorrow. It has been an up and down season for the Kimbrell family patriarch, but when things have lined up he has been every bit as strong as Messimer himself, battling at the sharp end of heats on a regular basis. Tomorrow should just be about going through the motions, and staying cool calm an collected, at Kimbrell will be able to hoist the champions cup at the end of the day.
The stark opposite is the fight for the rest of the podium, as three drivers will be fighting for a spot on the podium. Duane Lawson has etched out a bit of a lead after three of his best rounds all year, averaging 202 points over rounds 9 to 11. The two cats he is trying to keep behind him are no strangers to the Grand Masters podium, as Jeff Latimer and Brian Starr lurk just behind, and would love to make it two podiums in two years. Though just two points between Latimer and Starr, they will need to eat up 83+ points if they are going to nip Lawson in the final standings.
Top 5 Grand Masters Standings
1. Dave Messimer     2252   (0)
2. Dennis Kimbrell   2213   (169)
3. Duane Lawson      1628   (132)
4. Jeff Latimer            1545   (148)
5. Brian Starr              1543   (0)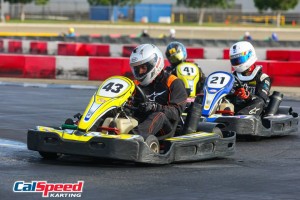 The Rookie Championship: And your Rookie of the Year is, Sergio Serrano!
MS: Sergio Serrano, you are the 2015 Rookie of the Year! When I let you know it was official; what were your thoughts? What does this championship mean to you?
SS: Thank you! My first initial reaction to the news was relief. As the day went on, it began to slowly sink in and by the end of the day I felt very proud of myself for the accomplishment and very thankful to have done it being a part of a great team in Arkham Motorsports; I really believe I wouldn't be sitting here talking to you had it not been for their guidance and support throughout the season. This championship means quite a lot to me as it is my greatest racing accomplishment so far but I think it ultimately means that I've proved to myself that I've got what it takes to compete at the sharp end, and provides me with motivation to come out on full attack mode for next year. So looking forward to that very much.
MS: You may have sewn it up one round early, but this season didn't start out the way it has finished. Tell us about the season from your point of view. Did you always think you had a shot at the title?
SS: Yes, the rookie championship was always my target. I knew I would keep improving every time I hit the track so it was just a matter of making sure I was absorbing as much I could from my teammates and even other drivers and applying it out on track. It's incredible how much you can learn just by following a faster driver. Rounds 1 through 5 were okay, I saw steady improvements in each race but when round 6 came around, it all just seemed to really come together for me and I went out and qualified third overall and backed it up with my first A-Main appearance. I really enjoyed the season thereafter having secured a spot in every A-Main. The highlight of my season apart from winning the rookie title was round 9 where I almost scored my first career podium. A very enjoyable season overall with a ton of knowledge gained, ready to apply it all to next season.
MS: We see many rookies have strong second half seasons after competing at the Sport Kart Grands, but you not only started the improvement prior to the June event, you didn't actually attend it. What was the turning point for you this year, and what did it take to get your title run back on track?
SS: In all honesty, I was very surprised with my pace in round 6. That was definitely the turning point in the season for me. I think my previous best result was a mid-pack finishing position in the B-Main so to come out and qualify third and to continue to be competitive all day was surprising to me. After that it was just a matter of focusing on the rest of the season and chasing down that rookie title. Once I managed to make the next couple of A-Mains, I knew I had truly found my groove and just needed to stay consistent, which worked out pretty well for me.
MS: You came into the series without a ton of experience under your belt, especially compared to some of the other rookies in your class. What were some of the biggest challenges you faced as a new driver in the Super Series, and what advice do you give to those future rookies coming into the sport?
SS: Well, as you just pointed out, my lack of experience was a bit of hindrance early on for me. Having to transition from an indoor feel to a much more competitive outdoor series was by far the biggest challenge I faced coming into the series. You find out very quickly just how different it really is. I had to learn how to race in that pack style and it took me a little while to figure out just how important the draft is. I don't think I ever really figured it out until round 6 where I ran Nuovo for the second time, a layout where the draft has a massive effect on the kart's ability to run different lines. I learned to be patient and how to work with other drivers which helped me enormously in the remainder of the season. Another challenge for me was gaining respect from the top drivers. I think it's a normal reaction for them to not want to work with a rookie and I did have a couple of run ins with a few front runners; but not until I was able to prove to them that I was able to not only run with them but also work with them, did they begin to want to work with me as well. I think round 9 shows exactly that, as I was able to work my way through the field up into the top 5. My biggest piece of advice for future super series rookies would be to become sociable in the pits and to remain open to criticism and advice. A huge chunk of my improvement came from simple conversation with faster drivers, then comes the part where you apply everything you learn into your race craft. Also, like I pointed out earlier, given the opportunity, getting behind a faster driver and attempting to emulate his lines can really help expedite the learning process. There are also tons of onboard videos on YouTube which is a great tool and resource to use while in your free time. I'd watch a few onboard videos prior to arriving on track on each specific layout to get a visual reference on how it should be driven. Anything you can do to get some insight and gain some knowledge will always pay dividends later in the season.
MS: You have had a stellar second half of the season, making A-Mains regularly, and even came close to scoring your first career podium. What are Sergio Serrano's goals for next year, and can we expect to see you make you Grand National debut?
SS: A definite goal of mine is to secure a top 10 overall for the season. The primary goal is the overall championship which is an ambitious goal but I'm prepared to give it my all. Yes, I do plan to compete in next years Grand Nationals.
Top 5 Rookie Standings
1. Sergio Serrano    2588   (163)
2. Kyle Spicer          2335   (0/0)
3. Drew Zeller         2104   (187)
4. Brent Curran      2052   (147)
5. Luis Calderon     1815    (132)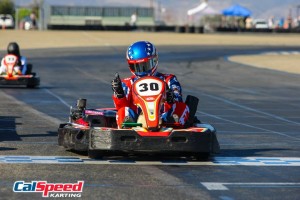 The Heavy Class: Rodney Bryant seals the deal on his first CalSpeed title…
MS: Rodney, congratulations on scoring your first CalSpeed championship! What does scoring this title mean to you?
RB: Winning the Heavy Championship means mission accomplished. The goal at round one was to win the heavy class and that has been the goal all year long.
MS: This was your first season running in the Heavy category; what was the biggest challenge from your point of view, and what are the keys to doing well in this class?
RB: The biggest challenge for me was trying not to get frustrated. It's tough when the level of talent is as high as it is to carry that extra weight. You just have to stay focused on the goal, make sure you beat the other guys in your class first and get the best finish you can every round. If it's a B-main great, if it's a C-main, ok just make sure when they call a heavy to the scales it's you.
MS: I know you have turned the focus away from the Heavy Class for 2016, and have already shown you have some strong pace when running the standard weight. What are your goals for the 2016 season?
RB: Well I'm not quite in 2016 mode yet. My focus now is putting in a strong run at Machismo. I think Arkham Coast to Coast has an opportunity to make some noise at that event. As far as goals for 2016 my goals are the same every year, go out and compete. Maximize every lap of every round and leave the track feeling like I drove my best that day. If I do that he results will take care of themselves.
Top 3 Heavy Class Standings
1. Rodney Bryant    1371 (124)
2. Mike Collins         1071 (0)
3. Paul Juarez           904  (0)
The Team Championship: Teams that stick together, win together…
Through the Classico Grand Prix, team RNA – Imola was the de-facto #1 team to beat, with consistent strong runs coming out of title contender Jon Kimbrell, and eventual Sprint Series Champ Sean Fite, with their number three driver putting in better than average points on a regular basis. When the news broke that their #3 driver was no longer going to be racing, a chink in the armor presented itself, and it looked like the title could be wrestled from their grasp. I suspect Jon Kimbrell and Sean Fite to be driving better than they have all year in an attempt to make it as hard as possible for CRD to steal away the title in the 11th hour.
For Calvin Racing Development, they can pretty much have 100% focus on the team title; Logan Calvin has already won that overall title, and rookie Kyle Spicer is all but locked in to second, with just Drew Zeller trying to secure 3rd in the rookie points. These guys need to eat up 153 points in tomorrow's event, and although they have one extra driver to do it, it is far from cut and dried. The odds may be in their favor, but the fat lady hasn't started singing yet…
Top 5 Team Standings
1. RNA – Imola                                 8073   (531)
2. Calvin Racing Development      7920   (510)
3. IKM – S3                                       7477    (515)
4. CRD – Gold                                  7441    (546)
5. IKM – GranStand                       7206    (459)