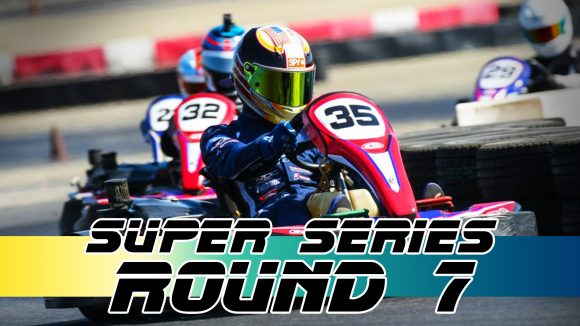 Six different winners in as many events is how we enter round #7 of the 2018 CalSpeed Super Series season, with Jetson Lieser the latest first time winner to etch his name in the record books. We'll be trading the Super Speedway of Nuovo for the braking duel nature of Sportivo this weekend, this being the second repeat track of the season. Brazilian Paulo Franca was able to secure his first win in the series on this layout back in March, the round #3 winner now currently well inside the championship fight.
And speaking of championships, the protagonists in each category are really becoming defined with just four rounds remaining. With four very different layouts still on the docket -Sportivo, Classico, Classico CCW, Tecnico- it is still anyone's guess how this one will turn out. But first, this weekend's contest: Sportivo. Not only will the track play a big part of the result with its challenging Sportivo and Monaco corners, but there are several big names that have returned to spice things up.
We'll be looking at near triple digit temperatures once again on Saturday, adding to what is already sure to be a hotly contested A-Main victory. In this preview we'll highlight some of those wildcard entries, take a closer look at who are the primary challengers for the respective 2018 championships, take a look back at the summer round on Sportivo last year, as well as catch up with our most recent winner, Jetson Lieser. Without further ado, let's get things rollin'…
Driver Focus: LO206 hot shoe Jetson Lieser snags first win, and second podium of the year…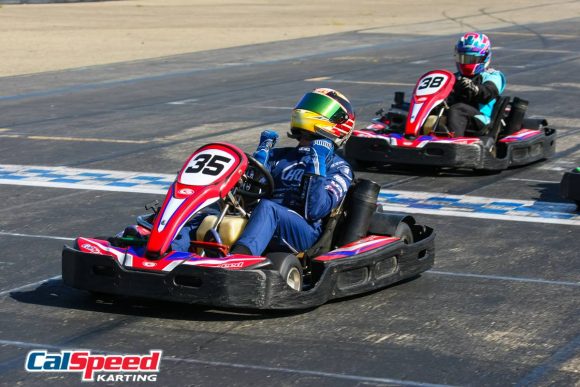 Jetson Lieser brought things home first last month to score his maiden victory in the Super Series, becoming the sixth different winner of the season thus far. No stranger to running up front, he has found success in the open wheel department via the LO206 package, and now has added sport karts to his winning list. I was able to get a few moments with Jet ahead of this weekend, covering everything from early starts, to the differences between the two disciplines…
Mike Smith: First up, congrats on scoring your first Super Series win this past month!
Jetson Lieser: Thank you very much! I definitely had to wait a while before I picked up my first Super Series win!
MS: You had come close before back in round #2 where you finished second. This time around you were able to get it done; what was the difference that saw you score the win?
JL: I think that this time around I had more of a desire and drive to win after having a drought of good performances, and I think that round was the one that determined whether I was still able to contend for the championship. I also think that the group of people around me has pushed me to perform better, so that those people have something to strive for as well.
MS: This was actually your second win at CalSpeed, having previously won in the 206 Pro Series last year. In your opinion, what are the differences between the two types of karts, and the types of racing?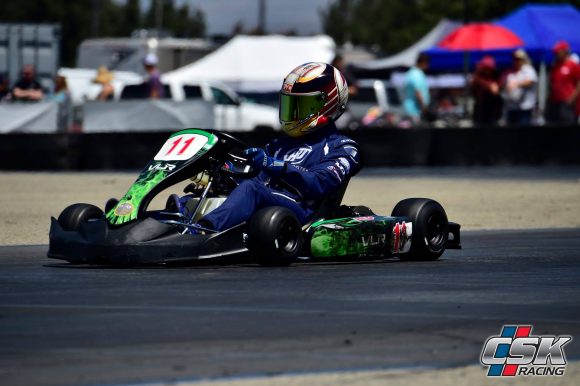 JL: In my opinion the two karts are similar, but different in the sense that either kart you drive you have to be smooth and consistent to perform well. I believe that the big difference is the weight of each kart, and how you are able to use your body in the 206 to help the weight transfer through each corner. The types of racing I believe are very similar in most ways on track, besides respect; I think there is more respect among 206 drivers then sport kart drivers due to having a bumper around the sport kart which makes them a tank, and 206 being open wheel. Drivers start to understand that you can't be forcing your way through the field, and you have to be more conscious on the moves or passes you decide to take.
MS: How did you get your start in karting, and how did you hear about CalSpeed originally?
JL: I actually started at Pole Position indoor karting and moved to K1 Speed after a while. While I was racing at K1 Speed I actually met someone who races at CalSpeed to this day; Charles Eichlin. This was way back in 2014 and when the team Arkham was together. I'm definitely glad I learned about CalSpeed to this day!
MS: You are a part of a small group that has been able to race on track -and many times against- your dad. What is it like getting a chance to compete on the track and in the same class as your dad, and do you race him any different than other drivers?
JL: I have a good time racing with my dad; especially when I am actually able to teach him some things as well to make him a better driver out on track. I definitely race him differently then others. I try to push him harder because I want to help him to become a better driver as well, and I know that he would not go easy on me, so I make sure to push him to the limits.
MS: Of all the types of racing you have done, what is the part about the Super Series that you like the most, and keeps you coming back?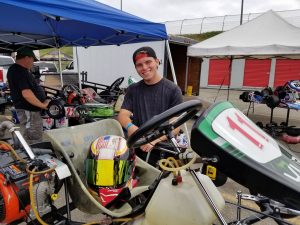 JL: I think what keeps me coming back to Super Series is the competition amongst all the drivers. The atmosphere during the day around everyone makes it more enjoyable, and you are able to experience all the ups and downs with everyone throughout all of the racing. The Super Series is full of people who love to race and compete. It is something that any driver who comes out should enjoy the learning curve of going to something different, as well as making a lot of friendships along the way.
MS: This has easily been your best year here in the Super Series, and you currently are 6th in the overall standings after six events. With four rounds yet to run, how do you feel about your chances of not only finishing in the hardware, but perhaps scoring the title?
JL: I feel that my chances have been going up and down throughout this year. At the moment I feel like I have a very good chance to finish with hardware at the end of the year. To win the championship at this point is going to be tough, but it is very possible. I will just have to be at the top of my game for the rest of the year; I need to make sure to finish in good positions due to already using up my two drop races on a couple not so good races this year. I definitely think the second part of the year is going to have some more interesting finish positions, and people mixing everything up a bit more. It should be exciting!
MS: Thanks for taking the time Jet! Good luck this weekend, and for the rest of the season!
JL: Of course! Thank you for the good luck as well, and I hope we get to do this again before the year is over!
Sportivo Flashback: 2017 Round #6 – June 8th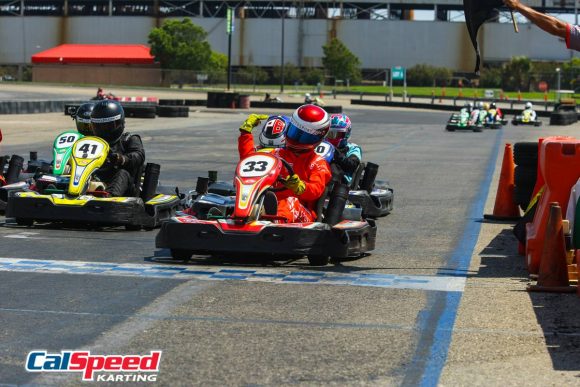 A look back to the scorcher that was the halfway point to the 2017 season…
From last year's online mag:
"With overall temperatures over 107 and track temps eclipsing 155 degrees, it was fitting that the on track action to finish up the sixth round of the CalSpeed Super Series would be equally as hot. The day would kick off with a first as Sean Fite scored his maiden pole position in the series, but the day itself would be led by point leader Patrick Britain. Like he did in the February race, Britain would be the only driver to sweep his heat races and would lead the field away for the rolling start. Alongside him on the front row was fellow heat winners Aaron Scott, followed by Taylor Hays in third, while other heat race winners Charles Eichlin and Jetson Lieser would start 5th and 10th respectively.
Scott would waste no time taking the fight to the point leader at the start of the race, leading the opening pair of circuits before Britain made his counter attack on lap three. Scott would go defensive into the Monaco corner to attempt to maintain the top spot, but after a brake lock up would fall down the order and out of contention. Britain would take over at the point –but only for a single lap- with Hays making the move to steal away the top spot on lap four. While Taylor held the top spot for the next few laps, the jostling for position behind him saw drivers try and get in position to make their own challenge for the lead. Britain would make the move for the lead at about the halfway point, maintaining it for a handful of laps before Hays got him back to lead a very exciting closing laps. No fewer than six drivers looked to have a shot at the win on that last lap, and has Hays led the group out of Horseshoe and went defensive, it was Yauney emerging as the primary Challenger, going to his outside for the final corner. Bill Kreig had played a smart race to be in position, but as he gave a slight push to Hays in the final corner, the contact was enough to push the leader wide and into Yauney. While unintentional, it was enough to put the finish on its head, with Hays grabbing the win, Britain capitalizing for second, and Prieto promoted to third after penalties. Yauney would also move up to be awarded fourth, with Kreig settling for fifth once the dust had settled."
Top 5 Drivers on Sportivo:
Logan Calvin- 2 wins, 5 podiums, 10 heat wins, 12 Heat T3's, 3 Fast Laps
Miles Calvin- 2 wins, 3 podiums, 4 heat wins, 10 Heat T3's, 1 pole
Patrick Britain- 1 win, 5 podiums, 5 heat wins, 10 Heat T3's, 1 Fast Lap
Darren Mercer- 1 win, 3 podiums, 6 heat wins, 11 Heat T3's, 1 pole, 2 Fast Laps
Sergio Bravo- 1 win, 3 podiums, 5 heat wins, 12 heat top 3's, 5 Fast Laps
Smitty Spotlight: Spirit vs The Letter; Maintaining the integrity of the Series via the rules…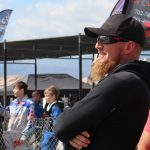 A couple of weeks ago there was a NASCAR Xfinity race at Daytona where a driver was penalized for breaking a rule -a rule that has some room for interpretation- and it cost him his first win. Specifically, it was for crossing a double-yellow line while advancing position; the grey area here is the 'advancing of position' not the crossing of the lines. Now here is where I want to pick things up; the spirit of the rule, versus the intent of the rule.
That grey area I mentioned is actually a common thing in rulebooks, as it can allow for different circumstances, and depending on the series, may allow Officials to adjust a ruling to fit. In all of the CalSpeed series, we try to balance a fun and fair arrive and drive program, with giving a professional experience that can rival that of what may be seen on TV. Because of that, our rule sets lean more towards fairness, and typically are less draconian -severe- than what can be seen from sanctioning bodies like the FIA, NASCAR, or heck, even competition karting.
What I have always tried to do is focus on the intent of the rule; why is it in place, or specifically, what is the goal of the rule? This is the 'Spirit' of that rule. Then I write the rule to explain that meaning, sometimes having some grey area so there is that wiggle room for unforeseen or new instances. As the Series has grown, things became a bit stricter, but in recent years, I have tried to dial it back a bit more to concentrate on fun, fair, and customer experience. That said, we are still racing and we take it seriously; the integrity of the series relies on consistency in the calls, as much as the fairness.
Going back to Daytona, one could see that the 'Letter' of the rule was certainly broken; but was the Spirit? Personally I don't think so, and it is those kind of judgement calls that I -and all Race Directors- deal with. We'll always try and make sure that whatever the call is, it is consistent throughout the year, and adheres to those principals of fairness.
Overall Championship: Alyssa Yauney takes over top spot with second 400+ point day…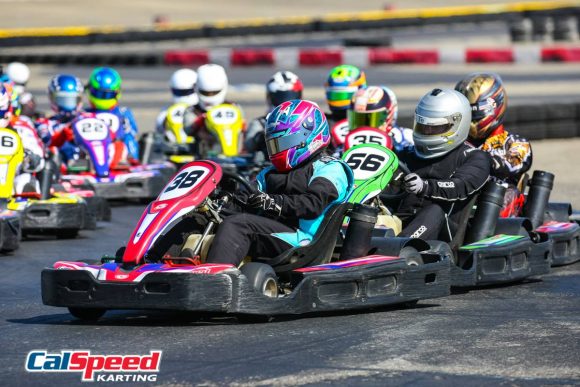 This championship is closer than it seems; 2nd-10th in the championship are separated by a mere 57 points, with nearly each of them not having much in the way of drops left. What you earn you must keep, and there is so very little room for error, with every point earned seemingly meaning more now than before. 57 points between second and tenth… So how is first place 69 points in front?
Consistency. In the opening six rounds, Alyssa Yauney has had only two events that were below 350 points, but more importantly has a pair of 400+ point days to her name; the only driver to eclipse the 400 mark. It has been her ability to make the most out of the good days that has separated her from the other consistent drivers at the sharp end, the result being a bit of a cushion with four rounds to play. That cushion plays well for the championship, but it isn't like she only has the top ten to worry about; just look at this weekend's entry list. Not only is the entirety of the top ten in the conversation for the overall championship, but the sheer number of drivers that could come away with an A-main victory seems to grow by the day. This weekend things get even tougher too, with several drivers entered that would arguably be top ten threats if they ran the whole season. Jon Kimbrell, Miles Calvin, Aaron Scott, Andrew Wood, and Mark Connell bolster an already stout lineup of drivers making this weekend's A-Main another very tough contest. Couple that with the Classico GP next month that will probably see more of the same, and you have a couple of big possible wildcard events that could turn everything on its head in the title race.
Speaking with several drivers heading into the weekend, many have a 'now or never' thought process in either solidifying their hardware chances, or returning to form that will see them get back in the game. And it makes sense; with a 335 drop, Yauney could potentially see her lead evaporate, and the 57 points among the ten could also just as quickly close up. Never mind the mere 20 more points that encompasses 11th-13th (Adam Nagao, Taylor Hays, Charles Eichlin). The challengers are many; who will strike first?
The depth in this championship fight is phenomenal; the round #7 entry list is star studded; how can you not be excited for Saturday?
Top 10 Overall Standings After 2 drops (best drop)
| | | | |
| --- | --- | --- | --- |
| 1) | Alyssa Yauney | 1521 | (335) |
| 2) | Diego Morales [M] | 1452 | (342) |
| 3) | Paulo Franca | 1450 | (300) |
| 4) | Sean Fite | 1442 | (321) |
| 5) | Chris Huerta | 1431 | (342) |
| 6) | Jetson Lieser | 1416 | (274) |
| 7) | TJ Blackledge | 1411 | (263) |
| 8) | Henry Morse | 1402 | (0) |
| 9) | Alexander Bermudez [M] | 1400 | (255) |
| 10) | Patrick Britain | 1395 | (326) |
Masters Championship: Bermudez proves to be no fluke with second class leading run…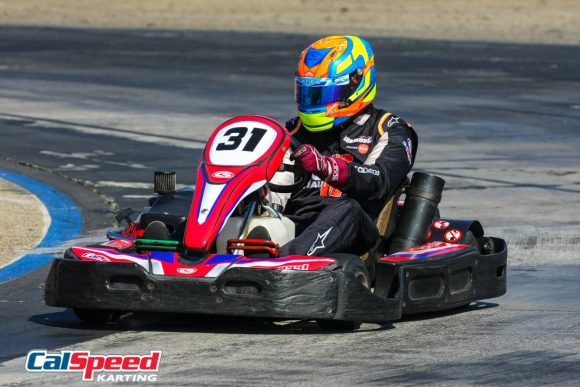 It is hard to argue with results, and right now Diego Morales is putting them up in spades. Currently second overall in the Super Series standings, the former A-Main winner already has a podium this year, and hasn't finished outside the top 10 yet this year. With a drop that ranks amongst the top three in the field, he also has a strong foundation to fall back on with just four rounds remaining. He hasn't been challenged a bit more of late by his fellow Masters drivers, specifically that of his current closest rival, Alexander Bermudez. Bermudez picked up his first career podium two rounds ago, and then backed things up with heat win and a 5th overall last month. It is the second time in a row that he was the top points earner in the category, and he has solidified himself in the #2 spot in the standings because of it.
Well, that and some tough luck that seems to follow the reigning Masters Champ Jose da Silva around. Jose had yet another solid run cut down in his second heat race from something not his doing, but was at least able to salvage a B-Main win and transfer to the big show. The unfortunate part is the loss in points, dropping to over 100 astern of the leader Morales. He has nearly a 100-point cushion to keep a piece of hardware this season, but will need things to go his way in these final few rounds if he is going to go back-to-back. For everyone behind Jose, the time is now to reel in the gap…
The fight for the championship in this class is one of inches, and it is really exciting to see both of the top two inside the top 10 overall and aiming for double hardware. With so little between the front runners, just a few positions could make a big difference come November…
Top 5 Masters Standings After 2 drops (best drop)
| | | | |
| --- | --- | --- | --- |
| 1) | Diego Morales | 1452 | (342) |
| 2) | Alexander Bermudez | 1400 | (255) |
| 3) | Jose da Silva | 1330 | (263) |
| 4) | Ariel Rubio | 1232 | (260) |
| 5) | Steve Spring | 1201 | (280) |
Grand Masters Championship: Nothing between the class leaders with four rounds to go…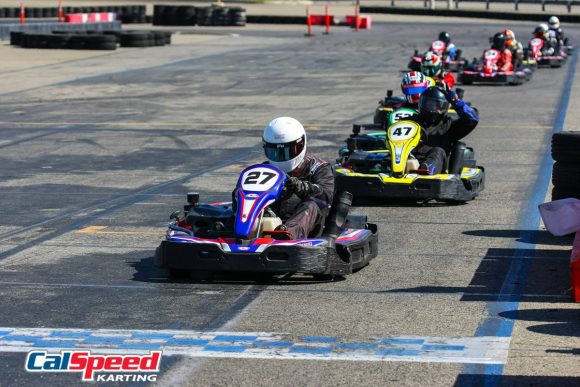 The epic back and forth between Tom Zevin and Jeff Latimer continued through round six last month, with Jeff outscoring his rival for the 4th time this season. That said, he was able to reel in Tom to just one point, the two drivers trading performances almost every event. Save for Zevin's 255 from round #3, these two have gone almost back and forth consistently inside the 170-220 range. The swing in points is what has made this title fight so entertaining, and lucky for them, it has been strong enough to maintain the top two spots in the standings ahead of reigning champ Tony Wika. For Wika it has been a stark contrast to the 2017 season, as he hasn't put up the same numbers he did, nor as consistently as he did one season ago. Still, the pace is there, and he can't be counted out, even though the top two are starting to stretch away a bit, now with a 74-point lead. This will be a big weekend for the champ if he wants to reel that back in, and there is no time like the present to return to form…
And let's not forget about perennial podium contender Brian Starr; Starr has shown numbers that near rival the current top two, but started the season late in round #3. Still, he has been chipping away little by little, with the current 100 or so point gap something that could be evaporated by one of this class' patented point swings. Things are far from decided in the hardware department here in Grand Masters, and it hasn't gotten any less exciting with just four rounds to go.
Top 5 Grand Masters Standings After 2 drops (best drop)
| | | | |
| --- | --- | --- | --- |
| 1) | Tom Zevin | 842 | (151) |
| 2) | Jeff Latimer | 841 | (177) |
| 3) | Tony Wika | 767 | (150) |
| 4) | Brian Starr | 737 | (0) |
| 5) | Gilbert Perez | 512 | (75) |
Sportsman Championship: Korotkov returns to form with top points, and jumps to P3…

There was a decent amount of movin' and shakin' in the Sportsman standings after last month, spearheaded with Sam Hunt taking over the top spot in the standings by just five points over Rodney Bryant. Hunt scored his second 300+ point day of the season to do it, but he was actually the second highest earner in the category. Instead it was the return to form of Dmitry Korotkov on the same track he lead the field on in the opener, showing his affinity for the Nuovo circuit once again. He too picked up his second 300+ point day, and was able to move up from 5th to 3rd in the standings, now just 33 markers shy of the top spot. His leap frog in the points was helped out by the absence of former top three driver Scott Milne, who took up Dmitry's former position in 5th after using his drop. The one driver that didn't move at all was fourth place runner Tony Chen, albeit on the back of another consistently solid performance. The entire top five are separated by just 65 points, and in a class that has swings of that amount, it is still all to play for.
In fact, it is Chen that enters the final four rounds with a little bit more to stand on, his best drop of 244 carrying the advantage over the rest of the class leaders. What he has yet to find is the 300-point mark, which is the primary reason he has yet to break into the top three. For current leader Sam Hunt and P2 Rodney Bryant, it has been a bit of a 'tit for tat' with each trading off strong runs and then slight missteps; still, they have shown to be the duo to beat at the moment. Big questions this weekend will be: can Korotkov back up his performance on a non-Nuovo track like he did in round #2, and can Scott Milne bounce back from his absence with a big round this weekend?
And there is still one wildcard here that while is under the radar a bit, could make some noise in this final run to the finish; Mark Sternberg. Currently 6th and 65 point astern from Milne in fifth, he has shown to have the pace and patience to make something happen, running almost as consistent as Chen, but with an absence to his name too. If he finds a little more this weekend, there is a good chance this becomes a 6 horse race to the end…
Top 5 Sportsman Standings After 2 drops (best drop)
| | | | |
| --- | --- | --- | --- |
| 1) | Sam Hunt | 1165 | (216) |
| 2) | Rodney Bryant | 1160 | (211) |
| 3) | Dmitry Korotkov | 1132 | (200) |
| 4) | Tony Chen | 1105 | (244) |
| 5) | Scott Milne | 1100 | (203) |