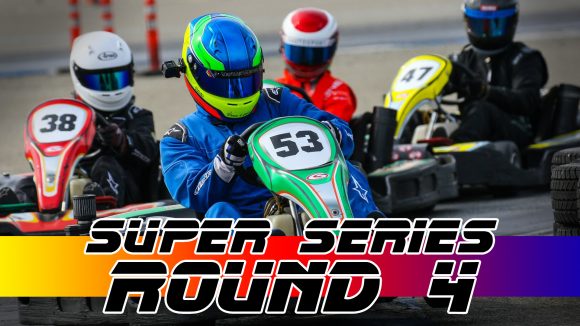 The 2018 Super Series season rolls through the Grande Counter Clockwise track this weekend, and it is the final time these drivers will see the layout this year. Used only once last year in the fall, Grande CCW is again only on the schedule once in 2018, making the race all the more special. It will be another adjustment for the drivers, having gone back and forth the past few rounds in terms of direction, as the opening five events of the season alternate between clockwise and counter-clockwise configurations. This place is a blend of speed and technicality, and it will be interesting to see who comes out on top, especially with how unpredictable this season has been so far…
In this month's preview we'll take a look at the last time this track was visited by the Super Series, sit down with our most recent winner Paulo Franca, as well as take a look at each of the classes in the points. Things have been pretty interesting in the points too, with the top ten invert really making things interesting, while a few drivers missing this weekend will have a knock-on effect throughout each category. But first, let's get to know a little bit more about the most recent winner in a series of first-time CalSpeed victories this year…
Driver Focus: In just his 7th Super Series start, Paulo Franca adds his name to winners list…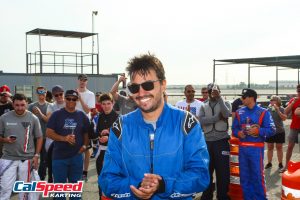 Paulo Franca started racing at CalSpeed in a handful of events in 2017, picking things up pretty quickly in terms of pace, finding the A-Main on more than one occasion. Coming into this year I think everyone expected him to be in the hunt at the sharp end, but he would raise eyebrows in round #3 with the overall victory. I caught up with the most recent winner and asked him a bit about how he started racing, and some of the challenges he has faced learning the nuances of sport karting at CalSpeed…
Mike Smith: Paulo, congrats on earning your first CalSpeed Super Series win! And after just seven starts at that!
Paulo Franca: Hi Mike, Thank you very much! It was a very challenging day.
MS: As I mentioned, this was just your seventh Super Series start, having run only four events last year. That said, you aren't brand new to karting are you? What racing background do you have, and what are some of your accomplishments?
PF: I would say I have some experience in karting. I started racing when I was 13 years old in Brazil. My first official racing was in 1996 in a Parilla/IAME two stroke engines and it never stopped. My best year was in 2008 where I was pole position and third in Brazilian National Championship. I have been very close to winning a national championship a couple of times; but on professional kart, besides speed you must have some luck, which hasn't happened to me.
MS: How did you hear about CalSpeed and the Super Series? How would you say this series, and/or the racing here differs from what you have done in the past?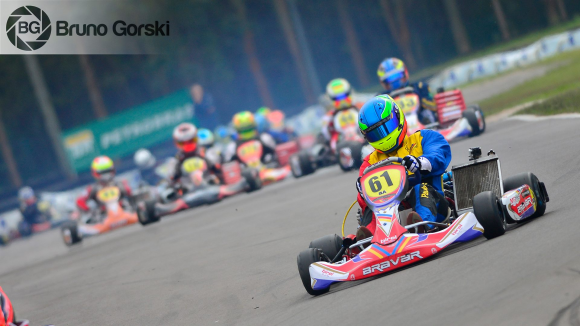 PF: I think someone mentioned that there was a karting track in Fontana, so I just did some research in the internet and found CalSpeed. Before CalSpeed I tried electric karts; that I didn't like especially for the "racing model". But in Brazil I used to race in a similar rental kart championship called AMIKA, where I won a championship some years ago. Main difference between Amika and CalSpeed is the Honda engine 13hp vs 9hp and only one qualy/race vs practice/qualy/3 races per event.
MS: After the opening three rounds of the 2018 campaign, you have already scored your first win, and currently sit second in the points on the back of a 4th overall in round #2. Did you expect success to come this quick, and was a title run the goal at the beginning of the year?
PF: Honestly, I was expecting to be more competitive this year, but not as good as it happened after the first three races. I'm more confident I can keep improving and might be able to run for the title. But there is a lot to learn and improve in the coming races. As all drivers, I don't leave home to lose a race, I want to win!
MS: When you first came on to the Super Series scene last year, it seemed like things were a little tough as you adapted to this style of racing; specifically what was and was-not allowed. What were some of the biggest challenges you faced, and would you say things are pretty well sorted, or are you still learning out there?
PF: I think the main problem is adapting my driving style for some reasons. First 9hp needs a less aggressive driving, so you keep the speed as high as you can during the turns, otherwise you will suffer with acceleration. Second is learning the track, what I consider the most challenging. You need to find the right position in every corner to win as much time as you can, especially when you just have eight minutes to learn the track. Third and finally is avoid contact and giving enough space to everybody. So, I can tell you that I have a lot to learn this year.
MS: So far the Super Series is the only event you have run in at CalSpeed (save for a single IronMan); Have you thought about doing more of the endurance stuff like the IronMan Series, or perhaps putting a team together for the Machismo 12 Hour? Have you done any endurance races in the past?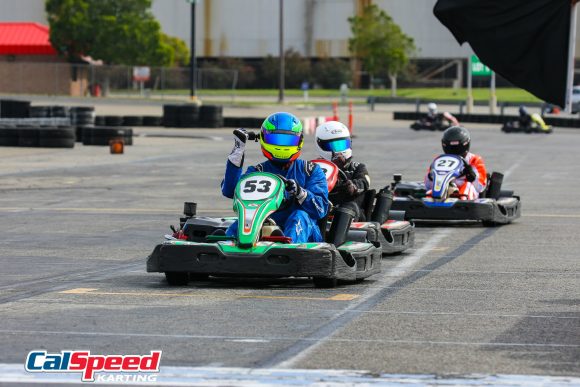 PF: IronMan was an interesting experience; I would try more if it wasn't in the same day as Super Series, because I think I need more time to be ready for racing both in the same day. I have done some endurance races in the past with rental karts (3hs/6hs/12hs) in Brazil and it is a lot of fun. So I am considering my debut in Machismo this year. That will be a great experience.
MS: So far you have only run about half of the tracks on offer at CalSpeed: Nuovo, Tecnico, Sportivo, and Grande CCW. Tecnico this year was the first time you had seen that course, and you scored a 4th. What are some of the keys to learning a new course quickly, and do you have a favorite one so far?
PF: I think the key to learning the track quickly is following someone. That's what I try to do in my practice. That's my weakest point for the season as I'm still suffering on qualy as I mainly don't know the tracks. I don't have a favorite yet, but the harder it is, the more I like it.
MS: Last question; As a relative newcomer to CalSpeed and the Super Series, what are your favorite things about the series, and what keeps you coming back?
PF: I see many positive things in the racing model (practice, qualy and 3 heats), karts seems very similar and the atmosphere is very good between drivers and your team. So, it has been a great experience so far!
MS: Thanks for the time Paulo! Good luck this weekend, and for the rest of the season!
PF: Thank you Mike, I appreciate the opportunity to share a little bit of my experience with you. See you on the track!
Grande CCW Flashback: 2017 Round #9 – October 14th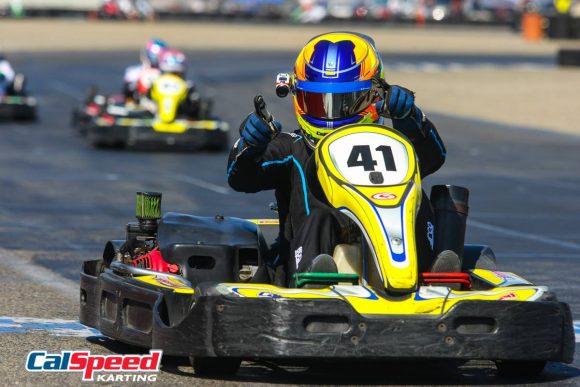 Grande CCW has played host to many memorable moments, including first time winners, championship deciding rounds, and spectacular battles and exciting passes. Last fall it was more of the same for the counter clockwise layout, as the configuration played host to what would be the deciding race in the 2017 Super Series championship…
From last year's online mag:
"The Overall Championship fight was the focal point all day for the penultimate round in the 2017 Super Series campaign, with all eyes on the protagonists from the very beginning. Point leader Patrick Britain looked to lock up a championship he had been the leader of nearly all season, while Taylor Hays fought to once again push the title fight to the final round.
Pole position would once again go to one of the drivers fighting for one of the final podium spots, as Bill Kreig notched the top time for the fourth time in his career. Heat race wins would be spread across several drivers, with only Sean Fite doing the double, locking himself onto the A-Main pole. Fellow heat winners included Diego Morales, Taylor Hays, Jose da Silva, and fly-in driver Andrew Wood, but it was Bill Kreig staying consistent to start on the outside front row via a pair of 2nds in his heats. The outside proved to be the right side at the start, as Kreig would maintain position through the first corner to take over the point, with title contender Hays and the rest of the pack in tow. The lead would not last more than a couple corners however, as Hays kept the outside move trend running with a pass from Silk to Hairpin that same lap. Across the line on lap one would be Hays, Jose da Silva, and Fite, with championship leader Britain back in 8th.
From there Hays maintained the top spot over da Silva, while the rest of the jockeyed for position, and Alyssa Yauney slotting into third for much of the 15 lap contest. With less than five to go, Yauney found an opportunity on da Silva in the Contino Carousel, picking off the Brazilian for second, and then following it up with a pass for the lead in Kornakurva against Hays. This seemingly triggered a storm of activity, and for the final few laps nearly every position inside the lead train changed hands. First it was Jose that found a way passed Hays -after perhaps his only mistake of the event- with Jon Kimbrell slotting through to knock the former leader back to fourth. Da Silva made it one more the very next lap, stealing away the lead in the final complex as the field came around for the white, while further back Britain eyed his rival who was now just one spot in front of him. The final lap would see da Silva and Yauney fight for the top spot, with the former coming out on top by just .072, while behind them the championship waivered in the balance. Britain would make the move to get around Hays, but then contact in the Silk corner between Charles Eichlin and Jon Kimbrell would see the latter crashed out. This allowed the point leader to narrowly squirt by, inheriting the final podium spot. For Jose da Silva it was his second A-Main victory in a row, and for Britain, the podium was enough to score his first ever Super Series Championship."
Top 5 Drivers on Grande CCW:
Jon Kimbrell- 3 wins, 4 podiums, 5 heat wins, 16 Heat T3's, 4 Fast Laps
Logan Calvin- 2 wins, 4 podiums, 9 heat wins, 18 Heat T3's, 4 poles, 7 Fast Laps
Aaron Downs- 2 wins, 4 podiums, 4 heat wins, 10 Heat T3's, 1 pole
Darren Mercer- 1 win, 2 podiums, 5 heat wins, 12 Heat T3's, 1 pole, 3 Fast Laps
Adam Nagao- 1 win, 2 podiums, 3 heat wins, 6 heat top 3's, 2 Fast Laps
Overall Championship: Jocelyn leads on the back of two solid rounds…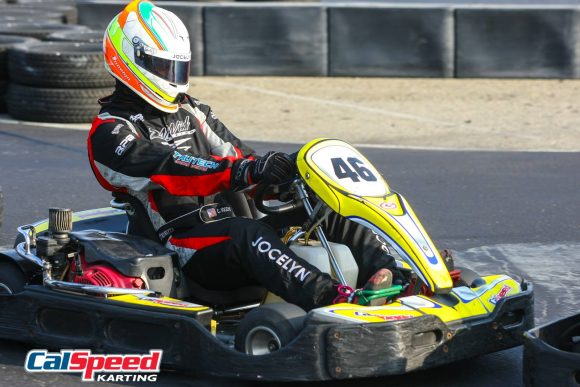 With three rounds in the books and one drop tallied, things are quite close in the overall championship battle, with double podium runner Cameron Jocelyn leading the pack. Unfortunately, his absence last month kept him from carrying on the momentum, but few doubt his ability to once again fight at the sharp end this weekend. As he mentioned in his interview from last month, he is slated to miss one more round, and aims to be mistake free all season long to have a go at the championship. His assessment is spot on too, as the trailing group of drivers he leads will certainly be keeping the pressure on all year, starting with fellow first time winner Paulo Franca in second place.
Paulo's season opener echoed what we have seen from just about everyone in the paddock, and that is at least one round with a tough result or point score. He bounced back with a 4th overall in round #2, before winning round #3 last month, and has shown he can run with the series veterans. Next in line is Taylor Hays, a driver that actually has the second most points scored so far, bested only by T4 Autosport stablemate Chris Huerta, who currently sits 5th. Hays picked up his fourth career win at the Season opener, and if it wasn't for an uncharacteristic penalty in the second round, might be the point leader right now. With TJ Blackledge having a rare absence this weekend, Hays and Huerta looked to have a shot to solidify themselves inside the top five.
The rest of the top ten has very little separating them, as the gap from 6th to even as far back at 12th is only 36 points, and includes four prior race winners. The entire group has been on the podium too, proving the sheer depth in talent that is fighting for the 2018 Super Series championship. Up and coming talents Jetson Lieser and Alyssa Yauney lead the charge on the outside of the top five looking in, with plenty of veterans at their backs looking to either go with them, or leapfrog their way to the top. This weekend's event on Grande CCW will sure to be an exciting one, with no shortage of contenders in play to either add to their win tally, or mark one down for the first time…
Top 10 Overall Standings (after 1 drop)
| | | |
| --- | --- | --- |
| 1) | Cameron Jocelyn | 751 |
| 2) | Paulo Franca | 739 |
| 3) | Taylor Hays | 735 |
| 4) | TJ Blackledge | 730 |
| 5) | Chris Huerta | 725 |
| 6) | Jetson Lieser | 719 |
| 7) | Alyssa Yauney | 716 |
| 8) | Bill Kreig | 716 |
| 9) | Diego Morales [M] | 700 |
| 10) | Henry Morse | 695 |
Masters Championship: Morales moves to control the top spot in Masters…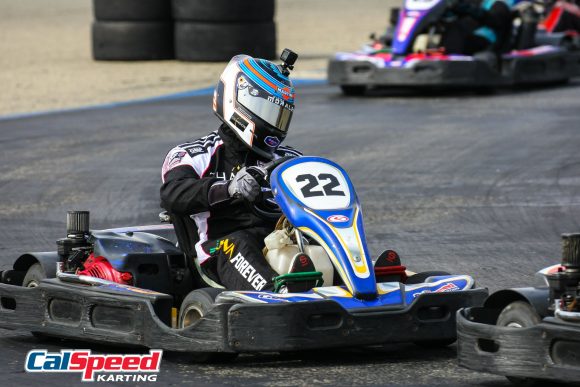 I always said that if Diego Morales put in a full season in the Super Series that he would be a tough one to beat in the Masters category, and he has kicked off the year in a way that shows it. Finishing inside the top five in five of his six heat races -including three 2nds- is the kind of consistency that his experience brings, and with three rounds at 320+ points, he has the points to back it up. Runner up last year and current second place man Alexander Bermudez is 39 points astern after a pair of solid rounds, but will be missing this weekend due to his car racing duties. While the opener was tough for Bermudez, the past two have shown he is a contender, and he'll need to rebound from his absence next month.
The next three on the list include a first time podium finisher, the reigning champ, and a perennial podium contender; with all three having up and down results thus far. Still, the points have been solid enough for them to be in the top 20 overall, but all three would like to be in the 300+ point range more often than not. For Ariel Rubio, the start of the season has been memorable, earning his first career podium after fighting for the win, while regularly fighting inside the top ten. For his part, Steve Spring has been solid in the heat races with four top five finishes, but just needs a little more to move up the charts a bit.
Of the top five it is Jose da Silva that has had the most up and down starts; showing heat race prowess in one race and then having trouble in the next. Some has not been of his doing, but he will certainly be eager to right the ship this weekend, and get back to championship winning form…
Top 5 Masters Standings (after 1 drop)
| | | |
| --- | --- | --- |
| 1) | Diego Morales | 700 |
| 2) | Alexander Bermudez | 661 |
| 3) | Ariel Rubio | 649 |
| 4) | Jose da Silva | 614 |
| 5) | Steve Spring | 606 |
Grand Masters Championship: Zevin leaps to the top after standout performance…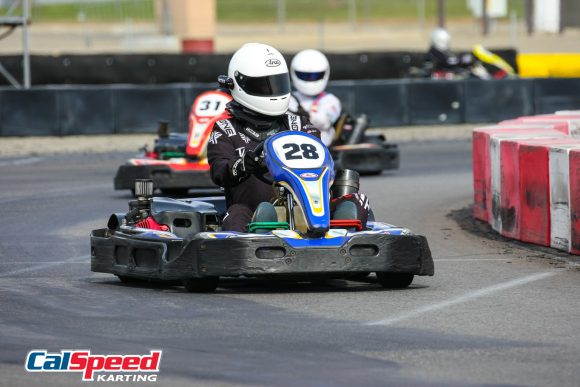 The top three in the Grand Masters category have a perennial podium contender, and the drivers that finished 1-2 in the championship last year. Right now it has a new leader; Tom Zevin. Putting up the second best performance in his career last month, Zevin leapfrogged the two in front of him in the standings to take over the top spot heading into round #4. The leader up to this point -Jeff Latimer- was bumper two second, but the margin is only four points. For his part, Latimer has had one of the best starts to a season ever, and has looked at his best in the early parts of race day. This shows in the total points category too, as the nod goes to him for the most points earned thus far.
Next on the list is actually the reigning champ Tony Wika, who has not had the start to the season I think he expected to get for his title defense. Still, he is right there with his primary rivals, earning just two points less than Zevin overall, and just 22 back after drops are tallied. These three have a bit of an advantage of the rest of the class too, as the next few in line will not be in attendance this weekend, giving them the clear advantage. Still it is early days yet, with plenty of opportunities to reel in valuable points.
Top 5 Grand Masters Standings (after 1 drop)
| | | |
| --- | --- | --- |
| 1) | Tom Zevin | 406 |
| 2) | Jeff Latimer | 402 |
| 3) | Tony Wika | 384 |
| 4) | Vladimir Orlov | 365 |
| 5) | Joe Sabella | 290 |
Sportsman Championship: Bryant into second after setting the bar in the category…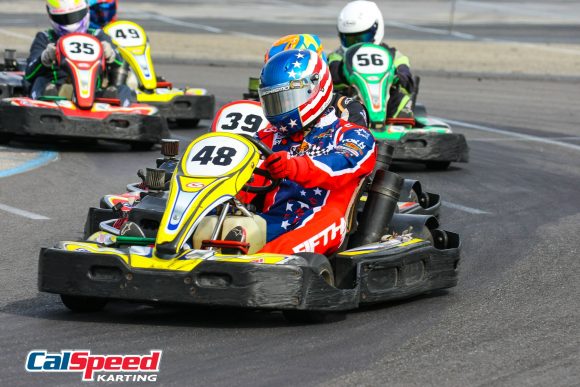 The Sportsman category saw yet another name shoot to the top of the list, as Rodney Bryant led all other [S] moniker drivers at last month's contest on Sportivo. He was the third driver to score a 300+ point day, joining class leader Dmitry Korotkov and third place Sam Hunt who did so in rounds one and two respectively. It was also the most points scored in a single day thus far for a Sportsman driver, with Bryant's 319 eclipsing Korotkov's 312 from the opener. The top three in the standings are certainly the ones who have put up the biggest numbers, but as we have seen all up and down the standings, consistency is certainly where every driver is looking to improve.
While the top two will again be here to do battle, Hunt will be forced to miss round #4 due to a family vacation, so we may see some other names close in on his third spot, namely Tony Chen. Chen has been improving every race he has entered over the last year or so, and has emerged as another driver with plenty of pace to start making waves. On a steady improvement since round #1, he was actually second only to Bryant last round in points earned. Mark Sternberg is another driver that is looking really good at the moment -he earned a podium at the Sprint Series two weeks ago- but is also on the list of absentees for this round. This opens the fifth spot in the standings up to his closest rivals, Scott Milne and Randy McKee. Both of these guys have shown to be able to put up the results, but just haven't had the start that they are capable of. I expect these guys and several others in the Sportsman category to have a big day tomorrow and make this fight even closer…
Top 5 Sportsman Standings (after 1 drop)
| | | |
| --- | --- | --- |
| 1) | Dmitry Korotkov | 606 |
| 2) | Rodney Bryant | 597 |
| 3) | Sam Hunt | 582 |
| 4) | Tony Chen | 558 |
| 5) | Mark Sternberg | 515 |