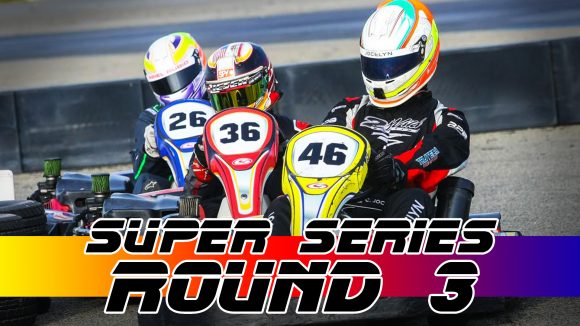 Tomorrow marks the third round of the 2018 Super Series championship, and after a nearly two month wait since last round, drivers are chomping at the bit to get back in the seat. After heading in the reverse direction for one round, we head back in the clockwise direction with Sportivo as the next track on the calendar, a driver favorite dating back to 2012. This month's event is once again a sold-out affair, and with the most recent Sprint Series event getting postponed due to weather, several of those drivers are making their first Super Series start of 2018 this weekend.
This weekend looks to be the warmest yet, a stark contrast to what we have had for the first two rounds, and we will be guaranteed a different winner from last month. With round #2's winner Cameron Jocelyn out of town this weekend, the baton will be passed to someone else for round #3. Will we see yet another first time winner on top of the box, or will one of the many veterans come calling to add another notch in their belt? We'll take a closer look at each of the categories in this preview, as well as chat with the aforementioned Jocelyn in this month's Driver Focus. I also have a special "Smitty's Spotlight" this month, talking about the culture of racecraft, and how sportsmanship on track and off is such a big part of what makes the Super Series what it is…
Driver Focus: I chat with first time Super Series winner, Cameron Jocelyn…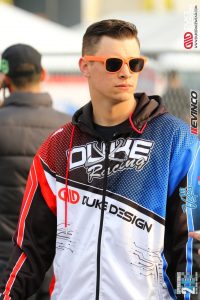 February was a month to remember for Cameron Jocelyn, sweeping the day with wins in both the 2nd round of the IronMan Series, and then the Super Series A-Main later that day. While he has an immense amount of karting experience, he is relatively new to racing sport karts; although he has had a lot of laps in them as a former CalSpeed mechanic and tester. Still, these wins were his first ever in sport karting here at CalSpeed, scoring him the cover of the online magazine. He'll be missing this weekend's event due to his job working as a driver coach and tuner in competition karting, but I was able to catch up with him before he left town.
Mike Smith: First up Cam, thanks for taking the time to chat with me, and congrats on scoring wins in both the IronMan and Super Series last month. Not too shabby!
Cameron Jocelyn: Thanks Mike, hopefully I can carry some of this early momentum through the mid part of our season.
MS: Coming into the year, I have to assume you figured you'd be in the hunt, but did you think you would find the top step in either series -and if so- this early?
CJ: Tecnico is one configuration I feel really confident on and wished we saw more often throughout the schedule. That being said I'm just really excited to be such a threat in every session so far this season.
MS: You have actually been in karting since you were a little kid. How did you get your start, and what all did you race in karts? Give us a brief summary of your career.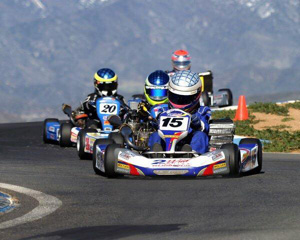 CJ: My grandfather, father and uncle all raced cars and bikes through their careers, and when I was five my mom thought '4 wheels was safer than 2', so my dad was allowed to put me in the kid kart category. From which I never looked back; tackling some of the region's bests in IKF in the cadet categories, racing up to 4 classes a weekend, then moving to Challenge of the Americas in the Junior and Senior category achieving some results I'm proud of. I also dabbled in some local truck racing at Irwindale Speedway, but after a short stint in that I dialed it back and really focused on school.
MS: While new to sport karting competition, you actually have oodles of laps here at CalSpeed in these karts, having formerly been a mechanic here, and a tester on top of that. While several drivers in the Super Series actually started in the arrive and drive ranks and then went on to race completion karts, you went the other way. What were the biggest challenges you faced when you first started driving these karts?
CJ: The endless test laps are rather helpful in these karts, but I also would say that I had many laps prior to working as well, due to the fact my dad brought me to CalSpeed on the opening day, and we would travel here for test days before major events. Yet driving the Sodikart GT2 brings some more challenges; being extremely heavy and not having any adjustability due to the constant change of karts throughout the day, it forces the driver to adjust to each and every kart you drive.
MS: How is the racing in the Super Series -or sport karting in general- different from what you have done in other forms of racing? What are some of the things you have found that carry over, or is this type of racing truly unique to itself?
CJ: Race craft in all forms of racing I have done has transferred almost seamlessly from karts to trucks, and back to sport karts. Working together to catch the leaders, as well as determining which areas are strong passing zones, are all some of my racing fundamentals. One of my first Super Series brought me a lot of frustration with drivers railing the outside after every pass attempt. The wrap around bumper gives the driver another sense of security, so the barriers don't pose such a threat. So what I thought was a preposterous move, seemed to be the norm for all my attempts. After placing one of these competitors in a decision-making move to either 'lift or hit the barriers', they chose to hit the barriers, and after which I was handed a penalty for not giving racing room. I was rather frustrated with the call because in competition karts as well as trucks, if you don't lift your entire day might be done, but being a foreigner in the series I found my place. One penalty and I was done. I gave just enough room, although I still thought it was silly for people to basically crash the kart into the barrier, instead of living to fight another turn. That being said, most of the Super Series races remind myself of old cadet or Jr. Sportsman racing in region 7; basically giant pack racing, giving everyone a chance at a win.
MS: We have talked before about some of the challenges here in the new season; the 10 driver invert, the level of competition, and the sheer depth of that competition just to name a few factors. What do you see as some of the keys to not just finishing well, but being able to make a run at an IronMan, or Super Series championship?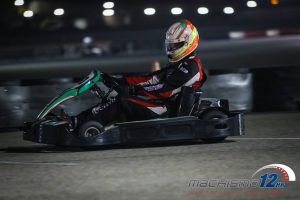 CJ: Consistency is crucial. As much as it hurts me to say it, Patrick's run last year was phenomenal; his heat race win rate was insane, although he couldn't back it up in the mains, he left every race with points. I glanced at the points only to compare myself to last year's drops, and realized I already had two races that some drivers dropped last year. This was gut wrenching, but it just meant that the ten driver invert was working; everyone was struggling to get back to the front in heat two. I love it. I expected better results during Tecnico, but I'll take a win at the end of the day. I'm still on the hunt for a 400-point day, but I now understand that it will take a whole lot of luck as well as skill. To stay in the hunt for a championship is going to come down to having great heat two. With the invert you must stay focused, keep your head down and move forward; if anything, making sure you don't drop deeper into trouble with a bad start.
MS: You are missing this weekend due to your job within the karting industry; this is actually one of two weekends you know you'll miss. How do you think this will affect your title hopes, and is this something you think you can overcome?
CJ: Although I'll get a full 8 races, it doesn't allow for any mistakes; I can't get frustrated with a bad heat result. Every race counts; therefore my goal is to move forward from qualifying, push myself and my competitors to fight for top five's, and not risk any penalty. I need to always race clean, because a drive through can cost me a championship, not just the round.
MS: Last question; You told me before that you were really looking forward to the Tecnico layout, and were obviously stoked with the win. Why were you looking forward to that track so much, and are there any other tracks that you either look forward to, or wouldn't mind missing?
CJ: Tecnico is a layout I really enjoy in the sport karts. I have always felt strong since we implemented it into the schedule, but the confidence comes from some of the Grands testing we did. Being on track with such strong competition, I still was a benchmark for a lot of people, and I hold that image high in the sport kart competition.
MS: Thanks for the time Cam, and we'll see at the next one!
CJ: I'll have Race Monitor going to see how some of these T4 guys do, as well as keeping an eye on the rest of the competition. Hopefully this won't be the last time I take the top step this year.
Smitty's Spotlight: Sportsmanship and the Culture of Racecraft…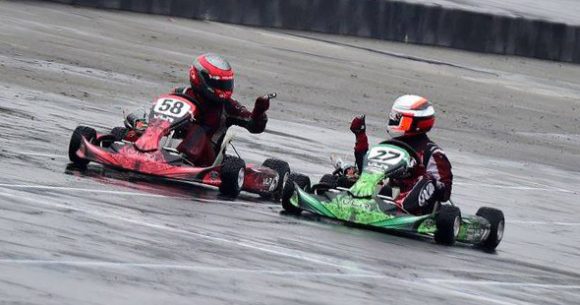 There is an ongoing conversation in competition karting right now about the overall culture of race craft, and the direction in which the on-track action has taken over the last few years. The general consensus seems to be that the amount of contact, or perhaps even the sheer lack of respect between drivers has reached a boiling point in some series. Some people point to the inclusion of larger bumpers or 'plastics' around the karts, or the mentality of those influencing the drivers; while others even talk about how the organizations running the events could be the biggest factor. There is one common denominator in all of the different pieces of the puzzle however, and that is the nut behind the wheel: The Driver.
Last week, an article was written by Rob Howden of ekartingnews.com titled "Changing the Culture of Racecraft". This article addressed some of the things that the author -a longtime leader in media coverage for the sport- had observed at the highest ranks of karting, specifically stating, "The quality of racing on the national level is very poor overall, and there is simply a glaring lack of racecraft and respect." That got me thinking about the evolution of racing here in our arrive and drive championships, and specifically how the Super Series has changed over the past eight seasons. In Rob's article he cites several influences on the culture of racecraft, ranging from the karts themselves, to the coaches and tuners, parents and teams, to the organizations running each event. Oh, and of course the drivers; this is where he starts in his analysis, and I cannot agree more. At the end of the day the kart will do nothing but sit on the grid without input from the driver, and it is that driver's responsibility for their actions on track. But how or why do drivers become who they are behind the wheel? What has influenced them to decide that the decisions they make on track are ok?
Looking at our series as far as the karts go, the wrap-around wheel guards make the sport kart a veritable tank, with the threat to injury much lower than an open-wheeled ride seen in competition karting. Does this limit the risks to the driver? Absolutely. However, we still do not see our arrive and drive events go-off like full-on bumper cars at an amusement park, so there are certainly some other influences at work. Let's take a look at driver development next…
CalSpeed offers not only 1-on-1 coaching for drivers, but also lessons for small groups, and even host larger Race Clinics that take place the morning before the Sprint Series. These are actually helmed by the same people that run each race day, and there are immediate benefits to having these Race Directors also doing the teaching. Not only do drivers improve the skills needed to find success on the results sheet, but also learn the do's and don'ts -the culture- of what is acceptable out on the track. Now that is certainly an advantage that we have here, and not necessarily something that can be done by every host organization, but it IS something that all race teams, driver coaches and parents do on a regular basis. For this piece, I continued my conversation with Cameron Jocelyn, tapping into his experience in both competition and sport karting to gain some outside perspective on the subject.
MS: Cam, thinking back on when you were first getting into karting, who or what were some of the biggest influences on you as a driver; more specifically, how did you pick up what was acceptable or right/wrong on course?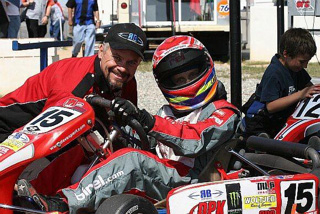 CJ: My whole family are huge race fans. I've been put in most of my grandfather's race cars for photos and such, so I always treated him as a super hero. When I got a tad bit older I was able to watch my dad race, so his feedback came from his most recent sessions which I eventually listened to as I aged. As far as on track I always knew that I needed to bring the kart back in one piece, or there might be a chance I wasn't able to race the next day or the following sessions, because we used the same kart for multiple classes due to funds. With this always in my mind I raced with care because it wasn't like my dad came in after every session with a wrecked kart.
MS: If you were to nail down the single most important aspect of driver development at an early stage -whether they are a cadet, or a masters hitting the track for the first time- what would it be?
CJ: Initially I would say respect for the sake of the argument, but what comes up again and again is the lack of vision the drivers have. Getting their eyes up to predict what their competitors are going to do as well as watch a crash or spin start to happen allow the drivers to avoid it quicker. Some of the first lap crashes happen because one driver makes an optimistic move to start but the following drivers don't adjust to the mayhem about to happen, making what should be a one or two kart incident into a much larger one. It also is filtered into lap to lap fundamentals, which is why it should be worked on from day one forward.
MS: You are a driver coach and a tuner, working with a range of drivers in age and experience. What kind of approach do you take with your drivers, and how does that approach change with the factors you see on track?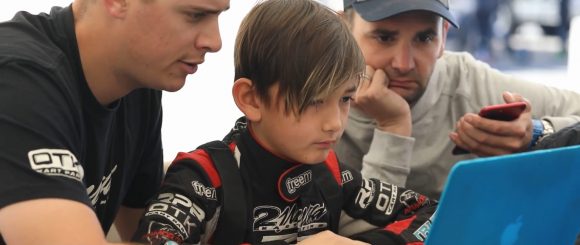 CJ: Generally speaking, you race 99% of the paddock the same way: clean yet aggressive, hard but respectful. When breaking down a race with one of my drivers, I typically have them aim for a goal; whether it be a top 5, a win, or generally speaking to beat their rival. Trying to get my drivers to 'race against others as you would want them to race against you' is the biggest thing. If someone drives into you or gives you a bump and run, pass them back clean. Show the drivers how to pass/drive; if they continue to drive too aggressive that's when I explain the other 1% of drivers. I don't tell them to drive dirty or push them out of the way; it's more of like 'place this guy in a position to where he will lose more spots' or 'tap him a few times to let him know it wasn't appreciated'. A bad finish happens; more often than not with drivers, I tell them to focus on the positives: lap times, finishing ahead of someone else with a bad day, or possibly a solid pass that happened. Attempt to carry only the good out of the weekend and leave the bad behind.
MS: If you could help change the culture of racecraft nationally for the better, what actions would you take, or think need to be taken?
CJ: As far as improving the race craft, penalize all infractions. It applies to a student's homework; the way they learn is to try and see what you get right or wrong, mark the wrong answers and learn. Drivers will adjust much quicker if they consistently get penalties which hurts their results. Use every incident as a learning experience.
MS: You have seen what takes place at the national level of competition karting via your job and experience in the industry. How would you compare the culture of that level, to what you have seen in a sport karting championship like the Super Series?
CJ: Karting is a family sport, whether it being your immediate family or the friends and people you meet and see every weekend at the track. Growing up in the sport I was around racing friends more than most of my school friends due to the number of races we were able to do. I've seen rivalries here and there mostly in good spirits and really just about racing hard and seeing who comes out on top at the end of the day. Super Series has this, minus the big rigs and tents, everyone there is trying their best and attempting to beat their friends that they will have to see the following weekend/month. For competitors such as myself this is the most stress-free way to race after racing at such a high level, but my dad always told me if I wasn't having fun at the end of the day there would be no reason to be there.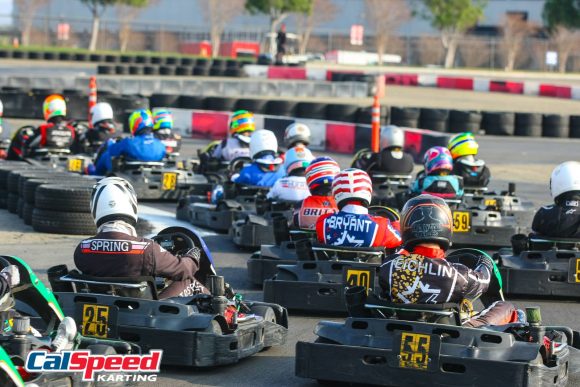 Going back to sport karting, the last part I'll hit on is the organization; in this case CalSpeed. In my opinion this is where the culture of an event or series can be influenced and changed in the biggest and quickest ways, and I definitely agree with Cameron in regards to how penalties can mold the culture. As I mentioned before, as coaches that are also the Race Directors on event day, Derek Esquibel and I have the ability to foster the culture into our students. But there needs to be a solid and consistent structure to pass on; this is the job that we try and carry out each and every event. There need to be rules that are enforced, and communication back and forth with drivers so they don't just get a penalty -but understand WHY so they can keep it from happening again. Our coaching job doesn't go away as an official, it is just laced with the need to also uphold the rules and structure that each series goes by. When there are consequences to actions, more often than not people will choose the right path; especially if they have been educated in which path is the right one! In the end it comes down to respect; respect for the rules, respect for your fellow competitors, and respect for yourself. Race how you want to be raced -or- 'do unto others as you would have done unto you'. I applaud everyone that races in a CalSpeed arrive and drive series, as the culture surrounding what we do is a positive one; one the centers on fun and sportsmanship above everything else, and I look forward to sharing it with you all again on Saturday.
Sportivo Flashback: 2017 Round #2 – February 25th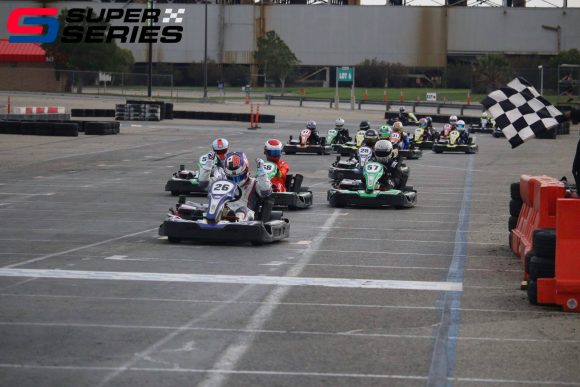 First used at the 2012 Sport Kart Grand Nationals as the 'surprise' Sunday track, Sportivo has been on the calendar ever since the beginning of the 2013 season, with 11 Super Series races run since. Last year would see the eventual 2017 Super Series champion Patrick Britain score his lone victory of the season here, helping to lay the groundwork for his title hopes. This was an especially memorable win for Britain as well, as it was the 7th in his career, but his first in over 5 years…
From last year's online mag:
"As the lone driver to sweep his heat races, Patrick Britain would lead the field to the green for the second A-Main of the year, with overall pole sitter and fellow heat winner Chris Huerta alongside. Also able to score heat wins on the day were Aaron Scott, Jon Kimbrell, and Sportivo IronMan winner Taylor Hays. Unlike the opening round that saw just a couple drivers break away, this race had fighting all throughout the field, as the entire A-Main stayed nearly nose-to-tail. Huerta would be the first to lead laps, taking over leading duties from the drop of the green, with Britain slotting in line momentarily before being past by Jon Kimbrell on lap 3. Kimbrell would make his way to the lead after lap 4, with Britain following through and Huerta moving back to third. This shuffle continued for another pair of circuits, as Kimbrell led for just a single lap before Huerta re-claimed the top spot, only to have Britain steal it away a lap later. Kimbrell would be the big loser in that last challenge, as Hays was able to sneak by to snag the third spot away as well. Also working his way through the group was Aaron Scott-the infighting amongst the top 10 keeping everyone in the game that kept a smart head about them-as he was able to get back to the podium fight after slipping out of it at the start.
With all this battling for position going on Britain was able to maintain the top spot, but would never be able to pull away, even as Scott worked his way into the 2nd spot past Huerta on lap 11. With just a few laps remaining the lead group continued to jostle for position, while Britain tried maintain the advantage that so often seemed to slip away at the end. Starting the final lap that advantage was down to the thousandths, with Scott in second and Hays in third, but the entire top 5 was separated by just .4 seconds. This day however, would remain Patrick Britain's holding on to win via a defensive move out of Horseshoe that would not only keep Scott at bay, but would create a drag race behind him for second, with Hays besting Scott for the the second step of the podium by just .080 seconds."
Top 5 Drivers on Sportivo:
Logan Calvin- 2 wins, 5 podiums, 10 heat wins, 12 Heat T3's, 3 Fast Laps
Miles Calvin- 2 wins, 3 podiums, 4 heat wins, 10 Heat T3's, 1 pole
Patrick Britain- 1 win, 5 podiums, 5 heat wins, 9 Heat T3's
Darren Mercer- 1 win, 3 podiums, 6 heat wins, 11 Heat T3's, 1 pole, 2 Fast Laps
Sergio Bravo- 1 win, 3 podiums, 5 heat wins, 12 heat top 3's, 5 Fast Laps
Overall Championship: Jetson Lieser leads the standings with one drop tallied…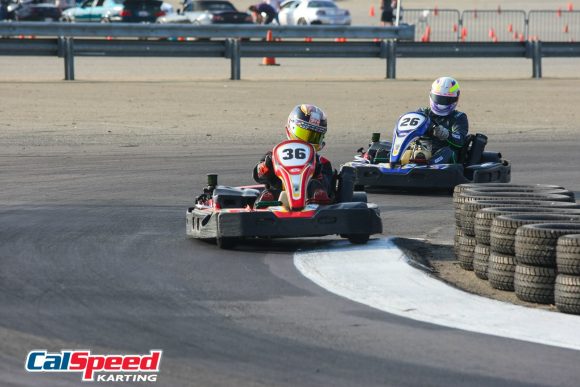 After two rounds in the books and one drop taken into account, things are about as close as they can be, with Jetson Lieser on top of the standings via a tie breaker. While he and second place Taylor Hays each have the highest marks thus far in a round -each with 390- Lieser's 'dropped' race is 17 points better than Hays'. Lieser is one of just two drivers to have a pair of heat race wins to his name so far, with Sean Fite being the other driver after sweeping his heats in the opener. What Lieser also shares with many drivers at the sharp end is a stark contrast in Main results; finishing 15th in round #1, but on the podium in round #2 with a second place to Cameron Jocelyn. Like Lieser and many others, Hays is in the same boat; winning the season opener, but finishing 20th last month after an uncharacteristic penalty. The aforementioned Jocelyn sits third in the standings as one of the few NOT suffering from that issue, scoring a pair of podiums in each of the opening events. That will end this weekend however as he'll miss this event; a valuable opportunity for other drivers to capitalize on.
Fourth in the standings is actually the driver who has scored the next best pairing of events after Cameron, as Chris Huerta's excellent start to the season sees him with a 7th and a 5th for his efforts. Given how nearly every driver in the paddock has had a hot-cold start to the season, these pair of solid finishes will pay dividends down the line. What will be interesting here in round #3, is who adds to the hot column, and not the cold one…
Top 10 Overall Standings (after 1 drop)
| | | |
| --- | --- | --- |
| 1) | Jetson Lieser | 390 |
| 2) | Taylor Hays | 390 |
| 3) | Cameron Jocelyn | 376 |
| 4) | Chris Huerta | 374 |
| 5) | Bill Kreig | 373 |
| 6) | Alyssa Yauney | 365 |
| 7) | Ariel Rubio | 365 |
| 8) | TJ Blackledge | 361 |
| 9) | Diego Morales | 358 |
| 10) | Paulo Franca | 355 |
Masters Championship: Break out run sees Ariel Rubio out front…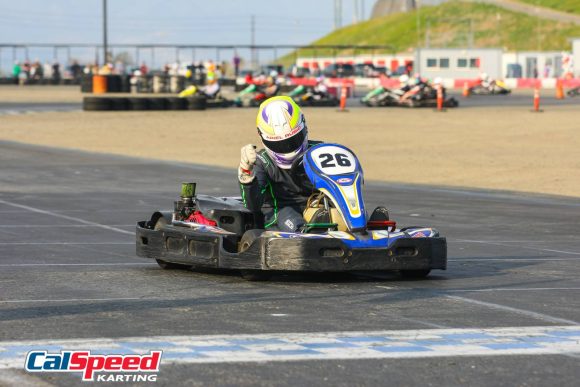 Ariel Rubio's break out run last month to earn his first career podium was definitely one of the highlights of the weekend, and it sees him now atop the standings with one drop tallied. Rubio showed how important a strong set of heat races is, not only starting towards the front of the A-Main, but was able to break away with the lead group when all of the battling ensued behind him. Second in the standings is Diego Morales, who has had the most consistent start to the season thus far, and is the only one to score a pair of 300+ point days. Morales is also a former winner on the Sportivo configuration, and certainly will be a threat this weekend to snag up another solid result.
The next two in the standings are the primary protagonists from last year's Masters championship, with Alexander Bermudez leading over Jose da Silva for the third spot in the standings. The former is fresh off his maiden individual win at CalSpeed, picking up the Pro Class win in last month's IronMan Series, and also scored his first heat race win in the Super Series last month. For da Silva it has been a tough start to the 2018 Super Series campaign, starting back with a spin out of the podium positions in the season opener. The 2017 Masters Champ is still looking to rekindle the fire from last year, and could certainly do that this weekend…
And I have to give a shout out to a long time Masters driver and former Super Series winner coming out to race, and that is none other than David Kelmenson. David is not only a fellow Masters driver that can go toe-to-toe with the current group, he is a guy that will certainly be able to take the fight to those inside the top ranks of the A-Main. It will be fun to see how he does, making his first appearance since October of last year.
Top 5 Masters Standings (after 1 drop)
| | | |
| --- | --- | --- |
| 1) | Ariel Rubio | 365 |
| 2) | Diego Morales | 358 |
| 3) | Alexander Bermudez | 339 |
| 4) | Jose da Silva | 289 |
| 5) | Randy McKee | 282 |
Grand Masters Championship: Battle for supremacy continues between Latimer and Wika…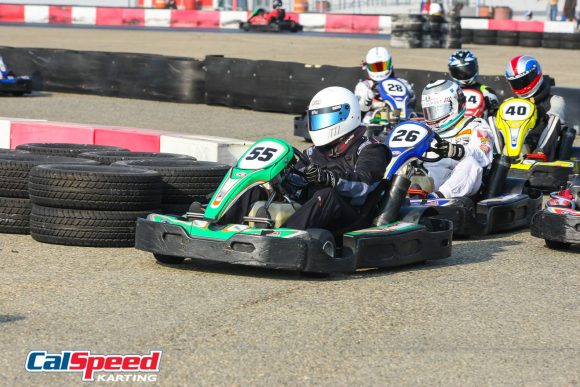 For the second round in a row the same two Grand Masters drivers have led the category, separated by just a handful of points in each event. Perennial front runner in the category Jeff Latimer has been the carrot everyone else has been chasing, with last year's Grand Masters Champ Tony Wika right on his heels. Interestingly enough, it has actually been a fairly low scoring affair for both these two, and most of the class, something I don't expect to continue much longer. The top two are the only ones to find 200+ point days -each doing so in the opener- with the rest of the class uncharacteristically living in the mid 100's in the opening to events.
Gilbert Perez wowed the category in the season opener, and after dropping his absence from round #2, will be looking to not only get back to that level, but improve upon it this weekend. He'll need to if he is going to stay ahead of podium contender Tom Zevin, as last year's #2 in class will be looking to shake the bad luck and mistakes of the first two months off this weekend. The will have one less Grand Masters competitor to tackle this weekend however, as Joe Sabella will be a rare absence tomorrow. On the flip side, former class title contender Brian Starr will be in attendance for the first time this year, and will immediately be one to watch in this category. After missing the opening pair of rounds he'll need to really be consistent the rest of the season, but it wouldn't be the first time he has come from behind to put the pressure on…
Top 5 Grand Masters Standings (after 1 drop)
| | | |
| --- | --- | --- |
| 1) | Jeff Latimer | 218 |
| 2) | Tony Wika | 212 |
| 3) | Gilbert Perez | 155 |
| 4) | Tom Zevin | 151 |
| 5) | Joe Sabella | 140 |
Sportsman Championship: Sam Hunt takes point as drivers cut into Korotkov's lead…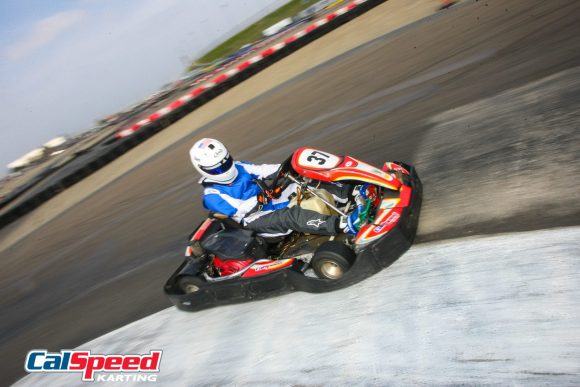 Unlike some of the other categories, all five of the top 5 in the Sportsman standings are schedule to be in attendance for round #3, a class that is certainly proving to be an exciting one. Dmitry Korotkov has put in a pair of strong performances to open up the year, backing up his 312 in January with a 295 last month, and is certainly the guy everyone is chasing. One other driver though that has also had some very strong runs so far is Sam Hunt, actually finishing as the highest Sportsman point earner last month. Hunt work forward all day in the opener, and then showed what he could do in round #2 after a better qualifying run. Earning the pole position for his second heat race after finish 10th in his first, Hunt held on to score the heat race win. Both Korotkov and Hunt have been looking good, and the lead group of drivers looking to rebound from some tough runs thus far…
And leading that pack is Sprint Series race winner Randy Mckee. Third in points right now, McKee had an abysmal opening round by his own standards, but then was back on form in round #2. The same could be said for Rodney Bryant, currently sitting 4th ion the standings and with a similar story. Both of these guys have what it takes to find the A-Main on a regular basis, and will be looking to back up their strong runs in round #2 this weekend.
There are going to be a lot of new faces jumping in this weekend from the Sprint Series though, and the Sportsman class is going to see a lot more [S] monikers out there to do battle with. Keep an eye out for regulars from that championship like Spencer Russell, Nathaniel Small, and Justin Altman just to name a few. There are about 30 drivers making their first start in the Super Series this weekend, but several of those enter with plenty of experience…
Top 5 Sportsman Standings (after 1 drop)
| | | |
| --- | --- | --- |
| 1) | Dmitry Korotkov | 312 |
| 2) | Sam Hunt | 304 |
| 3) | Randy McKee | 282 |
| 4) | Rodney Bryant | 278 |
| 5) | Tony Chen | 268 |