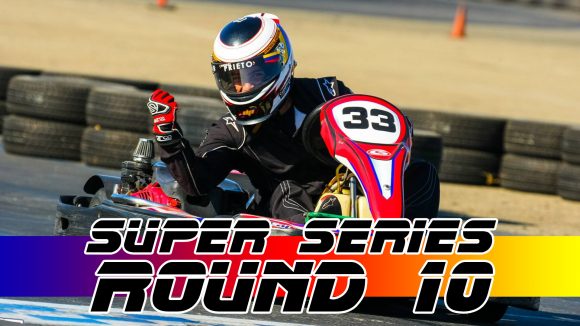 It's November, and at CalSpeed Karting that means it is time for the Super Series Season Finale. This year the final contest will take to the Tecnico layout for round #10, the field of drivers seeing it for the second time in 2018, with the first coming back in February. Round #9 saw Alyssa Yauney seal the deal on the Overall Championship one round early, but this month we'll not only have the battle for the final A-Main win of the year, but it will also decide the championships in each of the other three categories: Masters, Grand Masters, and Sportsman. There is also an epic 8 driver contest for the final overall podium spots, with some of the best in the business ready to duke it out for the final time this year…
In the final preview of the 2018 Super Series season, we take a look back at how things went down on Tecnico for round two in February, chat with our newly crowned champion, and take one final look at what the points look like, setting the stage for what will certainly be an exciting end to the 2018 Super Series season!
Tecnico Flashback: 2018 Round #2 – February 10th, Longtime karter earns first-time win in the Super Series…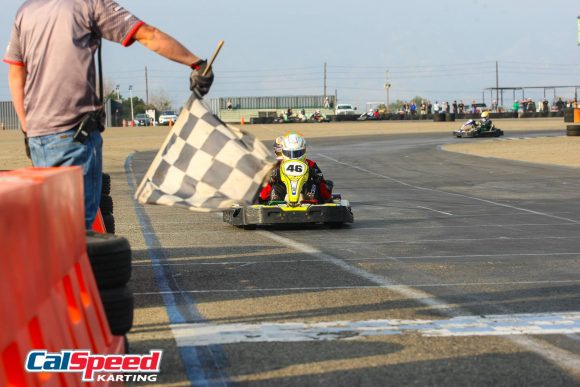 From the online mag:
"The effect the 10 driver invert makes on the A-Main starting grid really showed in round #2, as TJ Blackledge would earn the first spot on the grid with a pair of seconds in his heat races, a place typically reserved for heat race winners. Drivers that did get a heat win would start 2-4, with Ariel Rubio lining up 5th on the grid via a 3rd and a 4th in his heats. Regardless of where anyone starts on Tecnico, getting through the first few corners of the Esses unscathed is always the goal. For three drivers this was the case, as off-pole starter Jetson Lieser, the aforementioned Rubio, and Cameron Jocelyn crossed the line at the end of lap one with an already healthy advantage. The infighting from 4th on back didn't stop there, and the lead trio just kept inching away lap after lap. It wasn't until the 5th lap that any move was made for position in the top three, earning them a 3+ second advantage and breathing room that they just built on for the rest of the race. That first mover was Jocelyn; first passing Rubio on lap 5, and then Lieser on lap 6, maintaining the top spot until lap 9 when Lieser took over again. With the advantage now almost six seconds and only a handful of laps left, Rubio made his move, but contact would see him earn a penalty, knocking him out of the fight for the win, but still a safe 3rd for his first podium. Now just a mano-e-mano fight for the top two, Jocelyn found his way by coming to the white and was able to hold off Jetson for his first career Super Series win…"
Top 5 Drivers Tecnico:
Logan Calvin- 3 wins, 4 podiums, 4 heat wins, 8 Heat T3's, 2 poles, 2 Fast Laps
Charles Eichlin- 1 win, 2 podiums, 4 Heat wins, 6 Heat T3's, 2 poles, 2 Fast Laps
Wes Dent- 1 win, 1 podium, 3 heat wins, 4 Heat T3's, 1 Fast Lap
Cameron Jocelyn- 1 win, 1 podium, 1 Heat T3's, 1 Fast Lap
Diego Morales- 2 podiums, 1 Heat win, 7 heat top 3's, 2 Fast Laps
Smitty Spotlight: Interview with a Champion; The 2018 Super Series Champ, Alyssa Yauney…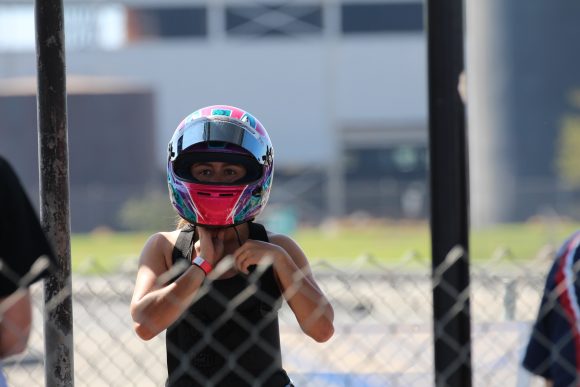 Clinching the title early last month, I was able to chat with the newly crowned 2018 Super Series Champion -Alyssa Yauney- looking back on not only this season but the road that got her here…
Mike Smith: Alyssa Yauney; you are the 2018 Super Series Champion! It's been about a month and a half since you were able to clinch the title; have you thought back on that day since, and has it sunk in that you aren't really racing for points this weekend?
Alyssa Yauney: Honestly, I haven't thought much about what I accomplished that day but I have a feeling that it is all going to come into perspective during the banquet. However, I have been thinking about the finale and am really looking forward to having a relaxed day since I don't have to worry about my finishing position. Although, I am still going to race as hard as I have been all year.
MS: This time last year we were talking about how you had just clinched the 2017 Pro Series title; now it's two championships in two years. How do these two seasons compare -if at all- and is there a moment this year that stands out to you?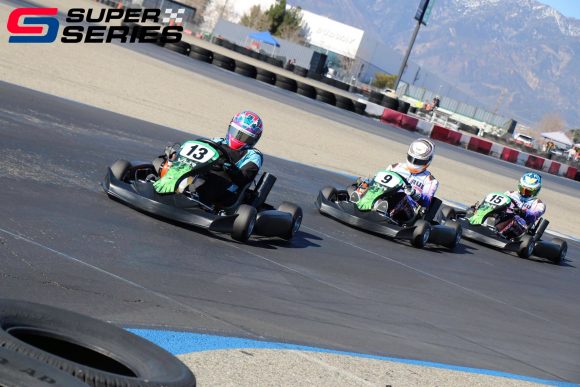 AY: Personally, I would not compare these two championships to each other because I see them as being completely different. In the Pro Series, I had some very intense battles with my competitors during some rounds but there wasn't a consistent number of competitors from one round to another and very few who participated in every round. In Super Series, there are many drivers participating in each round who are capable of winning. There's tough, persistent competition that makes being at the front of the pack round after round much more challenging with the large amount of skilled drivers. As for moments this year that stand out to me, there are two. The first being my first win and the feeling of finally accomplishing a long-awaited goal. The second being when I won the first 2-Hour IronMan and following it with the Super Series A-Main win later that day. I would say the latter is most memorable because I never would've thought that achieving two big wins in the same day would have been possible.
MS: We talked earlier this year after your first career win, and you said you were adjusting your goal from a top five overall to a top three. Since then, you scored your second career win, picked up 3 more podiums, and of course brought home the overall championship. Did you think that was in the cards after that win back in round #4?
AY: I absolutely did not think that possibility was in the cards for me. As we have talked about before, I did not pay attention to any of the points standings throughout the year because I believe it is bad luck so I had no idea where I stood against everyone else. I had a slight clue of what the points looked like because of the previews and people mentioning little details about the points so when I eventually saw exactly where I was in the standings it was at the point that I already had a significant lead and that I had a very high possibility of bringing it all home.
MS: You have won a championship in competition karting (PRD Pilot), as well as the open-wheeled 206 powered Pro Class last year, and even an IronMan sub-championship to go along with your overall Super Series title you have just earned. Looking back from when you started karting four years ago, what does winning this year's title mean to you?
AY: Considering this title was not one, in particular, I thought I would be able to achieve so early on, it is extra special to me. Reflecting back on the past years when I started in 2013, I have moved up the ranks to the point where I am today progressively, in what I believe to be a brief time period. Along the way, I made many "rookie mistakes" during my earlier races and those, in particular, are the moments that I cherish because they bring back many laughs, good memories, and significant lessons I have learned as a result.
MS: Your stats this season were pretty impressive; not only did you pick up a couple of wins and score four podiums, but you were also able to back it up by consistently finishing at the sharp end even when you weren't in the top three. What do you think the key was to bringing home the championship this year, and a round early at that?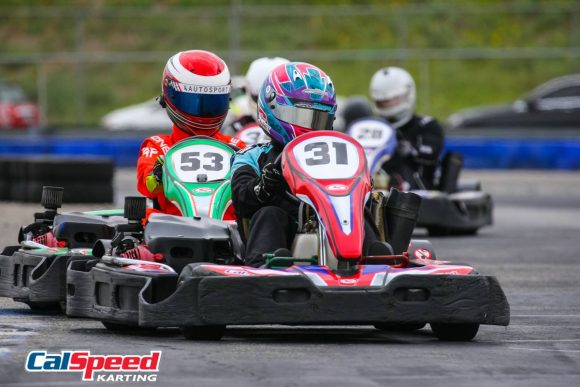 AY: I consider the most powerful key to bringing home the big trophy this year was treating each and every single race as its own. No matter what result I got in a previous race, good or bad, I moved on and focused only on the succeeding race. In my experience, it is very easy to have a bad result and let that affect your mood for the rest of the day, leading to many more bad results. Because of this, I made sure to keep myself in a positive mentality to give myself the best chances possible to have good results.
MS: What is the biggest difference between the Alyssa Yauney from last year, and the driver that won the championship here in 2018? Where do you feel you improved the most, and is there any aspect you'd still like to get better at?
AY: The biggest difference I would say between myself last year compared to myself this year is my confidence in my racing abilities and the energy I carry with me into every race. I remember last year being so worried about getting good results each race and was focusing too much on my finishes. It became pretty stressful at one point because I realized that I wasn't having fun racing anymore since I was so fixated on my performance which didn't allow me to perform at my best. This year, I came into the season with a different mentality. I was determined to make sure I got back to having fun during my races but also being confident in myself. I knew I had what it takes to consistently be at the front, it was just a matter of where my head was at that would allow me to pull off those good finishes. With that being said, there are always things that can be improved upon. At the moment, I don't have anything, in particular, I specifically want to improve on, but I am constantly learning new things after every time I get out of the seat after a race.
MS: This weekend you will take to the track as the Super Series Champ for the first time. Do you think it will feel any different? Will you approach it any differently, or is it still like any other race?
AY: I envision that I will be feeling very relaxed and laid back off track, but on track, I am still going to be putting on a good fight against the rest of my competitors. I'm not really focusing on being up at the front as there is no need but I aim to be more in the middle of the pack where most of the action happens. There's a certain feeling I get when in a long train and I am trying to plan out how I am going to make it to the front while everyone is running nose to tail.
MS: Obviously you'll get a chance to talk about it during your banquet speech, but is there anyone you'd like to thank ahead of hoisting the cup tomorrow night?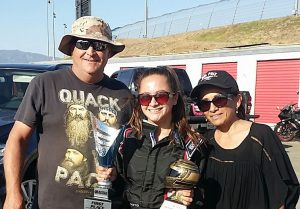 AY: There are many people who have helped me along the way to reach this point. I would most importantly like to give a huge thanks to both my parents and a special someone for always being right by my side, supporting me in every way possible and keeping me humble throughout the journey. Nothing would've been possible without those special people in my life.
MS: Once again, congrats on earning the title and for taking the time for this interview. Good luck this weekend, Champ!
AY: Thanks a lot! It's been an amazing adventure!
Overall Championship: Title decided; epic battle for last four remaining hardware spots…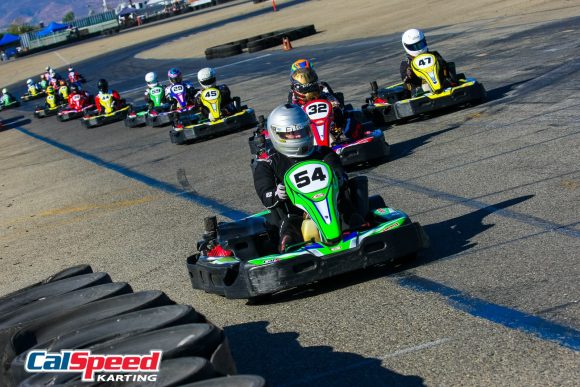 While the 2018 championship may have been clinched one round early by Alyssa Yauney, the rest of the top ten is embroiled in a fight for the final four pieces of hardware on the overall podium. In what may be the closest battle for the podium we have ever seen in the Super Series, 2nd-10th are separated by 115 points, with drops allowing for a mix up of just about every position. This will make for an even more hectic season finale, as typically we'd see a bit of working together or even letting people by that were in a hardware hunt; but that is when there are only two or three.
Of the nine drivers in contention for a top five, only TJ Blackledge (6th) will be absent, an unfortunate end to what has been a really strong year from the second-year driver. Having just scored his second podium of the last round, he was certainly in position for a potential hardware finish, but will slip from 6th to probably just outside the top ten; certainly not indicative of his improvement this year. For the rest of the eight contenders, it is one last contest to see who will not only walk away with the race win, but also the final four positions in the coveted Super Series top five…
Of all the drivers on the entry list, only Charles Eichlin (5th) is a previous winner here, having won the only event on this configuration in 2017. Patrick Britain (10th) faired pretty well in that race as well; in fact, he was in position to win heading into the final complex, so he'll be one to watch. Current Masters point leader Diego Morales (4th) is one of only three drivers to score a podium on this track more than once; while more recently Chris Huerta (3rd) is the only driver in the top 10 that finished in the top five on Tecnico earlier this year. Sean Fite (2nd) enters with the advantage over the rest, carrying 29 markers over 3rd and 46 to fifth, and is not too far removed from his first career win at the Classico Grand Prix in August. The trio of Alexander Bermudez, Bill Kreig, and Taylor Hays -7th through 9th respectively- are separated by just 17 points, and will almost certainly move up past sixth with Blackledge's absence, and are each hoping to repeat their podium performances from earlier this season. Of the three, only third-year driver Bermudez is new to the top 5 battle; as veterans Kreig and Hays are both perennial hardware contenders.
Watching where these eight drivers end up will be exciting to see, but to make things even more interesting, a few hot shoes will be in attendance to make their quest for the front all the more challenging. Last month's winner Andres Prieto is back to add to that maiden victory, and he is one of the few drivers that have stood on the podium at Tecnico, having also scored a pole position here. Fellow Colombian Juan Monroy makes his return to CalSpeed for the first time since running the Sport Kart Grands a few years back, while former top 10 regular Kirk Feldkamp will also be in the house. East-coaster Andrew Wood will be flying in again to finish off the season, another front-runner that has always shown well at CalSpeed; and last but not least, Jon Kimbrell will be in attendance; the three-time Super Series champ has 11 A-Mains under his belt, and would love to snag number twelve this weekend.
It is going to be an exciting fight at the front; if you aren't in the race with these drivers -and more- when the A-Main starts, be sure to get your spot on the fence and watch!
Top 10 Overall Standings After 2 drops (best drop)
| | | | |
| --- | --- | --- | --- |
| 1) | Alyssa Yauney | 2669 | (335) |
| 2) | Sean Fite | 2499 | (280) |
| 3) | Chris Huerta | 2470 | (304) |
| 4) | Diego Morales [M] | 2459 | (321) |
| 5) | Charles Eichlin | 2453 | (308) |
| 6) | TJ Blackledge | 2409 | (263) |
| 7) | Alexander Bermudez [M] | 2402 | (255) |
| 8) | Bill Kreig | 2387 | (179) |
| 9) | Taylor Hays | 2385 | (295) |
| 10) | Patrick Britain | 2384 | (286) |
Masters Championship: Morales VS Bermudez in the final championship bout!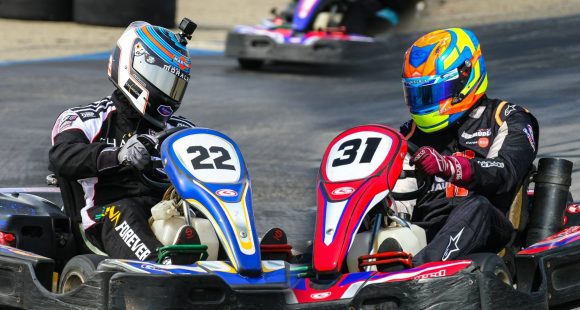 With just one round remaining, the Masters championship comes down to just two drivers; one a veteran of the sport, the other a relative newcomer. With 2017 Masters Champ locked into the 3rd spot, the top two positions are the only hardware spots up for grabs in this class, making for a mano-a-mano fight to hoist the championship cup.
Veteran Diego Morales comes in with a point lead he has kept all season; while down to 57 markers, he has been the Masters driver to beat since the green flag fell on the season, the former National Champion showing his vast experience every event. He comes in with a very strong drop to fall back on -the second best drop in the series- which will force his rival to have a career day in order to bring the fight to him. We are also on a track that he has found success on before; his pair of podiums and seven top-three finishes in the heats showing he can get and stay at the front here. He comes in as the leader, and in the first season as a full-time Masters competitor, may leave as a champion…
The new kid on the block here has been one of the rising talents in sport karting over the last couple years and is now within reach of not only scoring a top five overall, but the Masters Championship. For his part, Alexander Bermudez has actually been chipping away at the lead set at the season opener, outscoring his rival 5-3 in the eight races he has attended. While he has one less round to his tally this year, he is still in the hunt going into the finale; but he'll need a career-best event to steal away the title. For Bermudez, it will be all about the win, and let the cards where they fall; the question is: will it be flush or bust?
Top 5 Masters Standings After 2 drops (best drop)
| | | | |
| --- | --- | --- | --- |
| 1) | Diego Morales | 2459 | (321) |
| 2) | Alexander Bermudez | 2402 | (255) |
| 3) | Jose da Silva | 2223 | (263) |
| 4) | Steve Spring | 2105 | (249) |
| 5) | Rodney Bryant | 2082 | (211) |
Grand Masters Championship: Zevin, Latimer looking for first title; Wika aims to repeat…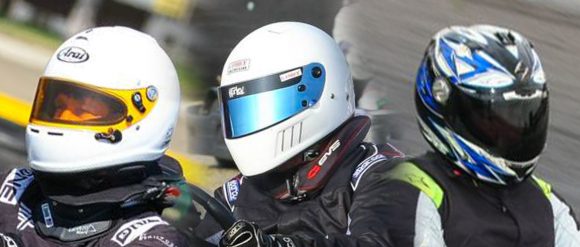 The Masters category, the top three for this class are locked into the hardware spots and have no risk of losing a step on the podium. Unlike their slightly younger compatriots, however, these three are ALL racing for the championship. Tom Zevin enters the season finale as the driver with the advantage; his 30-point lead over season-long rival and perennial class contender Jeff Latimer seemingly pretty solid until you look deeper into the numbers. While these two have each been at the sharp end of the class all year, the swings in the points have been massive; all but two events have seen a difference of 47 points or more between them. Both have put up extremely good days, while both have had some tougher outings; question is, which driver will we get on Saturday?
But it isn't just a two horse race. Defending Grand Masters Champ Tony Wika has now closed in within striking distance of the championship and is certainly capable of doing what it takes to go back-to-back here. While he has had a bit of a tumultuous year, Wika has started to return to the form we saw late last season and has outscored the top two the past two events, reeling them right back in for a final three-way fight.
We know who will be standing on the podium. But in which order?
Top 5 Grand Masters Standings After 2 drops (best drop)
| | | | |
| --- | --- | --- | --- |
| 1) | Tom Zevin | 1404 | (132) |
| 2) | Jeff Latimer | 1374 | (1659) |
| 3) | Tony Wika | 1343 | (150) |
| 4) | Brian Starr | 1095 | (0) |
| 5) | Gilbert Perez | 856 | (71) |
Sportsman Championship: Bryant with the advantage heading into Season Finale…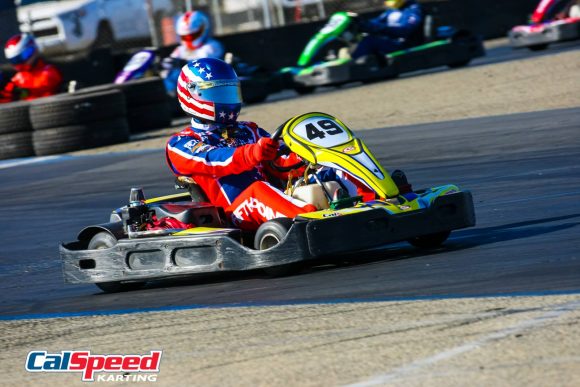 With just one round to play in the inaugural season of the Sportsman championship, Rodney Bryant enters with a healthy lead, and with a strong chance to score his second CalSpeed title. The former Heavy Class champ enters with over a hundred-point advantage on second place and returns to the track where he led his first laps of the season. Bolstering his advantage is the news that current second-place runner Sam Hunt is unlikely to attend the season finale, and his only rival now becomes Scott Milne in third. This is unfortunate and disappointing news from the newly crowned Sprint Series champ, as he certainly was carrying some momentum from last weekend, and was actually the highest Sportsman driver on this track in the spring.
This obviously all but hands second over to Scott Milne, a driver that has been in the top three conversation for all of the latter half of the year, and he still has a shot at stealing away the top step. He'll need things to really go his way though, as the 133-point deficit to Bryant not only requires him to have one of his worst events of the year but for Scott to put up a career-best of his own. He does lead the category for most points earned in a single event -a 340- but will need a 345+ to have a shot at the championship.
There is one more wrinkle to keep an eye on in this class as well. With the aforementioned absence of the second place driver, Mark Sternberg -who just entered the top 5 last round- now may have a shot at hardware. With Hunt forced to use his drop after this weekend, Mark could leapfrog his fellow Sprint Series rival via a strong round of his own, needing to eat up over 150 points to do it. This is actually very possible; Sternberg is fresh off his career best event last month (a 316-point day) and has been driving better than ever. Given Sam's drop of just a 161, Sternberg only needs a 314 to seal the deal…
Top 5 Sportsman Standings After 2 drops (best drop)
| | | | |
| --- | --- | --- | --- |
| 1) | Rodney Bryant | 2082 | (211) |
| 2) | Sam Hunt | 1974 | (161) |
| 3) | Scott Milne | 1949 | (203) |
| 4) | Mark Sternberg | 1822 | (130) |
| 5) | Dmitry Korotkov | 1756 | (188) |