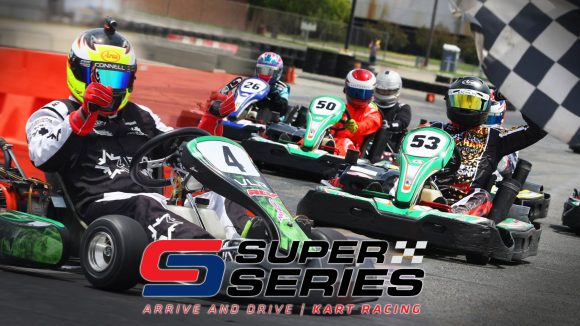 The run to the finish begins with the start of the season's second half…
Saturday will mark the second return visit to a track this year, as Sportivo will kick off the second half of the 2017 Super Series season. With the hottest temperatures we've seen all year, drivers will be tested both on track and off, but a strong points day and possible hardware await those that can stand the heat. The last time the series was on Sportivo was for round #2 in February, so the conditions will be a lot different this time around, with grip levels as high as ever. In this preview we'll take another look at that particular race on this layout, as well as take a little closer look at the top runners in both the overall and sub-championships on offer. This is the halfway point of the season, and there is still a long way to go!
Smitty's Spotlight: Some words of wisdom from the 2016 halfway point…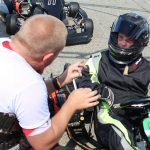 I have been talking with a lot of drivers over the last month or so after they ask what they need to do to find the results they are looking for, and thought throwing it back to what I said at this point in the season last year made a lot of sense. I have been doing a lot of coaching lately, with things ranging from fundamentals like vision, lines, and focus; to more advanced stuff like kart adaption or race craft, but in the end the goal is the same: improvement. In the early stages of a driver's development this goal of improvement is part of the fun; but when you get a few seasons in it can almost be the source of frustration. At the end of the day this thing is supposed to be fun; losing grasp of this core piece of the puzzle can many times make it a lot harder to improve and drivers can find themselves on a plateau in their development.
This weekend, try and woo-sah for a second, hit the reset button and see what you can do with a clear head and a new level of focus. You might be surprised with the results!
"'Smitty Spotlight' from round #7 2016: The best way to finish a race? 1 lap at a time…
Everyone enters the season with a different mindset, goal, and thought process. As the season progresses these things may change, and in the case of our original goal seemingly getting out of reach, it can sometimes be discouraging. The thing to remember is that there is always something to work on and improve upon, and a lot of times it has nothing to do with the results. Thing is, it is the results that stare us in straight the face after every lap, every session, and every round via our lap timers, the posted results, and the points on the website. Because of this it can sometimes be tough to maintain the 'fun' when the 'results' aren't what we want them to be. So how can we still look at the results, but maintain the fun when they are arguably not what we wanted?
As we head into the second half of the season, take stock of the season thus far; are you on track to achieve the goals you put forth in January? If not, start researching your season so far. Mark down your bests stats- overall and on each individual track. You can set a new goal to beat your current best, and/or your best on each track. This however can also make each race a bit discouraging; so try this: averages and individuals.
Instead of making the 'new' goals or focuses as tough as possible, make things a bit more manageable and able to flex with the ebb and flow of the next six races. Take a look at your average point haul on the season, as well as your highest drop. New goal; beat those two things. Also, look at who you typically race with every month; find any regular occurrences? Push to try and beat those particular drivers. Even if it is for 50th, 50th can be the new 1st… It's the new goal. Consistently .5 seconds off the top guys? See if you can shave that down to point four, and so on.
Point is, instead of maintaining a goal that seems out of reach, fine tune it or make a new one that allows you to fight each and every round and have fun doing it. Sometimes all we need is a small mental reset to find big results…"
Sportivo Flashback: Britain breaks victory drought – 2017 Round #2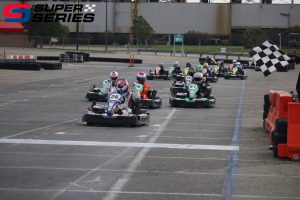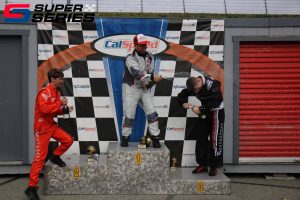 The Sportivo layout has been a driver favorite since its debut at the inaugural Sport Kart Grand Nationals five years ago, combining both technicality as well as great passing zones to offer a bit of everything. In the ten races held here so far only two drivers have won more than once, that honor going to both Calvin brothers. Coming into tomorrow's event, only one driver in the field can call themselves a past winner here, and that is none other than point leader Patrick Britain, who snapped a five-year winless streak with his first win here in February. Britain had been on the podium three times on Sportivo before finally winning, and we'll have a few former podium finishers in attendance this weekend as well. Ninth in points Bill Kreig and most recent IronMan winner on this layout Aaron Scott lead all with two previous podiums each, but there are a lot of other Sportivo regulars looking to add their names to the list.
The round earlier this year did not disappoint for action on track, with a lot of passes and jostling for position all the way to the final run to the line. Here are some excerpts from the round #2 online mag, revisiting the memorable final race of the day:
"Unlike the opening round that saw just a couple drivers break away, this race had fighting all throughout the field, as the entire A-Main stayed nearly nose-to-tail. Chris Huerta would be the first to lead laps, taking over leading duties from the drop of the green, with Patrick Britain slotting in line momentarily before being past by Jon Kimbrell on lap 3. Kimbrell would make his way to the lead after lap 4, with Britain following through and Huerta moving back to third. This shuffle continued for another pair of circuits, as Kimbrell led for just a single lap before Huerta re-claimed the top spot, only to have Britain steal it away a lap later. Also working his way through the group was Aaron Scott-the infighting amongst the top 10 keeping everyone in the game…
With all this battling for position, Britain was able to maintain the top spot but would never be able to pull away, even as Scott worked his way into the 2nd spot past Huerta. Starting the final lap the entire top 5 was separated by just .4 seconds -but this day would remain Patrick Britain's- holding on to win via a defensive move out of Horseshoe that would not only keep Scott at bay, but would create a drag race behind him for second, with Taylor Hays besting Scott for the the second step of the podium by just .080 seconds."
Top 5 Drivers on Sportivo:
Logan Calvin- 2 wins, 5 podiums, 10 heat wins, 12 Heat T3's, 3 Fast Laps
Miles Calvin- 2 wins, 3 podiums, 4 heat wins, 10 Heat T3's, 1 pole
Darren Mercer- 1 win, 3 podiums, 6 heat wins, 11 Heat T3's, 1 pole, 2 Fast Laps
Sergio Bravo- 1 win, 3 podiums, 5 heat wins, 12 Heat T3's, 5 Fast Laps
Patrick Britain- 1 win, 4 podiums, 3 heat wins, 7 Heat T3's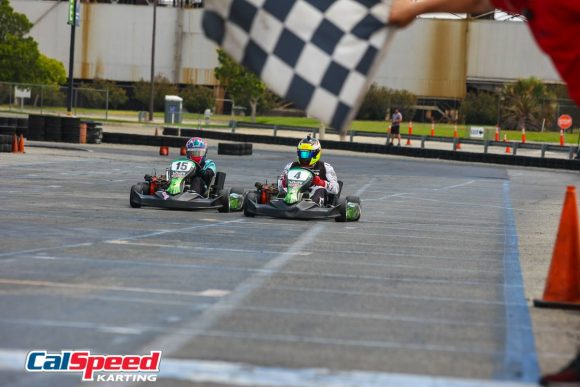 The new Pro Class this year has been an interesting affair, with five different winners after the opening five rounds –all of whom have had experience in 206 racing outside of the class. Logan Calvin edged Alyssa Yauney for round #1, Jon Kimbrell won in round #2 on Sportivo, Alyssa scored her first win in April over Kimbrell, Riley Dugan took things home on the one-off circuit in May, and then Mark Connell took things home last round. And through it all there has been one constant: Yauney.
Alyssa Yauney's closest rival all year has been Jon Kimbrell, but a career move sees him working more Saturdays than not, making getting out to the race track a tough ask. With Kimbrell slated to miss this weekend's event, Yauney's ability to maintain her newly acquired point lead is inevitable, the question is will she add to the tally or not.
Currently Ryan Curtin is on the docket for the class, the former Rotax racer looking to try his hand in the Spec VLR 206 package, with a lot of unknowns to who he may be doing it with. Let's see what Saturday brings…
Top 5 Pro Class Standings (Drop)
| | | | |
| --- | --- | --- | --- |
| 1) | Alyssa Yauney | 1564 | (352) |
| 2) | Jon Kimbrell | 1526 | (0) |
| 3) | Sean Bradley | 1387 | (0) |
| 4) | Dennis Kimbrell | 1083 | (0) |
| 5) | Mark Connell | 754 | (0) |
Overall Championship: Split forming between title and hardware fights…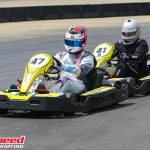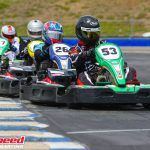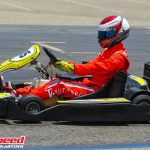 Now halfway into the season with five rounds down and five to go, the standings are starting to potentially form a split between the title fight, and the battle for the final pieces of hardware. Patrick Britain has been a model of consistency thus far, averaging an amazing 392+ points so far this season, which is why he holds onto a 66-point cushion. His drops ensure he'll stay in the hunt for a while regardless of results, and he'll be a tough one to reel in if he keeps up his strong point hauls. The closest two to do it though are nearly tied in the standings, with two-time 2017 winner Charles Eichlin leading another very consistent runner in Taylor Hays by just one point. The former's pair of wins and third podium have him as the #2 guy in the standings, but slightly tough events in rounds #2 and #4 keep his totals in check; while the latter has a podium in round #2, followed by three 4th place finishes in a row. These two have been the closest to Patrick amongst the regular runners, and they are awarded by an almost 100-point gap to the next drivers on my list…
With both Jon Kimbrell and Diego Morales' season kind of going up in flames due to other commitments, the fight for the rest of the top five hardware begins with Chris Huerta in the 6th position. Huerta himself has a small cushion to those drivers behind him, but has already missed one round this year and has less to fall back on than his competition. Another driver that is having perhaps his best ever season, Huerta returns to the Sportivo this weekend with memories of one of his best career finishes back in round #2. Next on the list is Sean Fite, a driver who has consistently improved and showed a few moments of what could be possible if he puts everything together. Fite has unfortunately also been plagued by misfortune –mostly self induced- and sees himself further down the charts than what he is capable of. If anyone is hitting the reset button for the second half of the season, its him.
The last three in the top ten have been nearly identical in their season thus far, always being in the mix, and regular contenders inside the top ten in the A-Main. While Bill Kreig is a former winner in the Super Series and a regular inside the top ten in the standings, both Alyssa Yauney and Jake Hood are newcomers to the big table, and still looking to score their first podium. All three have what it takes to bring the fight to those in front however, and with five rounds yet to play, expect to see them make a push towards the top five starting tomorrow.
Top 10 Overall Standings (Drop)
| | | | |
| --- | --- | --- | --- |
| 1) | Patrick Britain | 1587 | (375) |
| 2) | Charles Eichlin | 1521 | (338) |
| 3) | Taylor Hays | 1520 | (318) |
| 4) | Jon Kimbrell | 1470 | (0) |
| 5) | Diego Morales | 1432 | (0) |
| 6) | Chris Huerta | 1423 | (0) |
| 7) | Sean Fite | 1377 | (309) |
| 8) | Alyssa Yauney | 1375 | (319) |
| 9) | Bill Kreig | 1372 | (334) |
| 10) | Jake Hood | 1366 | (271) |
Masters Championship: This championship just got a lot more interesting…
Diego Morales looked to be on his way to a possible title here in Masters –especially after winning round #4- but has confirmed that his attendance will be sporadic at best here in the second half of the year. Focusing his money elsewhere, this opens up the top spot in the Masters Class without a challenge, and there are plenty of candidates looking to fill the seat.
Leading them all is round #4 podium finisher Jose da Silva, although he got off to a slow start to the season and was outside the top five for the first couple of rounds. From round #3 on however he has typically been the Masters driver to beat aside from Morales, outscoring his closest rivals on nearly every occasion since April. The one constant has been the extremely consistent driving coming from Steve Spring, his ability to keep his point totals inside the 300's all year being unmatched by any of the others in close proximity. Now with a potential title in reach, expect him to find just that little bit more and become even more formidable.
There is a small gap to the next three on the list, but they are no less contenders; last year's rookie of the year Alexander Bermudez put in his best performance of the year last round to bring in the most points of any of these drivers. This boosted him up into striking range, and if his 7th in the A-Main is any indication of what's to come, his climb up the standings is far from over. Chris Carter is arguably having the best season of his career, currently sitting 5th in the standings, and with 4 out of 5 rounds above his typical point hauls. His 5th place finish on Sportivo in the most recent IronMan shows he hasn't lost anything heading into the second half of the season, and is right there ready to make inroads on the drivers in front of him.
Just outside the top 5 is Nathan Hood, the eight-point gap between him and Carter virtually nothing to last season's top 5 finisher. Although outside the top five, Hood is also having a very strong year, and his proximity to the potential title proves it: there are only 125 points between himself and Jose da Silva in 2nd…
Top 5 Masters Standings (Drop)
| | | | |
| --- | --- | --- | --- |
| 1) | Diego Morales | 1432 | (0) |
| 2) | Jose da Silva | 1330 | (260) |
| 3) | Steve Spring | 1299 | (304) |
| 4) | Alexander Bermudez | 1223 | (0) |
| 5) | Chris Carter | 1213 | (171) |
Grand Masters Championship: Epic hardware fight may inch closer to top step tomorrow…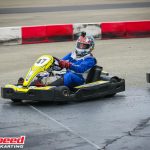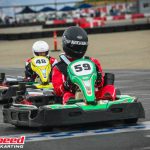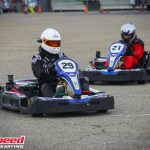 Missing last round due to injury, it is still unknown whether or not we will see the three time Grand Masters champ and current point leader Dennis Kimbrell out for tomorrow's race, adding a little bit of spice to the battle going on behind him. If Kimbrell is absent tomorrow, it will see his advantage to the rest of the group shrink a bit, and we could see a fight for hardware turn into a possible fight for a championship.
The immediate two in this scenario are Joe Sabella and Tom Zevin, a duo locked in points for most of the season. Joe finished 3rd last season and has been focused on moving up that ladder, while Tom's regular improvement that started last year saw him with a top 5 overall at the end of 2016. Zevin and Sabella are now the two primary challengers to the the throne, and it will be interesting to see who gets the upper hand on Sportivo this go-round. They have been almost identical in their point earns all season, and the last time on this track it was Sabella by just 5 points total after rebounding from rough heat races…
Don't count out those behind them however; Jeff Latimer has been a staple and former podium finisher in this class, and is not even close to out of this one yet. Tony Wika has moved into 5th and has shown to be able to roll right there with the status quo in this class. Then there is Brian Starr just outside the top five in 6th; forced to miss this round, expect last year's runner up to come back very strong in the second half of the season.
Top 5 Grand Masters Standings (Drop)
| | | | |
| --- | --- | --- | --- |
| 1) | Dennis Kimbrell | 1041 | (0) |
| 2) | Joe Sabella | 866 | (177) |
| 3) | Tom Zevin | 866 | (172) |
| 4) | Jeff Latimer | 821 | (188) |
| 5) | Tony Wika | 801 | (0) |
Rookie Championship: Spotlight turns to the hardware fight for 2nd and 3rd…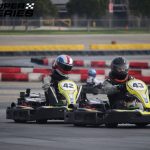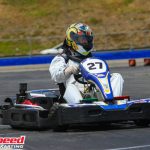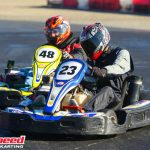 Alfredo Anguiano and David LeTourneau have held onto the second and third spots in the standings after the last couple of rounds, pulling further away from most of their fellow rookies. I say most because there is a driver in the rookie standings that really raised eyebrows last round, and I think is now in the hardware conversation: Victor Juarez. Victor started the year off solid, but after being forced to missed the next three rounds fell out side the lead group. Last round he put in the second highest rookie performance –second only to point leader Blackledge- and really showed he is a threat to reel in those in front of him for a piece of hardware. There are still five rounds to play, and he has a long way to go, but with performances like what he did on Nuovo, he has a real chance of making it happen.
For those in front it is time to turn up the wick here in the second half of the season, their continued improvement and familiarity with the tracks now starting to pay dividends. Anguiano has a bit of a cushion over his challengers, but the rest could see their advantages evaporate quickly, especially with little or nothing to fall back on in the terms of drops moving forward…
Top 5 Rookie Standings (Drop)
| | | | |
| --- | --- | --- | --- |
| 1) | Thomas Blackledge | 1291 | (211) |
| 2) | Alfredo Anguiano | 686 | (0) |
| 3) | David LeTourneau | 529 | (0) |
| 4) | Jiri Dlab | 465 | (0) |
| 5) | Victor Juarez | 417 | (0) |
Heavy Championship: This weekend begins the final run to the finish- Collins VS Collins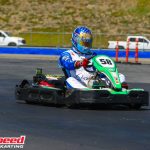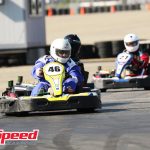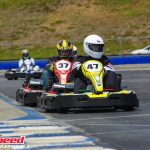 What started out as perhaps the best title fight we may ever see on paper, turned into another opportunity for life to get in the way; with former Heavy class champ Steve Jasinski and regular class standout Paul Juarez sidelined via other commitments. While rookie Jiri Dlab continues to improve every round, seasoned veterans Jason Collins and Michael Collins show the way at the sharp end, even with missing a pair of rounds each.
Both Collins' have said they should be in attendance for the rest of the season, and with no drops to fall back on, the stage is now set for a 5 round fight to the finish. Jason has the upper hand going in with an 80-point lead over Michael, but the latter has been driving better than ever of late, and is ready to take the fight to Jason for the top step. The point leader was the only one in attendance the last time on Sportivo, so this will be the first time we get to see these drivers go head to head on this course…
Top 5 Heavy Standings
| | | |
| --- | --- | --- |
| 1) | Jason Collins | 641 |
| 2) | Michael Collins | 561 |
| 3) | Jiri Dlab | 465 |
| 4) | Paul Juarez | 399 |
| 5) | Steve Jasinski | 144 |
Team Championship: Cruise control for "The Boys"?


With the way the lead T4 team is running, it looks like it may be all but cruise control in the Team Championship, with the lineup of Taylor Hays, TJ Blackledge, and Chris Carter showing the way. Hays and Carter are putting up career years, while Blackledge is putting on one of the best rookie performances we have seen. From here on out it should just be 'hit your marks and let the points take care of themselves for the top squad…
Top 5 Team Standings
| | | |
| --- | --- | --- |
| 1) | T4 - BABIT | 4024 |
| 2) | T4 Engineers +1 | 3588 |
| 3) | Glorious S. Gang | 3160 |
| 4) | JAL Racing | 3054 |
| 5) | Elite S. Gang | 2766 |