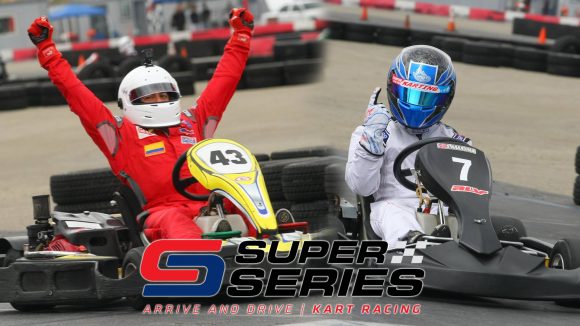 Nuovo marks first repeat venue for the 2017 season…
The CalSpeed Super Series enters its fifth round of the season, and with it welcomes a familiar venue in Nuovo. The first repeat track configuration the series visits in 2017, Nuovo also played host to the season opener in January, so this will be a chance for drivers to have another crack at the 'Super Speedway'. In January it was the Calvin brothers going 1-2 in the closest margin of victory for the Super Series at this track, but neither are running the full schedule so we'll see some different faces at the sharp end.
In this preview we'll not only take a look at the different championship as we close in on the halfway mark, but also a look back at some of the history made on the fastest of the CalSpeed layouts. Get ready for two and three wide, tightly bunched pack racing this weekend, where smart drafting and patience are rewarded more than any track. Welcome to Nuovo!
Nuovo Track History: CalSpeed's Super Speedway hosts some of the closest finishes ever…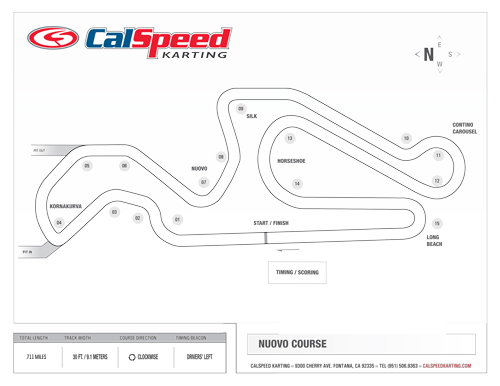 Since the 2014 season Nuovo has been scheduled as the season opener, and the end of the first half of the season, typically in late May or early June. While it did have three races in 2014 because of a make up date, only two races on the 'Super Speedway' have been on the Series calendar since 2013. Before then it was three visits typically, with four races being held here in 2012. In total there have been twenty races on the fastest of the CalSpeed layouts, with twelve different winners, and only 19 drivers ever making their way onto the box. Of those twelve winners, only five have been able to do it more than once, showing there truly are some 'Nuovo specialists' out there. It is also the home of some of the closest finishes in CalSpeed history, not only for the win, but as a lead pack. I have taken a look back at the closest finishes in Super Series history here, including one race that saw nearly the whole top ten inside the same second…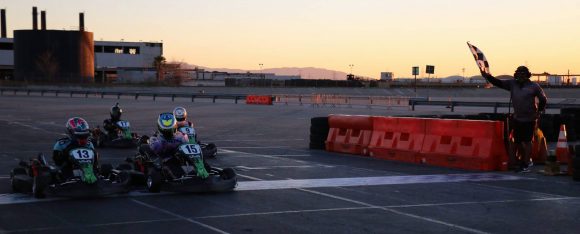 January 2017 – Round #1 | .004 seconds | Pro Class
Logan Calvin over Alyssa Yauney…
"…it was a one-on-one fight between arguably the two most experienced drivers in that type of kart, and it did not disappoint. With a move out of the final corner that saw her capitalize on Logan's defensive line, Yauney came up just short, as Calvin won by just .004 seconds in the first Pro Class event."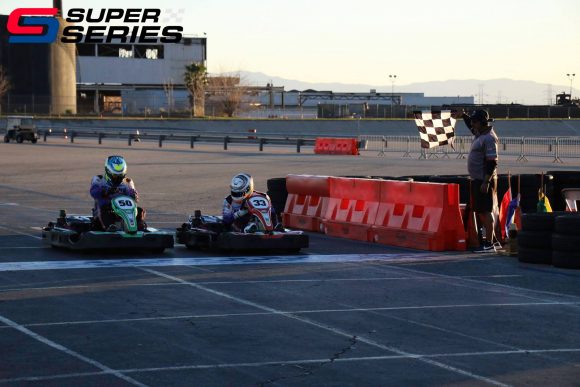 January 2017 – Round #1 | .017 seconds
Miles Calvin over Logan Calvin…
"…Out front it was a continuation of the Brother's War from last year, with Miles beating Logan in the drag race at the stripe by just .017 seconds."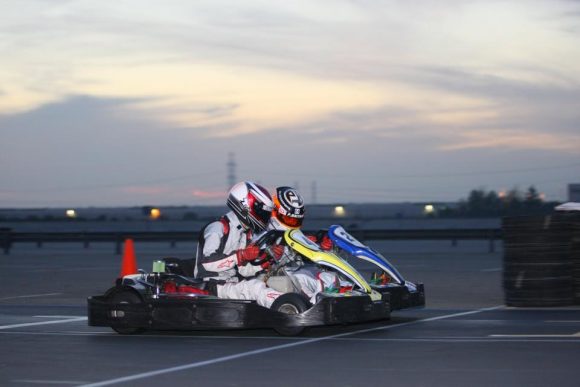 January 2014 – Round #1 | .018 seconds
Taylor Hays over Patrick Britain…
"…As all eight entered the final hairpin Britain and Hays emerged side by side with the rest four wide a few kart lengths back. If Britain had won he would have emerged as the winningest driver in series history, but today it was Hays who would stand atop the podium with his second win in the series."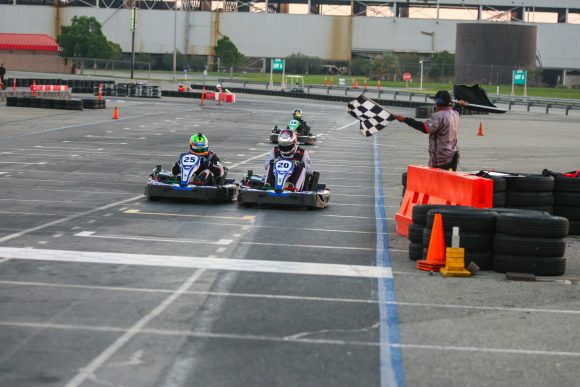 January 2015 – Round #1 | .020 seconds
Logan Calvin over Jon Kimbrell…
"…With two laps to go Bravo lost the draft and left Kimbrell alone to challenge Calvin… But it was not to be for Kimbrell as Calvin proved to be unstoppable yet again."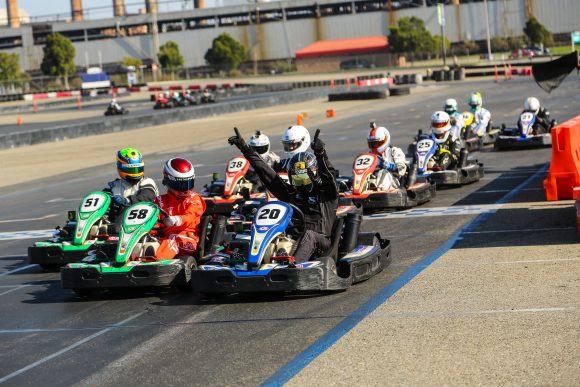 May 2015 – Round #6 | .023 seconds | Top 9 separated by .993
Sergio Bravo over Taylor Hays…
"…As the field took the white flag, Bravo still held strong up front, but it was clear the trailing duo of Kimbrell and Hays would be looking to the final corner to make their move. Bravo knew the attack was coming and defended the inside line into 'Long Beach', but Kimbrell went even lower. Some slight contact at the apex allowed Hays to come up the middle, and suddenly it was a three wide drag race for the win. As the three came across the stripe it would be Sergio Bravo using his momentum on the outside to take the win with Taylor Hays in second and Jon Kimbrell in third."
Top 5 Drivers on Nuovo:
Sergio Bravo- 3 wins, 8 podiums, 11 heat wins, 23 Heat T3's, 1 pole, 8 Fast Laps
Miles Calvin- 3 wins, 7 podiums, 14 heat wins, 24 Heat T3's, 2 poles, 6 Fast Laps
Patrick Britain- 3 wins, 4 podiums, 10 heat wins, 20 Heat T3's, 3 poles, 5 Fast Laps
Logan Calvin- 2 wins, 7 podiums, 10 heat wins, 29 Heat T3's, 1 pole, 6 Fast Laps
Darren Mercer- 2 wins, 3 podiums, 9 heat wins, 14 Heat T3's, 6 Fast Laps
Pro Class: Dugan's debut comes up with career first win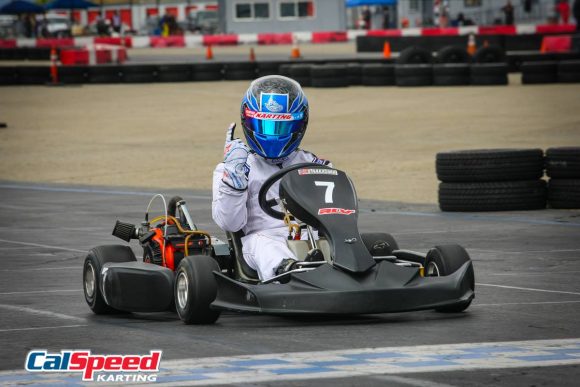 Last month's temporary circuit really shook things up in the Pro Class, as the tight confines of the layout played well for the sport karts, but kept the 206's from really stretching their legs. Still, we were treated to some great racing in both heat races and the first part of the Main, but the guy on point was debut runner Riley Dugan. No stranger to the 206, Dugan pilots his own in the Tri-c 206 Senior class where he has podiumed before, and ran away with the win in the main. With Andres Prieto taking the second spot, it kept the regular title contenders from scoring maximum points on the day. This was especially good for Alyssa Yauney, who although scored pole position and brought home the Heat 1 win, was unable to find the consistency the rest of the day. Her primary title rival and overall point leader Jon Kimbrell fared a bit better eventually finishing on the podium, but he still lost five points to Yauney on the day once the dust settled.
Kimbrell looks to miss this weekend's event due to work commitments, which surely gives Yauney the advantage and a great chance to pull ahead in the points. The question is, by how much? We may also want to keep an eye on the steadily improving Sean Bradley, who actually finished one spot ahead of Yauney in round #4, and has been also running with the CSK Racing team at the Tri-C events. Does he have enough time to catch and pass the other two in the standings? We have six rounds to find out…
Top 5 Pro Class Standings (Drop)
| | | | |
| --- | --- | --- | --- |
| 1) | Jon Kimbrell | 814 | (347) |
| 2) | Alyssa Yauney | 800 | (352) |
| 3) | Marcin Balazy | 714 | (0) |
| 4) | Sean Bradley | 679 | (0) |
| 5) | Alexander Bermudez | 657 | (0) |
Overall Championship: Morales moves into Hardware position with Round #4 win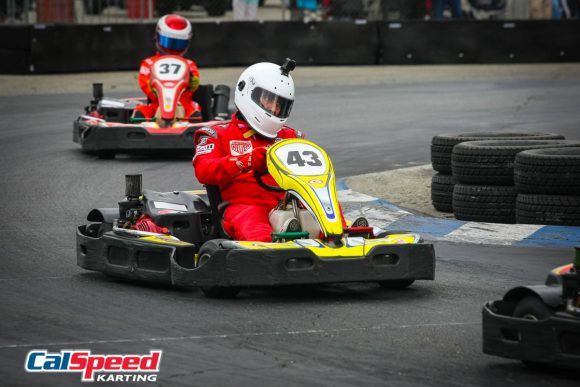 Diego Morales' win last month launched him into the top five overall, and in position to snag some hardware at the end of the year, but he is scheduled to miss this round. This will force him to take his 335 drop tally, which while isn't too bad, it is a fair assumption he'll fall back out of the top five after tomorrow. This is especially the case when we look at the drivers right on his heels, as they have all been running strong of late, especially a few that found the top five at the IronMan on this layout a couple weeks ago. Sitting 9th and 10th respectively, Alyssa Yauney and Sean Fite were really strong in that event, each finishing on the podium after running up front almost the entire race. Neither have won a Super Series event, and this could be a great chance for either to scratch that off the to-do list. Nuovo does indeed favor first time winners…
The sharp end of the standings will have more than just Morales' absence, as Jon Kimbrell could also vacate his position in the top five because of missing this round due to work. That said, Kimbrell has the second best drop of anyone, and it would take a near perfect day for Chris Huerta-the closest of his rivals in attendance- to leapfrog him. Instead eyes will be on the top three in the standings to make the biggest splash, starting with 3rd place runner Taylor Hays who is fresh off a win in the IronMan event here two weeks ago. A former Super Series winner and 6-time podium finisher on this layout, Hays certainly knows how to get around this place. Charles Eichlin enters second in the standings and looking to bounce back after a tough round #4, but he was on the podium in the opener here, and knows how to work through the field if need be. Statistically they are all chasing current point leader Patrick Britain, who can count three of his seven career wins from this track, including leading all drivers in pole positions here with three. This trio certainly looks to be the ones to beat on paper, but this place is also known for shining a spotlight on new faces on the box, so it is anyone's guess what we'll see tomorrow afternoon…
Top 10 Overall Standings (Drop)
| | | | |
| --- | --- | --- | --- |
| 1) | Patrick Britain | 1208 | (375) |
| 2) | Charles Eichlin | 1136 | (345) |
| 3) | Taylor Hays | 1129 | (318) |
| 4) | Jon Kimbrell | 1110 | (360) |
| 5) | Diego Morales | 1097 | (335) |
| 6) | Chris Huerta | 1078 | (0) |
| 7) | Jake Hood | 1042 | (324) |
| 8) | Bill Kreig | 1036 | (334) |
| 9) | Alyssa Yauney | 1023 | (319) |
| 10) | Sean Fite | 1020 | (309) |
Masters Championship: Da Silva leaps to 2nd in the standings after first career podium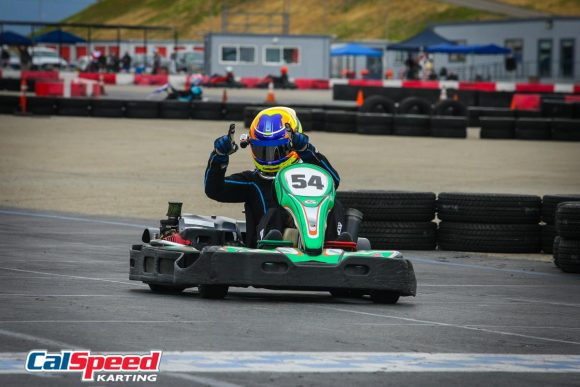 Diego Morales' absence won't see him lose the top spot in the standings due his strong drop value, but we could see a decent dent taken out of his lead this weekend; especially if we see podium performance out of Jose da Silva this event. With his first career trip to the box, da Silva catapulted from outside the top five in the standings to second, a place we are more accustomed to seeing him at. He has been a mainstay in the Masters hardware fight for years, and it is no surprise he is back in the hunt again. Right behind him in the standings is Steve Spring, who is showing fantastic consistency so far, never stepping outside the 300+ point range this year. This has him enjoying a slight gap on the drivers pushing for a podium spot, but there is a long way to go.
That long way to go is what the next five drivers are thinking, as Chris Carter (4th), Alexander Bermudez (5th), Nathan Hood (6th), Vince Burke (7th), and Ariel Rubio (8th) all sit within 40 points of each other. Of the group, Bermudez has looked the strongest thus far, but missing a round and being collected in a pair of incidents last month really hurt him in the standings. That said, da Silva proved that a breakout run is absolutely possible with this group, and Nuovo may just be the best place to do it…
Top 5 Masters Standings (Drop)
| | | | |
| --- | --- | --- | --- |
| 1) | Diego Morales | 1097 | (335) |
| 2) | Jose da Silva | 981 | (260) |
| 3) | Steve Spring | 972 | (304) |
| 4) | Chris Carter | 905 | (171) |
| 5) | Alexander Bermudez | 872 | (0) |
Grand Masters Championship: Kimbrell out from injury; still has solid drop to fall back on…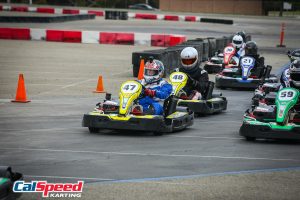 Dennis Kimbrell has been racing a long time, and has been a staple at the sharp end of this class since its inception, winning every championship so far. He'll be missing his first Super Series in a long time this weekend due to an injury racing last month however, and we wish him a quick recovery so he can get back out in the seat and play. He'll be forced to fall back on his drop race, but it's a solid total, so the damage to his point lead shouldn't be too bad. Right behind him and looking to close the gap this weekend is Tom Zevin and Joe Sabella, who have been battling for and trading the runner up spot all spring. Only one point separates them, and there isn't much cushion to the drivers chasing them. Jeff Latimer is a staple in the hardware hunt, while Tony Wika is the 'new kid' on the block that has been steadily improving. Their all chasing Dennis however, and it will be interesting to see what inroads are made in the veteran's absence.
Top 5 Grand Masters Standings (Drop)
| | | | |
| --- | --- | --- | --- |
| 1) | Dennis Kimbrell | 798 | (243) |
| 2) | Tom Zevin | 657 | (172) |
| 3) | Joe Sabella | 656 | (177) |
| 4) | Jeff Latimer | 612 | (188) |
| 5) | Tony Wika | 593 | (0) |
Rookie Championship: Anguiano moves into the P2 spot…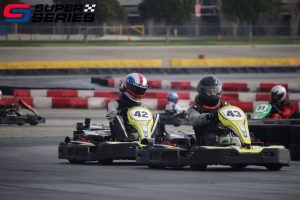 Alfredo Anguiano bounced back last month after missing the round before, and in an event that tested all of the rookies came out looking pretty strong. By the numbers he is the definitive #2 guy on the list, with the rest of the rookie class on his heels. As he continues to progress we should see him close the gap a bit more to the class leader, but Thomas Blackledge just has too much on him to overcome. Instead it is a hardware fight for him and the rest of the rookies he leads, with David LeTourneau being the closest of his rivals. So far it has really been a matter of who shows up to challenge per round, and if we see some more consistency, this battle will get even better.
Top 5 Rookie Standings (Drop)
| | | | |
| --- | --- | --- | --- |
| 1) | Thomas Blackledge | 962 | (211) |
| 2) | Alfredo Anguiano | 496 | (0) |
| 3) | David LeTourneau | 418 | (0) |
| 4) | Mauricio Lastres | 396 | (0) |
| 5) | Roddy Balanga | 384 | (0) |
Heavy Championship: This one may turn into Collins VS Collins…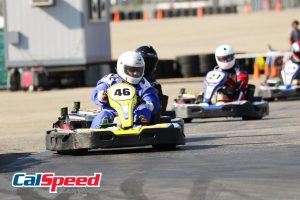 It's going to be all but crickets this weekend for this class, as currently just podium contender and rookie driver Jiri Dlab is scheduled to be in attendance. It will be a great opportunity for him to gain some points and push for the top three, especially when this should be the final missed race for the drivers in front of him. That said, Paul Juarez is still a bit iffy with being able to run the whole season, but both Collin' are full-on. Current point leader Jason should not miss anymore, and the battle between he and Michael should close in with the latter's push to get to the minimum weight. This weekend with be about the rookie, but the fun is just getting started for the whole class…
Top 5 Heavy Standings
| | | |
| --- | --- | --- |
| 1) | Jason Collins | 641 |
| 2) | Michael Collins | 561 |
| 3) | Paul Juarez | 399 |
| 4) | Jiri Dlab | 350 |
| 5) | Steve Jasinski | 144 |
Team Championship: Can "The Engineers" catch "The Boys"?



The ongoing battle between the T4 squads at the sharp end is starting to show a few trends, and it will be interesting to see if those trends continue as we go back to a track we have already run this year. Some drivers are staying consistent, while others are showing an ebb or flow to their totals. "The Boys" still have the advantage, but some data says that "The Engineers" may be able to start closing the gap a bit…
Top 5 Team Standings
| | | |
| --- | --- | --- |
| 1) | T4 - BABIT | 2996 |
| 2) | T4 Engineers +1 | 2707 |
| 3) | Glorious S. Gang | 2368 |
| 4) | JAL Racing | 2302 |
| 5) | Elite S. Gang | 2234 |