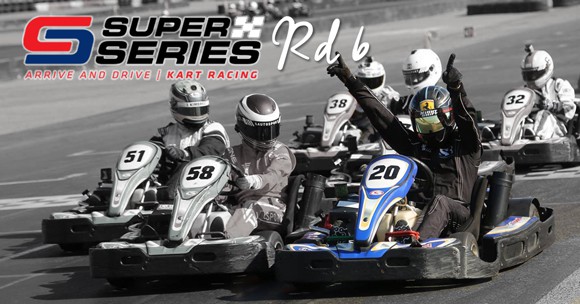 Nuovo: The first repeat track of the year…
NASCAR opens up their season with the Daytona 500, and then goes back to Daytona in July; here in the Super Series, we open up on our own Super Speedway and head back to it to start out the summer. For the past couple of years Nuovo has followed the CalSpeed Oval Showdown as well, giving this kind of short track/big track combo that has kicked off the summer months, helped button up the first half of the season, as well as provide the final preparation before the Sport Kart Grand Nationals. Love it our hate it, the fastest layout on the Super Series schedule only pops up twice a year, and they just so happen to be two pretty big races. So get ready for high speeds, tight packs, and lots of wheel to wheel action tomorrow as we get ready to tackle Nuovo for the second time this year…
CalSpeed Driver Focus: Aaron Scott; No Racing Resume? No Problem…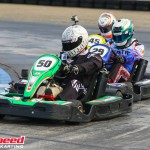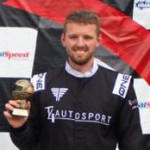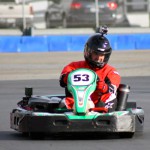 Though not a life long racer or race fan, Aaron Scott has found a home here at CalSpeed Karting and the Super Series, and is reminding everyone this season just how good he is. I had a chance to trade a few words with our current third place driver ahead of this weekends race, and here is your Driver Focus for this month: Aaron Scott.
Mike Smith: Congrats on another strong run at round #5, where you scored another podium, your 3rd of the season. Having been in the hunt for the win three times this year already, you've gotta think a win is around the corner?
Aaron Scott: Thanks Mike. I believe a win is definitely on the horizon. I'm learning more and more each race, whether that be about other guys or myself and it's only a matter of time.
MS: You currently sit third in the standings, and the only driver not named Calvin in close proximity to the championship. Heading into the halfway point of the season, are you happy with the way things have gone for you so far, or is there more to be found?
AS: I'm very happy with the way things have gone so far this season. Those two are great guys and have been racing for a long time, to share podiums with them is a cool experience.
MS: Lets talk about origins; how did you first come to know about CalSpeed and the Super Series?
AS: I was introduced to Ken March, who invited me to a Dromo1 enduro sometime in 2010 or so. I was terrible, but he convinced me to come out to CalSpeed for a Super Series race. Since then I've been hooked and coming ever since.
MS: And have you been in motorsports your whole life? How'd you get started in racing, and do you do any kind of racing outside of CalSpeed?
AS: I've always been very competitive and leaned towards individual based sports, but I have no racing experience outside CalSpeed.
MS: You did an interview with me after the season opener where I asked you about the differences between the '14 and '15 seasons where you had starkly different results. You mentioned that the mindset was a big part of the difference; how does being at the front in points effect your mindset? Do you feel any more pressure?
AS: Yea, a few bad rounds can make the entire season go sour and take your motivation away. This season has gone much better and keeps that internal fire alive. Being at the top doesn't matter to me to be honest, I know it's still early in the season and my drops aren't amazing. I don't feel much pressure at all.
MS: You also mentioned that competing in the Sport Kart Grands was a big part of your development as a driver. As we head into the 5th edition of the Grands with you in a Super Series title fight, do you have a different view on the Grands than previous years? Is it more about going for the win, then developing at this stage?
AS: Grands is awesome. Period. The amount of seat time competing at a high level really pushes you to your limits and forces you to become better. I have the same view, go in and have fun, but I know if I do the right things and get a little luck I can see myself at the top.
MS: On top of your personal success so far this season, you are also the lead for Team T4 Midvale, the current point leaders in the Super Series Team championship. Had you worked with your teammates (Chris Carter, Vince Burke) prior to this season?
AS: Much credit goes to Chris and Taylor for crunching the numbers and putting us together. Burke and Carter are great guys to race with. Burke has really started to become a regular in the A main. Carter has his good days and not so good days, but he's always positive and keeps a good attitude, which is huge. I don't work with them per se, but I help when I see room for improvement.
MS: Last question(s); of all the tracks at CalSpeed, do you have any favorites? You scored a podium at the season opener on Nuovo; does it rank up their as one of your favorites, are you more in tune with tracks like used at the Grands (Tecnico, Grande CCW, Sportivo)?
AS: I always get laughed at because I have no idea which tracks are what and I always confuse the names of the corners. All tracks are the same to me, but I do love Grande CCW.
MS: Thanks for taking the time Aaron, and good luck the rest of this season!
AS: Thank you sir!
Flashback: Round #6 2015; Sergio Bravo scores his 3rd win on the Super Speedway…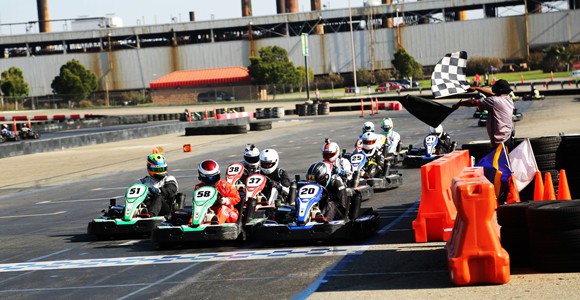 The halfway point for the 2015 Super Series Season would see beautiful skies and warm temps, and would start with Aaron Scott scoring his second career pole position, and first on the Nuovo layout. It would then see eight different winners in the eight heat races, with some new faces amongst the usual suspects including Jake Hood, Sergio Bravo, Kirk Feldkamp, Rene Hourian, Adam Nagao, Miles Calvin, Wes Dent, and Jon Kimbrell all coming out on top.
The A-Main would see Wes Dent start from the pole position via his strong qualifying effort, with several drivers equaling his feat of a win and a second place in the heat races. Along side him would be Jon Kimbrell, but the primary threat this race would come from row two, and one of the best on Nuovo, Sergio Bravo. Bravo would prove just how good he was on the layout by finding the front almost immediately, leading the field for nearly the entire race with Jon Kimbrell in tow. Third on back would be a shuffle between several drivers, but even with the infighting, the lead duo were not able to get away. Kimbrell would make his move for the lead stick about 5 laps from the end, but Bravo would fire back immediately, losing the top spot for just a single lap. Indeed, all the way to the end it would be Bravo commanding the race from the point, but he would have to defend it in the final corner, on the final lap. Keeping things shallow heading into the Long Beach corner, Bravo attempted to defend against an attack, but the attack still came from Kimbrell. Making matters more interesting was Taylor Hays getting in the mix, having worked his way up from deeper in the field, and took advantage for the lead duos tussle. Exiting out of the corner it was a classic Nuovo drag race to the line, with Hays carrying enough speed to nip Kimbrell at the line, but not enough to beat Bravo from claiming his 3rd career victory on Nuovo, eclipsing all other drivers in the process.
Top 5 Returning Drivers on Grande:
Sergio Bravo- 3 wins, 8 podiums, 11 heat wins, 23 Heat T3's, 1 poles, 8 Fast Laps
Logan Calvin- 2 win, 6 podiums, 8 heat wins, 25 Heat T3's, 1 pole, 5 Fast Laps
Miles Calvin- 2 wins, 5 podiums, 11 heat wins, 21 Heat T3's, 1 pole, 6 Fast Laps
Jon Kimbrell- 1 win, 7 podiums, 11 heat wins, 26 Heat T3's, 2 poles, 6 Fast Laps
Taylor Hays- 1 win, 6 podiums, 7 heat wins, 19 Heat T3's, 6 Fast Laps
Smitty's Spotlight: Preparation is key…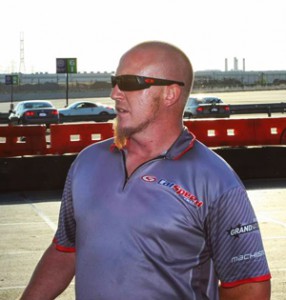 "Before anything else, preparation is the key to success." – Alexander Graham Bell
"By failing to prepare, you are preparing to fail." – Benjamin Franklin
"Success is where preparation and opportunity meet." – Bobby Unser (3 time Indy 500 winner)
This past weekend we hosted what was the last Race Clinic prior to the 5th running of the Sport Kart Grand Nationals, and what many would say was one of the best clinics that has taken place. And there was one key reason: focus. There was a focus on preparation for the 'real thing'; instead of just going through the motions as drivers cut laps, or just aimlessly driving through the sessions, there was an agenda. That agenda was to 'practice racing'. Instead of treating every lap like it was the last one, there was a focus on emulating what an actual race would be like, which meant working on the chess match.
Defending Super Series and National Champion Logan Calvin was the guest instructor, and really nailed this point home after the first session was out there. "Cut the shenanigans, and lets go to work" was the basic theme, and it stuck. What followed was by far one of the closest things to a proper Super Series race on Nuovo we have had in a clinic, and it was not only refreshing, it was a lot of fun. I joked that it took Logan Calvin saying something for anyone to finally listen ("Practice how you race, race how you practice." – Mike Smith on a broken record), but the reality is that sometimes we need a different perspective or just need to hear it from someone else. As a coach, I have seen this many times before; a dad will tell his son something at the kart track and the son will completely ignore it. Coach says the same thing, and its GOLD. It's a bit comical really, but makes sense.
The main thing I am trying to put out here is that practice is all well and good, but practice without an agenda is just cutting laps. The better and more experienced we get, the more specific and finite the things we need to work on are, and a lot of times we may not be able to spot them ourselves. Recognizing what you need to work on, whether by yourself or by a coach or fellow competitor is key to improving, and is the groundwork needed for helping you prepare for the next event. Tomorrow that event is Super Series; next it will be the Sport Kart Grands. Are you prepared?
The Overall Championship: Top 3 begin to break away; contenders start to become clear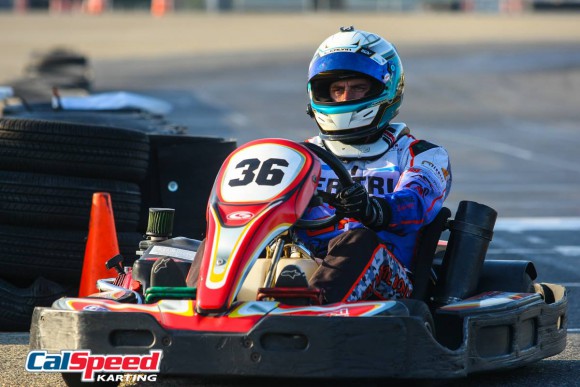 Aside from Adam Nagao's win, this has been the year of the Calvins, with Miles Calvin winning an amazing three out of five races so far, and his brother Logan taking the other win and is a regular appearance on the podium. It is no surprise to see the Calvin duo leading the points, but it is a bit more surprising to see Logan on top instead of Miles; but taking into account the drops rounds, and it becomes a little clearer. The elder brother has been a bit more consistent across the five rounds sure, but aside from the younger's one 'bad' round, he has actually outscored him in the other four events. For sure, this has been an epic start to the championship fight.
And then you have Aaron Scott; sitting in third, and with 3 podiums to his name already as well, he sits just 16 points back from the lead, albeit without as much strength in the throw out department. He out scored the brothers in the opener, and in round four beat Miles and matched Logan, but other than that has lost points. Still, compare him to those further down the list, and he is certainly deserving of the P3 spot. This weekend will be telling to see if Scott can seal the deal on the win, and if the Calvins continue with their front running ways, or will need to use one of those throw outs. Certainly not wanting the later is our point leader Logan Calvin, who I caught up with ahead of tomorrows race…
M.Smith: Logan, its been a good 2016 season so far; 3 podiums, including a win in round #3, you're the Super Series point leader, and you just won the 3rd annual Oval Showdown last weekend. Well done so far!
Logan Calvin: Yeah, couldn't have asked for a much better start to the season. I've only had one bad race so far, so I'm feeling pretty good at this point in the season. The Oval Showdown was a blast and I'll definitely be defending my title next year.
MS: While it has been a very good year for you, you haven't been absolutely dominant; with a couple other drivers right on your bumper in the standings, and many more not far behind, what is your outlook on the championship so far? Has this been one of the most challenging season for you?
LC: I feel pretty good with my finishes so far; it would be pretty greedy to ask for a better start. The way Miles has started the season is pretty incredible. Hats off to Miles, but we still have the second half of the season to go. As far as it being my toughest season, I would probably have to disagree. I've hard some pretty tough battles including Jon Kimbrell last year when it came down to the final round.
MS: The 5th edition of the Sport Kart Grand Nationals is just a few short weeks away, an event you have won twice, and are currently the reigning champion of. Does the way your year has started help you heading in confidence wise, or would you say the the reset button gets hit once the event starts?
LC: Doing well in the Super Series always is important to doing well at the SKGN. People will usually work with you when they know what your capable of. Also, a little fun fact is I always win my championships together. When I get the championship in the SS it is always accompanied with the SKGN as well. So to answer yes, having a great start to the season leads me in to the event with a lot of confidence.
MS: You were able to get on the podium at the season opener on Nuovo, but that was done in conditions much cooler than what we will see this weekend. How will the hotter conditions effect the racing, and what aside from the heat do you think will be some of the challenges drivers will face on Saturday?
LC: The heat as never been a difference maker in my opinion. Nuovo is an unpredictable track and luck will need be on your side to win here. Along with luck, this track will require teamwork and strategy. We noticed all these things at the last clinic.
Top 10 Overall Standings
| | | | |
| --- | --- | --- | --- |
| 1) | Logan Calvin | 1175 | (725) |
| 2) | Miles Calvin | 1165 | (760) |
| 3) | Aaron Scott | 1159 | (669) |
| 4) | Patrick Britain | 1112 | (330) |
| 5) | Charles Eichlin | 1110 | (682) |
| 6) | Adam Nagao | 1109 | (559) |
| 7) | Sergio Bravo | 1093 | (423) |
| 8) | Henry Morse | 1050 | (306) |
| 9) | Ian Enz | 1035 | (578) |
| 10) | Sean Fite | 1026 | (624) |
The Masters Championship: Da Silva heads big gains from deep in the Masters field…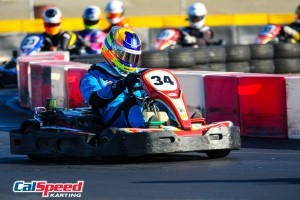 While the top two guys have been either been absent (Morales) or had rough rounds (Bravo), Mark Connell has been putting up back-to-back career runs, and Jose da Silva has been getting closer to his best career form. The latter however is the one who made the leap forward last round, putting up his first 300+ point day of the season, and with it gain 4 spots in the standings. Da Silva is right there in 4th ready if anyone falters in front, and we have seen him challenge for more than just a top five in this category.
But as I said before, Connell is knocking on the door of the top two right now, coming almost within 100 points of the reigning Masters champ in both the Super Series and the Grands, and just 5 points back from second place. Keep in mind too, these three are currently ranked 1-2-3 in the same order from the 2015 Nationals, so this weekend will be a very cool precursor to the inevitable title fight that will ensue in a few weeks time. And unlike the past couple of rounds, the entirety of the Masters front runners will be in attendance, so it will be really fun to see how everything shakes out.
Top 5 Masters Standings
| | | |
| --- | --- | --- |
| 1) | Sergio Bravo | 1093 |
| 2) | Diego Morales | 995 |
| 3) | Mark Connell | 990 |
| 4) | Jose da Silva | 856 |
| 5) | Steve Spring | 840 |
The Grand Masters Championship: Podium fight becoming more clear…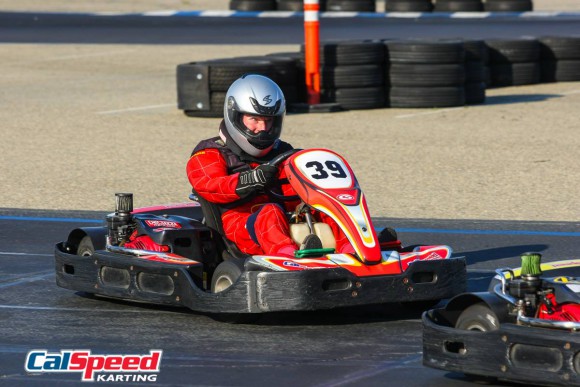 The fight for the hardware has really started to heat up as we near the halfway point, and the guy really making things happen right now is Steve Frame. Putting up back to back 190+ rounds shows a level of consistency from him that we have seen for a bit, and not just consistent, but with some strong points to boot. This puts him squarely next to the rest of the guys battling it out for a podium spot, as Joe Sabella leads a train of seven drivers that are all in the hunt to walk away with hardware at the end of the season.
Now if we look back at the season opener here, not many Grand Masters drivers had great days; in fact aside from defending champ Dennis Kimbrell, it was Roger Adams and Jeff Latimer ahead of the rest. Adams has missed the past couple of rounds, but Latimer has been pretty steady all season, and is currently holding down that 5th spot. Will we see something similar as round #1, or will these guys keep up the momentum as we complete the first half of the season?
Top 5 Grand Masters Standings
| | | |
| --- | --- | --- |
| 1) | Dennis Kimbrell | 724 |
| 2) | Joe Sabella | 567 |
| 3) | Steve Frame | 559 |
| 4) | Brian Starr | 539 |
| 5) | Jeff Latimer | 496 |
The Rookie Championship: Podium fight has several players, lots of questions…
This weekend will mark the first race of year that we return to a track already seen by the group; at least you'd think so. In reality, only Alexander Bermudez and Justin Schuoler were in attendance at the season opener amongst the top 5 in points, so there is still a big 'what if' question tied to what we could expect. Further, not all the rookies have signed up for this weekend as of this writing, so we could see a lot of moving and shaking once the sixth round is complete.
One of those drivers is competition karter turned Super Series rookie Aidan Yoder, who has started his foray into sport karting this year along side racing in the Junior Class at LAKC. Yoder has looked to be making strides as of late, and it was looking like that was going to continue into this weekend; hopefully we'll see what the youngster can do with a little bit of momentum.
Outside of Yoder there is a lot of development going on with the drivers 5th on back as well, with many of them getting a slightly late start to the season, and rushing to catch up. Nuovo will be a new track in the Super Series for a lot of these drivers, so we may have a lot better idea of just what the rookie class holds once the weekend is in the books.
Top 5 Rookie Standings
| | | |
| --- | --- | --- |
| 1) | Alexander Bermudez | 814 |
| 2) | Justin Schuoler | 584 |
| 3) | Tony Wika | 463 |
| 4) | Aidan Yoder | 429 |
| 5) | Brenden Delorto | 424 |
The Team Championship: Midvale Leads; fight for #1 challenger several teams deep…


A quick look at the points paints the picture pretty clearly; everyone is chasing T4 Midvale. And by everyone, I mean EVERYONE, as it is all but a tie for 2nd with how close a lot of these teams are. The next five teams are separated by just 47 points, which is nothing when you figure each team is grabbing points from three drivers every round. After that you have the next six teams within about 100 points, so there is still all to play for in a championship that awards just the top team. With 7 rounds yet to play, this thing is far from over, especially when you start to look at who has, and has not burned up their throw out rounds as of yet…
Top 5 Team Standings
| | | | |
| --- | --- | --- | --- |
| 1) | T4 - Midvale | 2684 | (1427) |
| 2) | CRD | 2477 | (1449) |
| 3) | Fast and Furious | 2470 | (1363) |
| 4) | T4 - Witcher | 2447 | (1054) |
| 5) | Arkham - Shield | 2434 | (1005) |