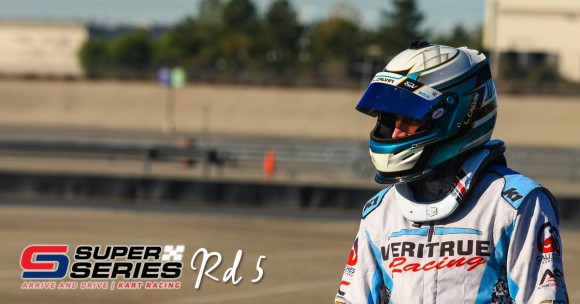 5 different tracks in 5 Rounds continues with Grande…
Diversity through the first five rounds in the 2016 CalSpeed Super Series Championship finishes with yet another different track configuration, as we'll see the monthly contest tackle Grande this weekend. After a pair of counter-clockwise tracks, Grande will be a welcome site for some, bringing back corners like Long Beach, Bus-Stop, and for the first time this season, Scandi and the hairpin. The cooler temps forecasted this weekend will also bring with it a possible stronger draft, which will add to the already strong pack racing seen on the Grande Layout.
With momentum building for the Sport Kart Grands in the month of June, we'll also see a few drivers in attendance looking to prepare for the big event, so this round will have an extra bit of flavor to it. So let's look a little closer at what round #5 is all about, as well as were we stand with four months of racing in the books…
CalSpeed Driver Focus: The Master among Masters, Sergio Bravo
Sergio Bravo is one of the few drivers that has found success in almost every possible event on offer here at CalSpeed; a former Overall Super Series Champion, IronMan Champion, Sport Kart Grands National Champion in the Masters Class, and to this date, the ONLY driver to win the Masters Sub-Championship in the Super Series. That's right, 5 in a row. A Master among Masters, Sergio Bravo is this Months Driver Focus:
Mike Smith: Sergio, while this season has been a bit up and down for you so far, the ups have been pretty dang good with a pair of podium finishes, and you're sitting 4th in the overall standings. How has the season started from your perspective?
SB: I have some good finishes, but I've also had some that hurt. It's still early in my view but I have to work hard to avoid trouble and find the podium in every race for the rest of the season if I'm going to have a chance at this Championship. I'm looking forward to the challenge.
MS: Your name is synonymous with success here at CalSpeed, not only being the de-facto #1 Masters driver here, but also the only Masters driver to win the overall Super Series Championship. For you, what does it mean to not only be the best in class, but someone that can also take the fight to the overall?
SB: Thanks Mike. I can honestly say that the success I've gained means so much to me personally. When I started racing here in 2010 I never could have imagined this success but that's why we all race isn't it, to work on and achieve our own personal goals. I'm especially proud that much of this success has been achieved against some of the toughest and deepest competition anywhere, in any sport. That says something about what an accomplishment is in the Super Series.
MS: This past year you finally got the monkey off your back at the Sport Kart Grand Nationals, and brought home the Masters National Championship in your fourth try. As someone familiar with winning, can you explain what makes that more difficult, and what it meant to you to finally score the victory?
SB: Simple. Once you put skill, confidence and experience aside what's left is Luck. I've been fast and won races at Grands but it's the races I've got caught up in other drivers 'stuff' that has really affected my overall. Staying out of trouble on a normal SS day is key but at Grands that's on a whole other level. The Masters title last year was bittersweet for me honestly, mostly because my Super Final race was not much fun. This year I really hope to capitalize on everything I've learned and make sure that on day 3 I'm in a position to earn hardware.
MS: Like many of the long time sport karters in the paddock, I first met you in Phoenix at the USIKC many years ago now, and you were one of many that hailed from Dromo 1 at the time. Can you talk about how things have changed for you since those early days, and what changes you have seen in the sport since?
SB: I think that USIKC was in 2009 and I can tell you I learned a lot there. It was the first step in me being confident in my abilities and going for a move rather than just thinking about it. And I want to be clear that I mean going for a move that is makeable not just going for it balls out and 'hope' you make it. I think the thing that has changed the most for me is simply knowing the other drivers and how they drive. It's so important. In those early days at Dromo I was the 'new guy' and it took time to give and earn respect and the same is true at CalSpeed.
MS: Lets talk a little about Sergio Bravo's origins; you're originally from Argentina correct? Talk about how you got into racing, and where your passion for it came from?
SB: Yeah, I was born in Argentina but we moved to the states when I was 3. My Dad was into racing and I even have some pictures of him talking to Fangio in the pits. He was an automotive designer for Ford and Chrysler, so naturally, there are a lot of racing fans in that group. My Dad had a closet stacked with Road & Track magazines and I used to go into each issue and tear out the F1 roundup and I made a huge 4" book with just those. My passion for racing, the craft and the beauty of the cars began then. I think I'll make another book!
MS: While a regular in both the Super Series and the IronMan Series here at CalSpeed, what other types of racing have you done or still do? What would you consider your favorite, and why?
SB: Funny thing is I only started racing competitively in 2008 at Dromo1, finishing in the Top 10 for the year. I did some shifter kart schools before that and a friend had one we would go tear up everyone once in a while and I also did the Skip Barber Advanced Racing School at Laguna Seca. Prior to that I was racing downhill mountain bikes. I still to this day think that my commitment in the kart and my pedal touch comes from my mountain biking experience. I really love racing Super Series but I do hope to get back to racing mountain bikes soon. Finding the edge of the bikes limits is much the same as with a kart and that's what racing is. I love both, but mountain biking has so many aspects to it that I love.
MS: Going back to your success here at CalSpeed; you have set records for not only a Masters driver, but any driver in the Super Series, and have won at just about everything on offer. What do the stats, and the records mean to you; are they something you strive for?
SB: I don't think of stats much on track. I came into this not expecting anything really, since it was a new series, I just loved to race. Jon Kimbrell and I have been trading the fast laps record since the series started so that's fun and I have many IronMan records as well. I don't know if it's a stat per say, but what I'm very proud of is finishing in the Top 5 overall every year we've raced here. I hope to add a few more stats and records before I hang up the helmet.
MS: As I mentioned before, you have had a bit of an up and down start to the season, but still are in a very good position currently. Heading into the season, what were your goals, and now that we are four races in, do those goals get adjusted at all?
SB: Just win races. And if I can't win, I have to podium. Nothing else is going to bring a Championship, stats or rewards with the level of competition we have in the Super Series.
MS: Thanks for taking the time Sergio, and good luck the rest of this season!
SB: Thanks Mike, I appreciate it. Let's go racing!
Flashback: A look back at a battle of Brothers at the 2015 Spring race…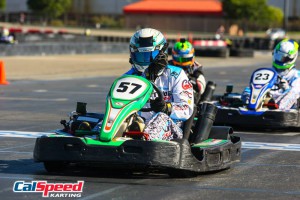 Heading into the A-Main for the 5th round of the 2015 championship, eight different drivers would find victory in the eight different heat races, one of the rare times that has happened in the history of the series. While Wes Dent, Jon Kimbrell, Diego Morales, Adam Nagao, Charles Eichlin, and Bruce Allen all scored a heat win, it was the brothers Calvin scoring the front row in the A-Main via a 2nd to go with their respective heat wins, with elder Miles scoring Pole from a better quali run that morning.
The brothers together are a dangerous combination, and they proved why; working together they would pull out a lead on the trailing and battling pack behind, eventually working out enough of a lead to think it would come down to just the two of them. While Jon Kimbrell and Sergio Bravo were able to link up and break away from the infighting to reel in the duo, they still would not find a chink in the Calvin's defense.
In the final laps it would be Miles with the lead, and Logan on the attack; having been patient with his dutiful teamwork through the first 14 laps or so, Logan eyed up his brother for the final corner. In classic form, Miles went full defense as the approached the final corner of Long Beach. Having to switch tactics, Logan swung back to the left, and setup up for the seemingly obvious over-under maneuver. That is how the move started, but after a crafty move from Miles put him in the way of that move, Logan again switch it up, and elected to carry the extra speed to the outside. The crafty defense from Miles would get out foxed to see Logan carry his momentum past, and win the drag race to the line to score his 2nd, on what would be 5 wins that year.
Top 5 Returning Drivers on Grande:
Logan Calvin- 2 wins, 5 podiums, 11 heat wins, 18 Heat T3's, 3 poles, 7 Fast Laps
Sergio Bravo- 2 wins, 3 podiums, 5 heat wins, 17 Heat T3's, 1 pole, 9 Fast Laps
Jon Kimbrell- 1 win, 5 podiums, 7 heat wins, 12 Heat T3's, 6 Fast Laps
KC Cook- 1 win, 2 podiums, 3 heat wins , 8 Heat T3's, 1 pole, 4 Fast Laps
Bill Kreig- 1 win, 2 podiums, 2 heat wins, 6 Heat T3's, 2 Fast Laps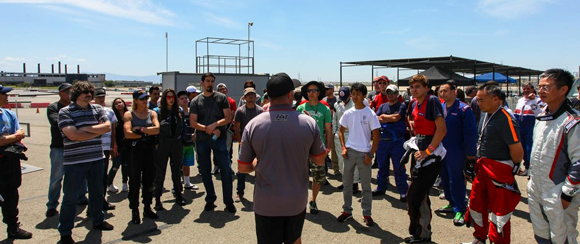 Smitty's Spotlight: Respect; Earned and Given…
The April round seems like forever ago for me, and to be honest, it is one that I am more than happy to leave to the histories. It was one that was challenging for a number of people both on and off the track, and the things that happened that day had a ripple effect on the days that followed, showing that what happens at the track, doesn't necessarily stay at the track…
At the end of the day, what happened last month, and afterwards boils down to sportsmanship; the treatment of your fellow competitor, both on and off track. I have, and will probably continue to preach about giving room and sportsmanship at each event, but I want everyone to realize that this is really about treating others properly. This means you go out and do your best, race hard, and with sportsmanship all the way to the checkers. Afterwards you conduct yourself with dignity and self respect, taking the good with the bad, and continue to show that same sportsmanship through the scales and into the pits.
But it doesn't end there. It continues between events: In person; online; in practice; in other events. There is no excuse for rubbing a win in other peoples faces and kicking them while they are 'down', and there is no excuse for being a sore loser and not congratulating others on their successes. At the end of the day it isn't just about racing with sportsmanship, it is about treating everyone around you the way you want to be treated; no BETTER than you want to be treated, just like your mama taught you.
Now I don't want to confuse the two; it has been said that we need to drive with respect on track. Respect is earned. Regardless of whether or not we respect another driver, we need to conduct ourselves with common decency and sportsmanship. You want respect? Earn it. Win with integrity, and lose with dignity. THAT is how you earn the respect of your peers on and off the track, and THAT is what competition is all about. Because trust me, I have been on both sides; after the years go by, you will learn and realize it doesn't matter how many trophies or championships you have, as much as how much respect you have from those around you.
The Overall Championship: Two drops makes things very close; Month of May brings change…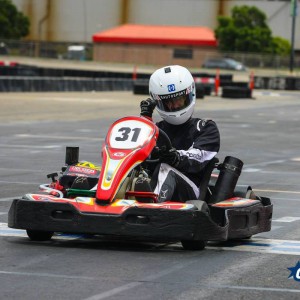 The way the point tally works via the website is to pull the 2 allocated drops as soon as we have two to drop, which means after round #4 half of the races run get knocked off the total. Now this means that the standings can sometimes seem 'artificially close', but in reality, this is the true landscape of what every driver will have moving forward. With one caveat: they must do better than their worst rounds thus far. This is unlikely for most, but it is possible, so this still gives us a great look at who our contenders are after a third of the season is in the books. To add to this, I have included each drivers total points in the parentheses, which also shows just how strong they have been over these first four races. As a reference, going perfect thus far would equal 1620 points.
So let's take a closer look at this top 10 shall we?
After a third of the way through, it looks like our proper contenders for this championship reside inside the current top 7 in the standings, as while they are not only separated by just 37 points after drops, but their total numbers are only gapped by 80 (excluding Bravo). For the most part, this group has not only but up strong finishes in all four events, but have been also able to put up the big point days needed to pull away from the rest of the field ever so slightly. There is still a lot of racing to do yet in 2016, but these drivers have definitely gotten a great jump start on a potential championship winning season.
That said, we'll still be seeing a lot of change over the next couple of rounds at the sharp end, and some drivers fall out of the running, while others come out for one-off appearances that could steal points from the establishment. For instance, 10th place runner Diego Morales is slated to miss this weekend, which will most likely see him slip down the charts, while title contender Patrick Britain has been forced to call his season a bit early, but may still make the occasional appearance later in the season.
That would add him to the stout list of wildcard drivers that we have already had this season, and that continues this weekend with Wes Dent and KC Cook. Dent has already run earlier this season, while Cook is making his return to the series for the first time since his podium run in 2013. Both are slated to run the Sport Kart Grand Nationals next month, and are in town to get some practice ahead of time. While not in it for the overall championship, having strong talent come in and race that aren't regulars means just one less spot at the sharp end for everyone looking to score maximum points.
Top 10 Overall Standings
| | | | |
| --- | --- | --- | --- |
| 1) | Logan Calvin | 780 | (1505) |
| 2) | Aaron Scott | 777 | (1446) |
| 3) | Miles Calvin | 775 | (1535) |
| 4) | Sergio Bravo | 772 | (1269) |
| 5) | Adam Nagao | 765 | (1426) |
| 6) | Patrick Britain | 762 | (1442) |
| 7) | Charles Eichlin | 743 | (1425) |
| 8) | Bill Kreig | 716 | (1233) |
| 9) | Henry Morse | 716 | (1022) |
| 10) | Diego Morales | 708 | (995) |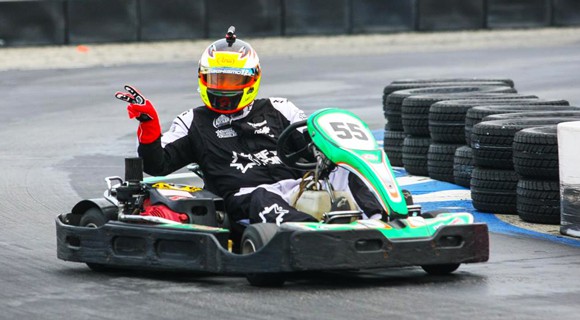 The Masters Championship: Pecking order established; consistency still key…
Sergio Bravo leads the way, but is coming off a season low run last month and will be looking to rebound tomorrow on Grande. A former winner on the layout, and one that typically rebounds well from rough point days, I expect him to put in another solid run for round #5 and maintain a hearty lead in the category. As was already mentioned above, second place runner Morales is going to be absent from this weekends event, opening the door for current third place driver and a guy who has been carrying some momentum of late, Mark Connell. Connell is fresh off a podium finish at the most recent IronMan round, and is looking about as good as he ever has behind the wheel. This weekend will be a great opportunity for him to continue this trend, and reel in that second place as a result.
Behind the top three is Steve Spring; elevated by the pair of drops coming into effect, Spring is still having a solid year, and has shown some brilliance this year via some strong runs. Right there with him are a few drivers that I can echo that statement for, as the fight to be, and get inside the top five is a great one. Ariel Rubio (5th), Vince Burke (6th), Nathan Hood (7th), and Jose da Silva (8th) are all separated by just 11 points, and then they have the rookie of Alexander Bermudez just 20 more back in 9th. While only the top 3 are awarded hardware at the end of the season, saying you are in the top 5 in this class is a great honor in and of itself, so there is no shortage of motivation for this group.
I got a chance to catch up with Mark Connell after his podium run a for a few questions ahead of tomorrows event, and right from the get go, you can tell there is a definitive focus in his direction. Here is what Mark had to say about how things have gone so far:
M.Smith: April was a good month for you buddy, scoring a heat win and with it a career best points day in the 4th round of the Super Series, and then following it up with a podium finish in the most recent IronMan Series event. You look to be driving the best you have in a long time, possibly ever; what's different?
Mark Connell: Thanks Mike! Yeah, it's been going pretty good lately but I know that there's still a long way to go to get the results I want. I'd say the difference lately is having a positive and focused mindset at the track. I've also been working on getting more speed out of any kart I get and I believe that the combination of the two is starting to pay dividends.
MS: You sit inside the top twenty in the overall standings, and third in the Masters Category. Heading into this season, what were your goals, and would you say things are on track, or is the more to find?
MC: My Super Series standings are a bit of a surprise to me as my driving style usually favors the endurance races over the sprint races. That being said, my biggest goal for this year is to try and find a balance in my mental outlook. Everyone has their ups and downs on and off track and it's important to not have your emotions do the same on race day. As far as the championships, I'm shooting for exactly where I am in the Super Series at the end of the year as well as getting an overall podium in Ironman championship. It's going to be an uphill battle in IronMan but I'll keep pushing. There's absolutely more to find so I'm going to keep working on it!
MS: You are a regular runner in not only the Super Series and the IronMan Series, but also attend nearly every clinic. As someone in their third year here, what do you work on at the clinics, and how do they benefit someone with even your amount of experience?
MC: The clinics are really good for me in a number of ways. They're important in helping me work on race craft while not having the fear of being penalized either by race officials, my fellow drivers getting too angry or losing positions on track that impact a championship if I mess up. It's a different atmosphere out there where it's relaxed and I can just drive without pressure. That's shown me a lot in how I should be approaching racing mentally. It's also nice to get the instructors and other drivers points of views on things that can be helpful on race day.
MS: Having already found some success on this layout just a couple weeks ago, how do you feel about Grande this weekend? What would you say are going to be some of the keys to doing well here on Saturday?
MC: I'm not one to predict a future race positively as I feel it just sets me up for disappointment. I know what I have to work on and if I follow through, I hope to do well. The keys to this track in my opinion is to keep momentum in the slower turns like Grande and Long Beach, hit my marks consistently and continue to focus on what I can control and not get too upset over what I can't.
Top 5 Masters Standings
| | | |
| --- | --- | --- |
| 1) | Sergio Bravo | 772 |
| 2) | Diego Morales | 708 |
| 3) | Mark Connell | 642 |
| 4) | Steve Spring | 587 |
| 5) | Ariel Rubio | 556 |
The Grand Masters Championship: Starr here and back to business as usual…
Like the Masters category, Grand Masters has a definitive #1 that everyone else is chasing, with a lot of questions as you get further down the order. Here that de-facto leader is Dennis Kimbrell; the two-time GM champ has continued where he left off last year, putting in strong and steady performances through the first four rounds to now lead by just over 100 points. Joe Sabella had been the torch bearer for the rest of the group in the first couple of races, but with the arrival of Brian Starr, there is no much between them. Starr has gotten a late start on things, but for the guy who battle for the title two years ago, and battle for another podium last year, he'll be a sure-bet for another podium fight this season. For Sabella, things have gotten a bit deeper at the sharp end, but he is still just 22 points astern from second, with the good news being he has points to fall back on, where Starr does not.
Behind this trio is a group of five drivers separated by just 32 points, and has been fluctuated a lot form the drop of the green in January. Along with series regulars Steve Frame (4th), Tom Zevin (6th), and Jeff Latimer (8th), sophomore entry Roger Adams (5th) and rookie Tony Wika (7th) have added some depth and challenge to the group, and the fight for the 5th spot echoes that of the Masters division. These boys will all have another measuring stick to compare to this round as well, as Sprint Series runner, and last years #2 driver Duane Lawson will be in attendance.
Top 5 Grand Masters Standings
| | | |
| --- | --- | --- |
| 1) | Dennis Kimbrell | 523 |
| 2) | Brian Starr | 415 |
| 3) | Joe Sabella | 393 |
| 4) | Steve Frame | 362 |
| 5) | Roger Adams | 342 |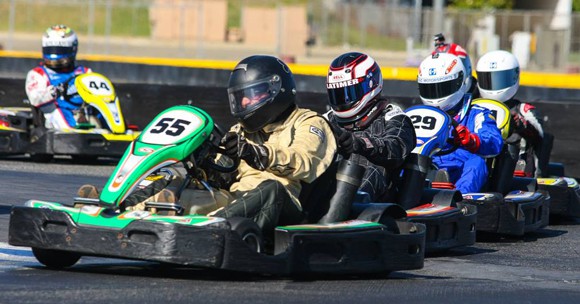 The Rookie Championship: Questions answered; Bermudez to stay…
At the start of the year, it was unknown just how many races Alexander Bermudez was going to make, and it seemed like a run at the Rookie of the Year title was not going to be in the cards. This has all changed for the current point leader, and he has changed his focus to 100% going after some karting hardware in 2016. This answers the 'what if' question definitively, and certainly puts things in perspective for everyone else in the 2016 rookie class. The number one challenger is Justin Schuoler, who has been closest to Bermudez so far, finding his way towards the front of the B-Mains thus far. Having stepped his program to also include IronMan and Sprint Series races of late should help him as well, plus he is carrying a bit of momentum after scoring a LO206 victory at the most recent Tri-C event. Next in line is Tony Wika, who like Schuoler has been grabbing up some extra seat time of late, and has been steadily improving after starting the season one race late. Of the guys running so far, these three are the ones to beat, but there may be a few more lurking that could emerge soon…
Top 5 Rookie Standings
| | | |
| --- | --- | --- |
| 1) | Alex Bermudez | 500 |
| 2) | Justin Schuoler | 404 |
| 3) | Tony Wika | 332 |
| 4) | Brenden Delorto | 296 |
| 5) | Cale Engelage | 296 |

The Team Championship: Midvale on top still, but pressure is mounting…
T4 – Midvale are still sitting on top of the team standings mountain, but the pressure is certainly growing from further back, as the rest of the teams gel, and begin to work better an better together. In fact, if you look at each teams total points thus far, this championship is indeed very close, with consistent runs being the mark of who the stronger groups are. Like I did with the Overall, I have added the total point hauls in for each team to further cement this point. Fourth and fifth place will take a hit this weekend as Tom Zevin (T4 – Witcher) and Drew Zeller (CRD – Gold) will be absent this weekend, and with Zeller not sure if he'll be running the rest of the season, it could spell the end for the second Calvin Racing Development team.
This could open the door for a few teams further down the order, but it will certainly be big for the three at the sharp end, who will have all of there drivers in attendance, and are only separated by 118 points. After this weekend we may have a clearer picture of just who the primary contenders for the title will be as we approach the seasons half way point.
Top 5 Team Standings
| | | | |
| --- | --- | --- | --- |
| 1) | T4 - Midvale | 1800 | (3227) |
| 2) | Fast and Furious | 1711 | (3156) |
| 3) | CRD | 1682 | (3131) |
| 4) | T4-Witcher | 1650 | (2858) |
| 5) | CRD-Gold | 1616 | (2746) |

Remember to catch the CalSpeed SportKart Spotlight every month after the IronMan and Sprint Series races. Missed the latest episode? Watch it here, as guest analyst and Round #4 winner Adam Nagao joins Host Chris Huerta and Race Director Mike Smith.