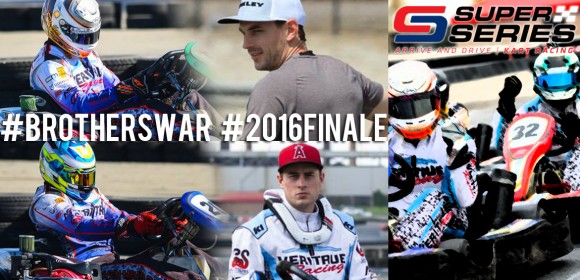 It all comes down to this…
One final race remains in the 2016 Super Series campaign, and we have two epic championship fights, as well as other battles for hardware and bragging rights up and down the field. Last month saw Marcin Balazy bring home his maiden career win, making it the 5th first time winner of the season, joined by Aaron Scott and Charles Eichlin on the podium. Grande will once again be the canvas for the Season Finale, but this time we will be going in the standard, clockwise direction.
This race will see the culmination of a season's worth of effort, with drivers either attempting to snag hardware, or try and eclipse goals set at the beginning of the season. Others will be making their first starts in preparation for next season. There is still everything to play for in tomorrow's final round, whether it be for points, for season hardware, more experience, or to find the podium at the end of the day…
And while eyes will be on the race for the Round 12 win, they will also be flashing back and forth on the Calvin brothers and their fight for the Overall Championship, as well as Sergio Bravo and Mark Connell in the fight for the Masters championship. This will be one of the most exciting events of the year; get ready for the 2016 Super Series Finale!
Smitty's Spotlight: What a year!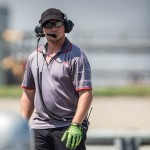 We still have one more round to run, but as I was writing this preview and reflecting on the year so far, I couldn't help but think this may be the best season to date. The two longest running championships at CalSpeed are going down to the wire, with the Overall and Masters title fights the closest they have ever been. We have had five first-time winners this season. Five! We had one last year, and two the year before! We have also had several new faces on the podium in 2016, as well as new drivers looking to take home hardware at the end of the season; the number of contenders at the top is growing, and the dominance once held by a select few is slowly fading.
This isn't to say that the greats of the sport are getting worse, it just means that everyone else is catching up. With growth at the entry level, and changes at the top for next year, I am excited to see what the next season has in store. The Sprint Series is continuing to hone talent, and bring new people into the fold; that talent will be making its way to the Super Series, but at a higher level than we have seen before. Next year's rookie class is sure to impress, and with the ability to now run in two series as a new driver, those new drivers improve even faster. Just look at Sean Fite; last year was his first full year at CalSpeed and while he was ineligible for the rookie title due to too many races in '14, he earned the inaugural Sprint Series title, and finished 15th in the overall standings. This year he is a regular in the A-Mains, has made the podium, and sits 8th in the overall standings, having been in the hardware discussion prior to the Finale. Not bad for a 'newcomer'. That was echoed this year in Alexander Bermudez; Sprint Series Champion, and currently is 17th in the standings, proving Sprint Series is the best way to get ready for the Super Series. The ladder is working.
Next year will see growth at the top as well with the inclusion of the Pro Class, and it will be interesting to see who bumps up, and who runs both. The 206 package in use for that class will get its first laps in anger at the Machismo in a few weeks, and I am really excited to see what drivers think of the package. I am also hopeful that we see that ladder continue on through to the Pro Class, and we see a few drivers return to the fold that may have been looking for a bit more. It is certainly going to be exciting to watch.
But first, the Season Finale. At the end of the day, I am a fan of this racing, I am a fan of you drivers. It has been an awesome year in all the Series we have done here, and it has been great to have met some new faces in the crowd. You all put on a great show out on track, and I am excited to see what you all have in store tomorrow! Good luck!
The Overall Championship: The #BrothersWar reaches its crescendo…


This war is now on the eve of its decision; the ebb and flow over the battlefield now sees just the two brothers at the center, alone. It has been a long fight to get to this final conflict, the siblings proving throughout the year that this would be a year of a Calvin at the top of the mountain. They now stand at the precipice; only one of them will be left standing after tomorrow's contest, the other forced to accept defeat. There are two brothers, but there can only be one Champion. Who will win this #BrothersWar?
Miles enters with a slim 21-point lead but has been the more consistent of the two entering the final race of the season, while Logan enters a come-from-behind situation; something he has dug out of before. In previous interviews I have asked each brother their thoughts on various subjects: the tracks, other competition, their mindset, and so on. Now, on the eve of what could be a championship winning run, I asked each of them what it means to them to be in a mano-e-mano fight with family for the title. Here's what they had to say…
Miles: It's everything and more! This battle has brought the best out of both of us. Logan and I have always wanted to be in this position, but for some reason this is the first time it has come down to just us. It's not easy, I can tell you that. It's tough to ride into the track with your best friend and then have to switch gears to make him your biggest competitor. I think experiencing this, earlier this year at the Grands, has made it better. I don't think Logan realized, or realizes how much I want this, and I am not going to let anyone or anything stop me. It has been a long time coming and I know I have always had the skill, but refining and tuning a few thought processes and techniques has made all the difference. But just because I have a shot to win, doesn't mean I am there yet. There is no celebrating until I am standing on the top. So it's all business. I know Logan is not going to make it easy. It's going to be an incredible day and I am sure it is going to come down to the wire. I couldn't be happier and more excited to be facing off against the defending and multi time season champ. It's been a heavy weight fight and it's time to let it all hang out! Mike, thank you for all your hard work and effort you put into the sport! Looking forward to enjoying this championship with you Saturday!
Logan: Oh it's awesome Mike, our goal is to always to go 1-2. On the flip side, Miles is a great competitor. He has been driving awesome all year and it's coming down to the last round. The championship is in Miles' hands going in to the last round and I've been in that position before. It comes with a lot of stress in where I've seen many good racers crack under the pressure. I'll be trying to get in his head all day, starting with the drive to the track… Remind him of Grands; and how he doesn't have a championship yet… It will be a fun day. I'll be giving Miles my best effort, pulling out all the tricks but at the end of the day it will be a great championship. We both drove awesome all year and are deserving of the championship.
Title Contenders (Drop)
| | | | |
| --- | --- | --- | --- |
| 1) | Miles Calvin | 3442 | (360) |
| 2) | Logan Calvin | -21 | (340) |
The Battle for Third: It is Eichlin VS Scott in a final duel…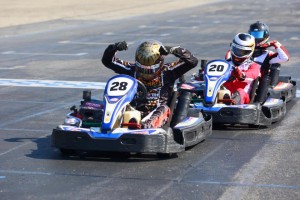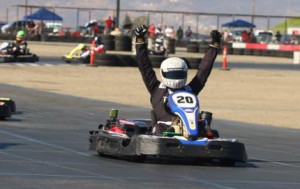 As if the #BrothersWar wasn't enough, Charles Eichlin and Aaron Scott have blessed us with another fantastic battle to watch on the final day of racing in the 2016 season. Charles has had a phenomenal 2nd half of the season, scoring more points than any other driver, and in the process has moved himself into the third spot in the standings. Just five points behind him is the guy who has been able to put pressure on the Calvin brothers almost every round, and rivaled them in the first half of the season, Aaron Scott. All that said, if you just look at the past few races the two are almost identical, and we have seen what each can do: Chuck won the Classico GP and Scott won Round #9, then they were both on the podium last round. Heading into the final event with nothing between them, it will certainly be whoever finishes in front of the other to decide who gets the larger piece of hardware…
3rd Place Fight (Drop)
| | | | |
| --- | --- | --- | --- |
| 3) | Charles Eichlin | 3342 | (337) |
| 4) | Aaron Scott | -5 | (315) |
5th Place Fight: Only one will leave with the hardware…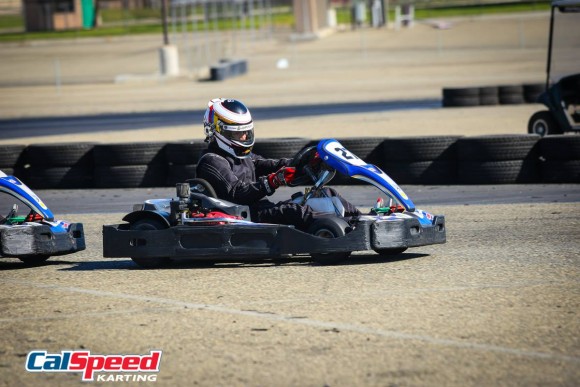 Andres Prieto is the one with the advantage here, and goes in with a healthy sixty-point lead over his closest rival, and with a drop that will require a very good round for any attack to hold. Like others in his position, Prieto can essentially race for his spot, do 'just enough' and not take risks. That said, if given a shot at winning his first Super Series event, I know the Colombian will take it.
It will require a 372+ point day at minimum for 6th place Henry Morse to steal the final piece of hardware away, and that would also mean a drop from Andres. He's hit that number on a couple of occasions this year, but the harder bit is banking on a tough round from one of the most consistent drivers in the field.
Sergio Bravo also has an outside shot at this thing, but aside from needing a ton of help, he'll have to score a 395 or better to have a shot; it is likely he will be scratched from the contender list after the first set of heats, but his focus arguably lies elsewhere…
5th Place Fight (Drop)
| | | | |
| --- | --- | --- | --- |
| 5) | Andres Prieto | 3202 | (311) |
| 6) | Henry Morse | -60 | (0) |
| 7) | Sergio Bravo | -83 | (247) |
The Masters Championship: It is a David and Goliath battle; Will Bravo hold on for title #6?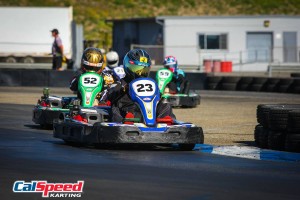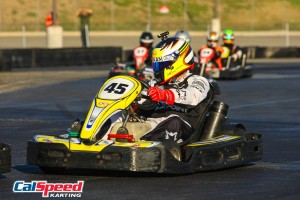 'Goliath'- 5 time Masters Champion; A-Main winner; former overall Super Series Champ: Sergio Bravo. Bravo is the man to beat in this class, and according to history, at this race as well having won the Finale last season. There is no question he has, and knows what it takes to not only find the top step of the podium, but bring home his 6th, and what could be final Masters title in the Super Series.
'David'- Up and coming talent that has climbed the ranks; podium finisher; consistent A-Main contender: Mark Connell. Connell however has been the more consistent of the two drivers by a long shot; in fact, it was on this track configuration in the Spring that saw him score a pair of heat race top 3's and a solid A-Main run, while Bravo dropped the round. He has what it takes; he just needs to do it.
The battle between these two is arguably the closest we have seen since the 2012 fight between Bravo and Dave Messimer, and like then, this one is based heavily on who has been more consistent. In the tale of the tape though, the advantage goes to experience and overall reach, and that is where Bravo gets the nod. He HAS won before, while Connell has shown he CAN win…
It has been a great season for the challenger; question is; can he find that little bit more?
Masters Title Fight (Drop)
| | | | |
| --- | --- | --- | --- |
| 1) | Sergio Bravo | 3119 | (247) |
| 2) | Mark Connell | -48 | (282) |
Masters Podium: Da Silva's to lose; eyes on bragging rights battle for top 5…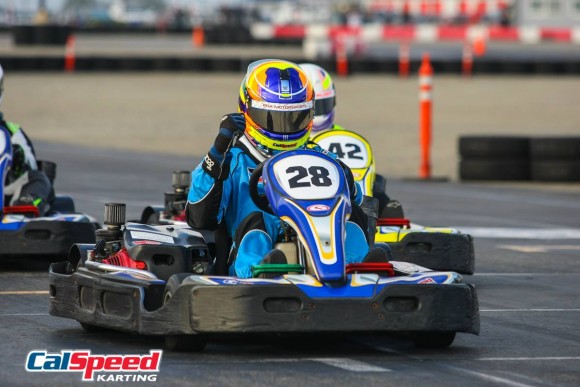 Jose da Silva is looking to make it his second podium in a row, backing up his 3rd from last season, while Nathan Hood is looking good for a top 5 result for the second time in as many seasons. The 141 points swing is unlikely, and the 57 points back to fifth and Hood's solid drop means this is most likely where these guys will sit in the final tally.
Along with that pair of regular top five drivers, we have a couple of guys looking to finish out the season inside the top 5; newly crowned Rookie titlist Alexander Bermudez and veteran driver Vince Burke. Bermudez snatched the spot away from Burke last round, each having a stellar year in their own rights. With not much between them, and the potential to outscore the other, it will be a close fight for the final spot inside the top five, and with it the bragging rights.
Podium and Top 5 Fight (Drop)
| | | | |
| --- | --- | --- | --- |
| 3) | Jose da Silva | 2738 | (244) |
| 4) | Nathan Hood | -141 | (260) |
| | | | |
| 5) | Alexander Bermudez | 2540 | (233) |
| 6) | Vince Burke | -30 | (200) |
The Grand Masters Championship: Dennis Kimbrell is the 2016 Grand Masters Champion!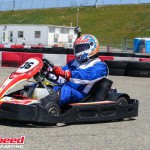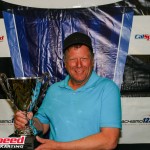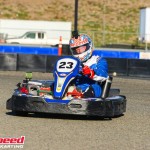 Like the Rookie title that was decided early, the Grand Masters class has followed suit, with Dennis Kimbrell scoring his third GM championship in a row. It also shares a similar set-in-cement podium group, we're just waiting for it to set; Brian Starr and Joe Sabella are all but a sure thing in 2nd and 3rd respectively, marking Starr's third piece of GM hardware, but Sabella's first. Below them in the standings is a fun battle to watch as well, with Jeff Latimer and Tom Zevin battling for supremacy in 4th and 5th, having distanced themselves from Steve Frame a bit. Frame still has a shot to steal away a top five in this bragging rights fight however, and it will be interesting to see how the season finale treats this group of racers.
But the guy they must all aspire to is three-time and consecutive Grand Masters Champion, Dennis Kimbrell. I had the chance to interview Kimbrell ahead of this weekend's finale, and he was quick to disperse the praise to many of the others in the category…
Mike Smith: Dennis, congrats on sewing up the title one round early. Your third consecutive Grand Masters championship!
Dennis Kimbrell: Thank you Mike. This has been a fun year and taking hardware home at the end is always a plus. I obviously have a couple of gifted drivers I can lean against to get me racey, but luck came into play all three years. Year two Dave Messimer had to drop out of the championship while leading and this year Sergio Bravo decided to run the Masters class to keep his consecutive Masters streak going. Now those guys set the old man bar pretty high.
MS: Since the Grand Masters Class was formed three years ago, you have always been at the sharp end, and have been able to seal the deal on the championship all three years. This is the first time you have been able to do it in such a decisive way though; how does this title stack up with the other two?
DK: I feel I've been driving a lot more consistent this year. I have tried to be less aggressive and the pay back is more drivers are working me.
MS: Brian Starr joins you in the hardware for the third time as well, this time in second like he was in 2014. While he did miss the first two rounds, he always seemed to keep the pressure on. Did you always have an eye on Brian as the year went on?
DK: I've always kept an eye out for Brian. Any senior driver capable of scoring a 350-point day has to be considered a threat for the Grand Masters championship. This year I've had some bigger points days, but Brian has been way more consistent. The race would have been a lot closer if Brian had two more races that could have been factored in.
MS: Along with Brian there have been several new faces in the GM division working up to challenge for hardware, namely Joe Sabella in third. What do expect to see in this class for 2017?
DK: Joe has shown some remarkable upgrades in talent this last year. Jeff Latimer has also been running strong along with Tom Zevin. As far as 2017 I see this class posting higher scores. Currently I'm on the fence about running the sport karts for next season. I have a heightened interest in running the LO206 class after watching Jon's Tri-C race last month. I have January and February to figure out if the LO206s are right for me.
MS: Once again, congrats on bringing home the 2016 Grand Masters title, and good luck at the finale!
DK: Thanks Mike. It will be nice to just put the elbows up and not worry about points.
Top 5 Grand Masters Standings (Drop)
| | | | |
| --- | --- | --- | --- |
| 1) | Dennis Kimbrell | 2260 | (162) |
| | | | |
| 2) | Brian Starr | 1898 | (0) |
| 3) | Joe Sabella | -204 | (136) |
| | | | |
| 4) | Jeff Latimer | 1594 | (142) |
| 5) | Tom Zevin | -5 | (141) |
| 6) | Steve Frame | -68 | (137) |
The Rookie Championship: Rousseau and Yoder look to have podium finish in sight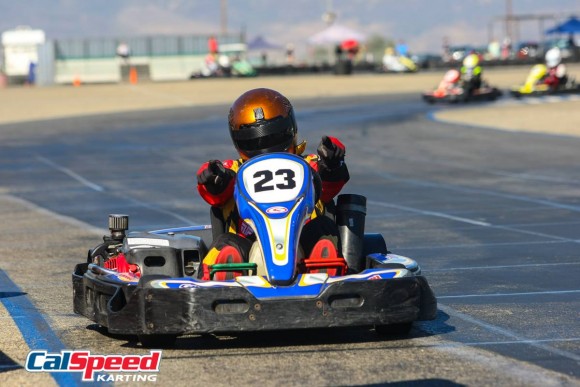 Things have settled down considerably in the Rookie class podium fight, as these past few rounds have really shaped the podium into something that may not change once the checkers fall on Saturday. Bermudez was crowned the champ a couple of rounds early, and with Tony Wika missing the penultimate round, advantage went to Tyler Rousseau (2nd) and Aidan Yoder (3rd). It seems as though no changes will happen at the Finale, but all of the front runners have no drops to fall back on, so they must still be smart out there. The gap between second and third is a sizeable one due to arguably the best round we have seen from Rousseau a couple weeks ago, starting at the sharp end of the B-Main while bringing home a 245-point day. Yoder bounced back from a tough pill to swallow in Round 10, and showed very well with some mature driving in the same main.
While it may not be for a swap in hardware, I wouldn't be surprised if both these rookie podium runners find each other this weekend, and end the season with some of their best driving yet…
Top 5 Rookie Standings
| | | |
| --- | --- | --- |
| 1) | Alexander Bermudez | 2540 |
| | | |
| 2) | Tyler Rousseau | 1606 |
| 3) | Aidan Yoder | -169 |
| 4) | Tony Wika | -325 |
| 5) | Zachary Jo | -338 |
The Team Championship: CRD takes over 2nd; too-little too-late to catch Midvale…


While mathematically still open, this championship is all but sealed up heading into Saturday's event, helped in part by CRD driver Steve Jasinski being absent from the Finale. With the challengers a man down, it is all but certain that T4 Midvale will be hoisting the championship cups at the banquet. It is a well earned title too, as this team has been the dominant force over the course of the season, maintaining the lead almost from the get go. It will be the first team title for Aaron Scott and Vince Burke, and the second in three years for Chris Carter.
Last year's 11th hour champions will be hard pressed to stay in front of the Sean Fite-led RNA squad they nipped for the title last year, and it will be fun to see who comes out on top in their little bragging rights battle.
Top 3 Team Standings (Best Drops)
| | | | |
| --- | --- | --- | --- |
| 1) | T4 - Midvale | 7096 | (678) |
| 2) | CRD | -253 | (720) |
| 3) | RNA - C McD 2 | -306 | (708) |