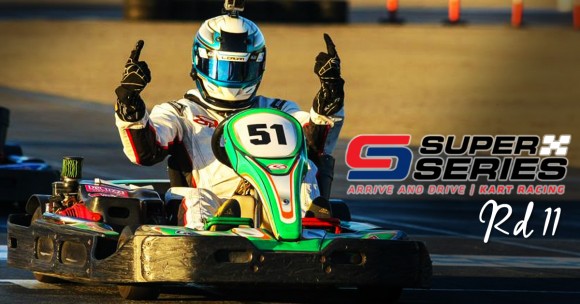 The season enters the penultimate round…
Last month saw the Super Series circus take on the Tecnico layout for the second time this year, and it was title contender Logan Calvin keeping his streak alive, winning his third Tecnico race in a row. He would be joined by a pair of Colombians on the podium, as Andres Prieto picked up his third 2nd place finish in the past four rounds, while Diego Morales scored his first podium of the year. It was a huge win for Calvin, needing to rebound after losing ground in round nine, while it was perhaps equally as important for Prieto, who took over the 5th and final overall podium position in the standings.
Tomorrow Grande Counter Clockwise will play host to the Super Series for the second time this year, a track that has provided some of the most exciting moments in Super Series history. There is plenty to watch for, as the Brother's War still rages on for the Overall Championship; the rest of the overall podium is still finalizing its contenders; and the Masters title is also one of the closest we have ever seen. There are also several great battles for both hardware and bragging rights up and down the field, as we inch ever closer to the end of the 2016 campaign.
Will we see yet another first time winner as we did in the Spring race? Will Logan Calvin repeat his win from a year ago? Or could we see one of the other front runners grab another win for the record books? No matter what happens, Grande CCW is sure to deliver one of the best races of the year, and it is not one to miss!
Flashback: 2015 Round #11- Calvin Wins 5th of the season and clinches championship…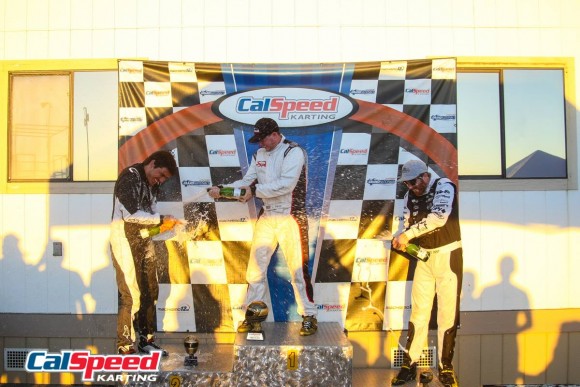 As the only driver to win both his heat races, it would be Adam Nagao leading the field down into Short Beach, lined up alongside the overall pole sitter from qualifying Logan Calvin. For Calvin it was exactly the place he wanted to be to seal the deal on his second Super Series title, hoping to best rival Jon Kimbrell who was starting further back in the pack.
At the drop of the green the field poured into Short Beach for the first time, with the first several rows exiting out of the tight quarters unscathed. Then about mid pack, things started to bottle up with Brent Curran in the wall, stacking up the outside line and collecting Bill Kreig and podium contender Sergio Bravo among others in the process. All were able to continue from the incident, but it did a lot to scatter the pack, and threw a big curve ball to the drivers in the final race of the day.
Out front it was Logan Calvin leading the way after taking the top spot from Nagao on lap two, with his brother Miles Calvin slotting into second on lap four, the trio all pulling away from Wes Dent and Darren Mercer in 4th and 5th. Dent and Mercer went to work though, not only pulling away from 6th on back, but they bridged the gap to the leaders. Unfortunately for Mercer, he wouldn't be able to hold on to the back of the quartet for long after they got there, and would run by himself in 5th for the second half of the race.
With very little fighting going on, the foursome stayed smart and when moves were made, room was given and the advantage over the rest maintained. As the laps waned on the event, a Calvin still maintained the lead, but this time it was the elder, as Miles led the field for several laps heading to the white flag. The final lap saw quite a bit of action, as Logan made the move on his brother, with Miles falling back to 4th. This brought Nagao to second and Dent third, but Calvin wasn't done yet as he challenged Dent through the final complex, but had to settle for fourth when the results were final. Ahead of them was Logan Calvin, bringing home his record 5th win on the year, becoming the winning-est driver in Super Series history in the process, while clinching his second Overall Super Series title as well.
Top 5 Drivers on Grande CCW:
Jon Kimbrell- 3 wins, 4 podiums, 5 heat wins, 13 Heat T3's, 4 fast laps
Logan Calvin- 2 wins, 4 podiums, 9 heat wins, 18 Heat T3's, 4 poles, 6 fast laps
Aaron Downs- 2 wins, 4 podiums, 4 heat wins, 10 Heat T3's, 1 pole
Darren Mercer- 1 win, 2 podiums, 5 heat wins, 12 Heat T3's, 1 pole, 3 fast laps
Adam Nagao- 1 win, 2 podiums, 3 heat wins, 6 Heat T3's, 2 fast laps
The Overall Championship: Penultimate round sets the stage for final battle in Brothers War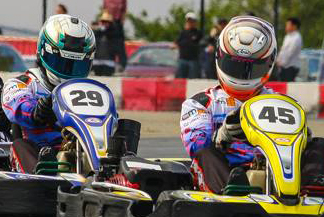 This 'Brother's War' sees both sides of the battlefield entrenched; the front lines typically moving very little, as each combatant strains to find an advantage. Rarely have we seen a salvo from either side that seems to reveal a clear hole in the lines, or chink in the armor. But these past two months may have been an exception to the rule; The Elder Brother surged forward two rounds ago with a 31-point attack, stealing away part of the front as it looked like the battle could be decided in his favor. Then last month the Younger Brother launched a counter-attack that not only negated the prior field movement, but also cemented his foothold on the battlefield once again…
The War continues into Grande CCW tomorrow, with just 13 points separating elder Miles Calvin and his younger brother Logan Calvin. With their continued consistency the two have pulled away from the rest of the field, and they cannot be swayed from their destined mano-e-mano fight to the end. Entering with the lead, Miles can actually clinch his first Super Series title this weekend, but will need to clear Logan by 32 points to do it. He has only done this once this season however, and besides Tecnico, this may be Logan's best track so it will be a tough ask. Miles is no slouch at this place though, and while the stats may not compare to his brother's, the gap between the two is a small one.
Logan won and was five points from a perfect day at this race last year, and the last time we were on this track in the Spring, he picked up his 4th career podium on the layout. That said, Miles was right there in the hunt for a podium at this race last season, and in the Spring, was actually side by side for the win heading into the final corner before falling to fourth. Both drivers know how to get around this place quick and how to pass in every corner, so there is no shortage of opportunities to take the fight to the front. Qualifying will play a crucial part tomorrow as well; Logan's average Q result the last three races here is 3.67, including a pole and no worse than 7th. For Miles, it is an average of 12 and a best and worst comparison of 4th and 24th respectively. So the question is, will they both start at the sharp end, or will they have to fight to get there?
Title Contenders (Drops)
| | | | |
| --- | --- | --- | --- |
| 1) | Miles Calvin | 3081 | (360, 359) |
| 2) | Logan Calvin | -13 | (353, 340) |
The Podium Battle: Prieto takes over final podium spot; Saturday to decide final contenders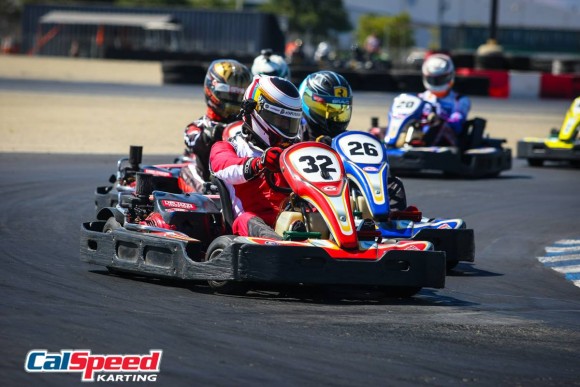 The Super Series overall podium awards the top five in the Series, and the fight for the final three spots does not disappoint. With two rounds to play, six drivers are still mathematically in the game for a piece of hardware, with varying degrees of probability associated with each one. First though, let's talk about the guys in 3rd and 4th right now; Charles Eichlin and Aaron Scott.
Chuck just took over the third spot from long time top-three driver Scott, with the former having a very good second half of the season, especially the last three events. A win in round 8 at the Classico Grand Prix followed up by a 4th and a 6th in the past two rounds see him with a slight advantage over Scott with two to play. For the guy in 4th, it could certainly be said that the first half of the season was better than the second on paper, having been in the title hunt up through round seven. A pair of rounds saw him drift away from the top two and eventually was caught by Eichlin, but he also was able to score his maiden win in the series in round 9 on Classico CCW, so it isn't all bad. It really is a fight between these two for the 3rd and 4th places on the podium, with not much separating them on paper. In fact, both can clinch a spot in the top five this weekend, needing a 342 (Eichlin) and a 370 (Scott) to do it.
Behind that duo is Andres Prieto, who just asserted himself as the guy to beat for the final piece of hardware, deservingly too. With three 2nd place finishes over the past four events, you would be hard pressed to find a stronger performer here in the second half of the season. His ascent was made a little easier by the former podium driver of Henry Morse missing round #10 due to his car racing duties, but the 60-point gap is not much to rest on. For Morse, everything he earns he will keep in these final two races, as he has no drop points to his name, having missed a pair of races this year. One of these two will most likely be the one to bring home the final podium spot, but there are two more that have an outside shot…
Seventh place Sergio Bravo and eighth place Sean Fite are still in mathematical range to steal away an overall trophy this year, but they will certainly need to have some help. Not only will they need to have podium-level performances to finish out the year, but they will need their rivals to have some of their worst runs of the season to bridge the gap.
3rd-8th Overall Standings (Drops)
| | | | |
| --- | --- | --- | --- |
| 3) | Charles Eichlin | 2603 | (337, 323) |
| 4) | Aaron Scott | -20 | (315, 0) |
| 5) | Andres Prieto | -80 | (315, 311) |
| 6) | Henry Morse | -145 | (0, 0) |
| 7) | Sergio Bravo | -171 | (247, 176) |
| 8) | Sean Fite | -212 | (312, 295) |
The Masters Championship: Bravo VS Connell; The Champ and the Challenger…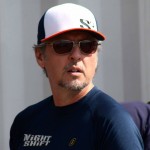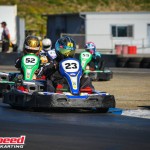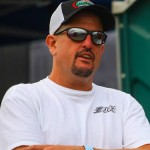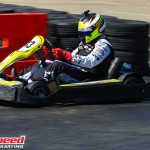 I will get to the fantastic fight for the title in a second, but before I do I have to touch on the fact that current third place driver Jose da Silva does have a shot to clinch the third spot if he can gain 17 points over 4th place Nathan Hood this weekend. Still, even if he is not able to wrap it up one round early, his position on the podium is all but secure; with large gaps fore and aft, it looks like it could be back to back 3rd place Masters finishes for da Silva. Now for the title fight…
Like the fight for the overall championship, the 2016 season also hosts one of the best fights for the Masters Championship we have ever seen. Each of the two players have shown strengths this year, but have also had moments of weakness that they have had to battle back from. One has years of experience and accolades to lean on for support, while the other is in just his 3rd full season of racing…
Sergio Bravo heads into these final two rounds as the reigning and 5-time champ, and with the advantage of a 90-point lead over his rival; an advantage that could help him seal the deal on another title if he can outscore his challenger by 69 points this weekend. It hasn't been all smooth sailing for Bravo however, as 2016 may be the biggest roller-coaster season of his Super Series career.
Mark Connell is the rising star in the Master's division, and it is no surprise to see him knocking on the door of the class championship in his third full season. The 2016 campaign has seen personal best after personal best from Connell, finding the podium in round #6, the first of his career. But like his rival, he too has had to push through adversity, and he'll need to dig deep and stay focused to take the fight to Bravo for this championship.
I was able to catch up with both drivers ahead of tomorrow's event, and each of them feel good about the track we are about to run on. Here is what they had to say, answering three of the same questions, and one specific to them:
Mike Smith: It has essentially been a two-horse race for the Masters championship here in the second half of the year, but it is certainly a mano-e-mano fight with just two rounds to play. Now with it decidedly being just one driver to beat, do you approach these final two races any different?
Sergio Bravo: Not really. Each day, each race, each lap presents different scenarios. It's up to me to apply all the craft and strategy I've learned through the years to get me as far to the front of the field as I can. It's a simple but effective strategy, but it works.
Mark Connell: There'll be a bit of urgency for sure. I've got a fairly large points deficit to make up against Sergio so hanging around and just getting descent finishes isn't going to cut it. In these final two races I just want to focus on getting the best out of every kart and putting myself in the best possible position to win. Then I'll know I did all I could to get this championship regardless of the final results. Even though it's a one on one fight for the overall Masters title, we're both driving against guys that are trying to win either the team or overall championship as well as drivers trying to improve their end of the season rankings. That means we're still racing pretty much everyone out there and looking at things that way, it's not really much different than round one.
MS: Both you and your rival have had up and down events this year; finding the podium one month, and slipping below 300 points in others. This makes everything wide open in the closing stages; how do you make sure it is more of a 'podium style' event than the latter?
SB: Thanks Mike. I've had some of my worst points rounds ever this year so just driving like I know I can, 'podium style', and staying out of trouble is really my only goal.
MC: The first thing I'll do is check the weight tube as that gave me my second sub 300-point day! I've also said these things in every one of our interviews but I have to allow myself to have a fun doing this and focus on hitting my marks all while getting as much speed as possible out of the kart. When I've done all those things this year I've gotten some pretty good finishes. Controlling my emotions was the number one goal of mine out there this year and I've improved a lot with the exception of Friday at Grands. I totally lost my mind for the final three heats that day which wasn't good but it showed me that I've got to continue to work on it each & every time I'm in the seat.
MS: Grande CCW marks the third reverse direction track in a row, and the last one of the season. How do you feel about this track going in, and do you think you have a better or worse shot of having a good finish at this track?
SB: Grande CCW is one of the tracks I really do enjoy driving, so that's a positive for me. However, my racing philosophy overall is always that I have no clear favorite or no clear bad track. With that thinking in mind I'm able to approach each day, each new track, working all day long to continue to get the best I can out of the track and the conditions. 
MC: I'm actually looking forward to driving on Grande CCW. My results have improved just about each time I've been out there so I think I have as good a shot as ever. In my opinion, this track rewards drivers who remember to not over drive the track while still being aggressive. Grande CCW has some of my favorite turns as well in Short Beach and Silk so it's a lot of fun to drive.
MS: Sergio, you have won this championship in the 5 previous years, and with two rounds to go, are in a close title fight with an up and coming Masters star. This isn't the first time you have had to battle for the title; what is it going to take to make it #6?
SB: I've been really fortunate to have won my championships against some really strong drivers, most of which were front runners and race winners. Guys like Jay Schrieber, Dave Messimer, Diego Morales, Jose Silva, others and now Mark Connell all deserve credit for keeping me sharp. I know that if I drive to my potential, at the front, I have a good shot at #6 – and that's what I'll be looking for to close out my Super Series career.
MS: Mark, you have proven to be one of the next great Masters drivers in Sport Karting, backing up a podium in the Grands last year with another stellar season in 2016 with a podium and a title shot against the very best. Your opponent has been around this block before though; what is it going to take to be the first Master Champion not named Bravo in the Super Series?
MC: Thanks for the kind words Mike! From what I've seen watching all of the top drivers, consistent speed on every track and in every kart plus smart driving are what it takes to win championships. The more seat time I have the more I learn what to do and more importantly, what not to do. You have to focus on every practice, qualifying, heat, main & round with the big picture in mind. I also firmly believe that part of what it takes is not just looking inward at how I'm driving but in how I treat others on & off track. Drivers have long memories and if you disrespect them on or off track, you're not going to get much support later when you might need it and worse, everyone is upset all day and that's not what I want when doing this.
MS: Thanks for your time guys, and good luck in the final two rounds!
SB: Thanks Mike.
MC: Thanks Mike and since I don't know when I'll be doing another one of these interviews, I really want to thank Logan & Miles Calvin & Sean Fite. Without Logan's & Miles's help this year, I know I wouldn't be in the position I'm in, and to Sean for making things fun every time we're at the track.
Top 5 Masters Standings (Best Drop)
| | | | |
| --- | --- | --- | --- |
| 1) | Sergio Bravo | 2796 | (247) |
| 2) | Mark Connell | -90 | (282) |
| | | | |
| 3) | Jose da Silva | 2478 | (244) |
| 4) | Nathan Hood | -145 | (260) |
| 5) | Vince Burke | -191 | (200) |
The Grand Masters Championship: Spotlight shines on the bragging rights battle for Top 5…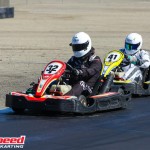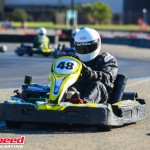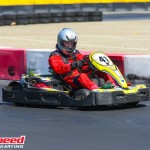 As was mentioned before, very little has, or probably will change in the top three of this category; the gaps between each driver and the trends we have seen lend themselves to think this trio will finish where they are when the season ends. Leader and reigning champ Dennis Kimbrell can make sure at least one part of this happens early this weekend, but will need to out-score 2nd place Brian Starr by 70+ points to clinch the title early. Still, he doesn't have much to worry about even if he doesn't get those seventy points.
The 163-point gap between Starr and Sabella should also be enough to all but lock those guys in place, especially with Starr putting up 200+ days more often than not. Sabella's 133-point lead over fourth is also a healthy one as we get down to the final couple of rounds, with his own consistency improving as of late. This is why the spotlight in this class has turned to the bragging rights battle going on just off of the podium…
While it may not be for any trophy, the battle to finish the season inside the top 5 in this category is an awesome one. Tom Zevin's steady improvement over the year has seen him nip veterans of the category Jeff Latimer and Steve Frame, with the trio separated by a mere 4 points. It is Zevin's first season as a Grand Master driver, and he has pushed to get inside the top 5, having been just on the outside all season long. With just two rounds to play, this trio will be a lot of fun to watch as they are very evenly matched, and always right on the cusp of a breakout day. Easily one of the most fun battles to watch right now.
Top 5 Grand Masters Standings (Best Drop)
| | | | |
| --- | --- | --- | --- |
| 1) | Dennis Kimbrell | 2012 | (162) |
| | | | |
| 2) | Brian Starr | 1677 | (0) |
| 3) | Joe Sabella | -163 | (136) |
| | | | |
| 4) | Tom Zevin | 1381 | (141) |
| 5) | Jeff Latimer | -1 | (142) |
| 6) | Steve Frame | -4 | (137) |
The Rookie Championship: Alexander Bermudez is the 2016 Rookie Of The Year!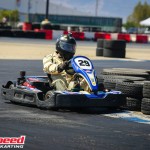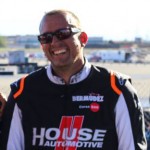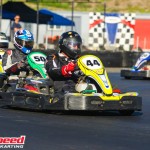 The championship may be decided already, but there is still a great three-way fight for the final two pieces of hardware in this division. Tyler Rousseau leads the trio and has showed very consistent form and improvement after competing in the Sport Kart Grands this year, and currently enjoys an 80-point lead over the next driver in line, Tony Wika. Wika has actually just moved into 3rd in the standings, having hovered around it most of the year. This is because of back to back season-best performances out of the Grand Masters rookie, giving his younger rivals a challenge in these waning events. The driver he is trying to hold off for the final piece of hardware in this class is Aidan Yoder, a transplant from competition karting, where he currently races Tag Intermediate. Of the trio, Yoder is the biggest wildcard, showing moments of brilliance, but also a hefty learning curve with the different karts and rule structure. Still, he has the best single day point total of the group, and may yet be able to make some noise before the end.
And then there is the champ; with one of the most consistent rookie seasons we have seen in series history, Alexander Bermudez clinched the Rookie Of The Year title last month, a full two rounds early, and with only 9 starts. It was a phenomenal year for the driver new to kart racing, and I had a chance to chat with him ahead of this weekend's race about his new championship:
Mike Smith: First up, congratulations on bringing home the mantle of the 2016 Rookie Of The Year, and a whole two rounds early at that!
Alexander Bermudez: Thank you; it certainly is a huge honor to join a club that includes drivers such as KC Cook and Wes Dent.
MS: It is no secret that you have a lot of seat time here at CalSpeed, even before this season started, having been a regular student of mine on Wednesdays. But this year marked the first time you actually decided to go racing in karts, instead of cars where you had concentrated your efforts. What made you decide to finally go racing?
AB: I originally came to CalSpeed Karting under the recommendation of Craig Stanton, with the goal of developing my aptitude in a kart, in order to obtain a competitive edge in my car. It soon became apparent that merely cutting laps was not going to produce the results I was looking for, so that's when I started working with you, as you previously mentioned. First we focused on pace but once I was up to speed, we swiftly moved on to race craft, a subject I knew surprisingly little about, especially considering my success at the POC. Nevertheless, with some perseverance my race craft improved and I was soon able to hold my own with you. The next logical step was to learn how to race with a pack of seasoned Super Series regulars, but unfortunately the 2015 POC Schedule, to which I had already fully committed, prevented me from attending all but one Super Series Race in 2015. The unraveling of my POC race program at the beginning of this year, proved to be a blessing in disguise as I was now able to fully commit to both the Sprint and Super Series. 2016 would be my CalSpeed year! And what a year it has been!!
MS: With the rookie title in the bag, what is the goal for the final two races of the season?
AB: I consider myself a student of the sport and the Super Series is without a doubt, the finest schooling this side of an Ivy League Education! But with all joking aside, I will go into these final two races, with the same goals I have had throughout the year, and that is simply to learn as much as I can from some of the best sport kart racers in the nation.
MS: What was your most memorable moment in the Super Series this year?
AB: I am not sure if there is any singular event that comes to mind, however upon reflection I feel that I have exceeded my expectations as a driver and most importantly the skills that I have developed at CalSpeed, have carried over extremely well to Spec Racer Ford. Next year I will be racing a full season of Spec Racer Ford with the SCCA and I expect that my experience in The Super Series, will give me a competitive edge.
MS: Once again, congrats on the championship, and best of luck in the final races of the year!
AB: Well Mike, you have been an intricate part of my success story for which I am very appreciative. So thank you for all your guidance!
Top 5 Rookie Standings
| | | |
| --- | --- | --- |
| 1) | Alexander Bermudez | 2257 |
| | | |
| 2) | Tyler Rousseau | 1361 |
| 3) | Tony Wika | -80 |
| 4) | Aidan Yoder | -140 |
The Team Championship: Midvale's championship to lose with two rounds to go…



A "Perfect" day for a team is 1190 points; that is sweeping everything (pole, all heat wins, and A-Main podium) and is so improbable it may as well be impossible. Teams have seen close to 1000 before, but the 4-digit mark is essentially as perfect as it gets for a team based on an 850 value at the beginning of the season.
Leaders for much of the season, T4 Midvale has been close to that 1000-mark threshold this year, scoring a 976 in round nine, their best this season. And while they did lose points to CRD last round via the latter's best round of the year (900), they still grew their advantage over the second place RNA squad. In all reality, T4 Midvale would have to have two disastrous rounds in a row to give either other team a shot, and their challengers would each need to have their best rounds to close the gap. A proper clinch isn't in the cards because of the math, but things are heavily in Midvale's favor, barring something crazy happening in the final two rounds.
Stranger things have happened however…
Top 3 Team Standings (Best Drops)
| | | | |
| --- | --- | --- | --- |
| 1) | T4 - Midvale | 7096 | (678) |
| 2) | RNA - C McD 2 | -231 | (708) |
| 3) | CRD | -276 | (733) |