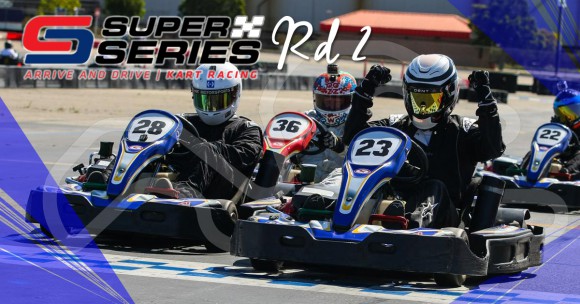 The Super Series Round #2 Preview:
After an exciting start to the year that saw the win come down to the final corner on Nuovo, the Super Series circus continues into the second round with another stellar lineup on its entry list. The talk already is on the sheer depth of talent this year, and this round will not disappoint; seasoned out of town drivers join an already stout field of regulars to put together one of the strongest groups since the Sport Kart Grand Nationals last June. Point leader Aaron Scott will look to maintain his slim hold on the front, while 2016 season opening winner Miles Calvin will look to go back to back this Saturday on a track he has won on before. But will they be able to best the driver who perhaps has the most momentum? Diego Morales won this race last year, and is fresh off an IronMan win on this track just two weeks ago…
There is no shortage of things to cover in this month's Super Series preview, and we'll also be starting our new "Driver Focus" segment as well. Read on!
CalSpeed Driver Focus: Miles Calvin; A long road to #4…
From two wheels to four, the elder brother Calvin has made the successful transition, and is widely know as one of the best sport karters in the country. Fresh off his win in round #1 of the Super Series, Miles Calvin debuts as my first interview in this months "Driver Focus":
Mike Smith: Miles, first up, congrats on winning the 2016 Super Series season opener last month! As was mentioned during the podium ceremony, it had been awhile since your last Super Series Victory, this being your fourth career win. Can you remember that last win? (Season opener on Sportivo in '13)
MC: Thank you… Yea it's been a long time coming. I knew it had been a while, but now that you mention the exact date, it's an eye opener. Looking back, I don't remember that win, but there were quite a few years where I was on the podium every race it seemed, so it's all a blur. I will remember this one for sure though. After taking 2014 off, last year was a struggle for me. Not only did I find winning hard, I couldn't even find the podium. So to open 2016 on top is a huge boost of confidence and now I can look to tackle the ultimate Gorilla of winning my first Championship.
MS: Lets go back a little bit; how did you get started in racing? Was karting the first motorsport you were in, or did you transfer to it from something else?
MC: At the age of 3, I began racing BMX on a regular basis. I raced competitively until about age 10, when I received my first motorcycle for my birthday. After that, I started racing speedway motorcycles and then transitioned to racing a little motocross as well. In the offseason or non-race weekends, we would always find ourselves at Dromo 1 in Orange, CA. At about age 16, finances got real tight and motorcycle racing took a backseat, so I had to find my fix. I looked into the leagues at Dromo 1 and that's where it all began. Since then, we transitioned over to Calspeed and have now started an outdoor team as well.
MS: You have been in sport karting for quite some time, and have had some successes in this sport, including a 5th overall finish at the 2010 Indoor Karting World Championship in Phoenix. What would you say has been you biggest win or favorite moment in the sport?
MC: It has been quite a few years now, but when I look back at my biggest wins, I must say that 2010 run was very memorable. Even though I didn't win the overall, to compete against the best indoor karters in the world and being able to lead the championship at several different points, definitely remains in the back of my mind. I have also had some really big wins in endurance racing as well. SPV had some amazing races through the years, but the one that sticks with me the most, is the Machismo at Las Vegas Motor Speedway in 2011. We fought tooth and nail for every lap and position. In the end, not without a little controversy, we ended up getting the victory and that's definitely one that sticks with me.
MS: Last year you ran both in the Super Series, as well as in PRD Pilot at the Los Angeles Karting Championship; obviously these are two completely different karts, but can you explain what some of the big differences or challenges there are in the two different disciplines?
MC: Yea last year I finally got to make the transition to outdoors. It was a huge learning year and I feel in the end it has made me a much better driver. With the super series, I always felt that when you make a mistake, if you put your head down, you can get it back. With outdoors, it seemed to me, that every mistake was exponentially bigger. With the faster speeds, you don't have as much time to recover, so one mistake can easily run into another. I also felt that throttle control was a huge thing for me as well. Now when I am back in the sport kart I feel like I can really focus and it feels like things happen a lot slower for me.
MS: Why Sport Karting, and why the Super Series? What is your favorite part about this sport, and what makes you want to keep doing it?
MC: The Super Series offers something to me that you can't get anywhere else. Coming from the motocross side and being a huge fan of Supercross, I love being able to race multiple people in packs. I feel like strategy is my strongest attribute and when I am on track with multiple people around me, I am confident in my skills and feel that I can out think or maneuver my competition. It makes for exciting racing and good finishes. Also, the super series takes money out of it. It puts the competition in the driver's hands rather than their back pockets. I have raced multiple disciplines, and the super series proves time and time again, that it is the best bang for the buck.
MS: What's the agenda for Miles Calvin in 2016? Is it just the Super Series, or do you have some other racing on the docket for this year?
MC: After a great year in outdoors in 2015, where I learned a ton, it looked like shifters were for me in 2016. Unfortunately, we had a big sponsor drop out last minute and the transition to buying a new shifter kart was just too much to bear at this time. As of right now, I will be managing the outdoor team and only be racing the super series. We are hoping by summer that we can get a few new sponsors on board and get me back on track in the S3 class at LAKC.
MS: This weekend is Sportivo; the home of your 3rd career win, and you are coming off of another one. What is your view of the track, and what do you think we can expect this weekend once the green flies on round #2?
MC: Sportivo is a great track. It offers the best of both worlds, speed and technique. When I look at Sportivo personally, I look at a track with 2 nice hair pins (Passing corners), and the sportivo corner which is key to being consistent. Braking will be the biggest key to making passes happen. I am glad to see my last win came on this track, and am ready to go back to back to start the season. I also feel I had a rebound day on this track last year at the Grands with 2 wins, so I am ready to do battle.
MS: Final question; you have got a great start to a Super Series championship run here, which would be your first. Is that the goal out of the box? How do you approach each race and each season?
MC: Well I must say, it is nice to start on the right foot. In any championship, you have to take advantage when you have the opportunity and I feel like I did in the 1st round. The biggest thing for me is to not get too caught up with my last finish and look at each race as a new start. In the past, patience and decision making is what has led me to not making the most of my opportunities. I feel like this year I am ready for it, I feel like I am in a good state of mind, I'm focused and only have one championship to focus on, so I am ready to make 2016 mine. The past few years have been tough as a competitor, watching my brother win everything he has entered. I am happy for him and very proud as a brother/coach, but it's my turn and no better time than now!
MS: Thanks for taking the time Miles, and good luck this season!
MC: Thanks Mike. Anytime.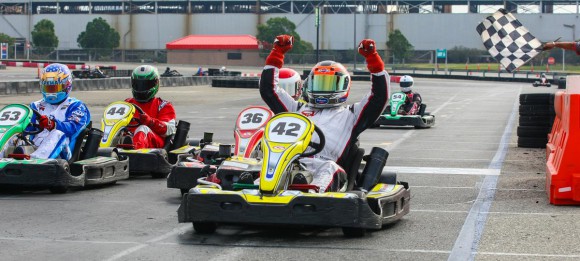 Flashback: A look back at the 2015 Sportivo Spring race, and the 2016 IronMan opener…
Diego Morales made his season debut on Sportivo last year, which was the third round in the season, following a rain shortened second round on Tecnico. He would start second behind Charles Eichlin in his first heat after a 6th overall qualifying effort, but that would be the last time the #1 was not attached to his name that day. As the only driver to win both of his heat races, he would start on pole for the A-Main, which he would win, and lead every lap in the process. It was not without challenge however, as he had to fend off an attack from former race winner Miles Calvin in Monaco with an over-under move, and then again against former series champ Jon Kimbrell on the final lap through the Sportivo corner. It was a day that seemed to go all his way, and he had another one of those just two weeks ago…
A last minute entry in the IronMan Series opener after a driver decided not to run, Morales went from waitlist to entry list, and immediately made the most of the opportunity, scoring pole position in the green/white/checkered qualifying. Like his previous win on the layout, Morales was at home showing the way, but had plenty of talent right on his heels with reigning series champ Taylor Hays there for the duration, and former national champ Aaron Downs eventually joining the fray. Morales would lead up until the first pit stop, when Hays would leapfrog him in the exchange, but once the second and final stop was done, it was Morales back out front. It was a dash to the end with just a couple laps remaining, with Morales needing to fend off another stellar rival to win, and this time it was 'door to door' with Hays into the final corner. The drag race to the win cemented Morales as one of the strongest drivers on the Sportivo configuration, and gives him a lot of momentum into this weekends race.
Top 5 Returning Drivers on Sportivo:
Logan Calvin- 2 wins, 5 podiums, 9 heat wins, 10 Heat T3's, 2 Fast Laps
Darren Mercer- 1 win, 3 podiums, 5 heat wins, 10 Heat T3's, 1 pole, 2 Fast Laps
Miles Calvin- 1 win, 1 podium, 3 heat wins, 7 Heat T3's, 1 pole
Diego Morales- 1 win, 1 podium, 3 heat wins, 5 Heat T3's, 1 pole, 1 Fast Lap
Jonathan Vitolo- 1 win, 1 podium, 1 heat win, 4 Heat T3's
Smitty's Spotlight: An already deep talent pool gets a flash flood…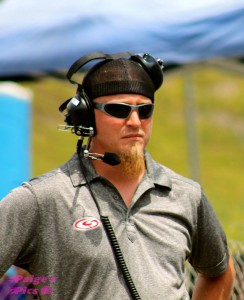 It has been brought up before, but I think it will truly be a big talking point all year: Depth. We have seen the level of talent and number of competitive drivers grow season after season since the Series' inception, and it seems that 2016 could be the pinnacle thus far. We already had a strong group of drivers that were in attendance in the opening round who plan on running the whole season, but when the green flies on the first practice session for round #2, those ranks will swell with even more star players into the fold. This round will be especially stacked, as not only is every prior Sportivo winner going to be in attendance, but every driver that has ever been on the podium here (save one) will also be here.
On top of that, we will have an influx of A-Main caliber drivers also making their first start of the year, including Riley Dugan, Jerott King, Wes Dent, Adam Kellerman, and past Sportivo winner Jonathan Vitolo. Along with Vitolo, Dent and Kellerman have both also won a Super Series event, with Kellerman the only 'fly away' driver to do so. Of the group, Dent plans on running most of the season (10 of 12 rounds), and there is a possibility that Dugan may as well; the other drivers are in as a one-off run. You add these guys to an already full roster, and the A-Main just got a helluva lot tougher to make.
This will be an ongoing conversation throughout the year, as the stout regular drivers compete with one-off spoilers for supremacy, a fact that will be ven more interesting as we get into the later stages of the season. That said, seasons aren't won or lost lost on the final lap, but during every lap from the start; that pass made in round one is just as important as the one in the finale. With so many talented drivers in the field, it will a much tougher season to win, and whoever does will be able to know they truly are one of the CalSpeed Karting greats…
The Overall Championship: 'Depth'; we'll be hearing this word a lot this year…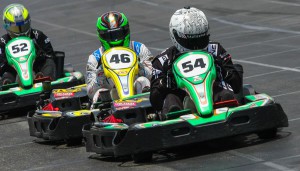 The 2016 season opener on Nuovo looked to not just be a continuation of where we left off in 2015, but a compilation of the best we have had in this series in recent memory. The long time front runners were on point; the up and coming talent from last season once again kept up the pace they had at the end of last year; and we also had talent from season's past, or those that may have slumped back at full march. Let's take a closer look:
The usual suspects: Calvin's, Mercer, Kimbrell and Bravo all were strong even if some didn't get the finishes they wanted. These guys will always be in the conversation when talking about hardware at the end of the season.
The new kids on the block: Nagao, Serrano, Preito, Fite, Balazy, Hart, Yauney, and Curtin all showed that they haven't lost a step in the short off-season, and once again will be challenging the sharp end.
Some old faces/talent returned: Morse, Britain, Eichlin, Wojdat, and Stanovich returned to the series in what looks to be their old/best form yet, and also look to be running the whole season.
And with a couple names added to the full time running list this weekend, including Dent and Huerta, we have a couple more A-Main drivers that will certainly be talked about moving forward. Dent Especially, as he looks to better his 3rd overall achievement from 2015.
And talking about talent returning; how about Aaron Scott? This guy showed what he was capable of in 2014 with a 6th overall, but wasn't able to back it up in 2015. I chatted with our new points leader about this and a couple other topics ahead of this weekends race:
M. Smith: Aaron, congrats on your best ever points run in the opener, scoring your third career podium, and leaving the point leader. Were you expecting this kind of start to the season?
Aaron Scott: Hey Mike, thanks. Expecting? Not necessarily. It's definitely something I hoped for.
MS: The 2014 season saw a career run from you, finishing just off the final overall podium, while last year you missed three races, and were just inside the top 30. What were the differences between those two seasons, and what has changed to see you start 2016 on point?
AS: I feel my 2014 season was largely attributable to my participation in the 2013 Sportkart Grand Nationals, the 12 Hour Machismo, and learning from the guys in T4. I feel I gained a lot speed, and more importantly, confidence. With this, I was able to put together a consistent run all year, which I was surprised about to be honest. 2015 wasn't quite the same. I knew going into the year I would miss a few rounds due to life, and wasn't in the same mindset. Plus, Pat jinxed me. Going into 2016, I know I'll make the whole season, and am excited to compete against such a great group of drivers.
MS: What was the goal coming in to the season for you? Is it on point, or does it change a little with such a strong start to the season?
AS: I'm not a guy coming into the season expecting to win by any means. My only real goal is to do well each time I sit in the kart, one race at a time.
MS: What are your thoughts on Sportivo, our next race on the schedule? Can we expect to see you at the sharp end once again?
AS: I love the track. I've had some good success in 2014 (3rd, 5th). Being at the sharp end is always ideal, and I hope to get in a good practice and qualifying and see where the day goes.
Top 10 Overall Standings
| | | |
| --- | --- | --- |
| 1 | Aaron Scott | 387 |
| 2 | Miles Calvin | 385 |
| 3 | Logan Calvin | 385 |
| 4 | Adam Nagao | 385 |
| 5 | Sergio Serrano | 363 |
| 6 | Darren Mercer | 357 |
| 7 | Henry Morse | 355 |
| 8 | Patrick Britain | 350 |
| 9 | Charles Eichlin | 345 |
| 10 | Andres Prieto | 339 |
The Masters Championship: It is Bravo vs the world; can the world step up?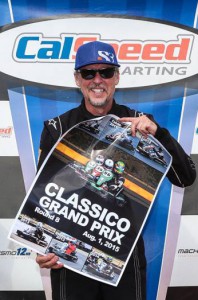 Much to the dismay of this writer, the driver that could certainly put up the biggest challenge to the 'Bravo Reign' will not be running a full season, as obligations elsewhere will keep Diego Morales out of the seat and miss a few races. To this end, Sergio's list of challenges looks light on paper, but anything is possible, and we could see a break out season for any of the rising talent in this category.
The two topping this list are Steve Spring and Mark Connell; two Masters drivers that are getting better and better with every race they run, and are firmly at the sharp end in this class. They are also two of the hardest working when it comes to improving their craft and not resting on their laurels, so we could indeed see something special out of these two.
Behind these two I think is a host of drivers that could make some noise, including Sprint Series standouts Vince Burke and Ariel Rubio, as well as a pair of guys who have really started to show strength in the last 12 months, Nathan Hood and Jason Collins. Both of these guys I think are going to have their best years yet; you can tell the mindest is there when you talk to them.
All that said, they need to get through Jose da Silva and David Kelmenson to do it; Kelmenson may be missing this round, but every time he is in attendance, he'll be one to contend with. For da Silva, a little polish will go a long way, and while it wouldn't be a surprise to see him on the podium here, it will be a tougher road then in seasons past.
Top 5 Masters Standings
| | | |
| --- | --- | --- |
| 1 | Sergio Bravo | 321 |
| 2 | Steve Spring | 306 |
| 3 | Diego Morales | 287 |
| 4 | Mark Connell | 281 |
| 5 | Vince Burke | 271 |
The Grand Masters Championship: Can Kimbrell make it a hat trick?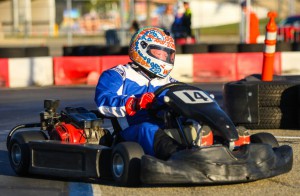 The two time and reigning Grand Masters champion started off his title defense in the best way he could, scoring more points then the rest of his challengers, and he also looked pretty strong in the Sprint Series two weeks ago. Kimbrell is still the guy to beat in this category, but it looks like the competition could be growing by a few drivers…
Scoring second highest for the class, and just 5 points back from the champ was Roger Adams; a driver that was unable to put in a full season in his first year last year. Adams came out of the gate strong, putting up a career best day to land P2 in class. The real question is if this is a fluke or not, and even more, if it isn't can he grow from here?
Jeff Latimer is the next guy on the list and is always in the conversation when talking about the Grand Masters category, and if he can get back to his form in 2014, will be a very real threat for more than just a podium. Which brings up one of his primary rivals: Brian Starr. Starr was absent from round #1, but has been in the podium running both years of the class, and will certainly be a player.
Also I am excited to see what Joe Sabella can do this year in class; under the wing of CRD Gold last year he made some good strides, and with his move over to Arkham here in 2016, we could see that improvement continue. Another one of those drivers that takes improving his craft seriously, I will be keeping an eye on Sabella this season…
Top 5 Grand Masters Standings
| | | |
| --- | --- | --- |
| 1 | Dennis Kimbrell | 201 |
| 2 | Roger Adams | 196 |
| 3 | Jeff Latimer | 152 |
| 4 | Joe Sabella | 136 |
| 5 | Greg Reinhardt | 130 |
The Rookie Championship: A lot of questions still to be asked…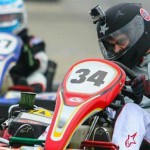 Unlike seasons prior the list of rookie contenders is a little unknown, as some rookies will not be running the whole season, while still others have not made their intentions clear. Currently at the top of the standings, but known to be missing multiple races this year to pursue another BSR championship in the POC (Porsche Owners Club) is Alex Bermudez. With the conflicting racing schedules, Bermudez will most likely not be a factor in the rookie hunt, but instead will be at the sharp end in the Sprint Series.
Behind Alex, and the driver with the best run of possible full time drivers is Justin Schuoler. At the time of this writing Schuoler was one of only a few names at the sharp end back on the entry list for round two, and could be the defacto #1 because of this. Only Daniel Ulmer, Tyler Redman, and Edison Noboa are also on the entry list, but like the others, it is unknown if a full season is in the cards. That said, something that has become clear in past rookie fights, is that the 'contender list' isn't always made clear until about halfway through the season; case in point, last year's ROTY Sergio Serrano.
It will most likely be a few races before a clearer picture will be had in this category, and with only one race in the books, we have a lot more questions than answers just yet…
Top 5 Rookie Standings
| | | |
| --- | --- | --- |
| 1 | Alex Bermudez | 267 |
| 2 | Justin Schuoler | 180 |
| 3 | Victor Juarez | 153 |
| 4 | Kevin Ferrara | 122 |
| 5 | Luis Vega | 117 |
The Team Championship: T4 regains its old form, sits 1-3 in the standings…

Winning organization of the inaugural team championship here in the Super Series, T4 Autosport has come out of the gate hot with all three of it's entered teams taking the top three spots in the standings after round #1. Team SAAKA leads team Midvale by a mere 4 points, the two teams holding a small advantage over third on back. The make up of the two teams are starkly different however, with Midvale taking from all regular T4 drivers, and SAAKA bring drivers together from different areas on the grid, including fly-in driver Ryan Curtin. Curtin is joined by T4 regular Greg Reinhardt and former RNA standout Adam Nagao, and the trio is off to a hot start. Their stalemates in Midvale include Chris Carter, Vince Burke, and current point leader Aaron Scott; Carter won the team title in 2014, and Burke is fresh off an overall podium in the Sprint Series in 2015. The third T4 squad is T4 Witcher, who couples long time T4 driver Tom Zevin with a pair of up and coming Super Series Talents in Marcin Balazy, and 2015 Sprint Series Summer champ, Matt Hart.
Further back but still inside the top 5 is last year's champion organization, Calvin Racing Development, led by reigning Super Series and National champ Logan Calvin. Calvin has his young brother Cody under his wing this year, as well as two-time Heavy class champion Steve Jasinski in his stable. Calvin was able to help a pair of rookies last year improve to an eventual title, and it will be interesting to see what he can do here in year two.
Top 5 Team Standings
| | | |
| --- | --- | --- |
| 1 | T4 - SAAKA | 802 |
| 2 | T4 - Midvale | 798 |
| 3 | T4 - Witcher | 759 |
| 4 | Fast and Furious | 749 |
| 5 | CRD | 742 |

Remember to catch the CalSpeed SportKart Spotlight, presented by Growler Garage every month after the Ironman and Sprint Series races. Missed the latest episode? Watch it here, as guest analyst 2015 Sprint Series Champ Sean Fite joins Host Patrick Britain and Race Director Mike Smith.