The NASCAR teardown would bring a challenge in the form of elusive grip for this month's sold out Sprint Series Round 3 set on the Grande CCW configuration. By this time, quite a few [2R] drivers had already filled their quota and wouldn't be in the foray– however a few were just starting their [2R] runs, one in particular with fresh experience from Pirelli World Challenge who would take the win.
Qualifying Top 5
| | | |
| --- | --- | --- |
| 1) | Alex Bermudez | 1:07.231 |
| 2) | Luis Calderon | 1:07.315 |
| 3) | Andrew Brown | 1:07.371 |
| 4) | Ashley Arnott | 1:07.392 |
| 5) | Duane Lawson | 1:07.447 |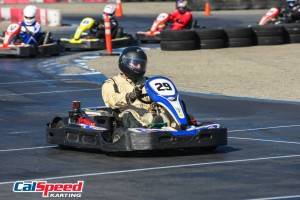 Starting on pole for Heat 1A would be Andrew Brown. After incurring a penalty that would immediately set him back after only 2 laps, he would fight his way forward and finish 12th. A few spots behind, Henry Morse [2R] swiftly climbed up to the top position after 2 laps and would carry it for the whole race. Alex Bermudez, best qualifier of the day with a 1:07.231, sat poised and ready from the beginning, maintaining 2nd place nearly all way through the heat 1A, wavering briefly but still finished 2nd. Duane Lawson, Super Series regular and recent signup to the 5th Annual Sport Kart Grand Nationals, started and kept his position in 3rd.
Heat 1A Top 5 Results
Henry Morse [2R]
Alex Bermudez
Duane Lawson
Steve Jasinski
Don Diego Veloria
Heat 1B's full-time drivers to watch included Luis Calderon, Ashley Arnott, and Caden Thure. During Sprint Round 2, Calderon took his first overall win, thus bolstering his driving skill when sitting ahead of the pack. First place for this heat however wasn't in his stars, as [2R] driver Ben Morse would pop up from 4th, just like his son in Heat 1A, and take the top spot. Overall points leaders Arnott and Thure both saw beneficial points earnings this heat, with Arnott finishing the highest of non-[2R] drivers and just ahead of Calderon. Thure inched up 2 positions from his 6th and ended 4th behind Morse, Arnott and Calderon.


Heat 1B Top 5 Results
Ben Morse [2R]
Ashley Arnott
Luis Calderon
Caden Thure
JD Deboer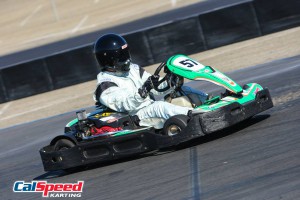 Next, Kevin Ferrara would be making his debut in the 2016 Sprint season, having been unavailable for the first two rounds. The B-Main was invariably his, as he would run away with a lead of nearly 8 seconds. Brandon Trostle would also hold his spot behind Ferrara steady for the remainder of the race.
B-Main Top 5 Results
Kevin Ferrara
Brandon Trostle
Eric Oviatt
Robert Picco
Daniel Ulmer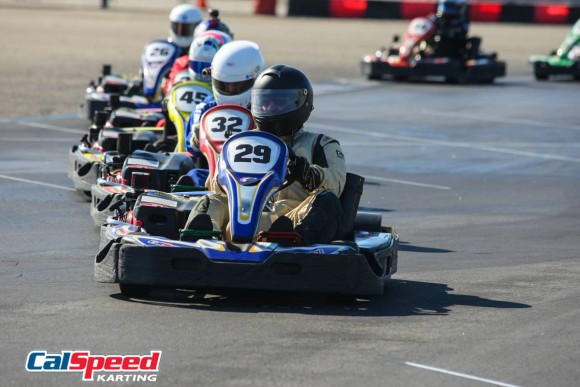 In the A-Main, 2R father and son combo Ben and Henry Morse started 2nd and 1st respectively– only the two of them would make exchanges for the lead until checkered. During the last half of the Main, it seemed that B. Morse had the top spot, but his son would make the move for the win on the final lap. Having started 3rd, Bermudez's success in qualifying nearly carried over but a podium finish grew elusive in the last 2 laps as Caden Thure rose from 6th and nabbed another 3rd place overall as he had done in last month's Sprint round. Thure's finish now effectively ties him with Arnott in the season regulars points lead.
A-Main Top 10 Results
Henry Morse [2R]
Ben Morse [2R]
Caden Thure
Alex Bermudez
Ashley Arnott
Luis Calderon
Don Diego Veloria
Duane Lawson
Steve Jasinski
Michael Wojdat [2R]
Overall Points Standings – Top 10
| | | |
| --- | --- | --- |
| 1) | Ariel Rubio [2R] | 575 |
| 2) | Ashley Arnott | 560 |
| 3) | Caden Thure | 560 |
| 4) | Luis Calderon | 555 |
| 5) | Alex Bermudez | 545 |
| 6) | Michael Wojdat [2R] | 520 |
| 7) | Don Diego Veloria | 519 |
| 8) | Dennis Kimbrell [2R] | 517 |
| 9) | Duane Lawson | 512 |
| 10) | Steve Jasinski | 505 |
Season Regulars Points Standings – Top 10
| | | |
| --- | --- | --- |
| 1) | Ashley Arnott | 560 |
| 2) | Caden Thure | 560 |
| 3) | Luis Calderon | 555 |
| 4) | Alex Bermudez | 545 |
| 5) | Don Diego Veloria | 519 |
| 6) | Duane Lawson | 512 |
| 7) | Steve Jasinski | 505 |
| 8) | Kelly Bastian | 469 |
| 9) | Diego Alvarado | 467 |
| 10) | JD Deboer | 448 |