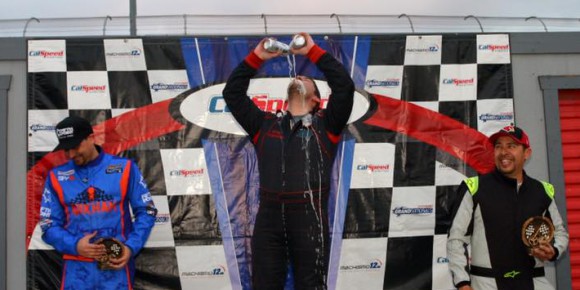 The sophomore edition of the CalSpeed Sprint Series kicked off last month with the reigning champ Sean Fite going perfect on the day, scoring the pole position and heat win, on his way to the A-Main victory. It was a great way to start the year, giving the series regulars a benchmark to shoot for, as well as introducing the new faces that will be vying for the championship here in 2016. Topping the list of these drivers was Ashley Arnott, her 4th place overall making her the veritable points leader heading into round #2.
This weekend the Series continues to the Tecnico circuit, and with it another great test for these up and coming talents at CalSpeed. With very few 2 race only [2R] drivers in attendance this weekend, it will also be a great time for the series regulars to step up and show what they can do on this tricky layout. So lets take a look at the entry list, some of the possible favorites for the win, as well as perhaps a few drivers to keep an eye in this months preview of the Sprint Series…
Round 2 of 8: Tecnico
For people new to the series, a '2R driver' is someone that exceeds the experience cap maximum put in place for the series using CalSpeed Driver Value system. This is why you won't see the top drivers in the Super Series kick down and run, and gives these up and coming drivers a shot to see what its like to vie for their own race wins and championships. This does not however mean that there is a lack of talent in the Sprint Series, as we saw from last year's display; the inaugural champ Sean Fite finished 15th overall!
Tomorrow should prove to be a big day in the championship for the Sprint Series; as with only three [2R] drivers on the entry list, the chances to score maximum points are that much better. There will be plenty of series regulars competing for those points too, as 21 of the top 23 in points from the first round will be in attendance once again, which should give us a much clearer picture of you the protagonists are for 2016.
Right now however that list is led by Ashley Arnott; finishing just off the podium in 4th in round #1, Arnott was the #3 qualifier, and also had a 4th in her heat race to round out a strong day. Entering the 2016 season as the #2 seed of eligible returning drivers form last year, Arnott put together her best points day to date, and has started year of strong. Next is relative newcomer to Sport Karting here at CalSpeed, Alex Bermudez. Bermudez starts his first full Sprint Series season right where he left off in 2015, where he finished 8th in the Summer Series, highest among returning drivers. His opening salvo for the new battle saw him as the #5 qualifier, picked up a third in his heat race in front of the aforementioned Arnott, and then 6th in the A-Main for his best points day yet as well. With almost nothing between these two, it will be interesting to see how the fight continues in its second installment…
Right behind this lead duo is Don Diego Veloria, and Duane Lawson, a pair of drivers that have improved a lot over the last year, and have also said they are focused in on this championship season. Only a single point separates them, and they sit a mere 16 and 17 points respectively from the lead, each having career best point days at the opener. With both drivers also getting practice in ahead of this weekends race, expect to see an encore performance of what we saw in the opening act.
Aside from the very sharp end of the points table, there are a few wildcards to keep an eye on this weekend as well; the three [2R] drivers I mentioned before are Michael Wojdat, Ariel Rubio, and Dennis Kimbrell, the latter two making their final 2016 appearance. Rubio and Kimbrell finished inside the top 5 last month (3rd & 5th respectively), and Wojdat looks to be back on his usual form from the Super Series, so look for all three to make some noise. There is also Norcal driver and regular at the Sport Kart Grand Nationals Roddy Balanga in attendance for a one off weekend, attempting to soak up as much knowledge before this year's event as he can. Then there is former Skusa shifter kart pilot and official Steve Buckner who will be in attendance, making his Sport Kart debut at CalSpeed. It will be interesting to see how he adapts not only to the ride, but to the type of racing, a challenge met by a few other competition karts in the past.
All in all, round #2 is shaping up to be another great one, and I am anxious to see how this shake up!
Current Overall Standings Top 10
| Pos | Driver | R1 | R2 | R3 | R4 | R5 | R6 | R7 | R8 | WTR Total | SD | SST | SMR Total | Drop | Sub Total | Total |
| --- | --- | --- | --- | --- | --- | --- | --- | --- | --- | --- | --- | --- | --- | --- | --- | --- |
| 1 | Alexander Bermudez Title Champion | 265 | 255 | 280 | 238 | 290 | 265 | 285 | 295 | 800 | 265 | 1135 | 870 | 238 | 2173 | 1935 |
| 2 | Ashley Arnott | 270 | 285 | 275 | | 300 | 253 | 257 | 270 | 830 | 253 | 1080 | 827 | 0 | 1910 | 1910 |
| 3 | Luis Calderon | 200 | 290 | 265 | 270 | 262 | 224 | 295 | 300 | 825 | 224 | 1081 | 857 | 200 | 2106 | 1906 |
| 4 | Caden Thure | 229 | 285 | 275 | 262 | 245 | 266 | 265 | 270 | 822 | 245 | 1046 | 801 | 229 | 2097 | 1868 |
| 5 | Thomas Blackledge | 205 | 217 | 217 | 280 | 280 | 275 | 254 | 280 | 714 | 254 | 1089 | 835 | 205 | 2008 | 1803 |
| 6 | Duane Lawson | 253 | 241 | 259 | 216 | 265 | 285 | 255 | 0 | 753 | 0 | 805 | 805 | 0 | 1774 | 1774 |
| 7 | Diego Alvarado | 235 | 232 | 179 | 251 | 229 | 249 | 295 | 254 | 718 | 229 | 1027 | 798 | 179 | 1924 | 1745 |
| 8 | Steve Jasinski | 208 | 254 | 251 | 270 | 249 | 285 | 213 | 136 | 775 | 136 | 883 | 747 | 136 | 1866 | 1730 |
| 9 | Kelly Bastian | 240 | 229 | 211 | 257 | 259 | 235 | 188 | 0 | 726 | 0 | 682 | 682 | 0 | 1619 | 1619 |
| 10 | Don Diego Veloria | 254 | 265 | 252 | 240 | | | 285 | 280 | 771 | 0 | 565 | 565 | 0 | 1576 | 1576 |
Current Season Regulars Standings Top 10
| | | |
| --- | --- | --- |
| 1) | Ashley Arnott | 270 |
| 2) | Alex Bermudez | 265 |
| 3) | Don Diego Veloria | 254 |
| 4) | Duane Lawson | 253 |
| 5) | Kelly Bastian | 240 |
| 6) | Diego Alvarado | 235 |
| 7) | Caden Thure | 229 |
| 8) | Michael Floerchinger | 217 |
| 9) | JD Deboer | 211 |
| 10) | Jeff Latimer | 211 |