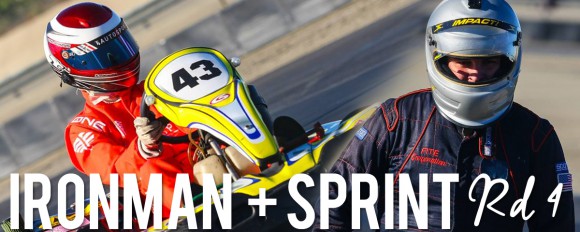 Sprint Series Round 4 marks the end of the Winter Sub-Championship on the Grande configuration and with it, a solid finish by reigning champ Sean Fite. Although the season regular points leader Ashley Arnott was marked absent for this round, the race would unfold to be very much in her favor.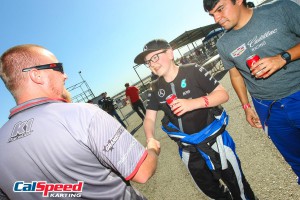 Qualifying for Fite went quite well– it was not a surprise to see him on pole once again where it would certainly set the tone for the rest of his day. Young Thomas Blackledge would be close by 1/10th, making his highest qualifying ever. "I think you just made his day," mentioned his dad while we pulled him for scales after his session. Top three would be rounded out by Alex Bermudez with another great qualifying.
Qualifying Top 5
| | | |
| --- | --- | --- |
| 1) | Sean Fite [2R] | 1:06.440 |
| 2) | Thomas Blackledge | 1:06.507 |
| 3) | Alex Bermudez | 1:06.524 |
| 4) | Nick Marascio [2R] | 1:06.588 |
| 5) | Steve Frame | 1:06.739 |
Heat 1A saw quite a few battles for 2nd through 5th. Diego Alvarado, starting 7th, nearly didn't make the race and was a lucky shoe-in when another driver gave up his spot. He'd take the fight up with Steve Jasinski and Duane Lawson for most of the race, changing positions multiple times all the way up until checkered. Luis Calderon would mix in with this group, seeing to a last lap battle with Bermudez. Jasinski snuck by during this time with a 2nd place finish just in front of Calderon. As for 1st place, we'd see 2R driver Fite starting and keeping it for the entire duration of the heat with hardly any issue.
Heat 1A Top 5
| | |
| --- | --- |
| 1) | Sean Fite [2R] |
| 2) | Steve Jasinski |
| 3) | Luis Calderon |
| 4) | Diego Alvarado |
| 5) | Duane Lawson |
Coming off of his strong qualifying, Blackledge began in front of the heat 1B pack but would be fighting to keep it from Kelly Bastian and Nick Marascio [2R] as soon as the green flag dropped. Marascio's experience allowed him to take the lead after a single lap and he would hold it for the whole heat race. Bastian would slot in behind Marascio and Blackledge until Jeff Latimer wrestled midthrough the race to hold on to 3rd place. Rounding out the top 5 would be Don Diego Veloria. Having lots of recent private training under his belt, it would be a smooth cruise from 7th up to 5th for him.
Heat 1B Top 5
| | |
| --- | --- |
| 1) | Nick Marascio [2R] |
| 2) | Thomas Blackledge |
| 3) | Jeff Latimer |
| 4) | Kelly Bastian |
| 5) | Don Diego Veloria |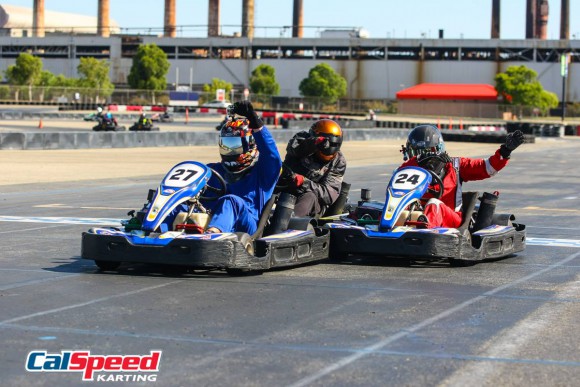 B-Main's winner was going to be a mystery for the whole round as 5 different drivers were leading during passes on the start/finish. Drivers Kevin Ferrara, Brandon Trostle, and Tyler Rousseau all started outside of the top 5 and took to some of the most aggressive pushes forward during this main. Randy McKee would immediately start fighting for 1st with Super Series regular Michael Chen– both of them holding the lead early on in the race. While these two fought, Trostle's amazing push from a 7th place start would land him in the front of the pack. At white flag, he nearly lost it to Chen but came out on top for his first ever main win.
B-Main Top 5
| | |
| --- | --- |
| 1) | Brandon Trostle |
| 2) | Michael Chen |
| 3) | Tyler Rousseau |
| 4) | Randy McKee |
| 5) | Kevin Ferrara |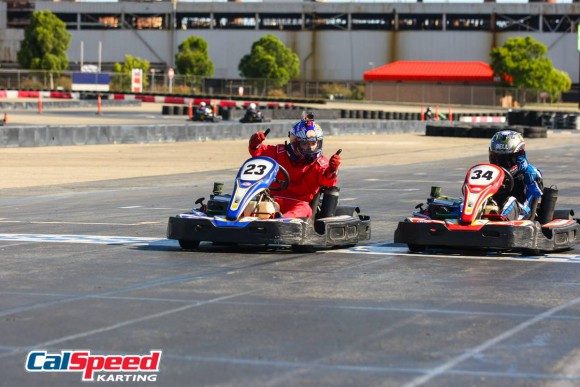 2R drivers Fite and Marascio would dominate the A-Main from the get go. Marascio jumped in front of Blackledge after 1 lap and slotted in behind Fite. Playing it smart, Blackledge held a solid position behind the pair of 2R drivers for most of the race. Calderon had a shot at the Winter Championship with this main and would have to make 4th or higher to tie with Ashley Arnott for the points. He moved to 4th briefly but Caden Thure made a miraculous jump from 10th midway through the race. It would be Thure vs Blackledge in the battle for 3rd but Thure would trump the fight on the last lap.
A-Main Top 10
| | |
| --- | --- |
| 1) | Sean Fite [2R] |
| 2) | Nick Marascio [2R] |
| 3) | Caden Thure |
| 4) | Thomas Blackledge |
| 5) | Luis Calderon |
| 6) | Steve Jasinski |
| 7) | Kelly Bastian |
| 8) | Brian Starr |
| 9) | Diego Alvarado |
| 10) | Alex Bermudez |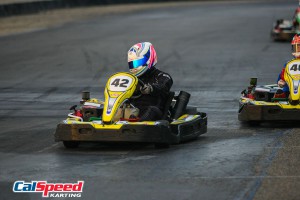 Despite not being on the roster, Arnott became the effective winner of the Winter Sub-Championship and points leader for 2016 Season. Her consistent finishes ahead of other season regulars were key to this result. Calderon, having finished strong throughout the day, now chases Arnott for the championship by only 5 points and with the Winter season complete, is the only non-2R driver with 1st place hardware. Not far behind is Thure with his 3rd place finish for the third time in a row. Trailing right behind 2R drivers Fite and Marascio (same situation as last round), he has shown that he certainly has what it takes to grab the top step of the podium now that the former two have put in their maximum two races for the season. As for Fite, it was just another perfect day after an overall pole and winning both his heat and his main so it's back to focusing on the Super Series for him. We'll see what's in store when we get back to Sprint Series Round 5 in July to kick off the Summer Sub-Championship.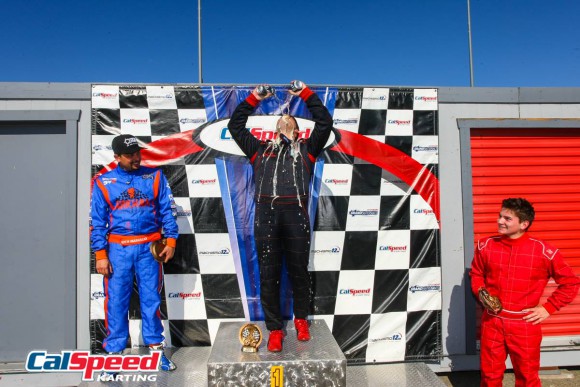 Overall Points Standings – Top 10
| | | |
| --- | --- | --- |
| 1) | Ashley Arnott | 830 |
| 2) | Luis Calderon | 825 |
| 3) | Caden Thure | 822 |
| 4) | Alex Bermudez | 800 |
| 5) | Steve Jasinski | 775 |
| 6) | Don Diego Veloria | 771 |
| 7) | Duane Lawson | 753 |
| 8) | Kelly Bastian | 726 |
| 9) | Diego Alvarado | 718 |
| 10) | Thomas Blackledge | 714 |