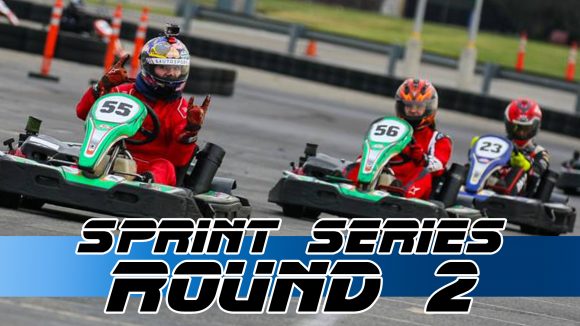 The 2018 Sprint Series season got underway last month with the first round of the ten race championship taking to the Nuovo layout, and in the end experience would rise to the top. Last year's third place overall in the category Caden Thure earned the third win of his Sprint Series career, sealing the deal on the race that was stolen away from him one year prior. Fellow 2R driver Lukas Dziemidok and former race winner Diego Alvarado rounded out the podium for the first event of the new year.
For round two the series completely switches gears by heading to arguably the most technical and twisty track on the calendar, the aptly named Tecnico circuit. Drivers will trade high speed and pack racing, for hard braking and race craft this weekend, although not everyone was able to get in on the entry list. Selling out earlier than usual, a few drivers that were coming of solid runs on Nuovo will instead be hoping their luck continues prior to the event, with the wait list growing by the day. In this preview we'll take a closer look at the track and few players that showed well after round #1, as we look ahead at what to expect as the Sprint Series season continues tomorrow…
Round #2 Track Spotlight: Tecnico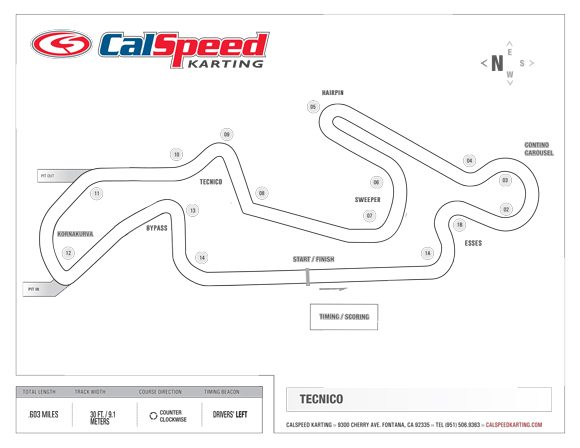 While the Nuovo layout is known as the Super Speedway in sport karting here at CalSpeed, the next course on the docket is about as opposite from the flat out nature of round #1 as possible: Tecnico. Not only are we going to see a lot more single file and less pack racing, the over-arching them of how to go fast at this place is a complete 180 from last month. Instead of focusing on carrying maximum speed and keeping the right foot down as much as possible, drivers will be working on maximizing their ability with the left foot this weekend. Smoothness in braking, as well as having vison dialed in will be key around here as we tackle multiple decreasing radius corners, as well as sections that see apex after apex in quick succession.
Heading in the reverse -or counter clockwise- direction around CalSpeed is much more than 'just going backwards'; the entire place changes. Where corners would typically open up or flow into one another, now we can see that disrupted as the quick corner entries are met with a tightening exit.
Heading down the hill on the main straightaway sees speeds climb a good bit quicker than they do going clockwise, and you reach about top speed just before the first corner -or set of corners- on the track: The Esses. The Esses then immediately roll straight into Contino Carousel, which in this direction is a corner that tightens up on exit, before dumping you out onto a very short back straight. The key to this complex is something I have been talking about in my 1-on-1 sessions this week: efficiency. Getting through the Esses smooth and consistently every lap is more important than try to finding that last tenth. A mistake at the beginning can easily be compounded into a larger loss of time with five apexes in a row. Making sure you hit the 'back side' of both apexes in the Esses will set you up for a good entry into the Carousel, while making sure you diamond that corner will help you to have a straighter exit, and not have to turn 'around' the final apex at the kink.
As was mentioned, the back straight is very short, and you actually won't be going straight for long; needing to get over to the far right to get set up for the hairpin. The slowest corner on the track, a late turn in here is key to getting off the corner with maximum speed, pace that you will carry pretty much all the way up to Kornakurva. Between the hairpin and Kornakurva however, is the fast and tricky right/left of the the Tecnico complex. Getting the right hander is key here, as running wide on exit will kill the entry for the run up the hill, costing a lot of time, and also leaving drivers open for a pass into Kornakurva. A slight lift of the throttle at the apex of the right hander can help in getting far enough over to right side, before turning in for the Scandi corner that follows. Another lift is typically needed to maintain traction in the left hander, with very little room for error on the exit.
The decreasing radius Kornakurva is a staple in all counter clockwise corners, as is the Bypass section that follows it for all sport karting events. Opening up the arc for the entry of Kornakurva is the easiest way to help out the exit speed here, but too wide will just be making the track long. Regardless, getting out of there well may allow for a pass attempt into the off-camber, and off-surface Bypass section, another of tricky sections of this course. The biggest thing to remember about Bypass is to not enter with too much speed; charging the entry will see drivers slide through the entire thing, losing time and usually positions as it leads you onto the main straight.
A good left foot will pay dividends around this place, while patience and and consistency can see drivers pick off those that push too hard. As with all tracks, exit speed is key; but here on Tecnico it may be the most important factor to a solid lap, and a good result.
Smitty's Spotlight: Moving on from the asterisk that is Nuovo…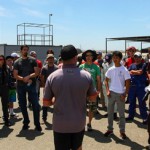 Here at CalSpeed, we liken the Nuovo circuit to NASCAR's Daytona or Talladega in sport karting circles, with luck playing a much bigger role in one's result than any other layout. A driver still needs to do their job, but that track can be more about being in the right place at the right time, and having things 'go your way' than any other place. Like the aforementioned plate racing tracks, our 'Super Speedway' has garnered a love/hate relationship with many drivers, and each race here is widely accepted as an asterisk. I say that, but I should add that it is typically only viewed that way after a rough result; you don't hear a lot of complaints from atop the podium…
Still, for the other 89 drivers in attendance, it is many times looked at as a 'survival race'; just glad to have gotten through it with a decent finish -or worst case- hit the reset button and try to forget it. For many, the season starts right now.
There are two race drops in this ten race championship, and the worst thing anyone can do is let a tough opening round roll on to affect the rest of their campaign. Heading into this weekend's event on Tecnico, things are firmly put back in each competitors' hands; this place rewards efforts behind the wheel. Its challenging, yes, but very rewarding when things start to fall into place. Not only driving ability will be put to the test here, but race craft will certainly be challenged as while there are multiple passing zones, nearly everyone can also backfire if not executed properly. The drivers at the sharp end tomorrow will certainly be there by there own merits, and we'll get a chance to see a few that maybe had some bad luck last round bounce back to where they ought to be. Good or bad, round one is in the books, and there are nine more to go.
This of course goes for any drivers that missed the opening round in the championship, and there are a few that I think could make some noise here in their first race of the Sprint Series Season. Last year Cale Engelage showed up for just the season opener, and immediately impressed with a second place in the heat race, and a 7th in the A-main. I am not sure if he is running the whole year, but at least for tomorrow he could certainly upset the apple cart. Michael Chen is also making his first start of the season this weekend, and as a driver that is regularly challenging the front of the B-Main at the Super Series, he should also be an immediate threat. He and his teammate Frank Hsu have been working together a lot in the off season, and if Hsu's opening salvo is any indication of what we can expect from Chen, he'll certainly be one to watch. The last guy I want to focus on is Mark Sternberg; a rookie in the Super Series last season, he steadily improved as the year went on, and put in a strong performance in the Sprint Series finale. In his first race in the new year, Sternberg rode a pair of top tens in his heat races to earn his first A-main berth, a huge step up from where he left things off in 2017. This event will be his first chance to back that up, and it will be interesting to see how he fairs in his first Sprint Series race of the year…
Derek's Download: Tecnico; Separating the Fast from the Experienced…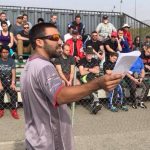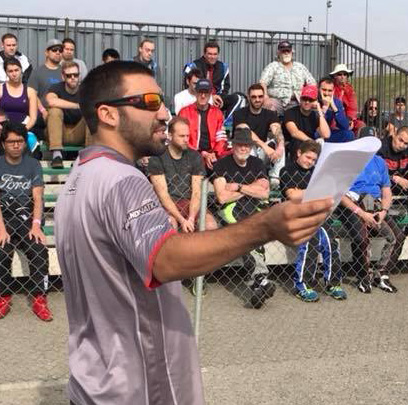 Sprint Series drivers will find themselves on the Tecnico layout this coming Saturday, by far the most technical configuration here at CalSpeed. I expect this round to be slightly different; yes, the track will be a challenge in itself, but there are some A-Main drivers who did not make the registration list.
Taking a look at the top 5, Thure and Dziemidok are both 2R drivers. Only Lukas will be returning this round which will be it for him in Sprint Series this year. Thure will not be here so now there is another spot on the podium up for grabs. Another driver in the top 5 who we don't expect to see all year is Diego Alvarado; word is that he'll be moving after round three. As of right now, Spencer Russell is unofficially your points leader, him being the next eligible driver who is currently sitting in fourth. Regardless if these three are going for an overall championship or not, they are still on track with you and are more than capable to steal points and make your day that much harder.  
One driver that I am hoping we will be able to see this round is Daniel Eaton; he is not currently signed up but is on the wait-list. Eaton currently sits 9th overall which is a strong start to the year for this driver. He has the pace for the A-Main and is constantly improving his race craft.  If Daniel gets into this round and has a solid qualifying, he will most likely make something happen at the sharp end.
Tecnico is definitely a love-hate relationship for me; I love driving it due to the fact that you are so busy and never have a chance to rest. But there is one corner that is my Achilles heel: the hairpin. It's funny to say this because this is probably the "easiest" corner on the track compared to the rest. I tend to turn in just a tad bit early which causes me to have to put extra wheel in it and just bind up the kart. It's a noticeable difference in exit speed for those drivers able to find that later apex and have a better run towards the sweeper. If you won't be able to carry speed in this corner, hold the line.
With Tecnico being arguably the toughest layout both physically and mentally, make sure you are driving the kart and it does not start to drive you.  The track has many back-to-back sections, drivers can easily get fatigued and have trouble holding on at some points. I know that I started to feel a bit tired about halfway through our test this past Thursday.  If you're having a hard time getting around the place, make sure to use the Practice/Quali session wisely and get with some others and ask questions.
—Derek Esquibel
Sprint Series Race Director
Overall Championship: Spencer Russell leaves opener as highest of the full-time drivers…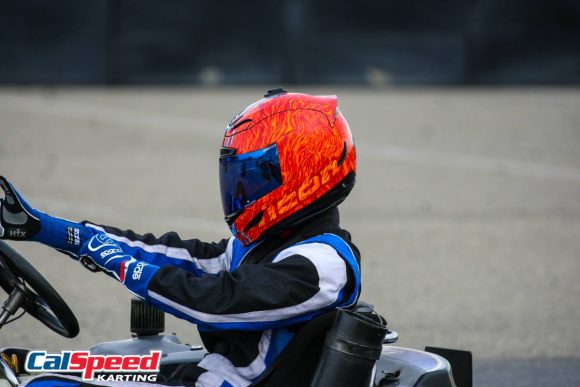 While he may sit fourth in the standings right now, Spencer Russell could be looked at as the provisional point leader when taking into account the top three in the standings are only doing a couple of races. He'll also be looking for a bit of redemption after having his first sprint Series podium slip through his fingers at the opener, especially since he showed excellent pace throughout the day. He was the only one of the season regulars to win a heat last month, as Diego Alvarado and Caden Thure brought home the other two, and he'll need to again contend with Alvarado once again here in round #2. And while Thure won't be in attendance, fellow 2R driver Lukas Dziemidok will be, hoping to go for two for two on the podium for each of his two allowed races this season. While expected to run the opening three races of the season, the aforementioned Alvarado -though certainly a contender for race wins- is not in the championship conversation because of his imminent move to the east coast in March.
If Russell is thought of as the point leader, then the rest of the 'top five' are a nice mix of new a familiar faces. Frank Hsu had a breakout performance last month that saw him finish second in his heat and 6th in the main, showing all of the hard work in the off season has really paid off. Ivan Martinez backed up his stellar Nuovo showing from last year's round #5, scoring a third place in the heat race and a 5th overall in the main. For both of these guys it will be interesting to see if Tecnico treats them as well as the flat out Super Speedway, but it sure is a great start to the season regardless. Next is a name we expected to see at the sharp end, 2017 podium contender and fourth place overall Randy McKee. He didn't have the finish he wanted in the main after finishing 2nd in his heat, but I expect him to be one of the drivers to beat this weekend. Then you have a break out run from new kid on the block Evan Karp; coming into the Super Series about halfway last year, he steadily improved as the season went on, but last month's performance was definite an eyebrow raiser. He just squeaked into this round from the waitlist earlier this week, and now I'll be curious to see if he can back up last month's front running performance on a track he hasn't seen yet.
As was mentioned before, some drivers have some momentum heading into tomorrows racing, while others are either making their first start, or looking to hit the reset button. Tecnico will provide the backdrop for what is sure to be an exciting round, and an excellent gauge of just who will be the ones to watch for the duration of the season…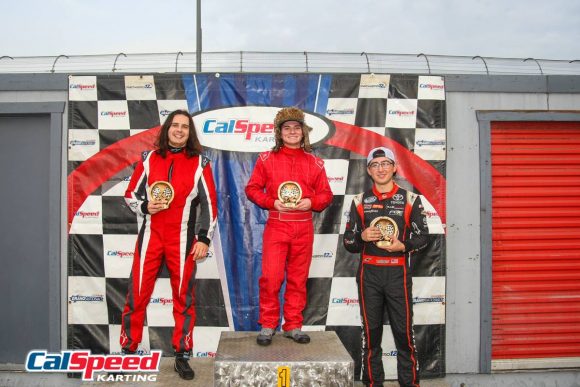 Current Overall Standings Top 10
| | | |
| --- | --- | --- |
| 1) | Caden Thure [2R] | 300 |
| 2) | Diego Alvarado | 290 |
| 3) | Lucas Dziemidok [2R] | 285 |
| 4) | Spencer Russell | 285 |
| 5) | Frank Hsu | 270 |
| 6) | Ivan Martinez | 270 |
| 7) | Randy McKee | 264 |
| 8) | Evan Karp | 257 |
| 9) | Daniel Eaton | 253 |
| 10) | James Lieser | 249 |