This weekend marks a first in CalSpeed history, as the makeup races for both the Sprint Series rounds #3 and #7 will be made up on Saturday, making for a first-ever doubleheader event. This weekend, drivers will take to two different tracks -Grande CCW and Classico CCW- a pair of tracks that are sure to host some great racing, and making for just a little more challenging day. With the timing of the makeup date, these two races are actually the eighth and ninth events on the calendar, and given how the points sit coming into Saturday, the possibility of a championship deciding event is in the cards. Spencer Russell holds onto a slim 20-point lead over Sam Hunt, while Hunt is actually tied for the point lead with Rodney Bryant in the Summer Series sub-championship. These three plus several others are fighting for hardware at the end of the year, and this weekend will sure to be one helluva show. There is a lot to cover in this month's special double-header preview, so let's jump right into it…
Double Header Track Spotlight(s): Grande CCW & Classico CCW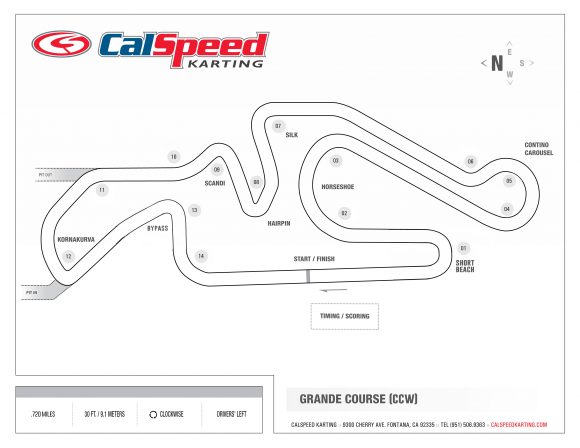 Both of these counter-clockwise tracks for Saturday have been used once already for this season, with Grande CCW hosting round #4 way back in April. Of the two, Grande CCW could be the one that provides the most challenge for the Sprint Series drivers, as not only has it not been used for several months, but two of its corners provide very little grip. There are only three corners different from what will be run in the afternoon -Short Beach, Horseshoe, Contino proper- but it is Short Beach and Contino that we'll be focusing on here. Short Beach has a good amount of grip for the first two-thirds of the corner, but then it feels like all the grip goes away as you want to exit. The tough part is, it is the front grip that goes away, causing an understeer condition that gets even worse if you don't get the kart rotated enough.
Horseshoe is pretty straightforward; you keep things tight out of Short Beach, take a slightly diamonded line through the two apex's; close on the first apex, then let it drift up the track a half kart or so, and then come back down on the second apex before opening up the exit towards the black wall on the left. Easy-peasy…
Contino, on the other hand, presents another challenge in the grip department, as the first half of the corner seems to almost have a 'polished' feel to it; the kart doesn't seem to take a set until about halfway through this double apex complex. The trick here is to get the kart rotated prior to the first apex; a later apex will allow you to unwind the wheel in the low-grip area, instead of needing more input to get through the corner. Shallow lines and pass attempts will certainly require a deft touch; not just in a drivers steering input, but also in their footwork…
Top 5 from Round #4
| | |
| --- | --- |
| 1) | Sam Hunt |
| 2) | Spencer Russell |
| 3) | Ivan Martinez |
| 4) | Mark Sternberg |
| 5) | Tony Chen |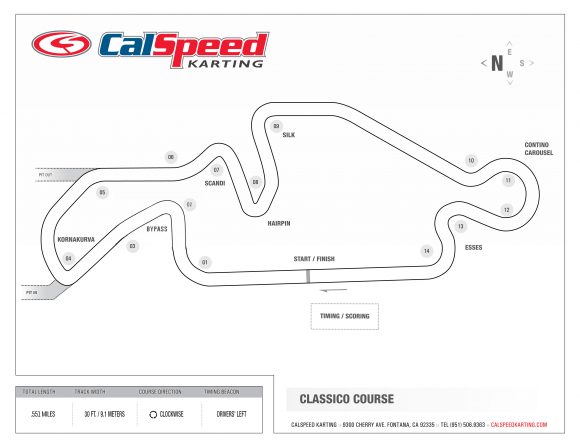 The track that was most recently used in the Sprint Series, Classico CCW, was the backdrop for the Round #9 event earlier this month, so it is certainly still fresh in the minds of every Sprint Series driver. Unlike the track run in the morning, grip levels should not be as big an issue on this layout, making for a more straight-forward approach to the racing. As will be the case on Grande CCW, the primary passing zones will be the Hairpin, Kornakurva, and Bypass; the last of which being the trickiest. Bypass's off-camber/off-surface combination makes it unique from any other corner at CalSpeed, and as essentially the final corner on the lap, it is also the last shot to overtake. We have already seen some great drag races to the finish line this past month, and I wouldn't be surprised to see it continue tomorrow.
Aside from Bypass, Hairpin is another great passing zone, with a driver's ability to do the corner well also creating a passing opportunity when we go up the hill to Kornkurva. The run from Silk -the flat-out left-hander just before Hairpin- into Hairpin is one of the most fun sections at CalSpeed but is also one that requires excellent vision. You can always tell the drivers that need to work on where they look in this complex; poor vision means mistakes in the braking zone, and many times, either missed passing opportunities or getting passed themselves. The pass is set up back in Silk; line adjustment and gap management can make or break the move, and we'll be seeing a lot of action in this section of the course.
Even if a pass does not happen in Hairpin, the ability to get a good run out of the corner will see attempts built and executed next in Kornakurva. While an easier spot to defend, the fact that Bypass immediately follows means the door is usually left at least partially open, and just requires a patient driver to jump through it. In play for both tracks on offer, expect the second half of the lap to be a busy one for everyone, especially as the laps wind down…
Top 5 from Round #9
| | |
| --- | --- |
| 1) | Rodney Bryant |
| 2) | Luca Bortone |
| 3) | Sam Hunt |
| 4) | Spencer Russell |
| 5) | Evan Karp |
Smitty's Spotlight: "Pace isn't your problem."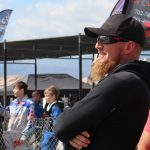 When working with the advanced group in the Race Clinic, or even some of the more experienced drivers in one-on-one coaching, that is a phrase I end up using a lot. It means the driver I am talking to has the speed -generally speaking- but either hasn't been able to capitalize on it or has things they need to work on elsewhere. Thing is, almost everyone thinks their issue is simply, "I need to go faster", when actually their speed is fine, they just don't know how to use it to their advantage. Miss-timed passes where contact is made mid-corner, or not getting the timing right and needing to lift, can each make it seem like more speed would solve the problem. In reality, proper positioning and/or gap management is what is needed, because they are already right on pace with everyone around them.
So how do we do that? Well, let's first talk about gap management first; basically the distance between yourself and the driver you are trying to pass. Many times, being right on the back bumper in the preceding corner can prevent you from building a run, or could force you to waste it by either lifting or running into the back of them. Instead, being just a little off of their back bumper can allow you to use the run to get alongside and make a pass in the following corner. Remember this fundamental: A wider arc is a longer way through the corner, and should mean the gap to the other driver will lengthen. A tighter arc -shorter distance- will help close that gap, potentially improving the chances over overtaking if a little time was lost in the preceding corner.
Next is positioning. Getting a run is just part of the equation; we then need to be able to out-brake the other driver, getting next to them prior to the turn in point to have the best shot at making the pass. What many drivers don't do well enough, however, is making sure that the side-to-side gap between them and the driver they are trying to pass is at a minimum. Just like when we go around the corner on a normal lap by ourselves, a wider arc means we have to slow down less, and can carry more speed through the corner. Additionally, being right next to the other driver allows us to better 'control' the corner, meaning the driver being passed has limited range of movement, typically being unable to enter the corner before the passing driver turns in.
While passing may be a simple enough task; the execution of one is something that takes practice. And it is why when you see drivers all in a line without a whole lot of positions changing, we definitely say that pace is not the problem…
Derek's Download: Leading up to an event; how to prepare…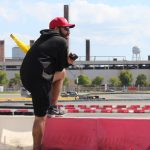 Arguably one of the toughest days for Sprint Series drivers is upon us, with the two-round make up this Saturday, as competitors that are signed up for both push themselves mentally and physically. Having two layouts in one day to compete on is definitely not the norm for this crowd; the day won't have a clinic, where a good number of Sprint Series drivers look to so that they find their rhythm for the day. Also, only one of the tracks is available to practice on during the week. This race day will push a lot of drivers and be a good learning experience.
I think one of the toughest things that some drivers might struggle with is the course change; going from Grande CCW to Classico CCW. Yes, getting around the course will take a second to remember, but how the two tracks race is very different. Grande has a few more corners that allow for more opportunity for passing, where Classico is tighter and has a bit more single file racing occurring. What I would do to help myself prepare is watch some video of both tracks, and just visualize different moments that you've had on either of these courses. Every driver is different with how they prepare for a race day; this might be the day where a few of you are able to see what works and what doesn't.
I've had a lot of learning experiences these last couple years while racing in LO206, and probably the most important thing I've learned is to get the most out of yourself and your equipment every time you are on track. I've always tried to do this, but the correct approach wasn't there. I want to make sure I start morning warm-up off right and have a solid time, obviously trying to be in contention for pole position in qualifying, etc. My prep for attacking these sessions starts on the grid for me. I'll push my kart up to my spot, greet some of the other drivers in my class and slowly start to get my gear on, this is where my mindset starts to change. The helmet is on and I have a seat in my kart. Now I start to visualize going around the course, where I'm getting my braking done, all of the apexes, my plan for the first few laps, whether it be qualifying or a heat race. Now I have already done about 2 laps around the track in my head before even heading out for the session. That much better prepared and ready for when taking to the track.
Every driver is different with how they approach a race day. Yes, this day is different because it's a double event. But guess what, the karts are still the same, the format is still the same, everything you have already gone through. There aren't any surprises. The possibility of becoming mentally tired or lax is just a tick higher this weekend with the amount of driving ahead of you. Try to find what works for you when preparing, and how to stay sane when getting into another kart for that next session. Maybe give my method a shot? No matter how you sift through your race day, successful or not, there is always a way to point the finger at yourself and think what you could've done differently, and improve for the next time.
—Derek Esquibel
Sprint Series Race Director
Overall Championship: It is Russell VS Hunt for Sprint Series supremacy…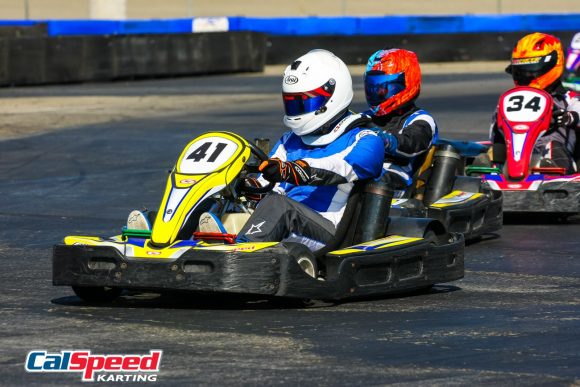 The 2018 Sprint Series has been a closely fought championship battle, primarily between two drivers; Spencer Russell and Sam Hunt. This weekend, we could see that title fight decided with one round yet to run, or we very may well see things tighten up even more and go to a Season Finale deciding round. The duo holds over 100 points on the rest of the field, and at least in the case of point leader Russell, strong enough drops that it looks like no challenge can be made outside the top two. There is very little between them either; the past two rounds have gone to Hunt -albeit only by five points each- and they are separated by just 20 points heading into tomorrow. Each of them has a pair of wins and four total podiums to their names, and they both have shown well on each of the tracks on offer tomorrow. All eyes will certainly be on these two protagonists tomorrow, as every pass and repass for position could carry the weight of a championship with it…
They will have plenty of stout competition if they are going to finish at the front once again, as 28 of the top 30 in the standings will be in attendance, with 45 of the top 50 on the entry list to add even more depth. And besides the fight for the overall title, the battle for the final hardware spot is a fierce one, with Randy McKee currently holding onto third, but by the slimmest of margins over Evan Karp. The six-point deficit Karp has to McKee may as well be nothing with three rounds to go, and they actually have two more drivers within reach as well. Ivan Martinez is just 39 points back from Randy, while Donnie Clarke sits 54 markers astern, but has shown he can challenge the sharp end all season. Given where everyone's drops are going in, and this fight is wide open, with each one carrying an excellent shot at the podium. Like he was last year, McKee is one of the strongest in the heat races, finishing in the top three on five occasions this season. Karp has finished in the top five in the Mains the past three out of four events, with a pair of heat wins to his name as well. Martinez actually won his heat race and finished 4th on Grande CCW in the Spring, while Clarke has fought towards the front for the entirety of the second half of the season.
And don't be surprised to see some fireworks from Mark Sternberg and Tyler Redman; each is fresh off career bests finishes at Super Series last weekend, and could have season-best runs tomorrow. At over 80 points out of third, a shot at hardware is going to take a lot of things to go their way, but it isn't out of the realm of possibility…
Overall Standings Top 10 After 2 Drops (Best Drop)
| | | | |
| --- | --- | --- | --- |
| 1) | Spencer Russell | 1470 | (280) |
| 2) | Samuel Hunt | 1450 | (243) |
| 3) | Randy McKee | 1349 | (235) |
| 4) | Evan Karp | 1343 | (211) |
| 5) | Ivan Martinez | 1310 | (244) |
| 6) | Donnie Clarke | 1295 | (193) |
| 7) | Mark Sternberg | 1266 | (0) |
| 8) | Tyler Redman | 1263 | (223) |
| 9) | Michael Chen | 1255 | (196) |
| 10) | Seth Willits | 1217 | (214) |
Summer Series Championship: Bryant and Hunt top hotly contested Summer Series…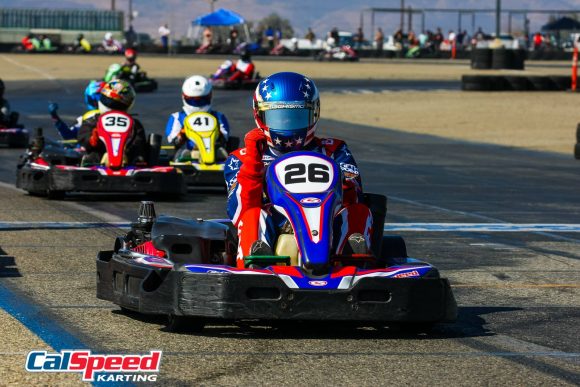 While the Overall championship fight sees things split between the title fight and a podium battle, the Summer Series is a winner takes all contest, and one that has several more contenders. Unsurprisingly, both Spencer Russell and Sam Hunt are in contention for this sub-championship, with the former looking to make it a sweep after winning the Winter Series earlier this year. But joining them at the sharp end is veteran sport karter and current Super Series Sportsman class leader Rodney Bryant, who actually won earlier this month at round #9 as well. All three have put a pair of solid point days in to open up the Summer Series and carry that advantage into tomorrow as we run the third and fourth event in this best 4 out of 5 championship.
Podium finisher from round #9 Luca Bortone will miss tomorrow, and therefore is out of contention, and round #8 podium runner Sicheng Li is also looking for a spot in the afternoon. If Li can't find his way in for the morning event -he is on the round #7 entry list- he'll be forced to use his drop race; a 173-point event that would also kill his title hopes. Aside from these two drivers, the rest of the top ten will be in attendance for sure, and each is well within striking distance with three events to go. Diego Alvarado leads the rest of the group, and while we haven't seen him on the podium after his return from the east coast, he is the same driver that kicked off the season with a pair of podiums and is a former winner in the series. Evan Karp, Mark Sternberg, and Randy McKee sit 7th-9th and are season-long contenders, also fighting for overall hardware. Last but not least in this part of the preview is Michael Hottinga, who actually had his breakout performance on Grande CCW earlier this season, and then backed it up on Classico CCW a few weeks ago. If there is a dark horse in the group for tomorrow, it's this guy…
Summer Standings Top 10 (drop)
| | | | |
| --- | --- | --- | --- |
| 1) | Samuel Hunt | 300 | (285) |
| 2) | Rodney Bryant | 300 | (270) |
| 3) | Spencer Russell | 295 | (280) |
| 4) | Luca Bortone | 295 | (0) |
| 5) | Sicheng Li | 290 | (173) |
| 6) | Diego Alvarado | 280 | (246) |
| 7) | Evan Karp | 280 | (262) |
| 8) | Mark Sternberg | 275 | (230) |
| 9) | Randy McKee | 265 | (235) |
| 10) | Michael Hottinga | 262 | (0) |