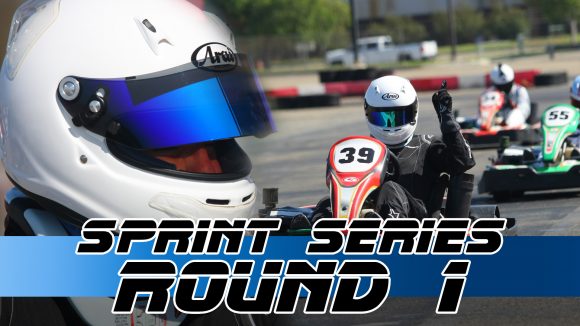 The Season Opener for the 2018 Sprint Series is shaping up to be an exciting one, with a sold out show ready to have 90 drivers take to the 'Super Speedway' that is CalSpeed's Nuovo layout. Over a third of the field will either be making their debut start or their first in over a year, but we also have some returning names that will certainly have the spotlight on them. The first preview of the season is chock full of cool pieces, from a closer look at the fastest circuit on the calendar, to interviews with the three past champions, and even a word from the new sprint Series Race Director, Derek Esquibel before we look at who this season's protagonists could be. It is the first race of the season, and we'll try and cover as many storylines as possible in what is sure to be an exciting, and unpredictable 2018 Sprint Series season. First up, let's take a brief look at the stage for the 2018 season opener, Nuovo…
Round #1 Track Spotlight: Nuovo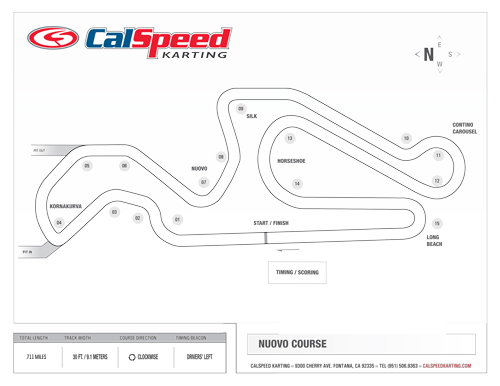 Each of this year's Sprint Series previews will have a new approach to the Track spotlight, featuring an on board video, as well as some tips, tricks, or words of wisdom about negotiating and/or racing on that round's configuration. For the first edition this year, we'll go on board with me, Mike Smith, as I complete a couple of laps during yesterday's test:
As has been the case for the last few years, Nuovo hosts the events in January, and for the second year now the Sprint Series season opener. Last year was a thrilling event that saw five drivers head into the final corner with a shot at the win, the pack-style racing of Nuovo keeping the front group together event though they constantly swapped positions.
Nuovo is near flat out, requiring brakes in only the Contino and Long Beach corners, while throttle modulation comes into play in just a couple corners as well. In fact, when we run this track in the summer, it sometimes possible to literally not lift except for the two braking zones if the grip gets high enough. In January however, throttle modulation in the Busstop, Kornakurva, and Nuovo corners can save precious time by maintaining grip, which the cooler temps provide a lot less of.
That same foot work is even more important when in a pack, as the accordion that happens around this place -while not typically as abrupt- can still catch people people out as they try to maintain position in the pack. Footwork, coupled with keeping your eyes up and on target is especially important here, all the while keeping your hands as smooth as possible to not scrub valuable speed.
Smitty's Spotlight: Chat with past champions reveals what Sprint Series is all about…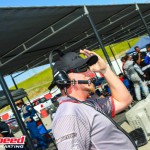 Now in its fourth season, the CalSpeed Sprint Series has seen drivers come through its ranks and come out the other side not only as champions or race winners -or both- but also vastly more improved than before, regularly using their new skills in the IronMan Series and Super Series. The inaugural season's champion Sean Fite not only won the title in 2015, but also established himself as a rising talent in the sport that was equal parts wheelman and goofball. His Stone Cold Steve Austin beer can smash impression has become a staple at his podium appearances, never shying away from having as much fun as possible at the track. Alexander Bermudez would actually score the 2016 title after not winning a single race, also bringing home Rookie of the Year honors that season. And of course there is last year's champ TJ Blackledge, who like Bermudez won the 2017 Rookie of the Year title, re-writing many of the Sprint Series records that year as well. I caught up with each of the past champions for this preview, asking them the same three questions to get there two cents on what to expect.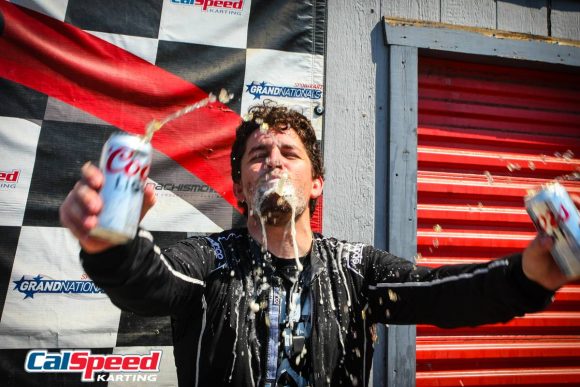 MS: Looking back on your own Sprint Series championship, what were some of your favorite moments?
SF: My first win in the Series; my Super Series teammate, Hassler Ortega and I worked together the whole race to get away from the rest of the field until the white flag. That day I found it was a lot easier to race one on one instead of trying to race the whole field.
Another one of my favorite memories is racing Alyssa Yauney and Matt Hart in the Summer Sub Championship. Alyssa and I have been racing each other from the C Mains in 2014 to the A Mains in 2017 and that Sub Championship was another stop in our battles against each other. Also, I was told Matt Hart was going to be my teammate at the 2015 Grands; I responded by asking "Who is Matt Hart?" At the end of that Sub Championship I knew who Matt Hart was (he won the Summer title); we beat and banged on each other so much it turned into a good friendship.
MS: What were some of the the biggest takeaways or things you learned from your Sprint Series season that you still use now?
SF: The biggest thing I learned from my Championship season is that you can't win it on your own and the more laps you make the more you can learn. The Clinic is right before the Sprint Series; sign up make laps, and ask questions. If you cannot make the Clinic find someone who did and ask them questions about the track and the karts. The race doesn't start when the green flag waves, it starts when you arrive at the track. A train of karts goes faster than a kart by itself. My biggest competitors during the Heats and Mains were my drafting partners in Practice/Qualifying. We would rather race each other for podium instead of top 20s. The Mains are the same, find some partners to get to the front.
If you can win this Championship by yourself your name is probably Lewis Hamilton; so if you haven't won 4 World Championships come to the track meet some people that love racing and work with them to get to the front of the field.
MS: What are some of the keys to putting together a championship winning season in this series?
SF: Make friends, make laps, don't take drops early, and stay out of the damn penalty box. Like I said earlier it is nearly impossible to win anything without help and you can learn something new on every lap you make. Most importantly, stay out of the penalty box! Penalties help nobody. The guys your racing will just be mad at you for whatever you did, you'll be 7 to 10 seconds behind the leader, and you will have lost at least 30 points after you've lost 6 to 10 positions.
Finally have fun and relax! Racing is the best sport in the world and a day at the racetrack is better than a day anywhere else, so relax, have fun, and the results will take care of themselves.
---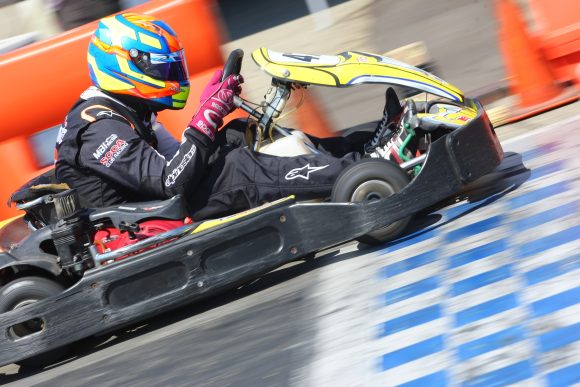 MS: Looking back on your own Sprint Series championship, what were some of your favorite moments?
AB: There were so many memorable moments throughout the season, both good and bad! Regardless, I learnt from my mistakes and as the season progressed I found myself advancing towards the front! Now looking back, what resonates with me the most was the tremendous growth I experienced. There is so much to learn when it comes to racing and the Sprint Series is the best place to do it!
MS: What were some of the the biggest takeaways or things you learned from your Sprint Series season that you still use now?
AB: Without a doubt the most important lesson I learnt from the Sprint Series was the importance of working with other drivers. Prior to sport karting, the concept of working with your competitors seemed counterintuitive, but in fact it's integral to winning the championship!
MS: What are some of the keys to putting together a championship winning season in this series?
AB: Obviously being quick is important, but being consistent is even more important. This fact was never so apparent as it was when I won the championship without winning a single race. There may have been faster drivers on any given day but without consistency from race to race those drivers would invariably fall back in the point standings. So no matter where you are on the grid, focus on being consistent and the speed will come!
---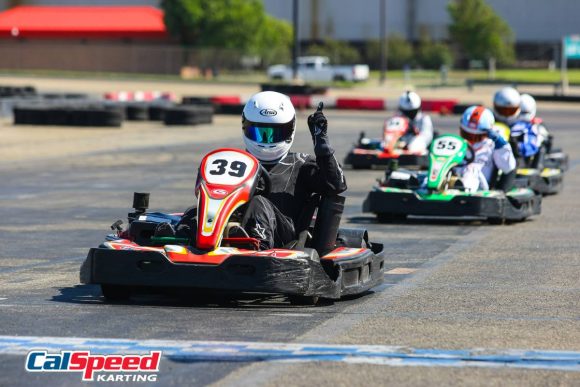 MS: Looking back on your own Sprint Series championship, what were some of your favorite moments?
TB: My favorite moment from the Sprint Series was definitely Round 8 when I clinched the championship. My other favorite memory was the last round, coming into the last corner behind Don Diego Veloria and Jetson Lieser, and going from 3rd to 1st in one corner to wrap up the season the way I wanted.
MS: What were some of the the biggest takeaways or things you learned from your Sprint Series season that you still use now?
TB: I think the most important thing I learned from the Sprint Series is if the qualifying or heat race doesn't go how you want it, you still have the Main event to make it back up.
MS: What are some of the keys to putting together a championship winning season in this series?
TB: The most important key to put together a championship winning season, in my opinion, is consistency. If you can manage to set a goal, -for example top 5 every round- then it's a great goal and you will do well. Another key which is most important, is to not give up when something doesn't quite go right or what you expected to happen.
---
Derek's Download: The track, as much as fellow drivers are the competition…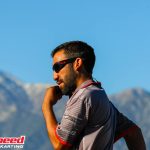 The 2018 Sprint Series will kick off this Saturday on the Nuovo layout. New faces are coming into this season with no expectations, while familiar faces look to come back and improve or even extend their reach for the overall championship.
I think Nuovo is more of a tricky layout than people think. It may be the least technical as a driver, but the toughest as a racer. With this being a Sprint Series and most drivers not having too much experience, I don't see the pack racing being as big of a deal this weekend. While being able to make moves and be aggressive is important, I feel that the drivers that are able to hold their line and be quick will have an advantage.
There are a few drivers I have my eye on that will make some noise in this opening round. The first one that comes to mind is Randy McKee. He showed speed in the early part of the 2017 season and only improved throughout the year. With his best finish on this track only being a 9th, don't count him out on being further up the finishing order this time around. I see him coming into this weekend as one of the drivers to beat, as well as on overall contender.
The other driver that I'll be keeping my eye on for this weekend will be Tony Wika. Once this driver toned down the aggression and polished his driving, the last half of 2017 was good to Wika, earning himself an 8th overall in Sprint Series and even earning him the Grand Masters Championship for Super Series. Wika is a driver who uses his seat time wisely; coming out on open practice days and doing both Super and Sprint Series, he is getting quite a bit of experience that he will apply towards the 2018 year.
There are certain drivers that I expect to see towards the front this weekend, but it is Nuovo. This is the track that is quick to change the order and drop you from 1st to 10th with just one wrong pass attempt. Don't be the one to catch yourself on the wrong side of the train. Keep your eyes up and don't get caught on the outside.
—Derek Esquibel
Sprint Series Race Director
Overall Championship: New year means a clean slate, but several drivers bring momentum…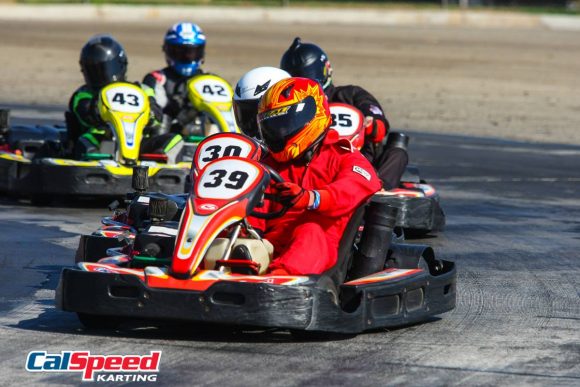 The 2018 edition of the Sprint Series championship looks to be wide open; in chatting with some top drivers from this and other CalSpeed championships, the repeated theme is the unpredictability of what to expect. In the past three seasons there seemed to have been a fairly small group of drivers that looked to enter with a leg up. While that could be argued for this season as well, the list of possible podium and title contenders either on the entry list, or that have vowed to start their season after missing the opener is a long one.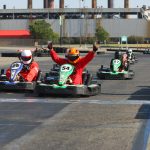 And at the top of that list is Randy McKee. McKee started last season right were he left off in 2016, and was a constant force at the front all year long, finishing on the podium twice, including a win in round six. Finishing just off the podium last year as the #4 driver overall, Mckee enters the season perhaps as the de-facto guy to beat, and certainly carries a lot of momentum into Saturday.
---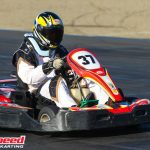 Next on my list of returning standouts is third-year Sprint Series driver Eric Monteith. Eric had a breakout season in 2017, becoming a regular top 5 contender in the heat races, while finishing 7th overall even after missing two events in the middle of the year. Look for him to improve on his 4 top 5 heat race finishes and a best finish of 7th overall from round #9 last year.
---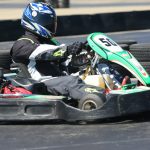 Like Derek mentioned earlier, Tony Wika comes into the 2018 racing season a much better driver than when he started last year, and a champion to boot. The 2017 super Series Grand Masters Champion steadily improved through last season in the Sprint Series, and eventually fought for wins in the heat races with a best finish of 6th in the main.
---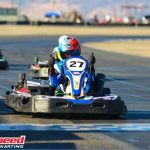 Young Spencer Russell made his CalSpeed debut in 2017, earning a top ten overall ranking in his first Sprint Series season. His 9th overall spot in the points comes form his consistency through the year, regularly sitting inside the top ten in the heat races, while getting there in the A-Main three times as well. With a year under his belt, look for big things out of the soon-to-be 17-year-old.
---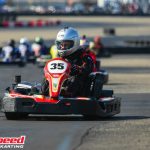 Another driver having a breakout year was teenager Owen Lerman. Coming out with his dad Jesse for the past three season's, Owen has made a steady rise through the ranks, breaking into the top ten in 2017. He rose eyebrows in round #6 by earning pole position and sparking his regular presence inside the top 5 the rest of the year.
---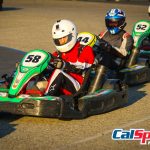 An absolute title contender from the start of last season, scheduling conflicts prevented Seth Willits from running the full season, but he made a lot of noise when he was here. In the six events he ran, he was in the top three in the heats four times, including winning the heat and scoring a podium in his last 2017 race at round #7.
---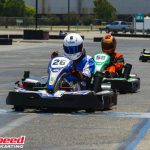 Getting off to a slow start, things really picked up for Sam Hunt from round three on, finishing in the top five for the heat races in five of the next six races. Another driver that did not run a whole season, his #12 ranking is pretty strong after missing the final two rounds. His best finish of 8th will certainly be improved upon this year, and should be in contention for the top step.
---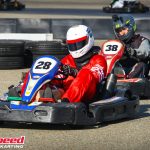 John Rice ran most of the 2016 season, but his second year in the Series showed a massive improvement. Competing towards the front in near every heat race, he wowed many in round #6 with an impressive pass for the heat win on eventual Series champion TJ Blackledge, backing it up with his first podium finish of his career.
---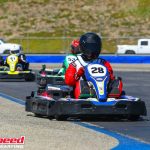 Kicking off the 2017 season by earning the pole position, Tyler Redman solidified himself as a presence at the front, fighting inside the top five every round he was in attendance. Unfortunately, an injury kept him form running a full season, but here in 2018 he is looking to run his first full season, and will be one to watch.
---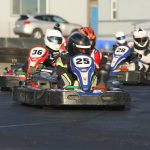 Young Daniel Eaton is one of many driver that's have moved up from the indoor karting ranks to compete at CalSpeed, making his debut in both the Sprint Series and Super Series halfway through last year. What earns him a spot on this list is how strong he finished the 2017 campaign, finish 6th or better in 3 of the final 4 events of the season with a best finish of 4th at the finale.
---
There are also plenty of drivers who have improved over the course of last season, or are making their first full season run in 2018, the list of unknowns a long one, any of which could surprise and add their name to the list of those to beat this year. Making things that much more difficult for the full-time Series drivers however will be the presence of stout one-off drivers throughout the season, including some [2R] drivers. For round #1 we have three drivers that fit this description, although one of them is actually eligible to run the full season if he is able. That is Vladimir Orlov, a driver that has shown to not only be quick, but capable of fighting at the front in this series whenever he is in attendance. His job sees him travel a lot however, and he is unsure of his ability to make all of the races.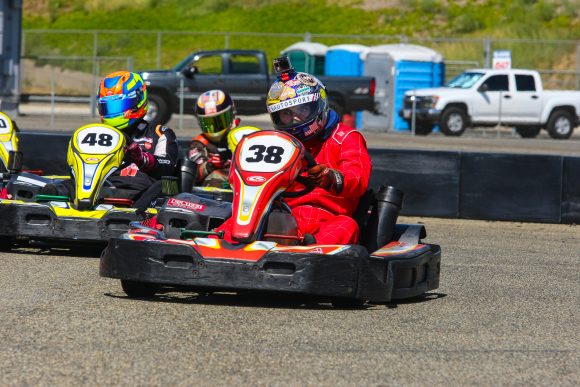 The other two are [2R] drivers Caden Thure, and Lucas Dziemidok. For those new to the Sprint Series championship, eligibility is restricted via the CalSpeed Driver Value system, which essentially keeps Super Series A-Main regulars and other very experienced drivers out of the series. It does however allow certain drivers to be classified as '2R' competitors, which literally just means they can only compete in two Sprint Series races for the year. This includes the reigning podium drivers form the previous season, which is where Caden Thure comes in. Thure competed in the past two seasons of the Sprint Series championship, fighting for hardware both years, finish 4th in 2016 and 3rd last year. His 6 podiums and pair of A-Main wins mark him as the guy to beat for round #1, and certainly a great driver for other s to learn from before he is done for the season. The other [2R] driver is CalSpeed newcomer Luke Dziemidok, who started halfway through last year and made a lot of noise, especially in the Super Series. The native from Poland snagged second in the Rookie of the Year contest, making the A-main there on more than one occasion in the process. While his Sprint Series events didn't go as well, he was still a force towards the front, and this new year should see him again towards the front tomorrow.