Round #7 in the championship saw no 2R drivers on the entry list, and everyone in attendance was treated to an exciting fight at the sharp end amongst the season regulars, with Luis Calderon scoring his second win of the season. Diego Alvarado backed up his pole and heat win with a second spot on the podium, while Don Diego Veloria came through with his first career podium in the Series. Just off the podium would be Alexander Bermudez, making sufficient inroads in the championship battle.
A battle that could not be more epic…
The stage has been set, and the script written for a championship fight that couldn't be closer: The top two in the standings are tied for the top spot going in, while the other two drivers still in the hunt are a two-time winner, as well as the driver with the most podiums this year. The absolute cream of the crop is vying for the hardware, with everything to play for when the green flag flies tomorrow afternoon. Each driver knows their part in the scene; All that's left to say is 'Action!'
Round 8 of 8: Grande CCW
The last time the Sprint Series was on the Grande CCW layout was round #3, and all of the title contenders were at the sharp end, actually finishing 3rd-6th in a row behind a pair of 2R drivers. Alexander Bermudez and Ashley Arnott each scored a second in their heat races and subsequent 4th and 5th in the main, but it was Caden Thure that went from a 4th in the heat to a podium in the Main. Obviously the lot of them are very close on this layout, and there is not much to choose between them.
What will also be similar is the lack of time that the track has been in place heading into the event, as much of the course has been unused over the past month or two. This is similar to the Spring when the circuit lay dormant for a couple weeks for NASCAR, so the grip level will not be very high. This makes the Short Beach corner even more challenging, as it is already a low grip corner to begin with. Still the conditions look to be very close to what they were in the Spring, and it should throw the full-season vets to much of a curve ball.
The Overall Championship: Exciting doesn't come close to covering it…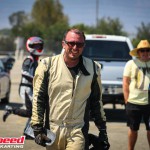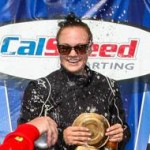 Both Alexander Bermudez and Winter Series champ Ashley Arnott sit tied heading into the Finale, with Luis Calderon catapulting himself into third via his last lap pass for the win in round #7. Of the top three, only Bermudez has yet to win this season, while the other two in the top three are the only full-time Sprint drivers to score a win in 2016. Mathematically, all of the top four drivers have a shot at the overall, as Calderon's 34-point deficit and Thure's 42-point gap are both in the realm of possibility to make up, albeit most likely with some help. For sure those two drivers will be fighting each other for the final piece of hardware up for grabs, never mind a shot at the title itself, and it will be interesting to see where the focus lies. The latter beat the lot in the A-Main in the Spring, but the entire group was strong on this track, and each is carrying their own form of momentum into the final round.
All that said, this thing very well could come down to one of the two drivers currently at the top, and I had a chance to chat with our point leaders ahead of this weekend's Championship Finale. I asked them both the same questions, and judging by their answers, there is no doubt that they are ready, and looking forward to the challenge!
Mike Smith: You and your primary title rival have been right at the sharp end all season, and now it all comes down to the finale. Tied going in, how do you feel about your chances to bring home the overall Sprint Series Championship, and how have you prepared for this event since round #7?
Ashley Arnott: I have to say, I'm really excited but equally nervous. There are some fast guys out there and Alex is definitely one of them. I've learned that the mental game plays a huge role and I've been working to prepare myself not only physically but in that category as well. I keep reminding myself that winning was the last thing I saw myself doing on Round 5, yet there I was. All I can do is my best and accepting that beforehand is important.
Alexander Bermudez: My goal for this weekend is to drive to the very best of my ability. My secondary focus is based on a piece of advice given to me by someone far wiser than myself, who once said, "Just go out there and have fun, the championship will take care of itself". And that is precisely what I intend to do.
This is not to say that I have not prepared for this race, on the contrary, I have spent countless hours watching Mark Connell's somewhat colorful Grande CCW video from last season. In addition to video, I have been doing a lot of pre-visualization in order to better familiarize myself with the track configuration and of course I will be testing the week leading up to the event. As the great Muhammad Ali once said, "The fight is won or lost far away from witnesses – behind the lines, in the gym, and out there on the road, long before I dance under those lights." Now those are some words to live by…
MS: The last time the Series was on Grande CCW was round #3 where everyone was pretty even; What are your thoughts heading into the round that will decide it, on a track that gave you little help in the championship so far? What are going to be some keys to coming out on top here?
Arnott: I think this is the first time I've ever said this but, I'm really looking forward to running Grande CCW. I've learned to love CCW courses this year and feel like my improving confidence and race craft are going to play a key role. I'm getting better at identifying passing opportunities and executing them and this is a great configuration to do just that.
Bermudez: The strategy I'm employing today is considerably different to what I was doing last April and has proven to be extremely effective. Additionally, my skill in a kart has dramatically improved during this season. The spectacular driving exhibited by my fellow competitors has all but forced me to improve both as a driver and as a tactician! Suffice to say I do not think the track configuration will be a problem.
MS: While you are currently tied for first, third place Luis Calderon lurks 34 points back, and Caden Thure in 4th still has a mathematical shot at this thing. Are you going in thinking this is a 2-horse race, or will you be worried about these other two drivers as well?
Arnott: While my focus going into this isn't necessarily on my competition, this definitely is not a two-horse race. Anything can happen come race day and in the end, I think race craft (and a little bit of luck) are going to be what decides it. I'm certain it's going to be extremely close.
Bermudez: My own performance is the sole focus going into this weekend. Come Saturday morning I will be ready to race and so will my competitors; it will be an awesome show, whoever comes out on top would have fought hard for it and will be worthy of the championship title. I wish Ashley, Luis and Caden the best of luck!
MS: The Overall championship is not the only one up for grabs, as the Summer Series title is in play as well. Are you looking at what to do for that championship as well, or does it just take a back seat to the overall?
Arnott: Of course I aim for both! My goal is the top step but if I walk away with even one, it's a win in my book.
Bermudez: As my wife Isabelle likes to say "The more bling the better"! But on a more serious note, regardless of how Saturday turns out, I will reflect on this year at CalSpeed as one of the most exhilarating seasons of my racing career. I have come a long way as a driver in the last twelve months, exceeding all my expectations. My ongoing development as a driver is the real trophy I covet.
MS: Thanks for your time, and good luck Saturday!
AA: Thanks, Mike!
AB: Thank you Mike, it has been a pleasure…
Current Overall Standings Top 5 (Drop)
| | | | |
| --- | --- | --- | --- |
| 1) | Alexander Bermudez | 1640 | (238) |
| 2) | Ashley Arnott | 1640 | (0) |
| 3) | Luis Calderon | 1606 | (200) |
| 4) | Caden Thure | 1598 | (229) |
| 5) | Duane Lawson | 1558 | (216) |
The Summer Series: 5 on 1; Title fight sees target painted squarely on one driver…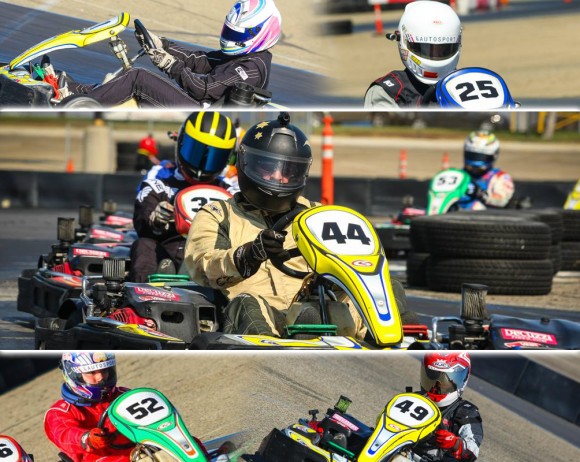 Like the Overall Championship, the Summer Series is also contested by several drivers, with the top 6 in the standings all with a mathematic chance at bringing home the championship. That said, the odds fall heavily in favor of current leader Alexander Bermudez, his 18-point lead and stout throw out round giving him the edge. For him to lose, his rivals will need a 285-point day to do it, which means a probable podium performance.
One name will be scratched off the list as soon as the green flag flies however, as Duane Lawson is forced to miss this round, taking him out of the running. Diego Alvarado is in a MUST WIN situation, as his 31-point gap can only be overcome with a perfect day (heat and main win), plus he needs Bermudez to have a drop-worthy day. For Blackledge, he'll need to find that little extra that has been missing up to this point, but if you put in perspective this is his rookie season (in anything at CalSpeed) then that result could be right around the corner.
In Arnott and Calderon you have a pair of drivers that already found the top step of the podium in this championship, and only see themselves trailing Bermudez because he has been slightly more consistent. In an event that is going to probably award the title to the driver that finishes first, this still bodes well for these two, as they have already proven they can do it.
Like we did in round #4, we will probably be able to scratch a couple names off the list once the heat races are final, so we'll keep a close eye on how the story progresses. Truly, it is anyone's guess how this thing will turn out!
Current Summer Title Contenders (Drop)
| | | | |
| --- | --- | --- | --- |
| 1) | Alexander Bermudez | 575 | (265) |
| 2) | Ashley Arnott | 557 | (253) |
| 3) | Duane Lawson | 557 | (224) |
| 4) | Steve Jasinski | 555 | (254) |
| 5) | Thomas Blackledge | 550 | (255) |
| 6) | Diego Alvarado | 544 | (229) |