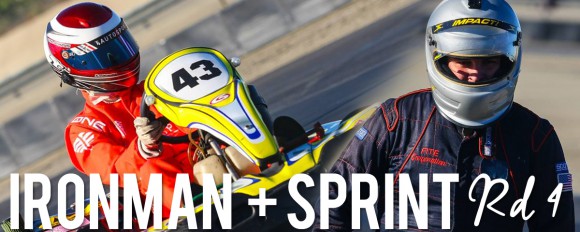 CalSpeed Sprint Series Round #4 Preview
Round #4 of the 2016 CalSpeed Sprint Series marks the halfway point in the season, and with it, the final race in the Winter Sub-Championship. Grande will be the track playing the canvas for what will be an exciting 4-driver fight for the championship, with all eyes on Caden Thure, Luis Calderon, and Alexander Bermudez; each one hoping to do enough to steal the title away from current point leader, but absent Ashley Arnott.
Last month we saw a pair of [2R] drivers storm away in the main, as the father-son duo of Ben and Henry Morse worked together to get away, with son Henry eventually coming out on top. Behind those two would be Caden Thure coming home as 'best of the rest', scoring his second podium in a row, and with it a strong chance at the Winter Title.
April will once again see a pair of [2R] drivers enter the fray to mix things up, with reigning champion Sean Fite and Round #1 runner-up Nick Marascio in the show; the question will be, will it be the third [2R] win of the year, or have the series regulars learned enough to come out on top…?
Round 4 of 8: Grande-
Heading clockwise once again, the Sprint Series will take to Grande this weekend, with the last time they went in this direction being the season opener on Sportivo. While not considered the most technical track in the CalSpeed repertoire, Grande still has some little subtleties that will make for an exciting backdrop to this, the halfway point of the season. Those little subtleties will mean that experience will pay some dividends, as this track has one of the best mixes of needing to know the draft game, but also negotiate some technical bits along the way. Last year this race was won by none other than the reigning champ himself, and it is a good bet that the Round #1 winner will again be the driver to beat.
He'll be challenged along the way by not only fellow [2R] entry Nick Marascio, but nearly all of the regular front runners in this series, and it will be interesting to see if they can take the fight to the champ. For his part, Marascio finished 2nd to Fite in the season opener, and certainly has the best shot at it, with all of the title contenders in attendance certainly to be right there in the mix as well.
Speaking of the championship, we have a fantastic title fight on our hands for tomorrow; Ashley Arnott leads, but is forced to miss this round, and will need to hope for the best. That said, the task won't be easy for her challengers, as she'll be using a strong throw out of 270 points (300 is perfect). Tied for the lead coming in and carrying a good amount of momentum is Caden Thure, coming off a pair of podium finishes, and driving better than ever. He'll need to score at least 270 points tomorrow, but can actually lose a bit to his fellow contenders (5 points to Luis, and 10 to Alex) Thure has the added benefit of owning the winning tie-breaker to all save Bermudez, which is nice for him to know. Round #2 winner Luis Calderon is next on the list, and is a similar story to Thure, having started the season off slow, but rebounded with a pair of good point days. For Luis, he'll have to finish with at least 275 points, but will also have to make sure he is at least 10 points up on Caden, and doesn't give up more than 5 points to Alex; further, the only person Calderon can beat in a tie is Ashley, so his advantage will need to be stronger. Last but not least is current 4th place runner Alexander Bermudez, who will have the most ground to make up if he is going to steal away this title. He does have the benefit of owning the tie breaker on every one of the contenders, so for him, it is just about hit the minimum points mark. That mark will mean a career best run of 285 points though, and not only that, he'll need to be sure to clear his competitors by at least 10 (Luis) and 15 (Caden).
All in all, the stage has been set for a fantastic and exciting halfway point to the season, and I am really excited to see how it all turns out!
Current Overall Standings Top 10
| | | |
| --- | --- | --- |
| 1) | Ariel Rubio [2R] | 575 |
| 2) | Ashley Arnott | 560 |
| 3) | Caden Thure | 560 |
| 4) | Luis Calderon | 555 |
| 5) | Alex Bermudez | 545 |
| 6) | Michael Wojdat [2R] | 520 |
| 7) | Don Diego Veloria | 519 |
| 8) | Dennis Kimbrell [2R] | 517 |
| 9) | Duane Lawson | 512 |
| 10) | Steve Jasinski | 505 |
Current Season Regulars Standings Top 10
| | | |
| --- | --- | --- |
| 1) | Ashley Arnott | 560 |
| 2) | Caden Thure | 560 |
| 3) | Luis Calderon | 555 |
| 4) | Alex Bermudez | 545 |
| 5) | Don Diego Veloria | 519 |
| 6) | Duane Lawson | 512 |
| 7) | Steve Jasinski | 505 |
| 8) | Kelly Bastian | 469 |
| 9) | Diego Alvarado | 467 |
| 10) | JD Deboer | 448 |