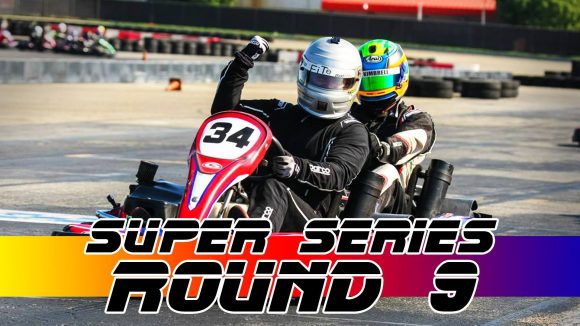 Classico CCW would be the host for an exciting ninth round of the Super Series championship, one that not only saw some incredible racing for the win, but also the fight for a possible clinch to the overall championship. All eyes would be on series point leader Alyssa Yauney, as she pushed to seal the deal on a championship that looked to be in reach one round early…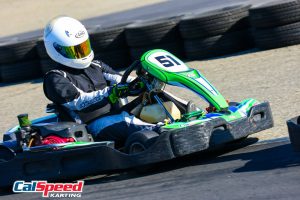 Adam Nagao would kick things off with top time in qualifying, earning his second career pole position, but his first in the counter-clockwise direction. Out-of-towner Andres Prieto continued his prowess from the IronMan that morning by putting up the second fastest lap, while point leader Alyssa Yauney brought home the final bonus point with a third overall. Of the trio however, it was the point leader that would put up the strongest showing in the heat races, becoming the fourth driver this year to sweep her heat races. Her closest title rival Sean Fite would lead a cast of fellow drivers with heat wins on the day, including the aforementioned Prieto, Aaron Scott, and Alexander Bermudez.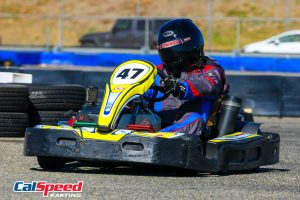 Once the heat races had concluded, the first main of the day would be the C-Main, and it would be former competition karter James Bratton leading the field away from the green, and for the open two thirds of the race. Behind him, former Super Series regular turned 206 Masters competitor Duane Lawson made quick work to get into second, and then set his sights on the front. With Bratton starting with about a second lead after lap one, Lawson began to chip away and the gap a tenth or two at a time, finally getting to the back bumper at the start of lap 9. With time running out, Lawson immediately made the move, grabbing the lead from Bratton, with the former leader attempting a counter. With just a couple laps remaining, James kept things close, but was unable to challenge again for the lead, with Duane Lawson scoring hardware in his one-off Super Series appearance.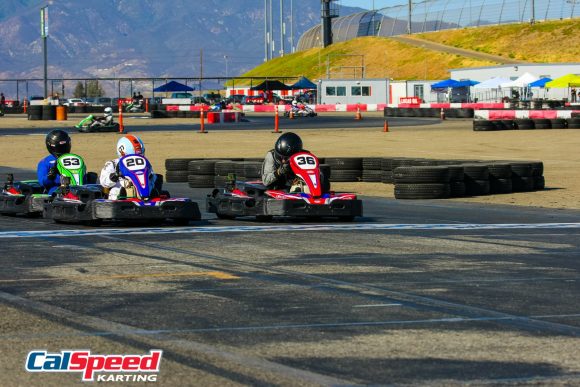 After the mano-a-mano battle for the win in the C-main, the next main on the day saw a three-way fight for the B-Main victory and the transfer to the A-Main. Chris Huerta would lead the field at the drop of the green, with Anthony Severson in tow, followed by a very quick Evan Karp in third. It would actually be Karp who was on the move, first dispatching Severson for second, before giving the lead a shot on lap five. The counter was quick from the pole sitter however, and Huerta struck back to re-take the lead one lap later, with Severson moving up the very next lap on his own volition. All of this back and forth kept 2017 Sprint Series runner-up Don Diego Veloria in the game, making it a four-driver fight for the top spot in the waning laps. As it is many times in the counterclockwise direction, the Bypass corner once again looked to be the decider, with the top three all with a shot heading in. On the way out it was a drag race between Huerta and Karp -who was able to sneak past Severson- with the duo crossing the line in a photo finish… Huerta over Karp by just .015 seconds…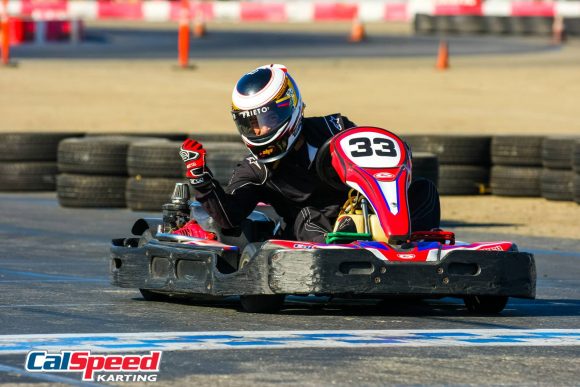 Coming into the day, Alyssa Yauney needed to just maintain an 85+ point lead to clinch her first Super Series championship, but after sweeping both her heat races, it became clear she was looking for more than just a solid points day. Leading the field to the green via the double-file rolling start, she would have veteran Bill Kreig on the outside pole, followed by heat race winner Andres Prieto and fast driver from qualifying Adam Nagao in row two. Yauney would command the race from the front right away, with Kreig, Prieto, and Nagao breaking away with her from the infighting for fifth. The quartet seemed content at first to ride along but when Kreig's move for the lead only last a single lap before Yauney took it back, the rest of the pack started to get antsy. First Prieto made the move on Kreig for 2nd, and then Nagao one lap later, not only allowing Yauney to pull slightly away, but also to let a now more settled top ten to inch closer. With Prieto and Nagao now linked up, the duo went to work to reel the leader back in, while also gapping the rest of the field to make it a three-driver fight at the front with two to go. Now in position, the fight was on, and the once healthy margin was reduced to nothing in a single lap, with the addition of Kreig and TJ Blackledge making now five karts in position for the win. Prieto played the best hand of the group, finding his way by, and with enough margin to cross the line unchallenged, while the next four crossed the line as a group, blanketed by just over .2 seconds. Unfortunately for Yauney, it would see her slip from the lead to 4th in the final complex, while TJ Blackledge went from 5th to 2nd, and Adam Nagao stole the final podium spot at the line. The consolation prize for Alyssa Yauney was not a bad one, however; clinching the 2018 Super Series championship one round early…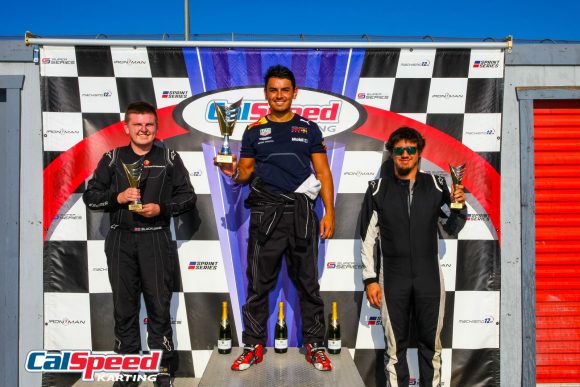 Super Series Round #9 Top 10-
| | |
| --- | --- |
| 1) | Andres Prieto |
| 2) | TJ Blackledge |
| 3) | Adam Nagao |
| 4) | Alyssa Yauney |
| 5) | Bill Kreig |
| 6) | Charles Eichlin |
| 7) | Diego Morales |
| 8) | Aaron Scott |
| 9) | Sean Fite |
| 10) | Tyler Redman |
Super Series Standings Top 10
| | | |
| --- | --- | --- |
| 1) | Alyssa Yauney | 2669 |
| 2) | Sean Fite | 2499 |
| 3) | Chris Huerta | 2470 |
| 4) | Diego Morales [M] | 2459 |
| 5) | Charles Eichlin | 2453 |
| 6) | TJ Blackledge | 2409 |
| 7) | Alexander Bermudez [M] | 2402 |
| 8) | Bill Kreig | 2387 |
| 9) | Taylor Hays | 2385 |
| 10) | Patrick Britain | 2384 |