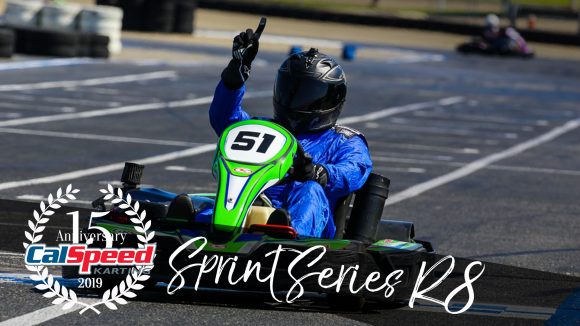 Sprint Series Round 8 would set the stage for our first ever Classico Grand Prix Weekend, a celebration of the 100th Super Series in the history of our arrive & drive offering! The names to watch were numerous in this one, including the entire podium from 2018 so if there was ever a stacked Sprint Series, this would be it. Wrapping up the race, however, was someone with a fresh face…
Practice/Quali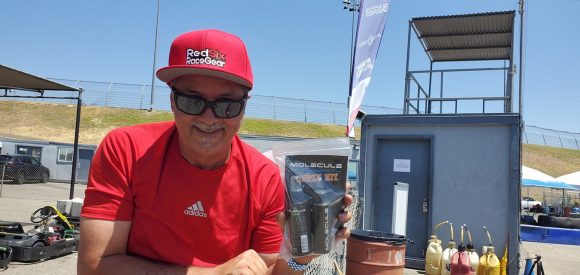 Sprint Series drivers had dusty track conditions to work with for qualifying but this wouldn't stop them from making the best out of the situation. For Round 8, Max DeMoss scored the top honors for the second time in a row with a 56.154, pole sponsored by Red Six Race Gear and Molecule Sports.
Quali Results
| | | |
| --- | --- | --- |
| 1) | Max DeMoss | 0:56.154 |
| 2) | Michael Hazlewood | 0:56.518 |
| 3) | Sam Hunt [2R] | 0:56.530 |
| 4) | Michael Martin | 0:56.541 |
| 5) | Ronnie Swaim Jr | 0:56.546 |
---
Heat 1A
The first heat of the weekend started with DeMoss holding the torch and fellow teammate James Lieser jumping up 2 spots to back him up before the first lap was even completed. By lap 3, Tyler Redman had already dispatched several drivers to try and attack the top 2 but DeMoss solid performance the whole way through did not allow for any room. DeMoss scored the win ahead of Lieser and Redman for heat 1A.
Heat 1A Results
| | |
| --- | --- |
| 1) | Max DeMoss |
| 2) | James Lieser |
| 3) | Tyler Redman |
| 4) | Zachary Francavilla |
| 5) | Michael Martin |
---
Heat 1B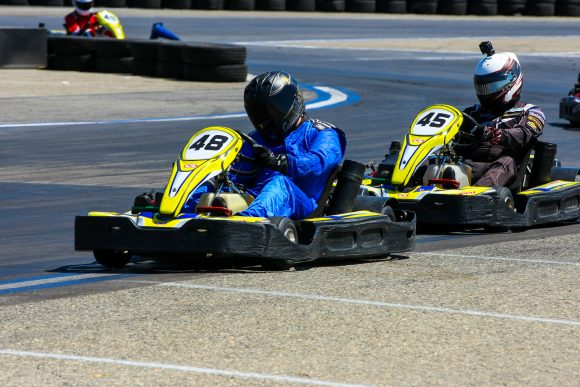 Michael Hazlewood and Ivan Martinez linked up for heat 1B from the getgo, teaming up to try and get away from the pack racing behind them. Ronnie Swaim Jr. brought up the field at P3, giving little breathing room to the top duo. As the race wore on, Hazlewood and Martinez would sail away to grab the top 2 spots with Jeremy Aldridge stealing away third from Swaim at the white flag.
Heat 1B Results
| | |
| --- | --- |
| 1) | Michael Hazlewood |
| 2) | Ivan Martinez |
| 3) | Jeremy Aldridge [2R] |
| 4) | Ronnie Swaim Jr |
| 5) | Mike Gonzales |
---
Heat 1C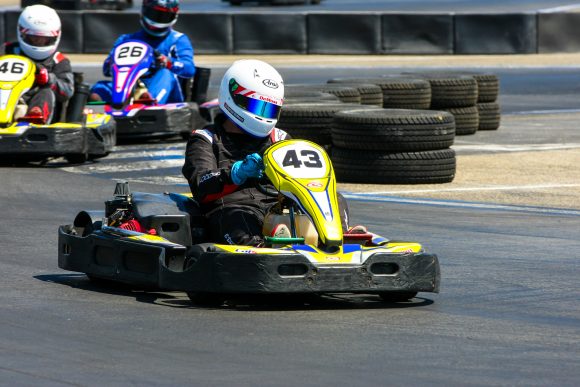 The final heat of the day began with 2018 Sprint Series champ Sam Hunt at the helm. Ayrton DeMoss kept close behind in P2, never letting Hunt get away. Only a couple of laps in, Seth Willits would join the pair but the real excitement came down to the final lap in Contino going into the Esses, DeMoss made the move for a very exciting first place finish for heat 1C.
Heat 1C Results
| | |
| --- | --- |
| 1) | Ayrton DeMoss |
| 2) | Sam Hunt [2R] |
| 3) | Seth Willits |
| 4) | Evan Karp [2R] |
| 5) | Sheng Wu |
---
C-Main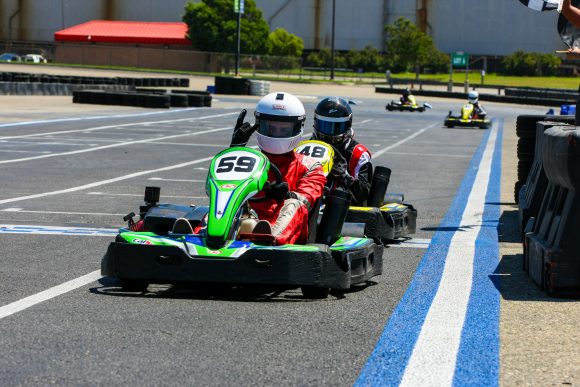 The first Main of the weekend saw a battle for the win between Michael Hottinga on pole and Nicholas Descamps. After things settled down from the initial green flag scramble, the pair took to dogfighting lap after lap and exchanged position for the lead with each crossing at the line. This almost gave third place driver Trevor Volin the opportunity to draw closer but there just wouldn't be enough time– Descamps would out-drive Hottinga for the win followed by Volin 3rd.
C-Main Results
| | |
| --- | --- |
| 1) | Nicholas Descamps |
| 2) | Michael Hottinga |
| 3) | Trevor Volin |
| 4) | Steven Gould |
| 5) | Eric Hovanessian |
---
B-Main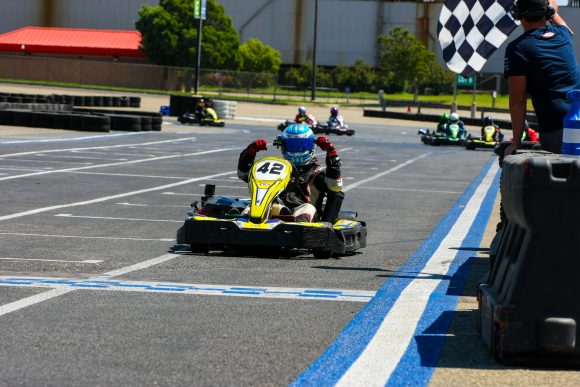 B-Main, a few laps in, Michael Floerchinger had made inroads from a P5 start, cutting through Brad Harvey in 2nd and very quickly pole sitter Greg Pelaez. Once Floerchinger took the lead, there was no looking back as his advantage would grow to over 3 seconds long. The race would end without drama with Pelaez and Harvey settling for 2nd and 3rd respectively behind Floerchinger's dominant run.
B-Main Results
| | |
| --- | --- |
| 1) | Michael Floerchinger |
| 2) | Greg Pelaez |
| 3) | Brad Harvey |
| 4) | Tom Zevin |
| 5) | James Suggs |
---
A-Main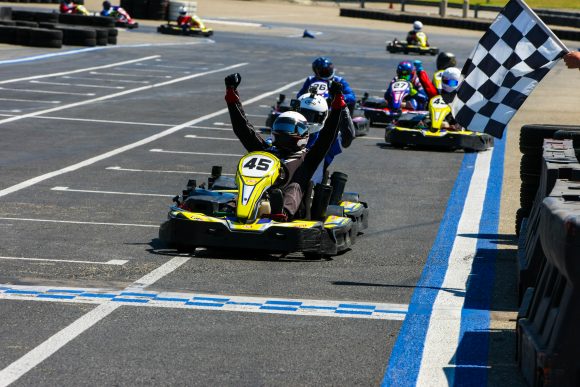 The A-Main would be an excellent show to watch. Max DeMoss led the first few laps after a less than perfect start from pole sitter Hazlewood. He would recover quickly though, passing P5 starter Ivan Martinez around lap 3– simultaneously however, letting the top 3 of Max DeMoss, Hunt, and Ayrton DeMoss to get away for a while. The pair of Hazlewood and Martinez had a better run out of the Esses, jumping to P3 and P4 behind Max and Hunt. By this time, the top 5 run a tight pack. Hunt would go for the inside on turn 1, newly christened with the name Kimbrell in honor of beloved driver Dennis Kimbrell, but Hunt and Max ended up going wide around the Bus Stop, allowing Hazlewood to steal the lead and Martinez up to second. It was a bumpy ride through the Hairpin as Hazlewood upset his kart over the burm, leaving the door open just enough for Martinez to get a faster exit onto the back straight. Both Ayrton and Hunt drew closer, the latter attaching himself to Martinez's bumper to bring on the pressure. Come the checkered flag, Martinez would stave off any attacks, and he can be heard in his onboard video shouting ecstatically as he crosses the finishing line, scoring his first ever win in the Sprint Series!
And then we have the Overall. Needless to say, it wasn't going to the best day for points leaders Tyler Redman and Chase Nickells, both having to take this round as one of their drops. Ayrton's podium appearance closed the gap a bit, bringing him 27 points behind Nickells. With 2 rounds left in the season, no one has sealed the deal on any of the 3 pieces of hardware…
Lastly, the Summer Subchampion: although Redman still leads, Hazlewood and Ayrton are within a 10 point window for the win. We can't wait to find out what's going to happen in the last few races!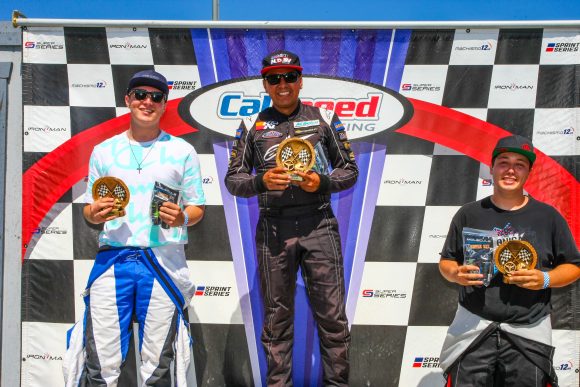 A-Main Top 10 Results
| | |
| --- | --- |
| 1) | Ivan Martinez |
| 2) | Sam Hunt [2R] |
| 3) | Ayrton DeMoss |
| 4) | Ronnie Swaim Jr |
| 5) | Max DeMoss |
| 6) | Michael Hazlewood |
| 7) | James Lieser |
| 8) | Seth Willits |
| 9) | Zachary Francavilla |
| 10) | Tyler Redman |
---
Sprint 2019 Overall Current Standings (With Best Drop)
| | | | |
| --- | --- | --- | --- |
| 1) | Tyler Redman | 1718 | (253) |
| 2) | Chase Nickells | 1669 | (249) |
| 3) | Ayrton DeMoss | 1642 | (232) |
| 4) | Ronnie Swaim Jr | 1614 | (189) |
| 5) | Seth Willits | 1586 | (232) |
Sprint 2019 Summer Standings (With Drop)
| | | | |
| --- | --- | --- | --- |
| 1) | Tyler Redman | 580 | (253) |
| 2) | Michael Hazlewood | 575 | (203) |
| 3) | Ayrton DeMoss | 570 | (275) |
| 4) | Chase Nickells | 552 | (229) |
| 5) | Max DeMoss | 536 | (246) |