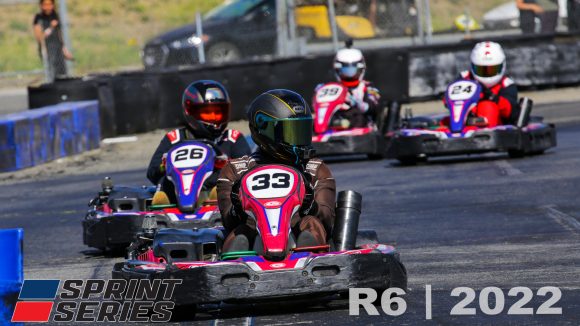 The second half of the racing season at CalSpeed Karting kicked off this past Saturday, as the Sprint Series took to the Sportivo layout for round #6 of its 10-race campaign. After five different winners in the open five events, the sixth event saw our first repeat winner, although there were plenty of other new faces scoring the spotlight as well…
Qualifying and Heat Races…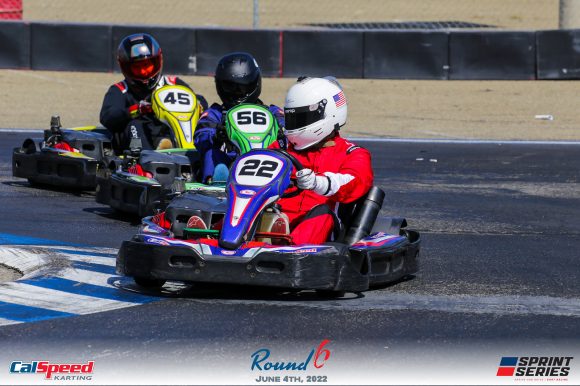 Jacob Reis would score his second pole position of the year in the 8 minute group qualifying session, his last pole also earned in this direction on the Grande circuit at round #2,. Jack McNeel and 2021 winner of this event Leo Ovtcharov locked out the top three, and the first starting spot for their respective heats. When the heats did start though, it would be three different names atop the standings, with Jeremy Aldridge bringing home his fourth hit win of the year, the newly crowned Winter Series Champ and overall point leader Ivan Martinez locked in heat two, and a new face in heat three. That was Derek Borunda; after getting a late start to the season in round #3, Derek put up three top 5 finishes in his heats up to this point, scoring his first career heat win with a last lap pass on the aforementioned Leo Ovtcharov to do it…
C-Main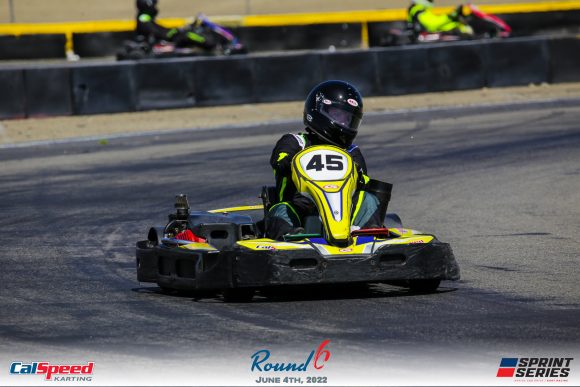 The new faces at the front continued into the Mains, as Alexander Benyamin led the field away for the start of the C-Main, however it would be newcomer Amanda LaFranco leading at the end of lap one. Bolster with an immense amount of infighting from 2nd on back, LaFranco's advantage over the rest of the front runners grew over the first half of the race, before Brian Kaplan and Andrew Mekhail finally settled into second and third. By then the damage was done however, as Amanda's advantage held steady at about 6 seconds over the rest of the pack, scoring her first piece of CalSpeed hardware in just her second Sprint Series start…
B-Main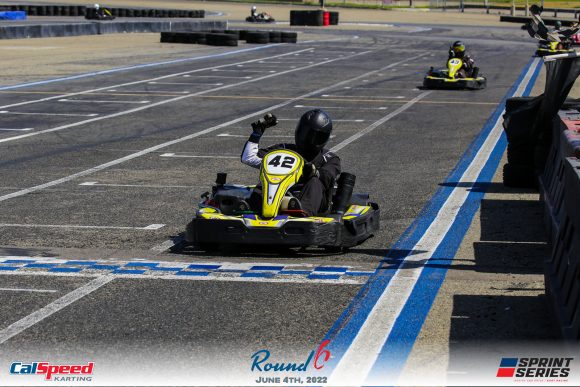 The B-Main was about rebound and recovery for a few drivers, as some found themselves digging out of a hole from an incident not of their doing in the heats, pushing to try and earn the final A-Main spot. Working up from 6th on the grid, one of these drivers was David Mock, picking off one spot on lap one, and then capitalizing on the infighting from second on back to come out in the runner-up spot with still 8 laps to go. Having started on pole, Richard Kim was nearly 3 seconds up the road, and Mock immediately went to work. With the battle continuing behind him he was able to pull out his own advantage on 3rd and focus on his task of reeling in Kim. Finding his rhythm, Mock took chunks out of the deficit, reaching Kim with three to go, and wasted no time on the move, holding on to steal away the B-Main hardware and move on to the A-Main.
A-Main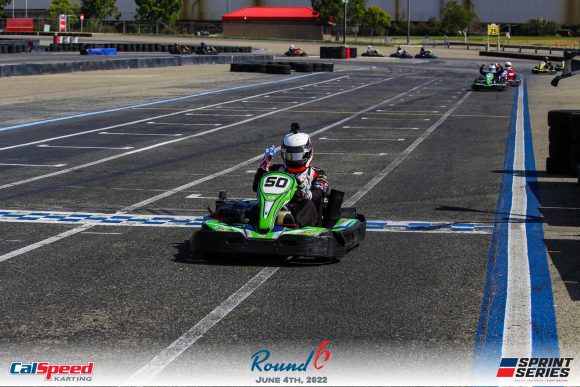 The start of the second Sprint Series A-Main to take on the Sportivo layout look a lot like the season opening race here, with Jeremy Aldridge out front. This time around however, the attack would come immediately, and this time it was Ivan Martinez with the move. At the event in January, Martinez had to work up a few spots to enter the battle, this time he got to the front immediately, and never looked back. Cutting fast lap after fast lap, he slowly built up the advantage, while Aldridge maintained a decent gap over the chasing pack behind him. It looked like the may finish that way, but for one driver on the move: Emerson Thieman. Starting 6th but immediately falling back to 9th, Thieman steadily made inroads through the pack, picking up a new position nearly every lap, before catching Jeremy on the final lap, stealing away the second spot, forcing Jeremy to settle for another third. For his part, Martinez was able to cruise to his 5th career win, and second of the 2022 season…
The CalSpeed Sprint Series is already SOLD OUT for round #7, taking to the Nuotivo circuit on July 9th!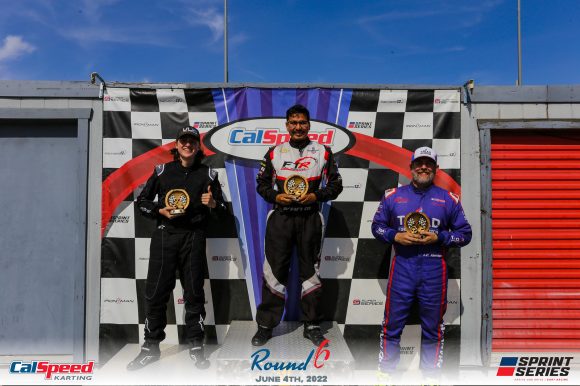 Sprint Series Round #6 A-Main Top 10
Ivan Martinez
Emerson Thieman
Jeremy Aldridge
Derek Borunda
Jack McNeel
Oleg Gluchkov
Leo Ovtcharov
Joey Andrews
Paul Wagner
Jacob Abrams
Overall Point Standings Top 10
Ivan Martinez 1170
Emerson Thieman 1142
Jeremy Aldridge 1130
Brett Lopinsky 1115
Jack McNeel 1097
Joey Andrews 1087
Chris Fox 1071
Vince Azua 1043
Leo Ovtcharov 1010
Derek Borunda 1004
SE Sub-Championship Standings Top 5
Luca Zambello 858
Lee Povey 854
Brian Vidales 761
Shane Leistner 757
Tiange Li 741
Summer Series Sub-Championship Standings Top 5
Ivan Martinez 300
Emerson Thieman 290
Jeremy Aldridge 290
Derek Borunda 285
Jack McNeel 270