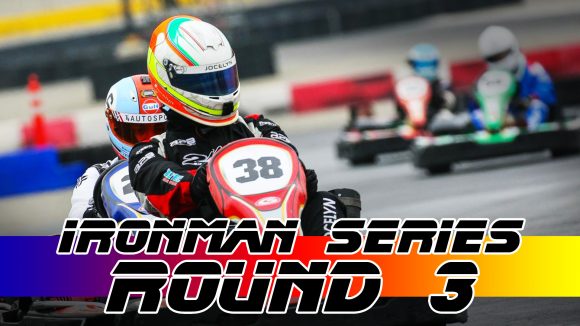 The February edition of the 2018 IronMan Series continued the first-time winner trend that started in the season opener, with both Cameron Jocelyn and Alexander Bermudez finding the top step of the podium in Sport and Pro respectively. Tecnico was the battle ground for round two in the championship, and the first counter-clockwise race of the year did not disappoint in terms of excitement. A couple other new faces found their way onto the box last month, as TJ Blackledge earned his first podium in sport along side Jocelyn and 3rd place runner Chris Huerta, while Jetson Lieser improved from January to score a 2nd place finish in Pro with Riley Dugan scoring his second 3rd place run in a row.
This weekend CalSpeed's endurance series heads back the other direction, taking to the Sportivo layout for the first time this year, with a sold out show looking to take the green. And unlike the opening two rounds of the year, this weekend looks to be a stark contrast, with temps solidly in the 80's for the first time this season. For this month's preview we'll recap the Pro Class so far, look at the hotly contested Sport class ranks, as well as have a quick chat with someone off to a hot start to the season, Chris Huerta. Oh, and we'll also take a closer look at the Sportivo layout, something special for this preview since the Sprint Series event was postponed earlier in the month…
Round #3 Track Spotlight: Sportivo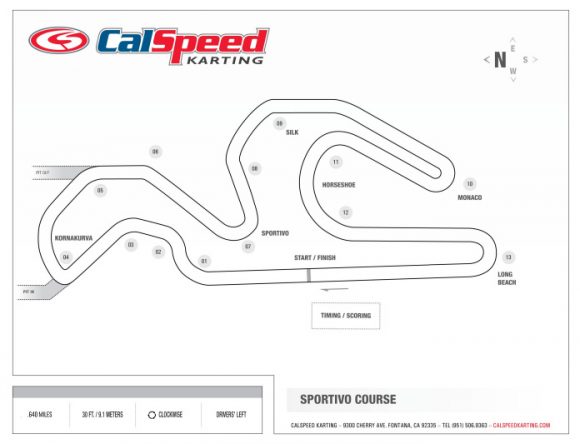 The Sportivo layout was the first of the 'surprise tracks' that debuted at the Sport Kart Grands, first used on Super Sunday in 2012, before becoming a mainstay on the CalSpeed calendar beginning with the 2013 racing season. Much of the track is familiar to regulars at the Fontana, CA facility, but the two specific parts that make up this track are unique to this layout and are only seen when it is in place: the Sportivo and Monaco corners.
The lap begins out of Long Beach and heads up the hill of the main straightaway before reaching the first set of corners, the Bus-Stop. This complex that runs from turns 1-3 sets things up for a primary passing zone at turn #4, also known as Kornakurva. Turn three is the really important one through there though, as it can not only make or break the section, but also be the difference of making a pass, or being passed in Turn 4. Once through Kornakurva drivers head back down the hill, rounding the double apex bend of turns 5 and 6 before getting lined up for the corner where this track gets its name, Sportivo.
Up to this point the track resembles that of the nearly flat-out Nuovo course, and it is upon the approach that Sportivo gives the less acquainted with a rude awakening. Instead of a possibly full throttle and smooth bend to the left, Sportivo cuts more than 90 degrees to the left, not just requiring a lift off the the throttle, but a smooth left foot on the brake. Not only is the corner a tight one, but the entry is off-camber, with the exit curb and barrier welcoming any driver that goes in with either too much speed, or the incorrect line. More than any corner on this layout, Sportivo is definitely the most important when trying to nail a good lap time…
Getting through Sportivo, drivers then work through the bending back 'straight' that curls through the Silk section from other layouts before approaching the next unique part of this track, Monaco. Named for being as tight as it is, the Monaco corner is the slowest part of the track, and therefore is a big braking, and passing zone. While the section that precedes it is not necessarily straight, it does allow drivers to come up to speed, with jockeying for position a regular sight heading towards the right hander. The Monaco hairpin itself is not only tight, but also requires solid footwork, as the grip level changes throughout, and it exits into a full throttle section.
That section is the long left hander of Horseshoe; on most other layouts it is high speed, but because of the low speed of Monaco and the short amount of distance between the two corners, it is more about building speed than maintaining it. The shortest way around is typically the best in this case, and we often see drivers fan out approaching the final corner, and final passing opportunity on the track, the Long Beach hairpin. Not as tight as Monaco, Long Beach also will require less brakes than some other layouts where it is used, since less speed is carried through Horseshoe. Still, this will be an action packed corner all day, as it is arguably the best spot to pass on the circuit.
Smitty Spotlight: Off to his best start to the year, I chat with front runner Chris Huerta…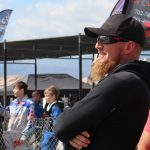 In the opening two rounds of the IronMan Series season, Chris has had the best pair of finishes, picking up a 5th in January, and a podium (3rd) last month. This by far the best start to a racing season he has had thus far, and I had a chance to catch up with him ahead of this weekend's event…
Mike Smith: Chris, this has been a phenomenal start to the 2018 season for you, in both the Super Series and here in the IronMan Series; congrats! What were your goals coming into the year, and did you expect to come out of the gates this strong?
Chris Huerta: Hi Mike, thank you for the opportunity. I won't say I "expected" to come out of the gates strong, but I'm better focused in IronMans and my fitness, which led to better results. As far as goals, they've been the same since I started full-time in 2013: podium a Super Series A-Main, earn a season podium trophy and win Machismo.
MS: You have the best two combined finishes of any driver in the IronMan Series to kick off the year: a fifth in the opener, and third last month. What has been the key to earning those strong results?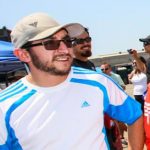 CH: I can point to a couple of things that helped put together some good finishes: running the Race Clinic and more focused aggression in races. The Clinics for me are more about trying moves and finding speed in different karts. The more focused aggression has worked well sometimes -like the first 55 minutes of IronMan round 2- and not as well others, like Heat 1 at Super Series round 2. With all that being said, these results won't win me anything; they just keep me in the hunt.
MS: You have been racing at CalSpeed now for a few years now; how did you get your start in karting, and what would you say has been the highlight of your racing career thus far?
CH: I only had been in a kart a couple times before I ran a K1 event against Tyler Bryant and he suggested I try CalSpeed. I went, ran a couple rounds, raced the first Grands, made the LCQ and was hooked ever since. My "racing career" really turned around when I was lucky enough to have Dennis Kimbrell take a chance on me and let me run Pro with him at the Las Vegas Machismo. I was still learning how to not kill the brakes -just ask Darren Mercer- and not suck; but I gained a lot of confidence and my first Machismo trophy. My top highlights are pretty simple; winning the Oval, mostly because it's my coolest trophy and the only time I've sprayed champagne, and winning the B-Main at the Classico GP 2017. That was an emotional day for everyone and I wasn't very good that day but I knew I had to be a part of that A Main. I don't think I've ever driven that hard in my life and I was lucky enough to barely beat Jetson Lieser and Luis Calderon to get into the A Main. That's the only result that has made me shed a tear so far.
MS: You are one of the heads of T4 Autosport along with Taylor Hays; With several drivers under the T4 umbrella, what are some of the goals and challenges you face in trying to help them all get results? What is the most rewarding part of being a part of a team?
CH: Honestly now with all the guys we have -and the pace they each possess- we just race and talk. We do have a tendency to work together to better our results but we all have had incidents with each other -mostly my fault- that makes the dynamic still competitive. For me if I'm not in the race there is nothing better than rooting for a teammate and seeing him do well. Some of my best memories are Caden Thure, TJ Blackledge and Luis Calderon's Sprint Series wins. But at the same time if we are on track together there is nothing I like more than beating them in the end. I just wish that happened more in the big races (laughs).
MS: This year the depth in both Series seems to have improved; the fact that you are towards the sharp end in both is quite an accomplishment so far. Who do you have your eye on as your biggest challengers for hardware at the end of the year?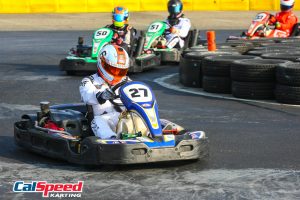 CH: I race a lot of the same helmets in both series so I expect the battle from the IronMan Championship to carry over into Super Series. Adam Nagao, Alyssa Yauney, Cameron Jocelyn, Jose da Silva, Sean Fite, and Taylor Hays are always the drivers I measure my results against in both series. Throw in Alex Bermudez, Bill Kreig, Diego Morales, Jetson Lieser and TJ Blackledge in the Super Series and I always have to remind myself that I must produce every time.
MS: New this year are the 206 karts that are on track at the same time as the rest of the IronMan contingent. How has this affected your racing so far, and do you think it has taking a few people off guard?
CH: I'm not going to lie, there were several IronMans last year that got pretty boring and long. After the first 10-15 laps the results were pretty well dictated minus the pit stops. However, this year with the LO206s and the chaos they have caused whenever the sport karts try and get into long groups, it has certainly made the races more fun. I don't think it's caught people off guard as much as it spread the field out, and made it so that the race for the podium isn't decided until much closer to the end. There can be consequences to sitting 3rd or 4th in line now and groups tend to get broken up making it easier for trailing karts to catch-up.
MS: Last question; I know the Machismo 12-hour event is circled on your calendar every year as the one to win. With that event always looming on the horizon, do you think the pair of 2-hour IronMan races this year -and the series as a whole- will be an early look at who to watch for in that annual contest?
CH: I think you're going to see the majority of the championship contenders running the full 2-hours with a few top names mixed in. The two hours are going to decide the championship because the field will be more stacked. Secretly I hope they are very hot days to really test us as I love a good challenge. And as far as if those races will lead to Machismo success, I think that this year will be no different and you will see a lot of top IronMan drivers on the Pro and Super Sport podium at the end of the night.
MS: Thanks for the time Chris, and good luck this weekend!
CH: Same to you Mike and best of luck to all the other racers. Especially those who read my entire interview (laughs). I hope that I get the monkey off my back Saturday because I'm tired of top fives without trophies. I want to stop being 2015-16 Martin Truex Jr and start being the 2017 version of MTJ.
Pro Class: Bermudez on top after first individual CalSpeed victory…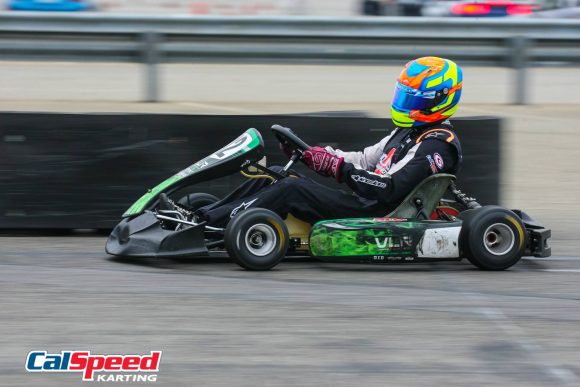 In the season opener Alexander Bermudez scored his first podium since his championship winning Sprint Series campaign, and last month he finally found the top step, scoring the win in the Pro Class. It was his first individual win, having previously won the Machismo 12-Hour event in the Pro Class this past December. He heads into the third installment certainly as the guy to beat, but he'll still have plenty of competition on Saturday.
Two-time podium finisher and former Super Series Pro Class race winner Riley Dugan will again be in attendance, this time potentially starting two spots up from Bermudez as they head into the first corner. I saw potentially because it is not yet confirmed whether or not last month's runner up Jetson Lieser will be entered. Still, it is an hour long race, and we have seen that starting position is not a huge determining factor to where you finish. Instead it has been pit strategy, and how and when these Pro drivers work traffic; something that will again be important here on Sportivo.
Someone else to keep an eye on this weekend is Michael Wojdat; the Super Series regular debuted in the Pro Class last month, came up to speed quickly after starting in the rear, and finished just off the podium. Now with some seat time under his belt and a starting position ahead of his rivals, it will be interesting to see what he does for an encore…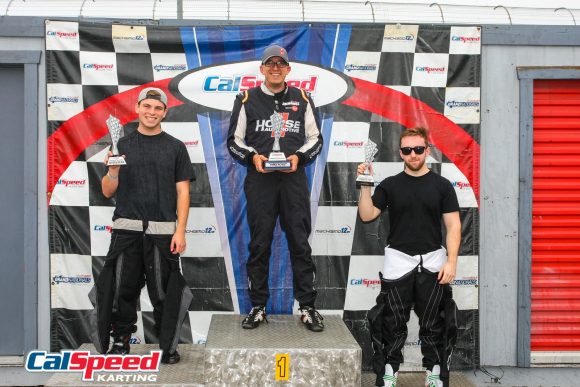 Pro Class Top 5 – Round #2
| | |
| --- | --- |
| 1) | Alexander Bermudez |
| 2) | Jetson Lieser |
| 3) | Riley Dugan |
| 4) | Michael Wojdat |
| 5) | Sean Bradley |
Overall Championship: Jocelyn leads after maiden IronMan Series victory…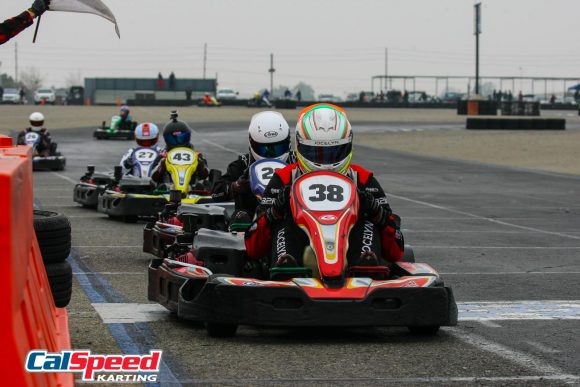 Cameron Jocelyn's win last month made it two first time winners in a row to start the 2018 IronMan season, with Jocelyn getting the edge in points via leading at least one lap in each event. He may be leading, but he will be missing this weekend due to work commitments, so we'll see a different face on top of the box for sure. For his part, Milne just barely missed the invert cutoff last month by one spot, and will be having to dig out of a 20th starting spot, but he'll be in good company back there. Don't be surprised to see him work up inside the top ten while working with the other front runners from last month, including TJ Blackledge, Chris Huerta, and Alyssa Yauney to name a few.
Going back to the standings -which we have allocated one drop- and the next on the list is Taylor Hays. While Chris Huerta has earned the best combined finishes thus far, Hays is actually only a single point astern, having picked up a 2nd and a 7th already. In fact, Hays actually gets the nod for most total points earned so far because of his bonus points, having led the most laps in round #1. Aside from the aforementioned drivers, two others with solid starts to the season with a pair of strong finishes are Jose da Silva and Alyssa Yauney, sitting 4th and 5th when considering just their finishing points. Da Silva's 3rd and 6th and Yauney's 4th and 8th include them as part of just seven drivers that have finished inside the top 10 in bother events so far…
Overall the points are pretty tight when a drop is put in the mix, but we'll see where the consistency is as a few more rounds click off, and this weekend will be a reset button a few few big names. Reigning champ Adam Nagao has not had the start to the season he would have liked, but with a starting position of tenth for tomorrow's event, he is in perfect position to rebound this weekend. Regular podium contender Sean Fite is another driver looking to find a little more this weekend; while although he is one of the few to keep it inside the top ten both rounds, he hasn't found the top five yet. Starting 12th will be some added help, especially if he can link up with the aforementioned Nagao; these two could be ones to watch.
Last but not least, let's not forget the guy starting on pole: Chris Carter. Suffering a mechanical last month, he'll be looking to rebound from the #1 starting spot, and we have seen magic from him in this series before. The question isn't IF he will lead laps, but how many, and if he'll be able to stay out front until the end…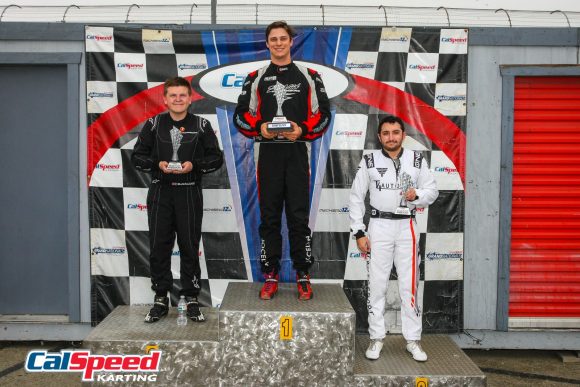 Current Standings Top 10 (after 1 drop)
| | | |
| --- | --- | --- |
| 1) | Cameron Jocelyn | 106 |
| 2) | Scott Milne | 103 |
| 3) | Taylor Hays | 100 |
| 4) | TJ Blackledge | 98 |
| 5) | Chris Huerta | 93 |
| 6) | Jose da Silva | 93 |
| 7) | Alyssa Yauney | 91 |
| 8) | Andrew Wood | 85 |
| 9) | Adam Nagao | 80 |
| 10) | Lukas Dziemidok | 80 |
Round #3 Provisional Starting Grid
Pro
| | |
| --- | --- |
| 1) | Michael Wojdat |
| 2) | Riley Dugan |
| 3) | Alexander Bermudez |
| 4) | Tony Wika |
Sport
| | |
| --- | --- |
| 1) | Chris Carter |
| 2) | Craig Booth |
| 3) | Tyler Redman |
| 4) | Bill Myers |
| 5) | Steve Spring |
| 6) | Tony Severson |
| 7) | Dmitry Korotkov |
| 8) | Evan Karp |
| 9) | Adam Nagao |
| 10) | Ariel Rubio |
| 11) | Sean Fite |
| 12) | Tony Chen |
| 13) | Taylor Hays |
| 14) | Jose da Silva |
| 15) | Lukas Dziemidok |
| 16) | Alyssa Yauney |
| 17) | Chris Huerta |
| 18) | TJ Blackledge |
| 19) | Scott Milne |
| 20) | Mike Skinner |
| 21) | Maximilian Bui |
| 22) | Michael Floerchinger |
| 23) | Nicolas Bel |
| 24) | Devins Baker |
| 25) | Daniel Eaton |
| 26) | Nick Marascio |
| 27) | Kris Maldonado |
| 28) | Claudio Varga |
| 29) | Ivan Martinez |
| 30) | Sam Hunt |