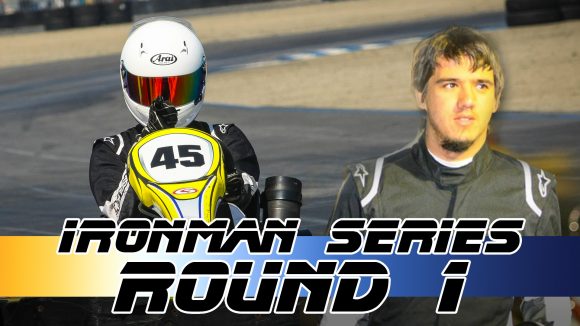 The 2018 CalSpeed Ironman Series is less than 24 hours away and on a new date, now sharing a day with the big show: the CalSpeed Super Series. Running first thing in the morning, the one-hour contest also sees a new kind of kart taking to the track at the same time, as the debut of the Pro Class will make every round feel like a piece of the Machismo 12 Hour. Ironically, with ten rounds on the schedule and two of those races being 2-hour events (also new for 2018), the IronMan competitors could potentially be competing over 12 hours through the course of this season on their own…
Tomorrow's event will take to the 'Super Speedway' of CalSpeed layouts, the Nuovo circuit. The high-speed and near flat out nature of the track makes having a drafting partner a necessity, while lower grip levels from the cool temperatures require even more finesse. The new year welcomes one of the deepest fields yet in the past eight seasons of the championship, and we take a closer look at just what to watch for in the championship preview for the 2018 IronMan Series…
Smitty's Spotlight: New Pro Class provides small twist to tried and true format…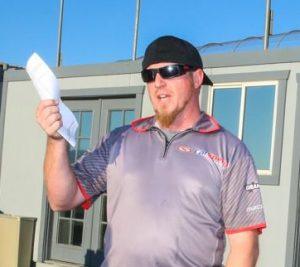 As was just mentioned, the field of 30 sport kart drivers will be sharing the course with up to eight Pro Class VLR 206 rides, the new category making its debut here at round #1. 35 karts shared the track at Machismo, with 9 of those being 206's, but it will be interesting to see how the strategy shifts here in the 1-hour version of endurance at CalSpeed. Six drivers have entered for the first round, and they are a stout crowd; reigning Super Series champ and former Ironman champ Patrick Britain, Pro Class Machismo champ Alexander Bermudez, 2017 Pro Class race winners riley Dugan and Ryan Curtin, along with Grand Masters champion Tony Wika, and up and coming talent Matt Steele rounding out the field.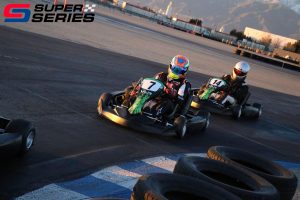 The Pro Class will be running with the same set of rules as the standard Ironman Championship class; two pit stops required during the 60 minutes, with each trip down pit road consisting of a pair of stop boxes. It is a rolling single-file start to kick things off, with round one starting order determined from green/white/checkered qualifying, before the invert takes place for round #2 on. For these drivers, it will be more about working traffic smartly and efficiently, as unlike their sport kart compatriots, they will be doing a lot more passing of slower traffic.
So what can we expect? Well, both Britain and Bermudez were teammates at the Machismo, the duo bringing home the win in the Pro category and with it valuable experience in this regard. Because of this they hold a slight advantage over both Dugan and Curtin, their outright speed and craft proven with each of their wins last year in a head to head battle in the Pro Series. These four are definitely the primary contenders for the first Pro Class podium of the year, as both Wika and Steele are newcomers to the package. It will be interesting to see how everyone negotiates the traffic, and what kind of strategy the group employs as the minutes tick by…
Driver Focus: 2-time champ shares his thoughts coming into the new season…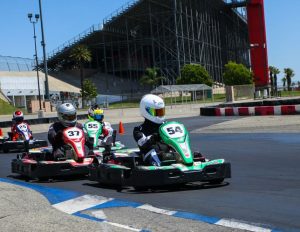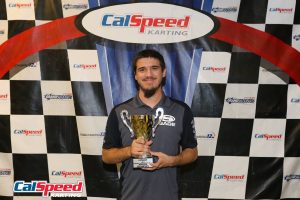 For the second year in a row we enter into a new season chasing the same guy: Adam Nagao. His first championship happened in his first full season, and much to do from his three wins that year. His title defense was a more consistent affair, his pair of wins bolstered by finding the podium on seven different occasions, while never finishing outside the top six in the ten round championship. So what does 2018 have in store? I had a chance to chat with the reigning two-time champ ahead of tomorrows season opener, and here is what he had to say…
Mike Smith: Welcome to the 2018 IronMan Season Adam, how was the off season for ya, and are you ready to get the season underway?
Adam Nagao: Oh hey, I didn't see you there buddy! The off season was great, I spent a decent amount of time cycling and staying in shape for the upcoming season. So LET'S GOOOOOOO.
MS: Not much has changed in the rules for the upcoming season, except the notable addition of two 2-hour races. What are your thoughts on this addition, and have you already decided on whether you will be doing them solo, or with a teammate? And on another note, how -if at all- do you see the new Pro Class effecting the way each race goes this season?
AN: If it were up to me, every IronMan round would be two hours long. So needless to say, I am very excited for the longer races. I think most drivers have seen these longer stints in Machismo and will have no problem going for two hours solo. I imagine that everyone at least in the top ten is going to solo, including myself. Using my experience from Machismo, having a Pro Class will make overtaking traffic easier. On multiple occasions I have followed Pro Karts through passing traffic which had a very high success rate and it encourages drivers to keep their heads on a swivel even more.
MS: Obviously as the two-time and reigning champ, you are the guy to beat heading into the new season. Does it feel any different from last year after you won your first? Do you actually feel like you have that target on your back?
AN: One of the biggest advantages to being reigning champ is that I know people will work with me. On a track like Nuovo, having friends is essential to success and if anything having people know I tend to do well encourages them to work with me which is an advantage for me.
MS: You only ran three races in 2015, but won the finale that year. Over the past two seasons you have amassed 5 more wins, and 12 more podiums, including a pair of Winter Series sub-championships, and currently second in the all-time win list for the Series. Aside from going for your third championship in a row, are there any other stats or milestones you'd like to reach in the 2018 IronMan Season?
AN: During the season I try not to think about the records, but instead just try to fix mistakes that I made the previous year. However, I do like the idea of the most overall wins, and making Sergio Bravo move back to California.
MS: Coming into the 2018 season, you have the entirety of the top ten in last years standings returning to the fold, along with some notable additions making up one of the strongest IronMan fields we have seen to date. Is there a driver -or drivers- that you have pegged as the biggest challenge to you going three in a row?
AN: Looking at the round one sign ups, I'd have to say my favorite pick is definitely Cameron Jocelyn. We somehow always find each other on track, and racing with him is one of the best experiences at CalSpeed. He's stupid fast, and at the same time you can tell he's relaxed and having fun. I don't think I have the outright pace to out run Cameron, but I hope to play it smart and stay in the fight.
MS: The season starts on Nuovo; last year you kicked off the season with a podium finish here. What are the keys to getting a good finish here, and how does this place rank on your list of tracks this season?
AN: In order to finish well on Nuovo, you have to have a drafting partner. Drivers need to work out plans to find someone that they can plan to be around during the race and work with. If you find yourself alone for anything more than a handful of laps, there is no way you will be winning. On this track it pays to make friends, and stick together. That being said Nuovo is a track you can find yourself not finishing very well and it can be entirely not your fault. I try not to look into my Nuovo finish too much and not let it get in my head regardless of where I end up.
MS: Thanks for taking the time to chat Adam, and good luck this season!
Overall Championship: 2018 welcomes very competitive field for 9th season opener…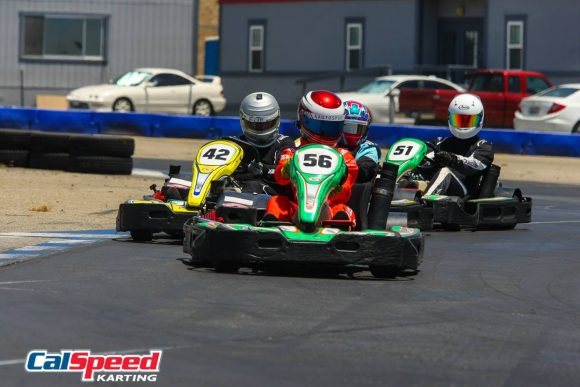 The 9th Season of the CalSpeed IronMan Series sees only a handful of new drivers to the fold, with a lot of experience coming in to fill the 30 driver field. The top eleven from 2017 return to do battle at the season opener, and with all but four of the possible podium spots coming from the top eleven in points last year, there is a lot of depth in that group. The top three returning drivers were certainly the power houses though, with 7 of the 10 wins coming from them.
But this season's roster doesn't just have a lot of talent coming from the returning group; the influx of experience into the series for 2018 makes this one of the strongest fields yet. Nearly the entire entry list has Ironman Series experience, while just two drivers are new to Sport Karting. And adding to the regulars that are bringing talent to the table you have a standout from the other coast, Andrew Wood. Woody has no shortage of speed out here at CalSpeed, finishing 2nd overall at the 2016 Sport Kart Grands, while regularly running up front at the Super Series when he visits. Expect him to play a big factor tomorrow, especially since we'll be qualifying for the only time this year.
Below I have highlighted the returning top five, as well as a handful of other drivers I think will be ones to watch not only tomorrow, but over the course of the season. As I said, the talent pool is deep this year, and I think we will see a lot of breakout runs in 2018, but here are just a few that I expect to make some noise right out of the gate…
#1 Adam Nagao –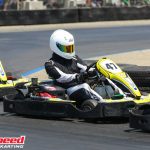 The back-to-back and reigning champ is the definitive IronMan to beat in this series, and has been able to consistently go toe to toe with anything thrown at him over the past couple of seasons. He is undefeated on Tecnico over the past couple of years, having won all three of the events on that layout, and has proven his affinity for the reverse direction tracks by also winning on Grande CCW twice and Classico CCW.
---
#2 Taylor Hays –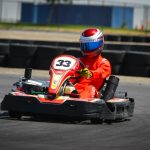 The 2015 IronMan Series champ has continued to be a force in this series ever since, getting nipped for 2nd place in '16, and finishing 2nd last year for his third podium in a row. His pair of wins and five podiums last year added to his three-year total of 4 and 13 respectively, and he continues to be one of if not the fastest driver in pit lane.
---
#3 Alyssa Yauney –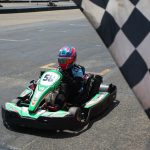 Yauney's first full season in the IronMan Series raised a lot of eyebrows, especially not only leading the series in wins with three, but finding the overall podium in her first attempt. The turning point for her was the improvement in pit strategy, and if she can find a way to work her way through the field quicker, she'll be a definite threat for the title.
---
#4 Sean Fite –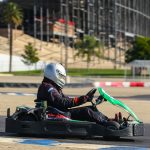 The overall second place finisher in 2016 on the back of leading the series in bonus points, 2017 wasn't as strong for Fite in that regard, and he slipped outside the top three. With a trio of podiums and five top fives to build from, 2018 should be a return to form for the Ironman front runner, who is still looking for that elusive first series victory.
---
#5 Chris Huerta –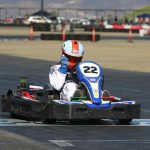 For two years in a row Christ Huerta has won the season finale of the Ironman Series, but this past season was his best overall finish to date with a 5th. Having now won on Grande in both directions, he has proven he can get the job done, and just needs to do it on a more consistent basis. He was in the top 5 a handful of times last year, and has a good foundation to build from.
---
Jose da Silva –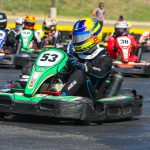 Jose da Silva is on the verge of a breakout season in the Ironman Series, much like his Masters title-winning run in the Super Series last year. He finished 5th overall in 2015 and 6th last year, but with the improvement he had over the course of last year, 2018 is sure to be a podium contending run. He missed out on a possible win in round 3 last year, but should challenge a lot more this season.
---
Cameron Jocelyn –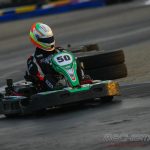 Only doing a single race last year, Cameron Jocelyn worked his way up from 27th starting spot to find the podium. Confirming that he plans to make a full run at the Ironman Series in 2018 automatically makes him a title contender, especially taking into account he is a reigning Machismo 12 hour champion in the Super Sport class.
---
Tony Severson –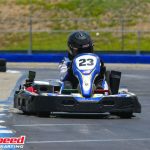 Tony Severson is making his first full run at racing again in 2018, his first time back in the seat full time since 2012. He was a top ten contender at the Sport Kart Grands that year, and we saw a glimpse of that speed returning in 2017 with some top 3's and 5's in heat races at the Super Series, capping it off with a top ten at the finale. He'll be won to watch here in the IronMan Series…
---
TJ Blackledge –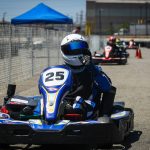 The 2017 Sprint Series champion and Super Series rookie of the year enters 2018 with a lot of momentum, even here in the endurance side of things. He ran up front at the Ironman season finale -eventually finishing 4th- and has proven to have plenty of speed. If he can consistently get the strategy right, he could really show well in his first full IronMan season.
---
Scott Milne-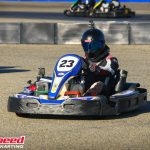 Last but not least is Scott Milne; I was pleasantly surprised by his approach towards his first Machismo this past December: laser focus and determination, really digging into the strategy element. The outcome? Sport Class champion. His raw speed was shown in the latter half of the Sprint Series season, and I am looking forward to see how his second year of IronMan goes…
---
2018 IronMan Series Season Opener Entry List
#1 Adam Nagao
#2 Taylor Hays
#3 Alyssa Yauney
Sean Fite
Chris Huerta
Jose da Silva
Steve Spring
Scott Milne
Chris Carter
Bill Myers
Ariel Rubio
Dmitry Korotkov
Randy McKee
Michael Floerchinger
TJ Blackledge
Mark Sternberg
Cameron Jocelyn
Claudio Varga
Brian Starr
Luke Dziemidok
Tony Severson
Tyler Redman
Tony Chen
Andrew Wood
Joe Sabella
Dino Dila
Gerry Florez
Aaron Wells
Jason Stein
Will Cleveland