September saw the 2016 IronMan season not only award a three-time winner this season, but also saw the Overall Championship wrapped up, as Adam Nagao brought home the title and the win on Tecnico. Astride him on the box was Alyssa Yauney, scoring her first IronMan podium, while Sean Fite scored his second set of hardware in as many races.
While the overall championship is in the bag, the battle for both the final two podium spots as well as the Summer Series championship are still up for grabs this weekend. The drivers of the IronMan Series will take on the Grande Counter Clockwise layout, marking it the third CCW track in a row, and one that exhibits a few of its own challenges. There's still lots to fight for in the Season Finale, so let's take a closer look at who the players are, and what obstacles they will face…
Round #8; Grande CCW…
The 2016 season has seen a few people really rise to the top when we head in the reverse direction, and at the top of that heap is Adam Nagao. He cemented this trend in the Spring by winning round #2 on Tecnico, following it up with a win on Grande CCW the very next round. It wasn't a cut and dried win for him however, as Jon Kimbrell kept the pressure on all race long, the two taking a different approaches to pit strategy. In the end the win would go to Nagao, with Balazy also on the box making it the exact same trio as the round before.
While much of the course is familiar to regular drivers at CalSpeed, there are some nuances about this place that make it a bit of a challenge. The biggest one may be the 'Short Beach' corner that is at the end of the front straight; a 180-degree hairpin that has been the site of many exciting moments on the layout. With low grip and a deceiving late apex it is not a straight forward corner, and with the added fact it is one of the best passing places on the track, and there is a lot to keep an eye on in turn one.
That corner continues into the full throttle horseshoe corner, a long, double apex corner that all but guarantees a loss of position if stuck on the outside. This dumps into Contino Carousel, and at a much higher speed than what has been done for the past two months through the Esses. This higher speed and multiple choice in line on entry make for a lot of options to get it right, and get it wrong, and provides another good challenge for the drivers. It too doubles as a corner where passes are frequent at, so the drivers will be plenty busy on the south end of the circuit.
And while not unique to the layout, drivers will want to remember how they went through the silk-hairpin complex from round #6 on Classico CCW, and will of course still have turn 4 and bypass to contend with. All-in-all, a great place to settle up this year's season!
The Overall Championship: Adam Nagao is the Champ! Eyes on battle for third…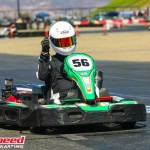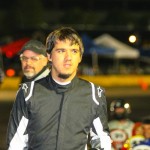 With Adam Nagao sealing the deal on the championship one round early and Taylor Hays being 33 points up on third, eyes now go to the battle for the final piece of hardware in the overall standings. That isn't to say that Hays is out of danger mind you; but with him needing a 9th or better regardless of what else happens, his chances are good to retain his 2nd spot going in.
Indeed, we'll be keeping an eye on a quintet of driver's tomorrow, as Sean Fite leads the way over Henry Morse, Mark Connell, Steve Spring, and Jon Kimbrell; each one having what it takes to bring home the third spot, and each one having shown it before. For Fite, it has been a story of digging out of a whole from the first half of the season, finishing 4th or better in three of the four latest rounds, earning him third going into the Finale. His slim 4 point advantage over Morse might as well be), as Morse has also put up consistent number, only finishing outside 8th once this season, and not outside the top 5 in the past three races. These two have a slight cushion on the rest of the contenders, but it isn't much.
Mark Connell sits 14 points back from Fite in 5th, and has Steve Spring another six back from him, slipping outside the top five this past round. Both are winners in the Series, and both have found the podium in 2016, Connell with a third in round 4 and Spring with a win in round #5. The gap to the hardware is not insurmountable, but they will both need those front running performances if they are going to bring it home for 2016.
And behind the whole lot could be one of the drivers with the best shot to come from behind, and that is Jon Kimbrell. He finished second when we were last here, and showed will on Tecnico last month too. Ole Kimby has a knack for going reverse too it seems, and although he needs to eat up 26 points to Fite, I wouldn't be surprised if we see a classic Jon Kimbrell performance this weekend.
Of course, for any of these drivers to have a shot at the win they are going to have to beat this year's champ, and most recent winner on the circuit, Adam Nagao. With the title wrapped up, I caught up with the newly crowned champ ahead of this weekend's race to see if anything has changed in his approach to these races. Unsurprisingly, he still has his eye on the top step…
Mike Smith: Adam, congrats on not only on sealing the deal on your Overall IronMan Championship, but also for doing it in convincing fashion with your 3rd win of the season!
Adam Nagao: Thanks Mike, I always feel really strong on Tecnico, it's a track that I really enjoy racing on.
MS: You won the Winter Championship earlier this season, and currently lead the Summer Championship by a single point. How do you feel about your chances to sweep the IronMan season and score the final title on Saturday?
AN: I feel very good about the Summer Championship heading into the last round. I have a very good drop, but I still want to go for the win and finish strong. I want to keep my Grande CCW streak up in a dominant fashion.
MS: You are going back to a track that you won at in the Spring, Grande CCW. Will you have a little different strategy this time around with this event being the season finale, and having the overall title in the bag?
AN: What has helped me be successful at CalSpeed is the realization that every race is just a race. Every round you should be going for the win, no matter the points situation. I try not to think about the points leading up to, and during an event, I just want to finish as high as I can. So for me, the last round is just another race.
MS: Let's talk stats; last year Taylor Hays dominated the championship via six podium finishes, including 5 in a row to finish out the season. You have 5 podiums thus far with one race to go; do you follow stats like these or do they not really come into play for you?
AN: No, I don't really follow the stats, like I said in the previous question every race is just another race. I don't think about things like stats or points heading into an event.
MS: You have shown to be a specialist of sorts on these counter clockwise layouts. What is it about that direction that clicks with you, and as a follow up, what will be some keys to doing well this weekend?
AN: I just think I'm better at turning left than right… #dale. The field for this weekend has some really good drivers in it, the key to this weekend will be staying out of trouble and going fast.
Current Overall Standings Top 10 (Drop)
| | | | |
| --- | --- | --- | --- |
| 1) | Adam Nagao | 583 | (77) |
| 2) | Taylor Hays | 504 | (44) |
| 3) | Sean Fite | 471 | (47) |
| 4) | Henry Morse | 467 | (0) |
| 5) | Mark Connell | 457 | (50) |
| 6) | Steve Spring | 451 | (32) |
| 7) | Jon Kimbrell | 445 | (0) |
| 8) | Sergio Bravo | 425 | (0) |
| 9) | Ariel Rubio | 384 | (38) |
| 10) | Chris Carter | 360 | (0) |
The Summer Championship: Nagao VS Fite VS Spring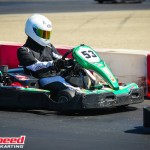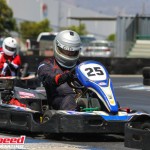 The Summer Series championship.
Three drivers will go in to tomorrow's race with a shot at bringing this one home, and what is required of them to do so is clear: Podium. Adam Nagao leads Sean Fite by just 1 point heading into this shoot out, with Steve Spring third, and just 10 points astern of the lead. What makes this thing tougher is that Nagao has been on the podium all three rounds so far, and with a drop round of 90 in his pocket, the requirements for beating him are no less than a hefty challenge.
Let's take a closer look at just what needs to happen to wrestle this cup away from the current leader; Firstly, Spring…
Spring is basically in a MUST WIN situation here. Not only does he have to win though, he HAS TO have both of his rivals a few steps back, with Fite finishing 3rd or worse, and Nagao 4th or worse. What's more, the bonus points come into play; Nagao can't lead a lap in that scenario, and Fite cannot lead the most. It is one thing to have to win, it is another for the chips to fall your way. Thankfully, Spring can only focus on the win, and let the rest take care of itself.
For Fite it is a podium performance at minimum, and obviously needs to finish ahead of Nagao when doing so, but also has to lead at least one lap to snag the bonus points if he is going to finish third (most laps led if Nagao also gets one). Second place with a lap led will do it as well, but a win for Fite will not only be his first in the Series, but also enough to clinch the title no matter what happens behind him. Needless to say, that would be pretty special.
For Nagao, owning the tie breaker and forcing his opponents to need a podium or a win helps, but from my conversation with him, it is all about the win. Adam is only looking for the top step of the podium tomorrow, and the nice thing about that is, it will be coming with two trophies this time if he does it…
Current Summer Standings Top 3 (Drop)
| | | | |
| --- | --- | --- | --- |
| 1) | Adam Nagao | 195 | (90) |
| 2) | Sean Fite | 194 | (65) |
| 3) | Steve Spring | 185 | (62) |
Round #8 Provisional Starting Grid
| | |
| --- | --- |
| 1) | Seth Willits |
| 2) | Luis Calderon |
| 3) | Dennis Kimbrell |
| 4) | Steve Spring |
| 5) | Chris Carter |
| 6) | Taylor Hays |
| 7) | Mark Connell |
| 8) | Henry Morse |
| 9) | Jon Kimbrell |
| 10) | Sean Fite |
| 11) | Alyssa Yauney |
| 12) | Adam Nagao |
| 13) | Kelly Bastian |
| 14) | Brian Starr |
| 15) | Vince Burke |
| 16) | Calvin Ku |
| 17) | Craig Booth |
| 18) | T.A. La |
| 19) | Scott Milne |
| 20) | Chris Huerta |
| 21) | Bill Myers |
| 22) | Dmitry Korotkov |
| 23) | Bexter Yang |
| 24) | Sergio Bravo |
| 25) | Pavel Maltsev |
| 26) | Ken Visbeck |
| 27) | Benjamin Potter |
| 28) | Dai Feng |
| 29) | Sheng Wu |
| 30) | Kevin Erikson |