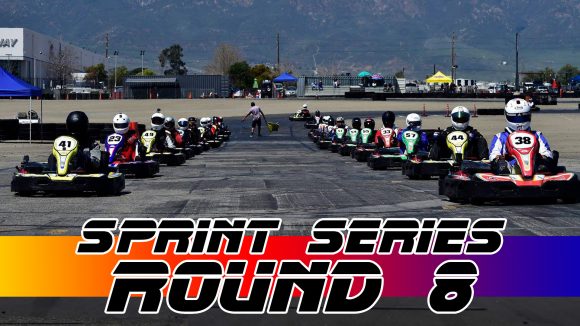 Sprint Series Round 8 took place at a backdrop of less than stellar conditions but certainly with fires ablaze amongst drivers gunning for the championship. Excitement mounted all over the paddock after a hiatus of nearly two months from the last round and we'd soon find out that the championship would begin tightening up with the close of the day's events…
Practice/Quali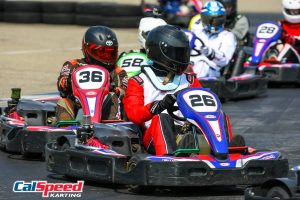 The final qualifying session is typically where drivers find the best times– this time around was no exception. Drivers like Randy McKee, Spencer Russell, and Tyler Redman starting pulling times better than the 51-second mark, quicker than previous sessions. The latter seemed to be looking good for the majority of the time and would occasionally be ousted here and there. He, however, would come out on top with a 51.510 to add another pole position to his Sprint Series career.
Quali Results

| | | |
| --- | --- | --- |
| 1) | Tyler Redman | 51.510 |
| 2) | Spencer Russell | 51.650 |
| 3) | Samuel Hunt | 51.676 |
| 4) | Randy McKee | 51.679 |
| 5) | Rodney Bryant | 51.779 |
---
Heat 1A
Starting with heat 1A, there was action in the esses right off the bat, putting Mark Sternberg immediately behind leader Redman. Meanwhile, Sicheng Li cut his way through multiple positions to now sit third, no doubt his recent LO206 experience helping him out a bit. He wrestled with McKee for a spell until finally poised in second to put the real pressure on leader Sternberg. There was lots of side by side action between the two, lap by lap until finally stealing the lead as they entered the Esses. Li would keep this lead all the way to the checkered, scoring his first ever heat win.
Heat 1A Results

| | |
| --- | --- |
| 1) | Sicheng Li |
| 2) | Mark Sternberg |
| 3) | Randy McKee |
| 4) | Tyler Redman |
| 5) | Don Diego Veloria [2R] |
---
Heat 1B
Season points leader Spencer Russell took the torch with hardware hopeful Donnie Clarke in tow, the two off to an early and strong lead. It didn't last long once Rodney Bryant caught back up to Clarke, prying the second position from his hands. These top three would stretch out for the remainder of the race and the dust would settle for the front pack as Russell would score the heat win followed by Bryant and Clarke rounding out the top 3.
Heat 1B Results

| | |
| --- | --- |
| 1) | Spencer Russell |
| 2) | Rodney Bryant |
| 3) | Donnie Clarke |
| 4) | Ivan Martinez |
| 5) | Evan Karp |
---
Heat 1C
The top 4 set off a blistering pace with Sam Hunt at the helm for heat 1C. As this group separated from the rest of the pack, Diego Alvarado glued himself to Hunt's bumper, going purple lap after lap. He would not leave Hunt alone, attacking at every opportunity he had. Quietly, driver Michael Hottinga lay in wait in the 3rd position. Once the white flag came around, one last attempt at a pass was made through the Esses– it didn't stick and with that, Hunt scored the win followed by Alvarado and Hottinga shortly behind.
Heat 1C Results

| | |
| --- | --- |
| 1) | Samuel Hunt |
| 2) | Diego Alvarado |
| 3) | Michael Hottinga |
| 4) | James Lieser |
| 5) | Seth Willits |
---
C-Main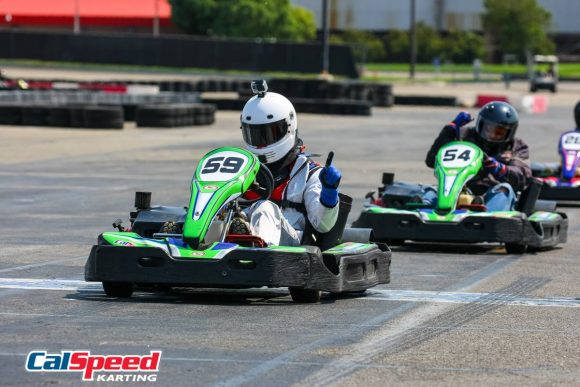 C-Main saw multiple drivers take over the lead as Doug Yauney, Kevin Erikson, and Heather Perrin all fought for their own inroads to the top. Meanwhile, a storm of penalties raged on behind the top pack, enabling quite a cushion for forward movement. Erikson, with arguably the most seat time amongst the group, took the helm halfway through, only dueling briefly with another driver before a penalty was once again assessed. Erikson would cross the checkered first, followed by Yauney, and then Perrin with one of her best drives yet, gaining 4 positions to finish 3rd.
C-Main Results

| | |
| --- | --- |
| 1) | Kevin Erikson |
| 2) | Doug Yauney |
| 3) | Heather Perrin |
| 4) | James Suggs |
| 5) | Brandon Kim |
---
B-Main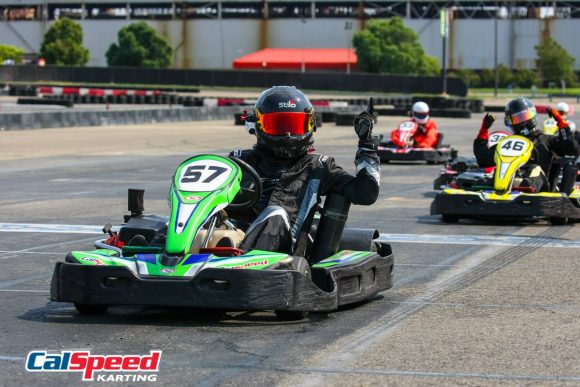 It's Classico and with that, action in the Esses. In the B-Main, lap 1 started with non-stop shuffling from P2 on back with Zachary Francavilla just skating by from the war zone. It was new leader after new leader yet again as Michael Chen, from a 6th place start, leapfrogged to control the entire field. With a comfy gap, it seemed that it would be a cruise on down to the checkered flag for him. There was no telling who'd come out unscathed with each go-around through the Esses but for this main, Juan Avina and Matthew McCoy would make it through to follow Chen for the 2nd and 3rd honors in the race.
B-Main Results

| | |
| --- | --- |
| 1) | Michael Chen |
| 2) | Juan Avina |
| 3) | Matthew McCoy |
| 4) | Zachary Francavilla |
| 5) | Michael Martin |
---
A-Main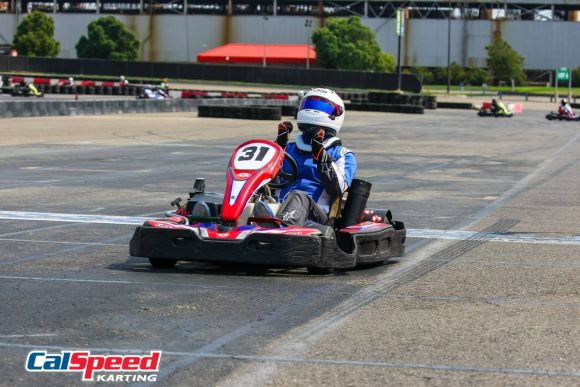 Spencer Russell took off in the A-Main with a perfect start with Hunt backing him up. After a lap however, Hunt's better exit through the Esses put him in position to take an early shot for the lead. Meanwhile, a standout performance from Li kept him steadily in third with Alvarado in tow. There were close packs all up and down the field while the Hunt-Russell pair went further into the distance. The battle for the last step of the podium grew to 8 deep with Li still holding them all at bay. As the white flag arrived, Hunt and Russell were now a couple kart lengths from each other and the final lap would come to a close with Li grabbing his first ever podium in third and Hunt scoring his second win of the season, matching that of championship rival Russell.
A-Main Top 10 Results

| | |
| --- | --- |
| 1) | Samuel Hunt |
| 2) | Spencer Russell |
| 3) | Sicheng Li |
| 4) | Diego Alvarado |
| 5) | Mark Sternberg |
| 6) | Rodney Bryant |
| 7) | Michael Hottinga |
| 8) | Tyler Redman |
| 9) | Evan Karp |
| 10) | Ivan Martinez |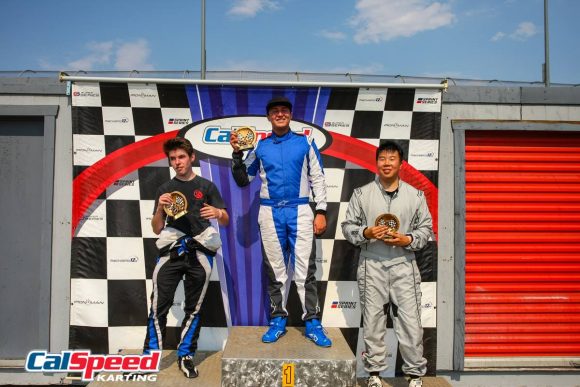 Sprint 2017 Current Standings (With Drop)
| | | | |
| --- | --- | --- | --- |
| 1) | Spencer Russell | 1185 | (270) |
| 2) | Samuel Hunt | 1165 | (196) |
| 3) | Randy McKee | 1084 | (217) |
| 4) | Donnie Clarke | 1063 | (0) |
| 5) | Evan Karp | 1063 | (107) |
| 6) | Ivan Martinez | 1054 | (205) |
| 7) | Mark Sternberg | 1036 | (0) |
| 8) | Michael Chen | 1036 | (0) |
| 9) | Tyler Redman | 1009 | (205) |
| 10) | Seth Willits | 995 | (214) |