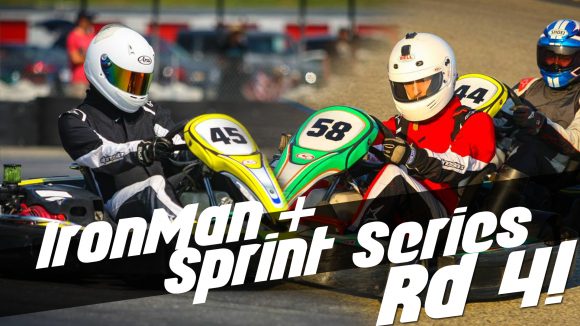 With a sold out field of 90 drivers for the first time this season and repaved sections of the track to boot, Sprint Series Round 4 on the Grande configuration was set to be a very exciting one. Being the 4th round into the season, there now remains only 1 more until the Winter Championship is sealed– certain names were going into this with the possibility of clinching that very title.
Practice/Quali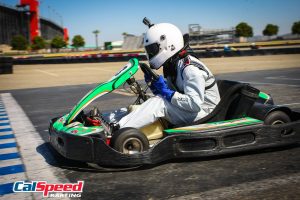 For practice and quali this time around, some familiar names were floating at the top most of the way. Tyler Redman, who scored his first pole earlier this season showed strong times with a 1:07.38 but was bested by 3/100ths by Kevin Erikson with 4 minutes to go. His 1:07.353 stayed as the time to beat and no one else came any closer. A first pole for him, he pulled into the pits with a hell of a grin!
Quali Results

| | | |
| --- | --- | --- |
| 1) | Kevin Erikson | 1:07.353 |
| 2) | Tyler Redman | 1:07.380 |
| 3) | Tyler Rousseau | 1:07.401 |
| 4) | Jeff Latimer | 1:07.534 |
| 5) | Eric Monteith | 1:07.581 |
---
Heat 1A
With his pole position earned earlier in the day, Erikson fervently led the charge in Heat 1A. Seasoned driver Jeff Latimer tucked in behind with Thomas Blackledge in 3rd having had a good start. After a few laps, it would be in Long Beach where Latimer would make the pass against Erikson; this would not be kept as shortly thereafter, Blackledge would attack for the lead in the very same corner. The top group contended with a few lappers with 2 laps to go but it would not cause any issue. Erikson, looking sharp as ever attempted an inside pass at Long Beach but the door would be shut. Heading down the hill after the white flag, he successfully completed his attack against Blackledge for 1st. The final corner required hefty defense on his part and it was to his mettle that he took the checkered.
Heat 1A Results

| | |
| --- | --- |
| 1) | Kevin Erikson |
| 2) | Thomas Blackledge |
| 3) | Jeff Latimer |
| 4) | Michael Floerchinger |
| 5) | John Rice |
---
Heat 1B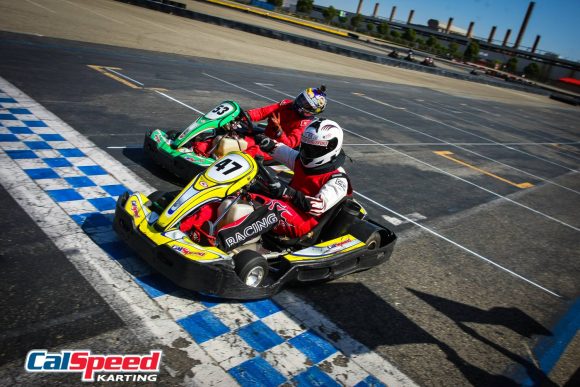 Heat 1B began with immediate shuffling of the front runners as Caden Thure, now 4th in points for the season, took the front from his P3 start. Dmitry Korotkov hooked on to charge away from Eric Monteith; he'd get no help as he drifted alone in P3 between Korotkov and the field trailing behind him. It wouldn't be until the white flag where Korotkov would make a final pass against Thure in Long Beach for 1st place. Tony Wika, leading the battle for 4th, managed to sneak up on Monteith to nab the 3rd spot.
Heat 1B Results

| | |
| --- | --- |
| 1) | Dmitry Korotkov |
| 2) | Caden Thure |
| 3) | Tony Wika |
| 4) | Tyler Redman |
| 5) | Eric Monteith |
---
Heat 1C
Starting nice and steady, heat 1C saw drivers taking the patient strategy against one another. Both Andrew Brown and Randy McKee in 2nd and 3rd maintained very solid drives from the get go but Don Diego Veloria very quickly gained 5 positions to take the helm. As lap traffic drew closer, the front would scatter and Veloria would make a .8 second lead from the infighting looming behind as McKee and Brown swapped for 2nd and 3rd. With 2 laps to go, the latter successfully passed McKee through the Bus Stop– but their battles would continue all the way from Carousel to Long Beach. Cruising away with ease, Veloria took the checkered and Brown and McKee would keep the same positions they started in.
Heat 1C Results

| | |
| --- | --- |
| 1) | Don Diego Veloria |
| 2) | Andrew Brown |
| 3) | Randy McKee |
| 4) | Tyler Rousseau |
| 5) | Sheng Wu |
---
C-Main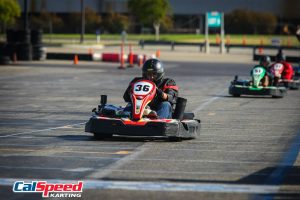 With just around 2/3 of the C-Main filled with first timers to the Sprint Series, one could only wonder what kind of varied strategies or straight gung-ho driving this race would entail. Gregorio Pelaez and Connor Howerton took immediately to dueling for the top spot and would complete laps in different order nearly every time as the entire field scattered onto the full length of the track. The entirety of the race was a nail biter as multiple groups opted to go 3-wide into sections where the risk was usually greater than the reward. Zack Magrath having started 8th, managed to catch up with the top 2 with a few laps to go. During his attack on the pair, Howerton escaped for 1st while Magrath nabbed the second spot ahead of Pelaez.
C-Main Results

| | |
| --- | --- |
| 1) | Connor Howerton |
| 2) | Zack Magrath |
| 3) | Gregorio Pelaez |
| 4) | Lee Nguyen |
| 5) | Michael Amparano |
---
B-Main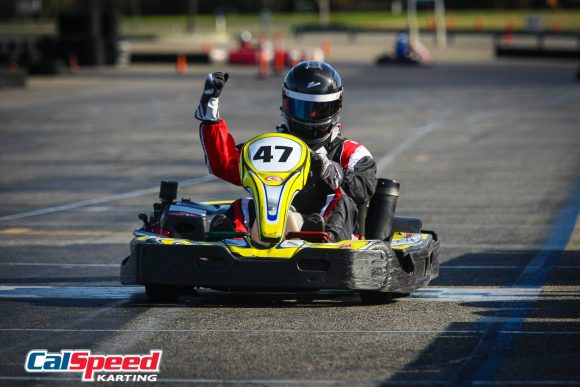 The B-Main would be a much smoother race as Michael Hottinga was off to a good start and never looked back. First-timer Jason Aranha put on a good show with steady climbs forward as he chased Jacob Linton for the 3rd spot. Both drivers tangled through Bus Stop as they made headway against P2. Now fighting for #2 on the white flag, Aranha took a last minute pass against Linton and successfully pushed through for second honors in the B-Main.
B-Main Results

| | |
| --- | --- |
| 1) | Michael Hottinga |
| 2) | Jason Aranha |
| 3) | Jacob Linton |
| 4) | Mauricio Lastres |
| 5) | Dax Veloria |
---
A-Main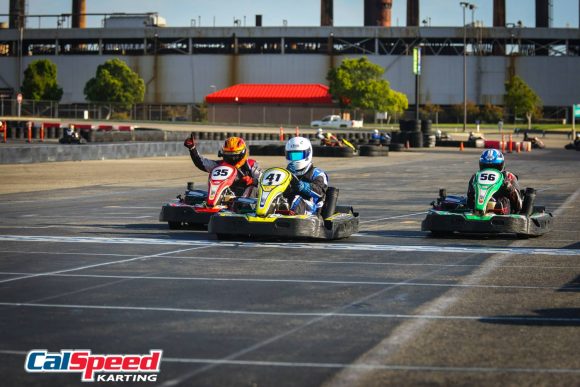 After only 2 laps, Thomas Blackledge grabbed the lead in the A-Main with Don Diego Veloria in tow. Battling for P2 was a very active pack of 10+ who enabled Blackledge to sail away from the action. Going purple further lengthened his lead, forcing Veloria and Randy McKee in P2 and P3 to play catch up. Meanwhile the fight for 4th was between Korotkov and Brown; having missed the last round, the latter knew that every point would count towards the championship. With these two trying to take each other's position, Michael Floerchinger and Caden Thure jumped into the mix to try and wrestle spots away. As the white flag came, Veloria and McKee finally caught up to Blackledge, both having pulled the two fastest laps of the race. By this time however, there would be no further push forward for them as just in the nick of time, Blackledge went on to claim his 3rd win of the season.
A-Main Top 10 Results

| | |
| --- | --- |
| 1) | Thomas Blackledge |
| 2) | Don Diego Veloria |
| 3) | Randy McKee |
| 4) | Michael Floerchinger |
| 5) | Caden Thure |
| 6) | Dmitry Korotkov |
| 7) | Andrew Brown |
| 8) | Tony Wika |
| 9) | Spencer Russell |
| 10) | Seth Willits |
---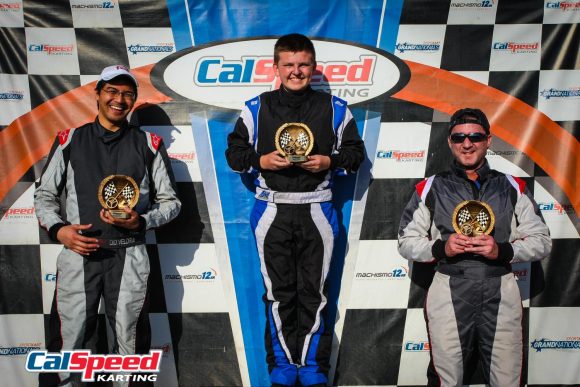 There now remains one round in the Winter Subchampionship and Blackledge's triple wins over the last 4 rounds have simply clinched it. His next opponent, Don Diego Veloria, is 45 points away with the drop in place. As for the rest of the season, Blackledge will likely continue laying down great results, but with opponents like Veloria hitting the private session program on a regular basis for some very steady improvements, there's no telling how the championship will turn out.
Sprint 2017 Current Standings (With Drop)
| | | | |
| --- | --- | --- | --- |
| 1) | Thomas Blackledge | 895 | (270) |
| 2) | Don Diego Veloria | 850 | (260) |
| 3) | Andrew Brown | 842 | (0) |
| 4) | Caden Thure | 820 | (243) |
| 5) | Diego Alvarado | 820 | (0) |
| 6) | Randy McKee | 803 | (251) |
| 7) | Seth Willits | 782 | (207) |
| 8) | Dmitry Korotkov | 775 | (175) |
| 9) | Michael Floerchinger | 774 | (0) |
| 10) | Vladimir Orlov | 727 | (0) |