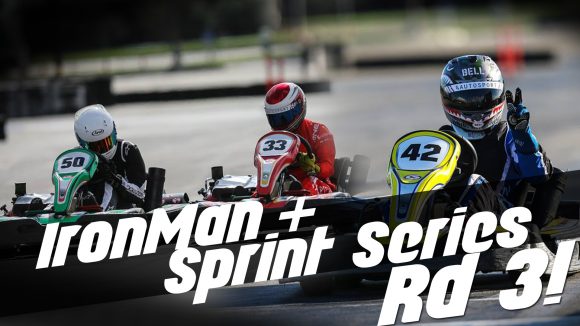 With the heat starting to turn up in Fontana, CA, the 3rd installment of the 2017 Sprint Series was surely a hot one! A couple 2R drivers jumping into the mix would surely make a recipe for action. Would Thomas Blackledge make this a 3rd win in a row? Would it become a 2R dominated podium? Will there be any fresh faces on the podium? Read on to see how it went down!
Practice/Quali
Quali saw no solid dominance for the first half. Names upon names kept conquering the hill over and over– Caden Thure, Diego Alvarado, Thomas Blackledge, Dax Veloria, 2R drivers Emon Fazlollahi and Ryan Curtin– and several others familiar in the top points standings. Ultimately Don Diego Veloria seemed to hold it for the longest duration with half the session remaining. No other driver really came close; as if to place the cherry on top, Veloria went purple a second time with a 59.198s, about 2/10ths better than his initial best and 3/10ths ahead of his nearest competitor.
Quali Results

| | | |
| --- | --- | --- |
| 1) | Don Diego Veloria | 59.198 |
| 2) | Diego Alvarado | 59.527 |
| 3) | Caden Thure | 59.541 |
| 4) | Sheng Wu | 59.549 |
| 5) | Eric Monteith | 59.584 |
---
Heat 1A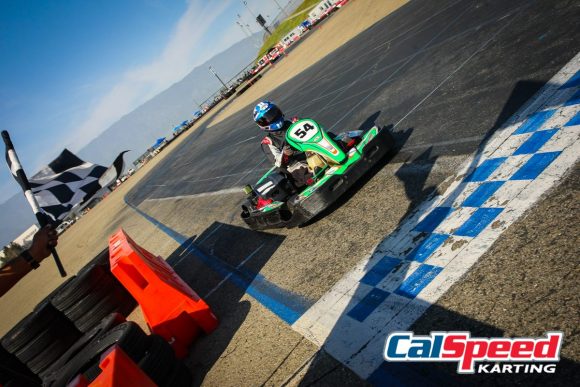 Fresh off his strong quali, Don Diego led the way with three drivers in tow. An early attempt by Seth Willits in 3rd to go under Sheng Wu for 2nd was a no go through the Contino Carousel, thus expanding the space behind Veloria. Willits eventually grabbed the 2nd spot as a result of penalties occurring for nearby drivers. Meanwhile, current points leader Thomas Blackledge snuck up on the front pack from his 5th place start and overtook Willits on the straight with one lap to go. The two would be in contention for that last lap as Willits attack on the inside in the bypass and managed to carry slightly more speed than Blackledge as the checkered flag flew.
Heat 1A Results

| | |
| --- | --- |
| 1) | Don Diego Veloria |
| 2) | Seth Willits |
| 3) | Thomas Blackledge |
| 4) | Dax Veloria |
| 5) | Edison Noboa |
---
Heat 1B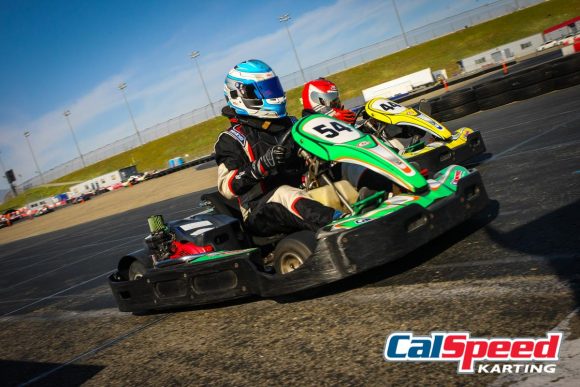 The top 2 in heat 1B asserted themselves as the battle to watch. Alvarado, Michael Floerchinger, and Fazlollahi found themselves at the lonely top for nearly the entirety of the heat until a meeting with lap traffic would toss them around in the last half. Turn 4 has always been an exciting passing zone whether clockwise or counterclockwise; with Floerchinger in the lead, this was where Alvarado decided to make the move against him. It was a successful one but with the white flag in the air, Floerchinger was not having it. Through that same corner and all through the bypass, the two diced for the top spot where ultimately Floerchinger would take the checkered.
Heat 1B Results

| | |
| --- | --- |
| 1) | Michael Floerchinger |
| 2) | Diego Alvarado |
| 3) | Emon Fazlollahi |
| 4) | Randy McKee |
| 5) | Vladimir Orlov |
---
Heat 1C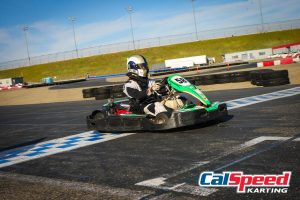 The group of Ryan Curtin [2R], Caden Thure, and Tyler Rousseau kept a tight pack in heat 1C. It was expected that Curtin would maintain a steady lead with his experience and he did just that despite Thure's aggression in 2nd. Both Rousseau and Thure battled for the majority of the race, all the while managing to stay hooked to Curtin's bumper. The trend of the day was in taking back turn 4; as Thure passed Rousseau in that corner, in the next lap the latter would make the move against the former with the pair drag racing out of the Bypass. The top 3 would be rounded out with Curtin, Rousseau, and Thure.
Heat 1C Results

| | |
| --- | --- |
| 1) | Ryan Curtin |
| 2) | Tyler Rousseau |
| 3) | Caden Thure |
| 4) | Spencer Russell |
| 5) | Samuel Hunt |
---
C-Main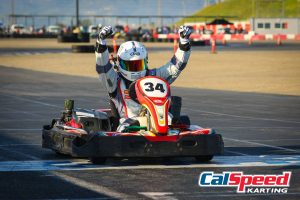 C-Main began with Frank Hsu immediately taking the lead; an earlier mishap started him further back in the Mains than was usual for him. The lead was already daunting at 2.6 seconds and only increased as the race progressed. The battle for P2 on the other hand was between Justin Altman, Bart Anderson, and Max Bui. Altman kept his hold on 2nd pretty steady for the majority of the race while Anderson and Bui fought behind him. It wouldn't be until the final lap that Anderson would sneak by Altman to grab the second spot.
C-Main Results

| | |
| --- | --- |
| 1) | Frank Hsu |
| 2) | Bart Anderson |
| 3) | Justin Altman |
| 4) | Maximilian Bui |
| 5) | David Speight |
---
B-Main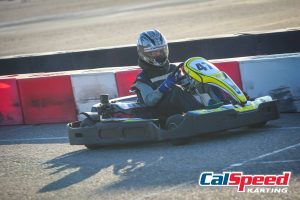 Not quite as smooth as the rest of the mains, the B-Main would get on with more than its fair share of pushing and shoving. Steve Frame and Dmitry Korotkov kept a clean battle through turn 4 as latter maintained a very solid defense against Frame's pointed attacks. Young driver Donnie Clarke jumped into the mix, swapping positions with Frame for several laps as the race wore on. Through the madness surrounding them and the penalties served, Clarke came out on top followed by Korotkov and Frame.
B-Main Results

| | |
| --- | --- |
| 1) | Donnie Clarke |
| 2) | Dmitry Korotkov |
| 3) | Steve Frame |
| 4) | Nathan Isaacson |
| 5) | Kevin Erikson |
---
A-Main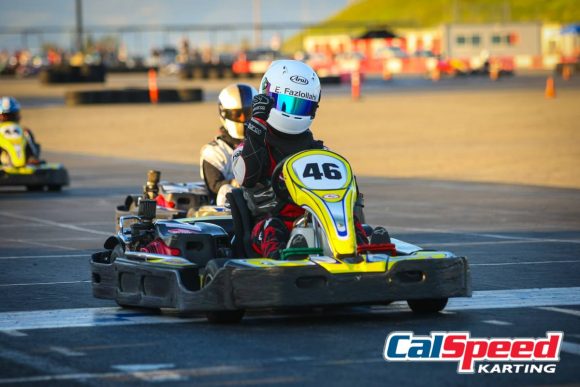 Unquestionably tense, the A-Main began with multiple changes, some jumping ahead and some falling immediately with the drop of the green. As the dust settled, it was the top 5 of Curtin, Veloria, Alvarado, Willits, and Fazlollahi. There were hardly any changes in this group for a good half of the race as all were waiting for the right moment to take action. When would be the time to strike? It was about midway through when Fazlollahi made an extreme climb from 5th and ended up 2nd right behind fellow 2R driver Curtin after an aggressive move through turn 4. Drivers shuffled behind him as Veloria, Willits, and Blackledge vied for the podium. With only a couple of laps to go, Fazlollahi took the front and Willits made headway passing Veloria for 3rd. 2R drivers Fazlollahi and Curtin took the checkered while the 3rd place finish for Willits would make this his very first podium.
A-Main Top 10 Results

| | |
| --- | --- |
| 1) | Emon Fazlollahi [2R] |
| 2) | Ryan Curtin [2R] |
| 3) | Seth Willits |
| 4) | Don Diego Veloria |
| 5) | Thomas Blackledge |
| 6) | Diego Alvarado |
| 7) | Michael Floerchinger |
| 8) | Spencer Russell |
| 9) | Randy McKee |
| 10) | Eric Monteith |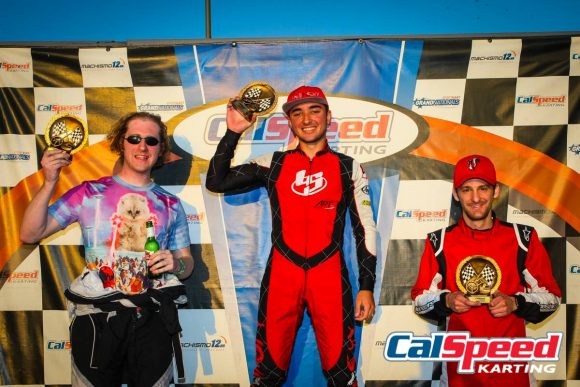 ---
With 3 rounds under their belts, Blackledge steadily holds on to the top spot in points– a 25 point gap separates him and teammate Andrew Brown. Seth Willits' podium moved him 4 positions up and now is poised in 7th, arguably 6th sans 2R drivers in the mix. His constant improvement is showing both in Sprint and Super Series. Of impressive note is Michael Floerchinger's 9 position gain in points. A heat race win and a strong finish in the main were key contributors to this. As to where the rest of the season will go, it will simply be an exciting one to watch!
Sprint 2017 Current Standings (With 1 Drop)
| | | |
| --- | --- | --- |
| 1) | Thomas Blackledge | 600 |
| 2) | Andrew Brown | 575 |
| 3) | Don Diego Veloria | 555 |
| 4) | Dennis Kimbrell [2R] | 555 |
| 5) | Diego Alvarado | 550 |
| 6) | Caden Thure | 545 |
| 7) | Seth Willits | 544 |
| 8) | Randy McKee | 523 |
| 9) | Michael Floerchinger | 504 |
| 10) | Vladimir Orlov | 501 |