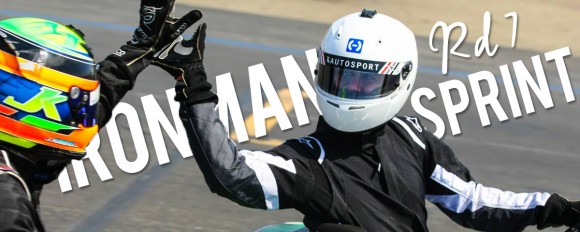 It was pretty much a premonition for the day's finale: the wind just came out of nowhere during this hot and sunny Saturday out in Fontana, CA. For this penultimate round of the Sprint Series, the driver who would bring home the win came out of nowhere during the final minute of the race…
Practice/Qualifying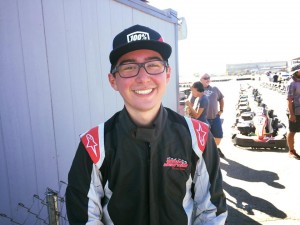 After heavy winds subsided from earlier in the day, Sprint Series practice and quali took off to a great start. Diego Alvarado would put on his best performance and take his first pole this season with his 58.561s. On top of this, Don Diego Veloria would simultaneously make a good run right behind by 0.1s, also his personal best in quali despite missing out on a multitude of rounds recently. Luis Calderon followed closely by yet another 0.1s; his win on the same course earlier in the year undoubtedly foreshadowed success for the day.
Qualifying – Top 5

| | | |
| --- | --- | --- |
| 1) | Diego Alvarado | 58.561 |
| 2) | Don Diego Veloria | 58.676 |
| 3) | Luis Calderon | 58.774 |
| 4) | Alexander Bermudez | 58.836 |
| 5) | Caden Thure | 58.955 |
Heat 1A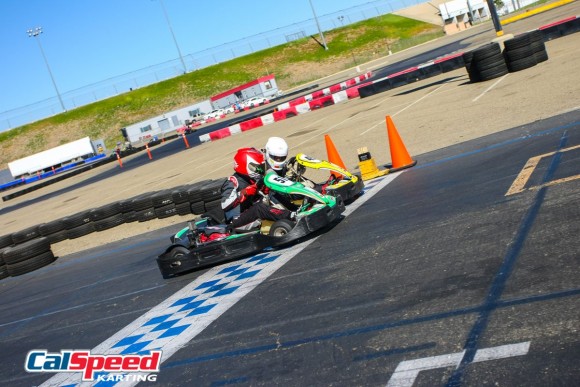 From the green flag, heat 1A's top 6 already looked like a regular A-Main with Diego Alvarado on pole and other top points leaders Luis Calderon, Caden Thure, Thomas Blackledge, Steve Jasinski, and Duane Lawson in tow. With little opportunity left for more points earnings, a heat win would be gold for any of these drivers. As such, none of these guys would be leaving doors open; for most of the race, the top 6 hardly saw any position changes and would quickly break away from the rest of the field. Right up until the finish line, Calderon could be seen drawing every ounce of his ability to take Alvarado in a drag race but it would be all for naught as he settled for second.
Heat 1A – Top 5

| | |
| --- | --- |
| 1) | Diego Alvarado |
| 2) | Luis Calderon |
| 3) | Caden Thure |
| 4) | Thomas Blackledge |
| 5) | Steve Jasinski |
Heat 1B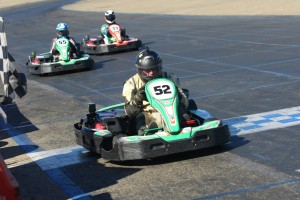 Heat 1B began with Alexander Bermudez, Super Series Rookie lead, out on pole. Veloria came off his several month hiatus quite strong at the start and jumped right out to the front after just a lap. Zachary Jo in P3 latched on just behind; this top 3 gapped the rest of the field by more and more seconds as the race wore on. Holding on to the lead would not be a long one for Veloria, as Bermudez would take it right back and definitively keep it. There wouldn't be any change as this group decided to play things safe and clean for the rest of the heat.
Heat 1B – Top 5

| | |
| --- | --- |
| 1) | Alexander Bermudez |
| 2) | Don Diego Veloria |
| 3) | Zachary Jo |
| 4) | Ashley Arnott |
| 5) | Seth Willits |
B-Main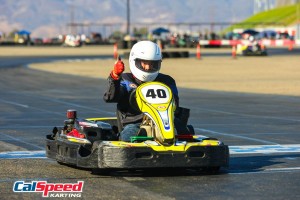 Yet another large field of first-timers filled the B-Main, and this race was no exception to the smoothness that drivers began to exhibit with their newfound experience at CalSpeed. Tecnico is not one of the easier track layouts to learn, especially for one's first race, but Thomas Rau managed to make it his own during this first run. An incident early in the race caused quite a large gap to develop behind him and newcomer Paul Fox to jump from 4th to 2nd. These two along with Donnie Clarke would hold the top 3 for smooth sailing until the checkered.
B-Main – Top 5

| | |
| --- | --- |
| 1) | Thomas Rau |
| 2) | Paul Fox |
| 3) | Donnie Clarke |
| 4) | Danny Bopp |
| 5) | Jeff White |
A-Main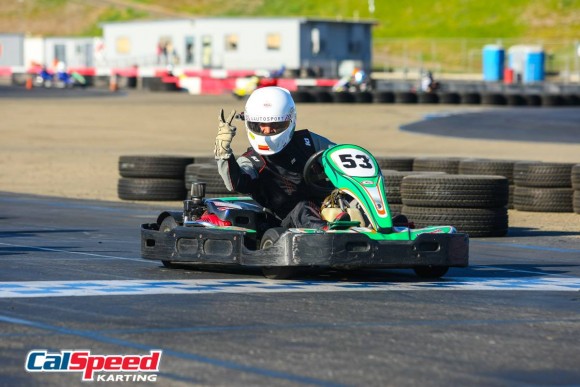 Overall pole and a heat win put Alvarado in position for a perfect day. As the A-Main began however, he did not break away and it would be clear that anyone could take the win during the day's finale. Thure, starting 5th, dove with signature aggression into the esses during lap 3, earning himself a position behind the top 2. It would be Diego vs Diego for a time until Thure grabbed the lead away from both of them and firmly put up a defense. Was a win going to be in the books for Thure finally? There were now only corners left in the race– after all, the white had already come out. Not wanting to give up on a perfect day, a deep brake into the Tecnico hairpin allowed Alvarado to take back his lead. The heat of the moment was further inflamed as multiple position changes from P2 on back took place because of Alvarado's move. Sitting just behind him was suddenly Calderon coming from 5th, who had won on this very track layout back in February. As they approached the uphill section, Calderon slipped right by Alvarado in surprising fashion, and he would will it forward all the way to the checkered flag.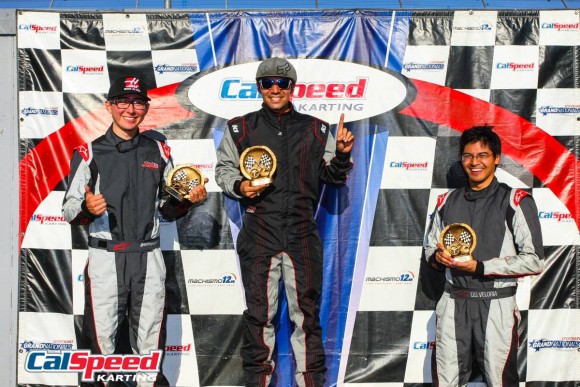 The Summer Championship sees Bermudez squarely at the front with the top 5 drivers in a window of 25 points. Whatever happens next month can shift the players in any direction. As luck would have it, Round 7's results have now placed Bermudez in a tie for the Championship with points leader Ashley Arnott. Additionally, each driver's 1640 total (with drop) is only 34 points ahead of Calderon; the Round 7 win no doubt brought him closer up the ranks. Further conjecture begs an even more interesting scenario: if Arnott and Bermudez tie in points after the finale, the tie-breaker would be total points sans drops. Bermudez maintains a better absolute total at 1878 vs Arnott's 1640. There could be no higher level of excitement and anticipation for the conclusion of the 2016 Sprint Series Championship next month on October 22.
A-Main Top 10
| | |
| --- | --- |
| 1) | Luis Calderon |
| 2) | Diego Alvarado |
| 3) | Don Diego Alvarado |
| 4) | Alexander Bermudez |
| 5) | Duane Lawson |
| 6) | Caden Thure |
| 7) | Ashley Arnott |
| 8) | Thomas Blackledge |
| 9) | Seth Willits |
| 10) | Zachary Jo |
Summer Championship Top 5
| | | |
| --- | --- | --- |
| 1) | Alexander Bermudez | 575 |
| 2) | Ashley Arnott | 557 |
| 3) | Luis Calderon | 557 |
| 4) | Thomas Blackledge | 555 |
| 5) | Duane Lawson | 550 |
Overall Standings – Top 10 (Drop)
| | | | |
| --- | --- | --- | --- |
| 1) | Alexander Bermudez | 1640 | (238) |
| 2) | Ashley Arnott | 1640 | (0) |
| 3) | Luis Calderon | 1606 | (200) |
| 4) | Caden Thure | 1598 | (229) |
| 5) | Duane Lawson | 1558 | (216) |
| 6) | Thomas Blackledge | 1523 | (205) |
| 7) | Steve Jasinski | 1522 | (208) |
| 8) | Diego Alvarado | 1491 | (179) |
| 9) | Kelly Bastian | 1431 | (188) |
| 10) | Michael Floerchinger | 1380 | (0) |