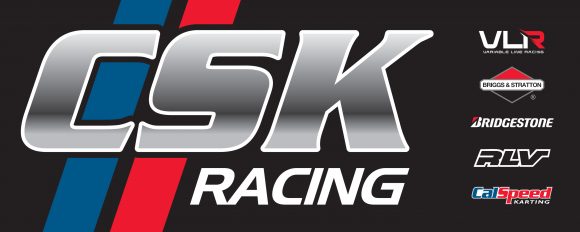 2017 marked the debut season for CSK Racing at Tri-C Karters and in the end, we came home with championships in the VLR Spec, Senior, and Masters categories, accruing along the way multiple poles, wins, and podiums. With the arrival of 2018, we look forward to building on that success and are happy to announce the details and pricing structure for both our rental packages and owner services for the upcoming racing season, including info on our upcoming pre-season demo day on January 27, 2018.
CSK Racing will once again provide top level driver coaching from 206 Senior champion and team manager Mike Smith as well as race winner and 3rd overall Senior driver Derek Esquibel. Additionally, drivers will benefit from the technical and setup expertise underneath the tent, whether astride a team rental package or as a VLR owner themselves. Furthermore, our customers can once again expect the comfort of an exclusive air conditioned driver lounge, including a provided lunch, live timing display, and enjoyment of our laid back atmosphere where fun is always the priority.
For 2018, owners of the VLR package wanting to be a part of the CSK Racing team can expect a tent fee of $75 on race day and $25 on Friday practice which includes all of the above in addition to access to tools, fuel for the event and other necessities.
For drivers looking to rent a package, there are two options, as shown below.
(1) Kart Rental Option
Use of CSK VLR race kart on race day
All consumables provided (fuel, oil, tires)
CSK Race Tent & Driver Lounge
Driver coaching & mechanical support
Kart Rent: $375, excludes Tri-C entry fee ($85-100 depending on Tri-C membership level)
Practice Day: $150
Second Class: $150, excludes Tri-C entry fee of $25
(2) Team Driver (Season Lease) Option
Exclusive use of BRAND NEW VLR spec kart (only you use this kart for race season)
Seat, pedals and ballast mounted to your specifications
Includes on-site storage
Use kart as often or little as you like
Option to purchase at discounted rate
8-month term (Tri-C season March through October)
Monthly payment of $280 x 8 auto-debit payments, excludes all race/practice entry fees, tires, and maintenance
To better prepare our customers for the Tri-C Karters season opener on March 10, CSK Racing will be hosting a demo day on Saturday, January 27, 2018. This is the perfect opportunity to either try out a VLR 206 package for the first time, knock off the rust from the off season, or simply just get ready for the 2018 race season. Owners are welcome to visit and see what it's like to run with CSK Racing and experience what we have to offer for the upcoming Tri-C season.
If you are interested in joining CSK Racing or have more questions, give us a call at 951-506-9363 or email to info@calspeedkarting.com. A full sheet of the information above can be downloaded here.