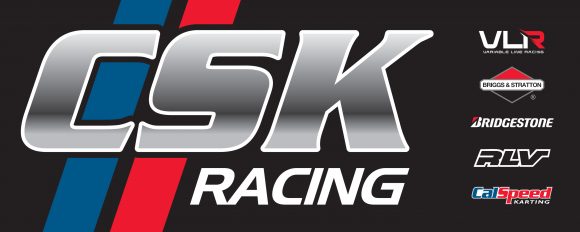 The second half of the season, and the run to the end of the 2019 championship for the Tri-C Karters kicked off under sunny skies this past weekend, with CSK Racing again finding the podium. The holiday weekend provided the backdrop, and the on-track action delivered with some fantastic racing…
100cc TAG Masters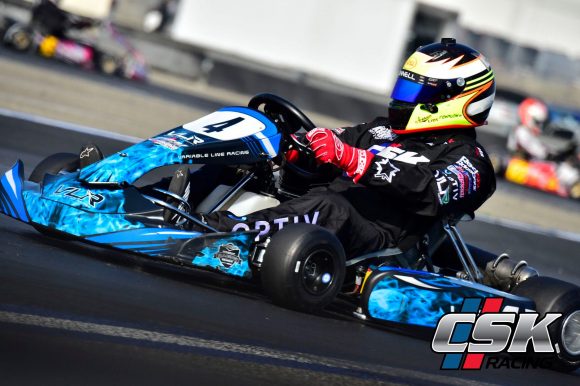 Another solid qualifying performance saw Mark Connell start 4th on the grid in his KA Powered VLR package, bringing things home in heat one in the same spot. Unfortunately, in heat two his left rear tire would go down while running in the top 5, sending him into a quick 360 in the very quick Silk corner. Thankfully, Mark would keep it off the wall, but would unfortunately have to start caboose on the field for the 16 lap Main Event.
The 100cc Tag Masters class is a tough one, and coming from the back is no easy task, but Connell was able to make inroads to the front right away. A clean start allowed him to pick off a couple positions right out of the gate, and then some well timed passes allotting him a couple more spots in the immediate laps to come. His work through the back of the field created a small gap to the the drivers ahead, which would turn out to be beneficial when a pair of drivers got together in the Contino Carousel. This saw him graduate to the midfield, and with it, clean air to start reeling in the group of three next on his list.
Just past the halfway mark he would make his move, picking of another position to move into 7th, and another a lap later to move into 6th, which is where he would eventually have to settle for after running out of laps.
100cc TAG Masters (Top 5)
Robert Perez 1572
Mark Connell 1449
Steve Jasinski 1437
Bryan Williams 1355
Chad Hawkins 1338
206 Masters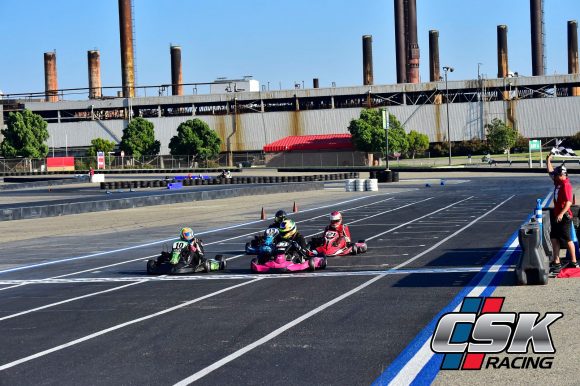 Last month CSK Racing swept the podium, and this month it would once again be a hardware sweep for the team, but this time with 4 drivers gunning for the win at the end. Joining the trio of CSK Racing regulars Jose da Silva, Lukas Dziemidok, and Sean Bradley would be none other than round #2 runner-up Alexander Bermudez. This time around, it would be Bermudez striking first, bringing home a solid pole position in just his second career event.
The heat races would see plenty of battling amongst the front runners though, with Da Silva striking against Bermudez for the lead in heat one, only to have both drivers eventually settle for 3-2 respectively. The second heat however would see the CSK Racing stablemates work together a bit more, this time pulling away from the rest of the pack with Bermudez bringing home the heat win with da Silva in his draft. For his part, Sean Bradley had a brilliant re-bound from the first heat, moving up from 7th to finish 3rd.
In the Main it would be those three leading the way with point leader Lukas Dziemidok hanging tough in 4th, the quartet staying in line and pulling away from the rest of the field. In the final corner on the final lap everything would change, with all 4 vying for the top spot. On the exit it would be a drag race, with Jose da Silva stealing away the win by just .017 over Bermudez with Lukas nabbing the final podium spot over Bradley at the line as well.
206 Masters (Top 5)
Lukas Dziemidok 1575
Jose da Silva 1542
Steve Jasinski 1431
Sean Bradley 1422
Mikey Griffin 1359
Senior 206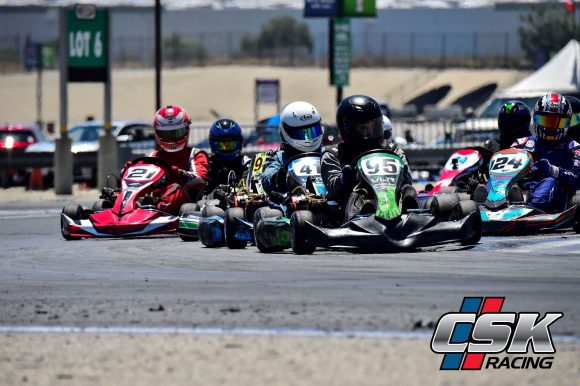 Round #5 would see a near-perfect day from one of the fastest 206 senior drivers in the class, Evan Karp. It has been a tough season so far for Karp, who has seen his fair share of bad luck, and has even missed a round already, making his bid for the title that much more difficult. This past Saturday however, he looked about as good as ever, kicking things off with a convincing pole position by over a quarter second.
In the heat races his closest competition would be from fellow CSK Racing driver TJ Blackledge, the duo linking up in the early laps, allowing them to pull away to healthy advantages and easy 1-2 finishes when the checkers fell. In the Main however, Karp would come under fire from the driver that had finished third in both heats, title contender Dakota Tate. He and Tate would stay nose to tail for most of the Main, with Karp coming just .077 seconds short of the win at the end. Still it was a very strong day for the rookie Senior 206 driver, as he moved up into the top 5 in the overall standings.
And speaking of points, hats off to another rebound drive from Seth Willits in round #5, coming out on top of a battle for the final podium spot, which in the end would come down to him and title rival Riley Dugan. Willits would attack and counter attack to seal the deal on his 4th podium of the year, doing his best to salvage another tough day in the points.
206 Senior (Top 5)
Riley Dugan 1534
Dakota Tate 1527
Seth Willits 1497
Evan Karp 1427
Lukas Dziemidok 1388
CSK Racing would like to again thank all of their customers for coming out last weekend, as well as congratulate all of our drivers for their success in round #5. We're looking forward to round #6 on the Classico configuration in about a months time on August 17th! Want to get in on the fun? Hit us up to get on track in one of our rental packages, or inquire about how you can get coaching from some of the best in the 206 business. And remember, CSK Racing offers VLR kart and part sales trackside at CalSpeed Karting, so feel free to hit us up for all your VLR needs!