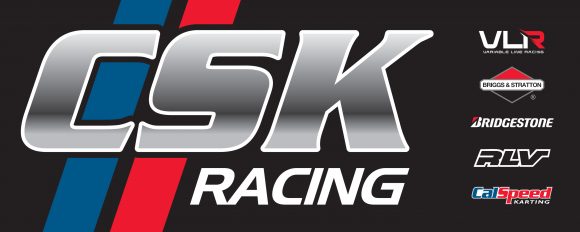 In the Fall of 2016, a new team was formed to help bridge the gap between sport karting and competition karting, focusing in on the growing popularity of the Briggs 206 platform, and partnering with RLV and their new VLR Emerald chassis as its base. The groundwork would be laid out to provide arrive and drive options in three classes at the Tri-C Karters Club; 206 Senior, 206 Masters, and the new 206 VLR Spec class, but also host other VLR chassis owners at the same time. 2017 would mark the first season for the new team, bringing on several existing drivers from other classes, but also many great talents from the sport karting ranks at CalSpeed. It would also see a return to racing for a pair of CalSpeed employees, as Mike Smith and Derek Esquibel would get back into competition karting not only as team managers, but as fellow competitors. Bolstered by the talents of Bob Niles on the engines, and Dwight Evans' overall mechanical prowess; fellow managers Rob Niles and Sarah Bantay keeping things running smoothly; as well as team photographer Heather Perrin covering each event; CSK Racing found success early and often in that first season. Success that has continued over all four seasons…
2017:
VLR Spec Champion – Jake Hood
206 Senior Champion- Mike Smith
206 Masters Champion- Mark Connell
2018:
VLR Spec Champion – Mark Connell
206 Senior Champion- Derek Esquibel
206 Masters Champion- Mike Smith
206 G50 Masters – Jose da Silva
2019:
206 Senior Champion- Seth Willits
206 Masters Champion- Lukas Dziemidok
2020…CSK drivers so far:
206 Senior:
Pietro Moro
Seth Willits
Sam Hunt
206 Masters:
Pietro Moro
Alexander Bermudez
Lukas Dziemidok
Much has changed in the team, but the dedication to not just giving the best opportunity to win, but also to help educate its drivers on kart ownership and tuning, while never losing sight of the most important aspects of kart racing was never lost. Fun and Sportsmanship. It has been a great ride, and we look forward to ending our run on top again this weekend!
CSK Racing would like to thank everyone that has called them home, whether it be for 1 race, 1 season, or every race in between. After four years of racing, so many great memories have been made, and we look forward to seeing how 206 racing and our CSK Racing alumni do in the future!
Good luck to every at this weekend's 2020 Tri-C Season Finale, and we'll see you at the track!