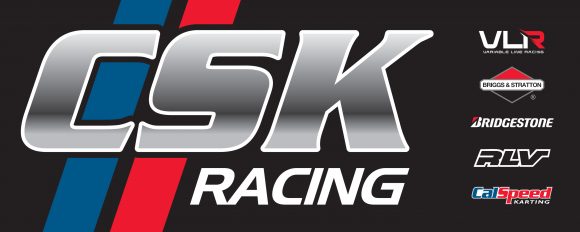 The halfway point for the Tri-C Karters 2019 season took to the Grande Counter clockwise track this past weekend, with perfect weather welcoming racers for round #4. For the CSK Racing team, it would be another hard fought round, battling back from adversity in some races, while dominating the sharp end in others. In either case, it was another story of playing the long game, and picking up valuable points towards season-ending hardware…
100cc TAG Masters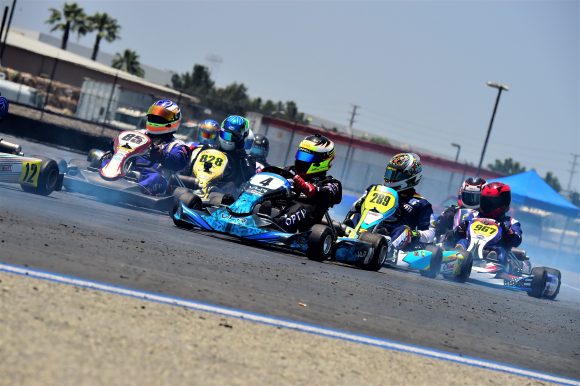 Mark Connell once again showed he is one of the best qualifiers in the 100cc TAG Masters class, out-qualifying all of the season regulars in the green-white-checkered session to sit P3 for the start of heat 1. Only missing pole by a couple of tenths, Connell's effort has seen him start inside the top 3 for three rounds in a row, including pole in round #2.
Heat race #1 would see him stay right on the back bumper of the top two drivers as they battled for the lead, before losing a spot in the commotion. A small mistake would see him slip one more spot before the checkers, lining up 5th for heat #2, but still with the pace to challenge for the front. Heat #2 would be a near mirror of the first heat however, and after it was done the team went to work to figure out what needed to be done to get back to the front. Unfortunately, a schedule conflict for Mark meant he needed to catch a flight that evening, and as the day ran long, he had to leave before the Main event.
Instead of leaving the kart empty for the Main, team principal jumped in, and starting from last on the grid, worked his way up to 5th, before eventually passing the next two drivers in the waning laps to claim third. It was a valuable session for the team too, gleaning valuable information for the races to come. And while it was a drop for Connell, he still sits solidly in second place in his rookie 2-stroke season.
100cc TAG Masters (Top 5)
Robert Perez 1172
Mark Connell 1122
Steve Jasinski 1090
Bryan Williams 1017
Chad Hawkins 1008
206 Masters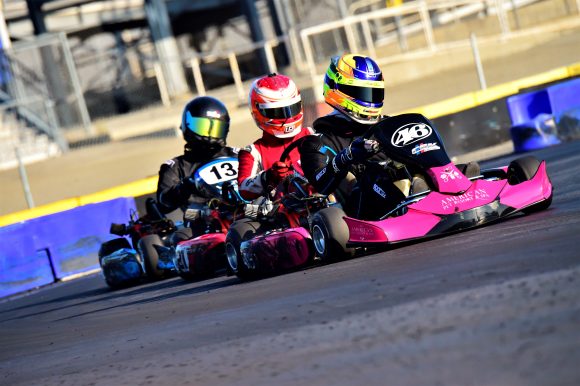 The 206 Masters class has been a strong one for the CSK Racing team, and this weekend was no different. Title contenders Lukas Dziemidok and Jose da Silva would line up 2-3 on the grid after qualifying, but that would be the last time they didn't own the top 2 positions. Heat race one would go to the former, leading flag to flag while Jose da Silva had to battle hard to maintain the 2nd spot. Fellow CSK Racing driver Sean Bradley foreshadowed the rest of the day a bit too by clocking fast lap of the race.
Heat two would again go to Dziemidok, but this time he and da Silva were the ones battling things out, with Bradley moving up to third, and again proving to be the fastest on track. When the mains started it was like a continuation of the 2nd heat, this time however with da Silva taking over the top spot early. This time the lead trio would stay linked up for over half the race, building a gap to the drivers behind before starting to battle in the second half. While the top two fought, Bradley looked for a way past, but no avail; instead it would be Da Silva finding a way out front, and this time holding to claim his second win in the season. Lukas Dziemidok would be second with Sean Bradley third, making it a CSK Racing 1-2-3 for the 206 Masters class!
206 Masters (Top 5)
Lukas Dziemidok 1185
Jose da Silva 1157
Steve Jasinski 1102
Sean Bradley 1074
Mikey Griffin 1051
Senior 206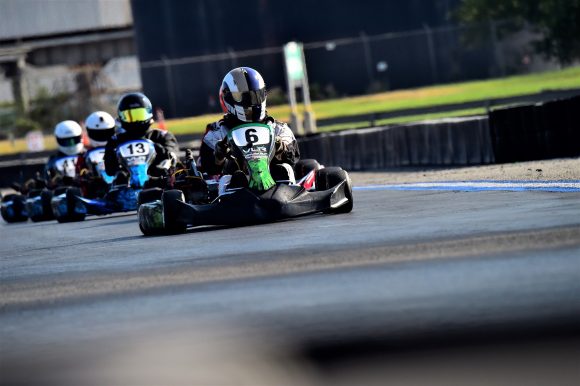 CSK Racing prides itself in providing top-notch equipment to its customers, capable of competing right at the front -even if they are renting. Ryan Curtin proved this once again, as he took one of the rental packages to P2 in qualifying in just his first Tri-C Karters event, while CSK Racing regulars Evan Karp and Seth Willits clocked in at 3rd and 4th respectively.
In heat one it would turn into a battle royale for the 3rd spot, as Evan Karp fought to maintain the position over several of his stablemates, eventually coming home with third intact. Point leader Seth Willits would, unfortunately, find issues at the start for the second round in a row, dropping well back in the order before working his way back up to 8th by the checkers.
Heat two would again see the battle for the third spot, this time with Lukas Dziemidok holding onto the position over fellow CSK Racing drivers Sean Bradley and Seth Willits. For his part, Ryan Curtin continued his march back towards the front, having been crashed out in the first heat race after running inside the top 3.
In the Main things would flare up almost immediately, once again right around the third place position. This time however, Ryan Curtin would be able to squirt out ahead of the infighting, breaking away from the ongoing battle behind him. Curtin would go on to claim the final hardware spot in his Tri-C Karters debut, while Seth Willits was able to claim 4th, again salvaging valuable championship points in another hard fought event.
206 Senior (Top 5)
Riley Dugan 1175
Seth Willits 1155
Dakota Tate 1147
Lukas Dziemidok 1048
Sean Bradley 1040
CSK Racing would like to again thank all of their customers for coming out last weekend, as well as congratulate all of our drivers for their success in round #4. We're looking forward to round #5 on the Nuovo configuration in less than three weeks on July 6th! Want to get in on the fun? Hit us up to get on track in one of our rental packages, or inquire about how you can get coaching from some of the best in the 206 business. And remember, CSK Racing offers VLR kart and part sales trackside at CalSpeed Karting, so feel free to hit us up for all your VLR needs!