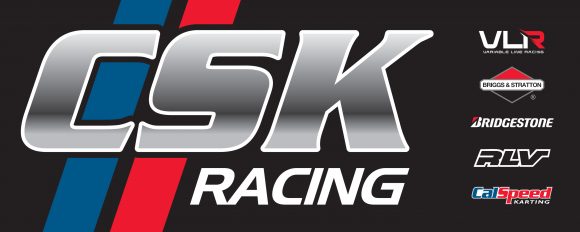 Labor day weekend played host to the 6th round in the Tri-C Karters 2018 season, taking to the Classico layout for the one and only time of the year to close out the summer months. The constant twists and turns for the oldest of the CalSpeed layouts saw some of the closest racing of the year, and when the dust settled, it was again CSK Racing finding victory lane…
VLR Spec 206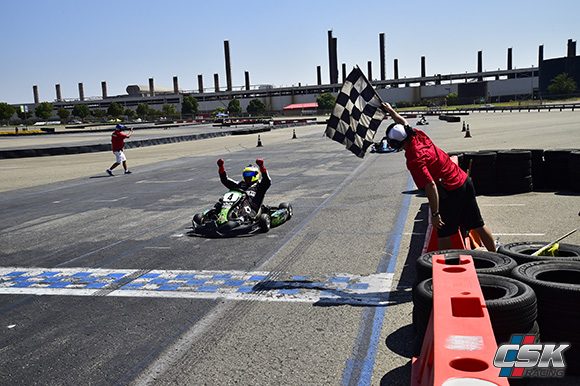 Spec class point leader Mark Connell would kick off what would be a near perfect day by adding five points to his tally, scoring his 3rd pole position of the year, just in front of title rival TJ Blackledge. While he would go on to score both heat race wins, it was not without pressure, as CSK Racing stablemates Adam Nagao and Sean Bradley stayed right on his heels for the duration. In the Main, it was once again the Connell, Nagao, and Bradley trio at the front for the start, until contact saw Bradley spinning on lap 3. While Bradley was able to continue, impressive first-time driver Evan Karp would have nowhere to go and make contact with the near stationary Bradley. Back out front, it was Connell leading over Nagao and Lukas Dziemidok, who was bouncing back from a tough start in qualifying. While Connell would hold on to score his third win of the year, the latter two would duke it out on more than one occasion, with Lukas coming away with second over Nagao. Now with just two rounds to play, Connell extends his point lead over TJ Blackledge and Lukas Dziemidok in third.
VLR Spec 206 Top 5 Points (After Drop):
| | | | |
| --- | --- | --- | --- |
| 1) | Mark Connell | 2273 | (1965) |
| 2) | TJ Blackledge | 2177 | (1853) |
| 3) | Lukas Dziemidok | 2075 | (1755) |
| 4) | Sean Bradley | 2020 | (1704) |
| 5) | David Carlisle | 1526 | (1526) |
Senior 206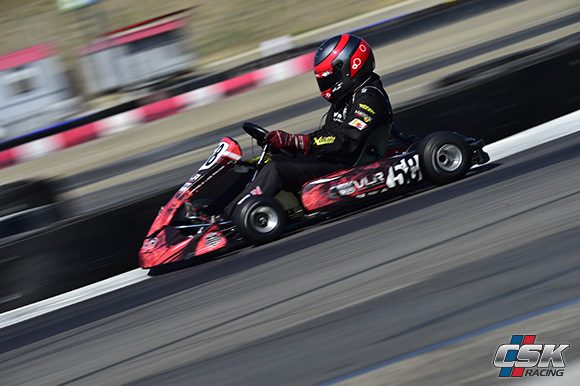 While he got nipped in qualifying and would start 3rd for heat one, current point leader Derek Esquibel would show the way from then on out, with teammate Mike Smith fighting inside the top three as well. For Esquibel, it was a decisive rebound from his bad luck last month, showing that he again is the driver to beat in the category. Taking over the heat 1 lead after running second at the conclusion of lap one, it was the last time that he would not command the front, going on to sweep both heat races and the Main event. It would be his third win on the season, lengthening his lead in the championship standings. Behind him, reigning Senior champ Mike Smith battled it out across all three races for a podium, after narrowly missing pole position in qualifying. While he was able to secure a 3rd and a 2nd place finish in the two heats, the Main would not go his way. Sitting in second with two to go, he would slip to 4th, and come up just shy of the podium. Heading into the final pair of events, Smith sits just 25 points back of second and is still in the hunt to make it a CSK Racing 1-2 in the category.
206 Senior Top 5 Points (After Drop):
| | | | |
| --- | --- | --- | --- |
| 1) | Derek Esquibel | 2258 | (1926) |
| 2) | KC Cook | 2205 | (1864) |
| 3) | Mike Smith | 2187 | (1839) |
| 4) | Riley Dugan | 2122 | (1796) |
| 5) | Drew Zeller | 1979 | (1684) |
206 Masters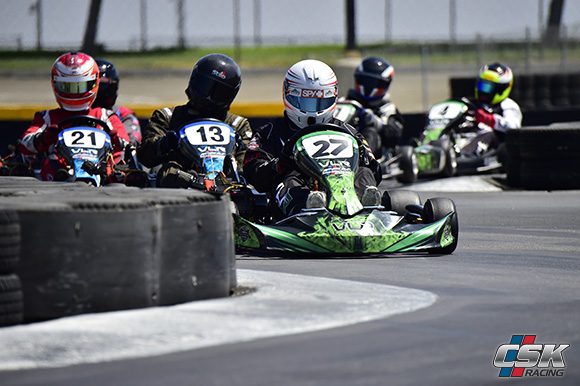 Classico once again proved how close the Masters division has become at Tri-C Karters, while point leader Mike Smith earned the pole position, 2nd-9th were separated by just over 3 tenths of a second. Smith would score the win in heat 1, but most people were watching the drive from reigning Masters champ Mark Connell as he scythed his way up from 11th on the grid, bouncing back from a bumper failure in qualy. Heat two would also go to Smith, but this time with CSK stablemates Sean Bradley and Lukas Dziemidok right on his tail, with the former scoring fast lap in the process. By the time the Main started, the aforementioned Connell would join the party in the top four, as he, Dziemidok and Bradley all gave chase on the leading Smith. While Smith struggled to get away from his challengers in the opening handful of laps, the second half would see him eek out just a small advantage, bolstered by a small amount of infighting behind him. On the final lap, Connell would make a move on Dziemidok for 2nd, allowing Smith to cruise to the win, with Bradley following Connell through to make it Smith-Connell-Bradley at the line. In the points, Smith and Connell are all but locked into their spots, but the fight for third is an epic one, with Dziemidok and Bradley tied with two events to go…
206 Masters Top 5 Points (After Drop):
| | | | |
| --- | --- | --- | --- |
| 1) | Mike Smith | 2403 | (2020) |
| 2) | Mark Connell | 2197 | (1873) |
| 3) | Lukas Dziemidok | 2082 | (1752) |
| 4) | Sean Bradley | 2051 | (1752) |
| 5) | Steve Jasinski | 1999 | (1697) |
CSK Racing would like to again thank all of their customers for coming out to round #6 for the 2018 Tri-C Karters season, and we're looking forward to round #7 on the Classico CCW configuration on September 1st. Want to get in on the fun? Hit us up to get on track in one of our rental packages, or inquire about how you can get coaching from some of the best in the 206 business. And remember, CSK Racing offers VLR kart and part sales trackside at CalSpeed Karting, so feel free to contact us for all your VLR needs!
CSK 2018 R6 Driver Lineup