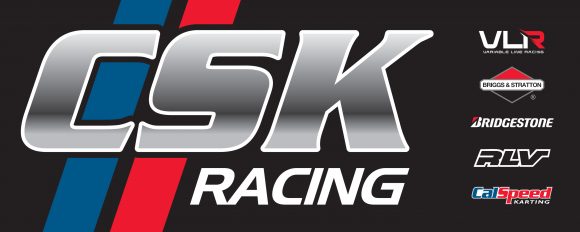 The season opener for the Tri-C Karters at CalSpeed Karting was this past weekend, kicking things off with the first of eight rounds for the year, taking to the Sportivo track layout. CSK Racing would field 11 drivers in total, with 2 competing in the ever-growing LO206 Senior category, while 9 drivers would debut in the new VLR Spec 206 class.
Senior 206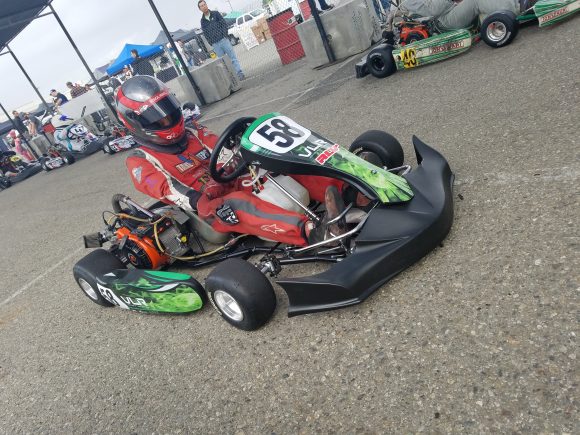 It was a challenging day with mixed results for both Senior entries, as Derek Esquibel backed up his stellar pace from last year with an off-pole qualifying attempt and eventual heat 1 win, while Mike Smith struggled to find adequate pace in the morning sessions, relegating him to a 10th place qualifying run. While Smith had to battle throughout the heats to come up with an eventual 8th place starting spot for the Main, Esquibel backed up his win in the first heat race with a 3rd and was in prime position for a podium in the final race of the day. Unfortunately, Esquibel did not get the result he wanted and would get a DNF for the first race of the year, but Smith would work up to 3rd, eventually settling for 4th in an intensely fought Main event.
VLR Spec 206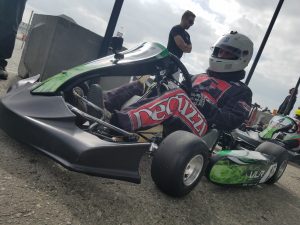 In the VLR Spec class, CSK Racing provided 9 drivers packages with a baseline setup that would see no changes other than tire pressure all day. Aaron Downs would lead the team all day long, putting up a 3rd in qualifying, followed by a 3rd in both heats and the main after challenging for the lead in all three races. Mark Connell was also in the front group for the Spec class, staying in touch with the sharp end in the heat races, eventually settling for 5th after also fighting for the lead at one point. Guest racer this weekend was eKartingNews.com's Rob Howden, and after having to learn a brand new track and brand new kart package, was able to bring things home 6th overall, and within about a half a second to drivers with much more seat time at CalSpeed.
The VLR Spec 206 class utilizes the VLR Emerald chassis from RLV Tuned Exhaust with the same Briggs & Stratton Racing LO206 engine as the senior class, is the same class weight as senior, but has a restricted amount of setup changes and parts, and mandates a single spec gear for all competitors. If you or your team has a VLR Emerald Kart, feel free to contact us and find out how you can also run in this great new class! We at CSK Racing would also like to recognize all of the drivers that ran not only with our team, but that decided to compete in this new spec class in which we are the class sponsor. Looking forward to round #2!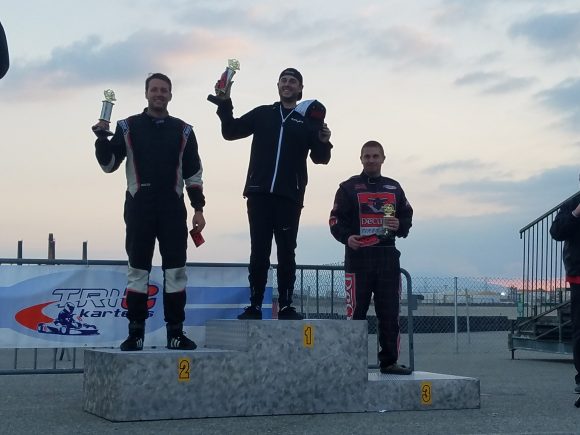 CSK Racing VLR Spec 206
| | | |
| --- | --- | --- |
| 1) | Logan Calvin | |
| 2) | Jon Kimbrell | |
| 3) | Aaron Downs | CSK Racing |
| 4) | Hannah Grisham | |
| 5) | Mark Connell | CSK Racing |
| 6) | Rob Howden | CSK Racing |
| 7) | Jacob Linton | |
| 8) | Steve Jasinski | |
| 9) | Vladimir Orlov | CSK Racing |
| 10) | Duane Lawson | |
| 11) | Rob Queen | CSK Racing |
| 12) | Mike Risley | CSK Racing |
| 13) | David LaTourneau | CSK Racing |
| 14) | Gerry Florez | CSK Racing |
| 15) | Steve Nakajima | CSK Racing |
| 16) | Miles Calvin | |