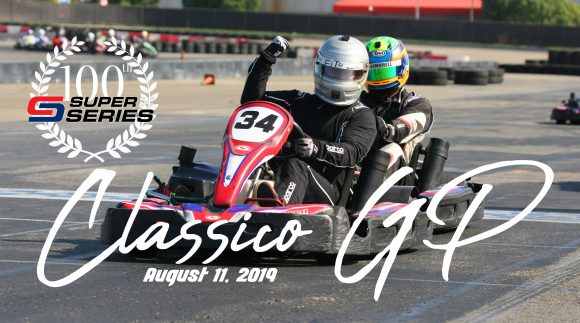 RECENT NEWS:
8/9/19: Classico GP Preview… This is obviously a special preview, not just because it is the Classico Grand Prix, but because it is the 100th Super Series event in our history. This Sunday will see the return of 4 run groups as well, as the field has been expanded to include 100 … Read More…
8/9/19: IronMan R8 Preview… This weekend's event will be the lone Sunday race on the calendar, but the 30 IronMan drivers will once again be the first ones to take to the course in the morning. This weekend's challenge is… Read More…
8/9/19: Sprint Series R8 Preview… This weekend the Sprint Series program heads to the Classico layout for Round #8, with this event kicking off the first bit of racing during the Classico Grand Prix Weekend … Read More…
8/8/19: All-Star Event Preview… Competitive Sport Karting started at CalSpeed with team endurance races between 2005 and 2009, but in 2010 it would… Read More…
8/7/19: Event Preview posted… Read More..
8/5/19: Sprint Series SOLD OUT
7/29/19: Super Series SOLD OUT
7/19/19: TinMan SOLD OUT
7/17/19: IronMan R8 SOLD OUT
5/23/2019 ANNOUNCEMENT: Classico Grand Prix Weekend Details Released: For Sport Karters at CalSpeed, the 'Classico GP' is their Monaco; their Daytona; their Indy. This is the big one… Read More..
---
General Event Schedule
*subject to change
| Friday Schedule: Unofficial Practice Day | |
| --- | --- |
| Gates Open | 9:00AM |
| Sessions Start | 10:00AM |
| Last Call | 3:00PM |
| Final Session | 4:00PM |
| Track Cold | 5:00PM |
| Paddock Curfew | 10:00PM |
| Saturday Schedule: Race Day 1 (Clinic, Sprint Series, TinMan, All Star Race) | |
| --- | --- |
| Gates & Registration Open | 7:00AM |
| Clinic Track Walk | 7:30AM |
| Clinic On Track | 8:15AM |
| Clinic Ends | 10:30AM |
| Sprint Drivers' Meeting | 11:00AM |
| Sprint Podium | 3:00PM |
| TinMan Enduro | 3:30PM |
| All Star Race Pre-Race | 4:15PM |
| All Star Race | 4:30PM |
| Post-Race Festivities | 5:00PM |
| Paddock Curfew | 10:00PM |
| Sunday Schedule: Race Day 2 (IronMan Series, Super Series) | |
| --- | --- |
| Gates & Registration Open | 7:00AM |
| IronMan Drivers Meeting | 7:30AM |
| IronMan Start | 8:00AM |
| Super Series Rookie Orientation | 8:45AM |
| IronMan Podium | 9:15AM |
| Classico GP Drivers Meeting | 9:30AM |
| Classico GP Begins | 10:00AM |
| Classico GP Podium | 4:30PM |
| CalSpeed Live! - Classico GP Weekend Edition | 5:00PM |
| Gates Close | 9:00PM |
Mixlr Livestream Broadcast
Live Timing
TBD