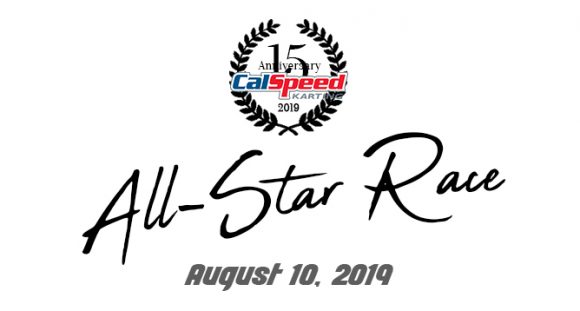 Competitive Sport Karting started at CalSpeed with team endurance races between 2005 and 2009, but in 2010 it would take on the form of head to head individual sprint racing. The Super Series started about mid-way through the 2010 calendar year, a 5 race championship that combined both a 'grand prix' champ and an IronMan champ for an overall 'Super Series' champ. In the years that followed the IronMan and the Grand Prix would become stand-alone, with the Grand Prix portion retaining the Super Series moniker, both of which now in their 10th installment.
Over the almost 10 complete seasons so far, several drivers have established themselves as some of the best in the Sport Karting business at the Fontana, CA facility, with many finding success in other levels of karting, and motorsports as well. The very first CalSpeed All-Star race will see some of these drivers do battle on a modified Classico race course, which will challenge each them in driver skill and race strategy.
The invitational-only roster pulls from prominent drivers in both the IronMan Series and the Super Series, including past champions, Classico GP winners, Masters Champs and more. In today's preview, we'll take a closer look not only at the entry list for the 2019 CalSpeed All-Star Race, but also delve into the format, and the special track that these drivers will compete on.
The Track and the Format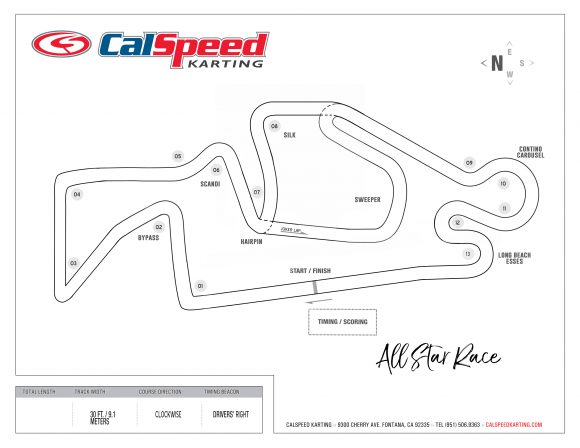 With the All-Star race happening during Classico GP Weekend, naturally our drivers will be taking to the Classico course; just with a little twist. The track is still heading in the clockwise direction, and is still mostly unchanged, save for the two complex's on either end of the Front Straight away. Starting the lap off will see the 90 degree right-hander of Turn 1 intact, however, it will not see the immediate cut back left through the bus stop; instead, drivers will head a little further down to take the Bypass corner in the reverse direction. Not a huge change, but a little something that could see some more passing opportunities prior to Turn #3.
After that, it is all standard Classico until we get to the end of the lap, and the exit of the Contino Carousel where we would normally head into the Esses. Instead of the quick left/right and onto the Front Straight, drivers will need to negotiate a much tighter -and by default slower- double 180-degree complex. This is actually a corner that had been brought up as a possible change several years ago, and it is fitting it debuts this weekend with so many old school drivers in the field. Neither of these two new sections has been run before, and none of our drivers will have a chance to test on it in advance, so the early laps especially should be interesting as they all try and figure out the best ways to attack them.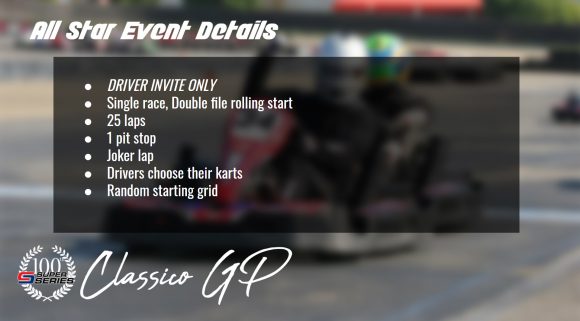 But those aren't the only new challenges they'll face; enter the "Joker Lap". Made popular in Global Rally Cross, the Joker Lap is simply just a section of the course that must be run at any point during the 25 lap event, and in the case of our All-Star Race layout, makes the track a little longer. The entry and exit of the Joker section also throw a bit of a curveball at our drivers, as it changes the speed in which they enter the following section. The entry of the Joker section is off of the Grande Hairpin in the middle of the course, typically the slowest section on Classico, but now will be a fast entry without the need to slow down. Conversely, the section ends with the Tecnico Hairpin in the middle of the back straight after the Silk corner, meaning the speed differences heading into Contino should make things interesting. Add in the fact each driver has to make a pit stop, and there will be action a-plenty for all those watching on the sidelines…
The "All Stars"
Twenty-one drivers will take to the first-ever CalSpeed All-Star race, some entering as standouts from past, while others still actively compete month in and month out. Either way, the drivers invited to this event are some of the best from the Ironman Series, Super Series -or both- with resumes that prove why they stack up as our First Class of CalSpeed All-Stars. Well, all except maybe the last two on the list…
Adam Nagao

Alexander Bermudez

Alyssa Yauney

Bill Kreig

Charles Eichlin

Chris Huerta

Darren Mercer

Diego Morales

Jon Kimbrell

Jose da Silva

KC Cook

Logan Calvin

Mark Connell

Miles Calvin

Patrick Britain

Sean Fite

Taylor Hays

TJ Blackledge

Wes Dent

Mike Smith & Derek Esquibel