Welcome To The Classico Grand Prix!
Here we are, the biggest Super Series event of the year: The Classico Grand Prix! Every championship has its crown jewel or marquee event, and for the CalSpeed Super Series, it's the once a year contest on the original course configuration at the Fontana, CA facility's repertoire. Customarily held in August, this year's GP once again will be under the late summer sun with temps closing in on the triple digit range. Arguably the toughest of the many CalSpeed layouts, drivers not only battle the elements and each other, but the track itself to find the smallest edge and perhaps the key to victory. Tomorrow marks the 9th running of the Classico Grand Prix, not only hosting a sold out field of 90 drivers that includes past champions from all three CalSpeed Series, but 5 of the past 7 different GP winners.
Get ready for one of the toughest, most exciting Sport Karting races of the year tomorrow; this one is going to be epic!
Classico: A closer look at the stage for the Super Series' biggest event…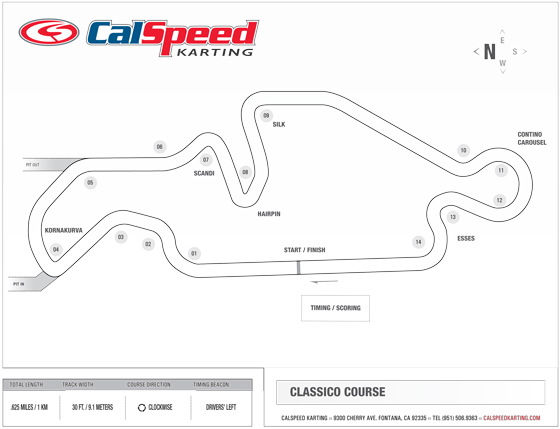 The Original configuration when CalSpeed first opened, the 14 turn, .625 mile course has had a couple of changes over the years, the first happening fairly early in its existence, and the latest one taking place this past Spring. This time around it is a repave of the infamous 'Esses' section that finishes the lap, making a once very physical and bumpy section glass smooth. This is due in no small part to the new curbs installed through the section, a pair of much smoother and less abrupt fixtures that are much more forgiving. Long time Classico purists may not enjoy the change, as it does take away the 'special' way to attack the curbs that only the most experienced knew how to do. Still, the Esses are no less crucial to putting together a solid lap, and time can be gained or lost there with every lap. I asked former Classico GP winner and regular front runner here Taylor Hays his thoughts on the 'new' Esses, and some of the keys to doing well tomorrow:
Mike Smith: Taylor, you have a ton of experience on Classico, and are a former winner and 2-time podium finisher at the Classico GP. That said, Classico is a little different now with the re-pave through the esses. You had a very strong run at the most recent IronMan race here; what is going to be the biggest key to victory Saturday, and what effect do you think the re-pave in the esses is going to have on the field?
Taylor Hays: With the added grip in the esses, there is now only legitimate passing zone, through Scandi and Grande, as it is much harder to get a run of the front stretch to get a run into Kornakurva. While it was previously possible to run flat through the esses with the old pavement, there is now a much larger margin for error, and there is no more precision on the entry. Draft still seemed to be pretty minimal, so driving through a pack will be extremely difficult. With that said, qualifying will be the most important point to this weekend, as is always the case with Classico. Starting up front makes your day much easier.
As Taylor said, qualifying will be extremely important on a track that provides very little in terms of passing opportunities, with the aforementioned Esses being a key part to that success. This year however, drivers will at least have a few more laps to get the job done, as the lap count for the 2017 GP has been increased from years prior. The heat races will be 12 laps long (up from 10), while the C and B Mains will be increased to 15 laps (up from 12). For those drivers that make the star-studded A-Main, the rolling start will kick off a 20-lap contest to crown the next Classico GP champion. That winner will get the special Classico GP trophy, as well as an event poster, to which they will be on for next year's event. If there is one race any driver in this Series wants to win, it's this one…
Classico Flashback: Eichlin scores his first career win – 2016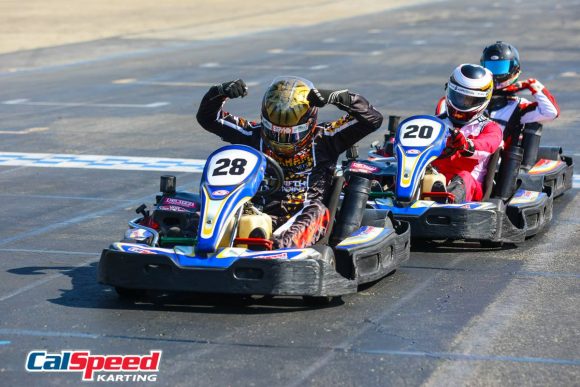 Classico has been the host to many memorable moments over the years, including close finishes, last lap moves, and first time winners. The 2016 running of the event had a little of everything, as three drivers broke away from the field to put on one of the best shows of the year. In the end it was Charles Eichlin going one better from the previous year's event, scoring his first career Super Series win at the biggest race of the year. Here is the A-Main recounted from last season's online magazine:
"Round #8 of the CalSpeed Super Series would see the prestigious Classico Grand Prix in its usual place on the calendar, and once again with some very big names looking to etch their name in the history books. When the green flag flew for the 8th running of 'The GP' it would spark what may have been the most exciting fight for the win seen yet.
Leading the way from pole for the second round in a row was Henry Morse, and along side him also with a pair of heat race victories would be Andres Prieto. The second row would see first time overall pole sitter Charles Eichlin, as well as Alyssa Yauney, who was backing up her strong Classico run from last year. Morse would control the race right from the get go, with Prieto dutifully working with him while Yauney and Charles worked to hang onto the top two in the opening laps. Those first laps weren't so smooth behind the lead quartet however, as infighting got the better of the group, allowing the front runners to pull away early. 
Instead this race would be decided from the leaders from the start, and with Eichlin finding his way by Yauney on lap four, he was able to capitalize when the top two started the fight around the halfway mark. On a place known to be tough to pass, the lead trio put on a show, the Contino Carousel and the infamous Classico Esses being the stage. Three times the trio would swap positions, each time the driver in third finding his way by the top two; on the final lap they would do it one last, exciting time. Morse had regained the lead the same way he had lost it, sneaking by both Charles and Prieto earlier as they battled each other. This time it would be Prieto on the attack again into Contino, but as he and Morse ran a little wide, Eichlin slipped underneath to make it three wide, and just barely clear Prieto as he turned left into the Esses. It was Charles Eichlin's first ever Super Series win, bettering his second in the Classico GP one year ago."
I caught up with Charles ahead of this weekend to ask about that first event, and just what it meant to win the GP:
Mike Smith: Snagging your first win must have been a huge experience; but what did it mean to do it on the toughest track of them all, Classico? Just what does it mean to you to win the Classico GP?
Charles Eichlin: Winning Classico last year was such a confidence booster for me, and I feel like the rest of the year after showed it. I had finished 2nd the year before and knew that I could have won it. So actually coming back the next year and snagging my first win on Classico showed that I have what it takes to be an overall contender. Winning on Classico itself is another feat entirely since it is such a hard layout to pass on. It is very nice to know that I'm one of a handful of drivers that have won on Classico. Now I want to become the 2nd person to win Classico more than once.
Previous Classico GP Winners:
Jon Kimbrell- 2 wins ('10, '14), 2 podiums, 5 heat wins, 10 Heat T3's, 5 Fast Laps
Miles Calvin- 1 win ('11), 2 podiums, 8 heat wins, 13 Heat T3's, 1 Fast Lap
Taylor Hays- 1 win ('13) 2 podiums, 8 heat wins, 11 Heat T3's, 3 poles, 2 Fast Laps
Sergio Bravo- 1 win ('15), 2 podiums, 4 heat wins, 10 Heat T3's, 2 Fast Laps
Charles Eichlin- 1 win ('16), 2 podiums, 2 heat wins, 5 heat top 3's, 1 pole, 4 Fast Laps
Dave Messimer- 1 win ('12), 1 podium, 4 heat wins, 5 Heat T3's, 1 pole
KC Cook- 1 win ('13), 1 podium, 4 heat wins, 5 heat top 3's, 2 Fast Laps
Smitty's Spotlight: Dennis Kimbrell – Remembering a Champion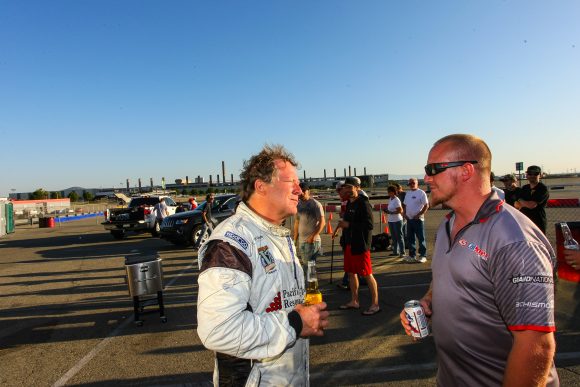 Dennis Kimbrell was a driver you could not miss in the paddock; his colorful alphabet adorned helmet, his bright smile, or intoxicating laugh were all regular signs you were at a CalSpeed event. While off track he was a superb sportsman and thoughtful community member that always had time for a chat, on track he was also one of the fiercest competitors CalSpeed had ever seen.
In the opening few years of the CalSpeed Super Series, he was perhaps better known as the father to Jon Kimbrell and Aaron Downs, two drivers that have their names firmly set in the CalSpeed record books. For the past three years however, he has shown that not only could he mentor a champion, he could be one himself. With the debut of the Grand Masters class in the 2014 season, drivers 55 years of age and up could then compete amongst themselves for a championship, instead of just trying to beat up on the 'kids' all the time. Right from the start, Dennis Kimbrell was the one to beat.
While his tenacious style may have tempered a bit over the seasons, this only made him a more focused and smarter racer, and season after season he proved to be tougher and tougher to beat in the Grand Masters class. In his career in the CalSpeed Super Series he would score a pair of heat wins, 10 heat race top 3's, and as one of the few Grand Master drivers to be able to make the coveted A-Main -to which he did multiple times- his highest point hauls would see the 300+ point range on more than one occasion. He consistently set the bar for what it took to call yourself a Grand Masters Champion, which is fitting as he is the ONLY one to win the title in its three years of existence. And as an added nod to his dominance of the category, he will most likely still be the point leader no matter what happens this weekend…
Dennis Kimbrell loved racing, loved being at the track with his boys, and loved sharing all of it with his racing family; All of us. Tomorrow we will carry on his legacy by doing the very thing he loved, with the very people he loved to do it with most with.
Race on Mr. Kimbrell, and enjoy the show.
Pro Class: Experience continues to pay off with 6th winner in as many races…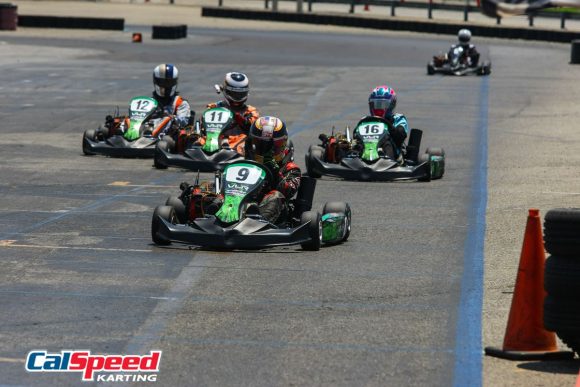 Round #7's edition of the Pro Class is sure to be an exciting one, an experience lineup will take to the toughest challenge yet this season on Classico. Ryan Curtin is hoping to extend the first-time winner streak to seven tomorrow, but he'll need to go through four other former winners to do it. Point leader Alyssa Yauney (Round 3), second in points Jon Kimbrell (Round 2), as well as round 4 winner Riley Dugan, and last months' winner Jetson Lieser make this arguably the toughest field since the opener. On a track that is difficult to pass on, getting the most out of the back-to-back practice and qualy sessions will be important, as starting up front will be a big advantage. Still, there are a lot of laps to get the job done, with 20 laps in the A-Main allowing for just about anything to happen.
In the Championship it is indeed Yauney who leads, and with Kimbrell cited to most likely miss a couple more races, it looks like hers to lose at this point. For Kimby it will be about solidifying his second spot in the standings for the long haul, with the biggest question being who could emerge with the final piece of Pro Class hardware. And speaking of hardware, scoring the win is going to be the only thing on these driver's minds tomorrow…
Top 5 Pro Class Standings (After 2 Drops)
| | | |
| --- | --- | --- |
| 1) | Alyssa Yauney | 1574 |
| 2) | Jon Kimbrell | 1526 |
| 3) | Sean Bradley | 1387 |
| 4) | Dennis Kimbrell | 1083 |
| 5) | Aaron Scott | 1000 |
Overall Championship: Classico GP brings the best in the business, possible spoilers…

Ahh the Classico Grand Prix; the one race a year where the drive to win outranks the need to score points, and the one race a year that draws more one-off racers than any other. This year has another special feel to it, with many drivers coming out to honor Dennis Kimbrell by racing this weekend, making for a very special event.
This weekend's event will indeed be star studded too, with 19 of the top 20 in points joined by some very big names making a one off appearance in hopes of coming away the spoiler. Both Calvin brothers will be here, with Miles a former winner and Logan looking for his first. Reigning Masters champion Mark Connell will be here, as well as the 5-time Masters champ Sergio Bravo. Aaron Downs will be making his first run back since round #2, while IronMan point leader Adam Nagao makes his second appearance in the Super Series this season. Regular front runners Ryan Curtin and Marcin Balazy also will be making a start, each a definite threat for the front of the A-Main when it is all said and done.
With all of the talent lined up for this weekend's event, the battle in the championship could certainly be affected, especially if a less than stellar run is the result. That said, a solid run tomorrow may just be making the mid-pack of the A-Main…
Going back to the championship, the drivers inside the top ten actually have a lot going for them heading into tomorrow. Patrick Britain is fresh off competing in Spain at the Kart World Championship where he was the highest ranking American in attendance. Taylor Hays came away victorious last month on Sportivo, and narrowly missed another IronMan win a couple weeks ago on Classico. Charles Eichlin of course is the reigning Classico Grand Prix Champion, having finished no worse than second the past two times here. These top three guys have a bit of a lead in the championship, and they certainly have what it takes to extend that this weekend. Question is, who will be on top of that point haul?
Fourth and fifth in the standings are Jon Kimbrell and Diego Morales, each out racing this weekend but both also not able to run the entire rest of the season. With no drops to either of them, they will unfortunately for sure be falling outside the hardware conversation, opening things up to those in the rest of the top 10. This group is led by Chris Huerta, but of the group, Huerta is the one that perhaps carries the least amount of momentum into tomorrow, although his 7th at the recent IronMan event showed he can definitely get around Classico. Skipping to 10th in the standings is Jake Hood, who is still waiting for a breakout run in the Super Series, but has been a monster in the 206 stuff. If he can carry that success over this weekend, we'll see that long awaited big finish.
Seventh through 9th in the standings include three drivers who also have some momentum into this weekend, led by IronMan winner a couple weeks ago, Alyssa Yauney. Yauney seems to click on the Classico layout, having been strong here over the last couple of years, finishing just off the podium in last year's GP. Sean Fite also had a very strong run in the IronMan race on this layout a couple weeks back, only finishing off the podium after the late race pit stops did not go in his favor. Last on this list is perennial overall podium contender Bill Kreig, who finished just off the podium last round on Sportivo. His strongest run of the year, Kreig will definitely be one to watch as that podium slipped through his fingers.
Classico is special, but this might be the biggest one yet…
Top 10 Overall Standings (After 2 Drops)
| | | |
| --- | --- | --- |
| 1) | Patrick Britain | 1618 |
| 2) | Taylor Hays | 1556 |
| 3) | Charles Eichlin | 1541 |
| 4) | Jon Kimbrell | 1470 |
| 5) | Diego Morales | 1432 |
| 6) | Chris Huerta | 1423 |
| 7) | Alyssa Yauney | 1401 |
| 8) | Sean Fite | 1399 |
| 9) | Bill Kreig | 1398 |
| 10) | Jake Hood | 1366 |
Masters Championship: Hood jumps into the top five after solid Sportivo round…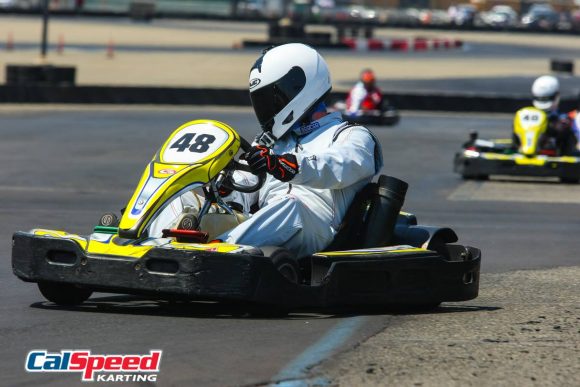 Last round I talked about how this title fight was really beginning here in the second half, as current leader Diego Morales was expected to miss more rounds this year, and therefore out of the running. Then a last minute cancellation for Jose da Silva last round made it the top two in the standings absent, and a huge opportunity to claw back some points emerged. With both of the top two drivers absent, we actually saw some different faces come away with top marks, with Jeremy Aldridge, Nathan Hood, and Chris Carter the top three scorers on Sportivo. For Hood it was enough to vault him from outside the top 5 to 4th, and just 29 points astern from a podium. When you take into account that Morales is no longer going to be factor however, that actually puts him third provisionally, and just 60 out of the lead.
And that is where things really get interesting in this class; while Morales is in attendance this weekend, the spotlight will be da Silva, Steve Spring, Hood, Alexander Bermudez and Carter -the quintet separated by just 85 points. They all have been able to score similar points throughout the year as well, with consistency being the biggest deciding factor in where everyone lies in the standings. The aforementioned Aldridge shouldn't be counted out either though; while 139 back from da Silva, he is 79 points back from a possible podium in class, and is driving better than he ever has…
Top 5 Masters Standings (After 2 Drops)
| | | |
| --- | --- | --- |
| 1) | Diego Morales | 1432 |
| 2) | Jose da Silva | 1330 |
| 3) | Steve Spring | 1299 |
| 4) | Nathan Hood | 1270 |
| 5) | Alexander Bermudez | 1256 |
Grand Masters Championship: Once fighting with Dennis Kimbrell, now fighting for him…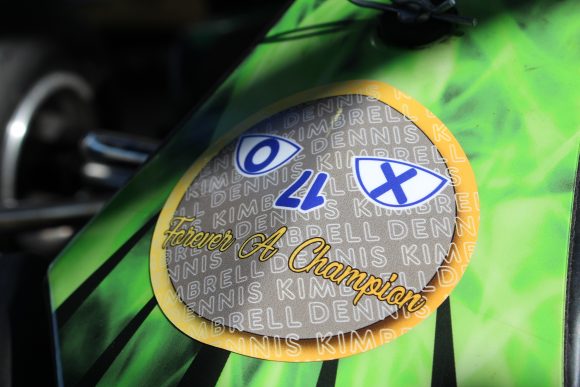 The Grand Masters drivers are fighting for an even more special honor than they could have ever imagined; to be crowned the the torch bearer to Dennis Kimbrell's legacy. Winning the Grand Masters title was already a big achievement, but to win the title this year will be even more special for the one finally crowned in November.
In what is perhaps the most fitting way to do that too, is that we have what is perhaps one of if not the closest and deepest title fights in the 2017 CalSpeed Super Series, with five drivers within nearly 100 points with 4 rounds remaining (Brian Starr is currently 6th, 101 behind Sabella). Joe Sabella and Tom Zevin have been in the podium positions for most of the season thus far, but the margin between the entire group is virtually nil. Along with Sabella and Zevin are perennial Grand Master podium contenders Jeff Latimer and Brian Starr, with 2016 rookie standout Tony Wika showing his performance last year was no fluke. Any one of these 5 drivers could win this championship, and with them routinely finding each other on course as well, it is going to be an epic run to the finish…
Round 1 in this title fight begins tomorrow on Classico!
Top 5 Grand Masters Standings (After 2 Drops)
| | | |
| --- | --- | --- |
| 1) | Dennis Kimbrell | 1041 |
| 2) | Joe Sabella | 895 |
| 3) | Tom Zevin | 884 |
| 4) | Jeff Latimer | 868 |
| 5) | Tony Wika | 866 |
Rookie Championship: Lucas Dziemidok leads emerging hardware challengers…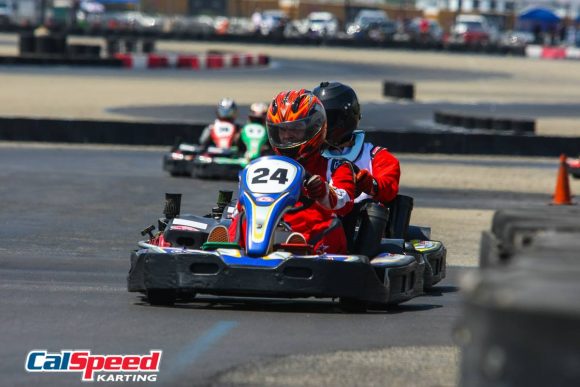 The rookie championship has been an interesting one thus far, with the focus having shifted away from who 'might' win the championship, to who will be joining TJ Blackledge on the season ending podium. Leading the way and the de-facto #2 as we head into the final four rounds is and has been Alfredo Anguiano, missing just one round this year and fresh off his career best in July. Every driver after him has missed at least 2 or more races, and it is Grand Masters rookie David LeTourneau leading that list of names, albeit by the slimmest of margins. And that is where this podium fight gets interesting; with no driver have a drop to fall back on, every single pass, every single position gained or lost affects this hardware hunt.
The top 6 in points are all in attendance, but of those on the outside looking in, there are a couple names that have been making some noise of late: Lucas Dziemidok and Daniel Eaton. Both started the season late, but both have put up very solid numbers out of the gate, and look to have a very good shot at finding the top three before the year's out. For Lucas specifically, he found the A-Main for the first time last round, nearly scoring as many points as the aforementioned Blackledge. But as is the case with a lot of these rookie battles, it is typically the drivers that do the most work that come out on top at the end, with the phrase "who wants it more" an appropriate theme. This weekend could be a turning point in this class, and it will be interesting to see where things stand once Classico is in our mirrors.
Top 5 Rookie Standings (After 2 Drops)
| | | |
| --- | --- | --- |
| 1) | Thomas Blackledge | 1297 |
| 2) | Alfredo Anguiano | 751 |
| 3) | David LeTourneau | 529 |
| 4) | Mark Sternberg | 528 |
| 5) | Lucas Dziemidok | 513 |
Sportsman Championship: New best 3 of 4 Sub-Championship debuts this weekend…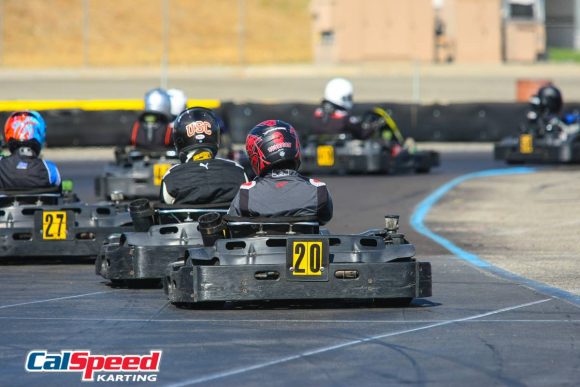 I am really looking forward to this new championship. The successor to the long running Rookie Championship for the 2018 season, the new Sportsman Championship utilizes the CalSpeed driver value system, and unlike the rookie championship drivers are eligible for more than just their first season. All Sprint Series drivers -save for the top two in the standings- are eligible for this championship, along with drivers that meet a 275 or under for our driver values based on 2017 Super Series results. Link to Eligible Drivers.
Sheng Wu looks to lead the eligible Super Series regulars on paper, while this weekend Caden Thure has entered as the lead Sprint Series driver that is eligible. This of course is just looking at who is entered this first round, and where they sit in their respective standings, and there are a lot of drivers that look very strong coming in. This is especially the case if you look at just the most recent rounds, where some drivers a little further down the point charts have actually had very strong summer months.
Aside from Wu and Thure, a couple other drivers that I think could be at the front of this first round in the championship are John Rice, Kevin Erickson, and Michael Chen. All of these guys have put up some pretty strong performances in either the Sprint Series or the Super Series, and I think could be some of the favorites to lead the way after Saturday. That said, it is round one for this championship tomorrow so everyone is tied for first in points heading in. So even if you haven't had a breakout round yet, there is no time like the present!
Heavy Championship: Jason Collins man to beat in Heavy Championship…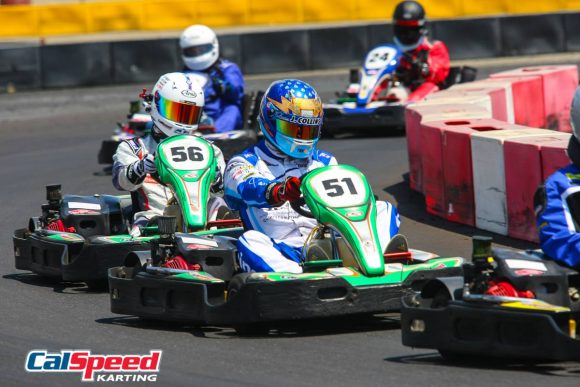 Jason Collins remains the man to beat heading into the final four races of the year, leaving Round 6 on Sportivo as the top Heavy Class finisher. More importantly are the 65 points he gained over his closest rival Michael Collins, the two the primary contenders for the championship. Rookie Jiri Dlab missed his second round of the year last month, but if his improvement over the prior three is any indication, he has a chance to close the gap on the P2 for some bragging rights.
Top 5 Heavy Standings
| | | |
| --- | --- | --- |
| 1) | Jason Collins | 865 |
| 2) | Michael Collins | 720 |
| 3) | Jiri Dlab | 465 |
| 4) | Paul Juarez | 399 |
| 5) | Steve Jasinski | 144 |
Team Championship: Cruise control for "The Boys"…


With the way the 'T4 – Boys Are Back In Town' team is running, it looks like it may be all but cruise control in the Team Championship, with the lineup of Taylor Hays, TJ Blackledge, and Chris Carter showing the way. Hays and Carter are putting up career years, while Blackledge is putting on one of the best rookie performances we have seen. From here on out it should just be 'hit your marks and let the points take care of themselves for the top squad…
Top 5 Team Standings (After 2 Drops)
| | | |
| --- | --- | --- |
| 1) | T4 - BABIT | 4098 |
| 2) | T4 Engineers +1 | 3606 |
| 3) | Glorious S. Gang | 3357 |
| 4) | JAL Racing | 3081 |
| 5) | Elite S. Gang | 3071 |