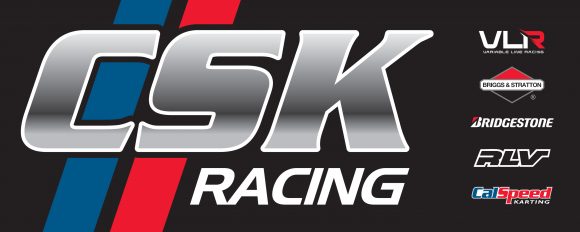 October brings the first of two Tri-C races for the month, with round #7 taking place this past weekend on the Classico Counter Clockwise circuit at CalSpeed Karting. Going into the event, CSK Racing had drivers in position to clinch the championship in all three 206 categories entered, with each class putting on a show on track. In the end, it would be an up and down day for the team, pairing wins with bad luck throughout the event…
VLR Spec 206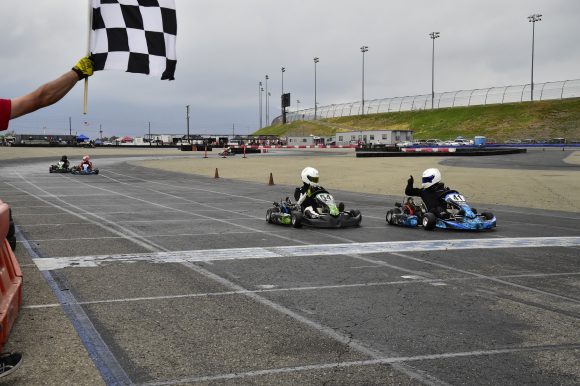 Mark Connell once again showed why he is the driver to beat in the VLR Spec class in round #7, clocking his fourth pole of the year to start the first heat race out front. It was exactly the start to the day that he wanted, looking to clinch the championship one round early over stablemate and closest competitor TJ Blackledge. He may have had pole position, but it was fellow CSK Racing driver Adam Nagao that would take things into turn #1, leading the opening couple of circuits before an electrical issue took him out of the running. Blackledge would find his way by at the same time, and it would be the 41 leading the 4 at the finish of heat 1. Heat two would see the outside row again with the jump, this time with Connell out front, a position he would hold onto for the duration of the race. For his part, Nagao would work up to third by the checkers, slotting in just behind Blackledge at the line. For the main, it was again the same three drivers at the front to kick things off, but this time it was TJ leading, with Adam sneaking past Mark by lap three. From there the top two would stretch away, while Connell battled with Lukas Dziemidok and 206 racing newcomer Evan Karp, eventually slipping to 5th. Out front, TJ Blackledge would hold off Adam Nagao to claim his fourth win of the year, while Lukas Dziemidok held on for his second podium of the season. With the win, Blackledge was able to take the championship on to the season finale, with Connell still holding an 89 point lead going in…
VLR Spec 206 Top 5 Points (Drop):
| | | | |
| --- | --- | --- | --- |
| 1) | Mark Connell | 2337 | (308) |
| 2) | TJ Blackledge | 2248 | (324) |
| 3) | Lukas Dziemidok | 2099 | (320) |
| 4) | Sean Bradley | 2052 | (316) |
| 5) | Adam Nagao | 1826 | (0) |
Senior 206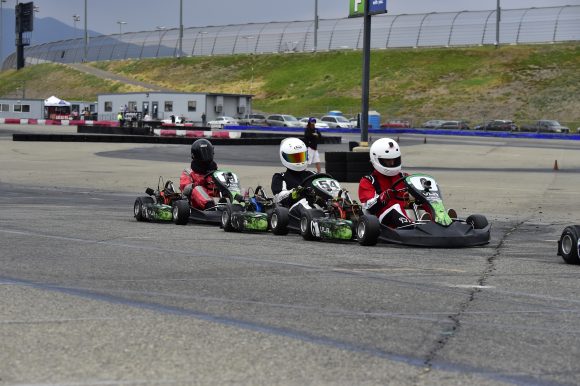 206 Senior would be a tumultuous one for the protagonists in the championship, as point leader Derek Esquibel came in with a chance to clinch, and Mike Smith a chance for second, but both would see their worst finishes of the year. The duo would go 3-2 in qualifying respectively, and after a hard fought battle for the first heat, it was Esquibel that would come out on top, with Smith settling for fourth after briefly leading. The second heat would again see the elbows-up type of racing that has been prevalent in the last couple of events, with Esquibel and Smith settling for 2nd and 3rd. The main would look to start in the right way, with Smith leading out of the gate and Esquibel slotting in behind to make it a CSK Racing 1-2 for the opening couple of laps. Unfortunately, Esquibel would receive contact that would knock him out of the running, while podium contender Riley Dugan and Drew Zeller would slip by Smith all in the same lap. Things would get turned on their head -literally- after a flip brought out a red flag, and created a 4 lap shootout for the win, with Smith starting second. Unfortunately, contact while going for a pass would knock his chain off and end his main prematurely, but it wasn't all bad for CSK Racing. Smith's bad luck was advantageous for a pair of his stablemates, as both Seth Willits -making his 206 racing debut- and Spec class standout Adam Nagao were promoted into striking distance of the podium. Willits would have 3rd on the white flag lap, but it would be Nagao stealing it away in the hairpin to score his second podium of the day. In the points it was a rough one for Esquibel, losing 57 points after getting knocked out of the main, his lead now counting just 5 markers going into the Season Finale. Smith also would lose points, and will either finish in third or fourth depending on how the last race goes…
206 Senior Top 5 Points (Drop):
| | | | |
| --- | --- | --- | --- |
| 1) | Derek Esquibel | 2269 | (332) |
| 2) | KC Cook | 2264 | (341) |
| 3) | Mike Smith | 2187 | (342) |
| 4) | Riley Dugan | 2151 | (326) |
| 5) | Drew Zeller | 2044 | (295) |
206 Masters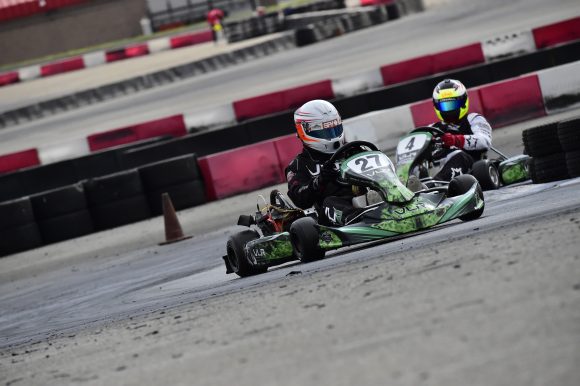 Like the other two classes, CSK Racing had a driver in position to clinch the championship an event early, this time with Team Principal Mike Smith the one in the hot seat. Unlike his trials in the Senior category, Masters had been a very good season for Smith, and the seventh round would be another one of his best. Still, there was no shortage of pressure from the rest of the class, led by teammate and reigning Masters Champ Mark Connell. Smith would score the pole position and pair of heat race wins over Connell, the latter also fighting off pressure from CSK Racing stablemates Jose da Silva, Lukas Dziemidok, and Sean Bradley. In the Main, it would once again be Smith out front, pushing to try and stay ahead of the chasing quartet, with Connell again leading the charge. This time, however, it was Lukas who would be on the move, working up from 5th on lap one, dispatching Bradley, and then da Silva before taking over the second spot from Connell by lap seven. That infighting was enough for Smith to grow his advantage to a comfortable margin, scoring the win, and with it the 2018 206 Masters Championship. Lukas Dziemidok would also be able to pull away a bit, coming across second for his best finish of the season, while Jose da Silva earned the same feat by bringing home his first podium with third. For his part, Mark Connell would also lock up the second spot in the standings via his top-five finish, leaving the final podium spot to be decided by CSK Racing stablemates Lukas Dziemidok and Sean Bradley, sitting just 10 points apart heading into the Season Finale…
206 Masters Top 5 Points (Drop):
| | | | |
| --- | --- | --- | --- |
| 1) | Mike Smith | 2430 | (383) |
| 2) | Mark Connell | 2235 | (324) |
| 3) | Lukas Dziemidok | 2114 | (330) |
| 4) | Sean Bradley | 2104 | (299) |
| 5) | Steve Jasinski | 2011 | (302) |
CSK Racing would like to again thank all of their customers for coming out to round #7 for the 2018 Tri-C Karters season, and we're looking forward to the Season Finale on the Tecnico configuration on October 27th, followed by the Awards Banquet immediately after the races. Want to get in on the fun? Hit us up to get on track in one of our rental packages, or inquire about how you can get coaching from some of the best in the 206 business. And remember, CSK Racing offers VLR kart and part sales trackside at CalSpeed Karting, so feel free to contact us for all your VLR needs!
CSK Round 7 Line-Up