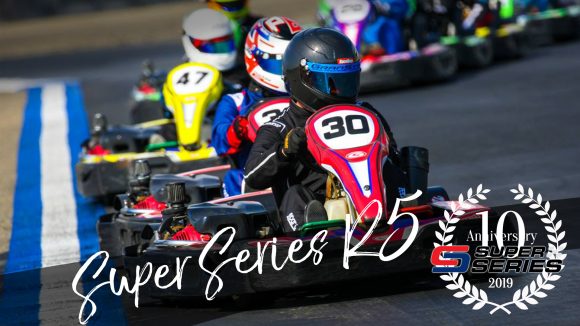 Tecnico would play host to the fifth round in the 2019 Super Series championship, the first of two times the marquee series would see the challenging layout this year. Typically a place where the more experienced drivers thrive, this round would again see a new face split a pair of veterans once the final checkers fell…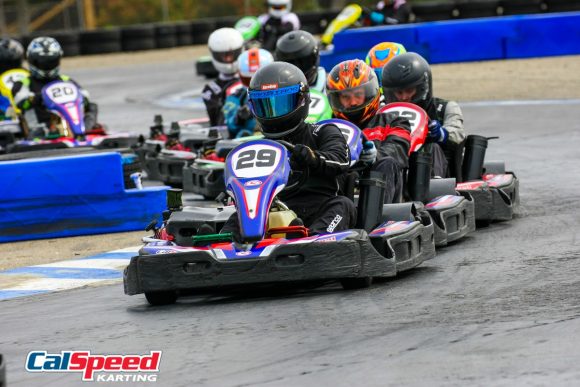 Leaving right where he left off a month ago, round #4 winner Bill Kreig secured his 5th career pole position in green/white/checkered qualifying, with 2019 standout qualifier Adam Nagao in 2nd, and title contender Paulo Franca in third. The trio would lead their respective heat races away at the green, but none of them would cross the line first at the end of them; instead that honor would go to Sam Hunt, Diego Morales, and Jose da Silva. The second heat would of course see the top ten inverted, this time with a different trio of drivers coming out on top. Although a big name in sport karting, it had been an almost 2-year hiatus for Aaron Downs– his heat win showed he hadn't lost a step. 2018 champ Alyssa Yauney and series veteran Taylor Hays would secure the final two heat victories, the latter running one of his last events of the season ahead of a move back east.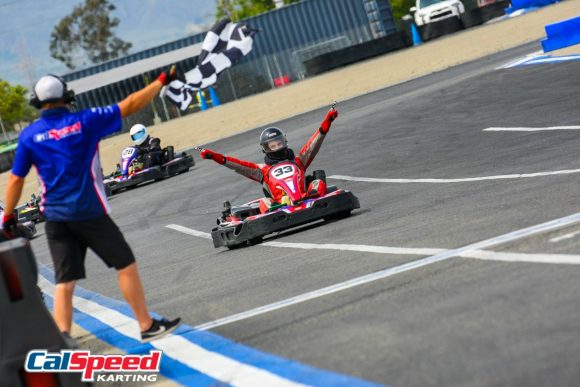 The main events would kick off with the C-Main, with Chaofan Hou leading the field at the start, but not through the first few corners. Brad Harvey would have that honor instead, however that wouldn't last to the end of the lap, as Chaofan countered to take the lead back. It wasn't just a mano-e-mano affair however, as Bryan Schubert made his presence known early, moving from third to second on lap 3, before taking over the lead on lap 4. From there it was all Schubert, assisted slightly by the infighting going on behind him, he cruised to a C-Main win at the end, and with it the B-Main transfer.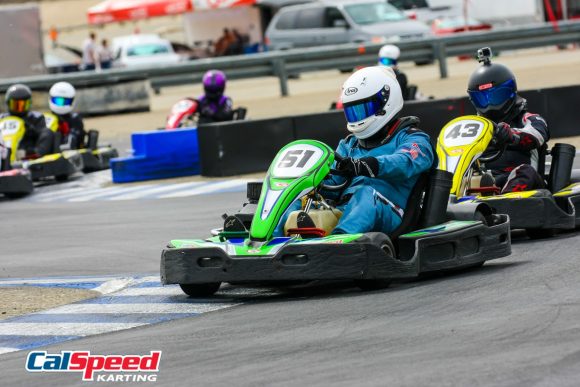 The penultimate main of the day would see newcomer Mike Carlson in position number one at the start, commanding a field of thirty that all wanted that final transfer spot out of the B-Main, and into the big show. Unfortunately for the new guy, he had a lot of experience right on his doorstep, as former Sprint Series champ and Super Series rookie of the year TJ Blackledge made short work to get into the lead. To his credit, Carlson would hang tough for the next few circuits, until up and coming talent Scott Milne took over the runner up spot with about seven laps to go. Milne would take the fight to Blackledge all the way to the flag, keeping the pressure on, coming up just .084 seconds short at the line.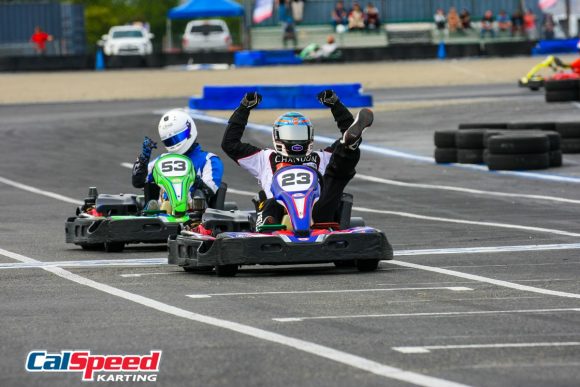 As we have seen ever since the start of the 10-driver invert, consistency pays better than just scoring a single heat win, and Paulo Franca proved this point with the A-Main pole position via a pair of 2nds. Sam Hunt would line up along side with a heat win and a third, while Adam Nagao slotted into third with a pair of top threes, with heat race winner Diego Morales completing the second row. The driver to watch would be Morales, the veteran slotting into third early, biding his time while both Franca and Hunt traded the top spot throughout the opening laps. By the halfway point Morales saw a chance to move forward, taking the fight to the younger driver, with Hunt dutifully taking up the position of pusher. Morales would waste no time going for the lead however, and would find his way past Franca just a lap later, slotting into second. The trio would stay nose to tail for the next few laps until Hunt found his way past Franca, once again throwing out the tow hooks to solidify his spot in P2. With Morales leading and Hunt pushing, the duo would be able to gap Franca, cruising to a 1-2 finish, while Franca secured his second podium of the year. It would be career podium number one for Hunt, and the 6th career win for the veteran Diego Morales…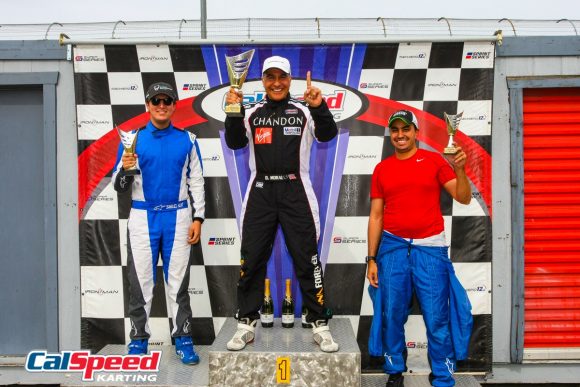 Super Series A-Main Top 10-
| | |
| --- | --- |
| 1) | Diego Morales [M] |
| 2) | Sam Hunt |
| 3) | Paulo Franca |
| 4) | Taylor Hays |
| 5) | Jose da Silva [M] |
| 6) | Adam Nagao |
| 7) | Alyssa Yauney |
| 8) | Chris Huerta |
| 9) | Spencer Russell [S] |
| 10) | Sean Fite |
Point Standings after 2 Drops (Best Drop)
| | | | |
| --- | --- | --- | --- |
| 1) | Sean Fite | 1154 | (360) |
| 2) | Patrick Britain | 1139 | (0) |
| 3) | Paulo Franca | 1128 | (333) |
| 4) | Diego Morales [M] | 1125 | (0) |
| 5) | Jose da Silva [M] | 1108 | (338) |
| 6) | Bill Kreig | 1087 | (340) |
| 7) | Adam Nagao | 1077 | (304) |
| 8) | Sam Hunt | 1075 | (307) |
| 9) | Chris Huerta | 1050 | (330) |
| 10) | Taylor Hays | 1048 | (302) |