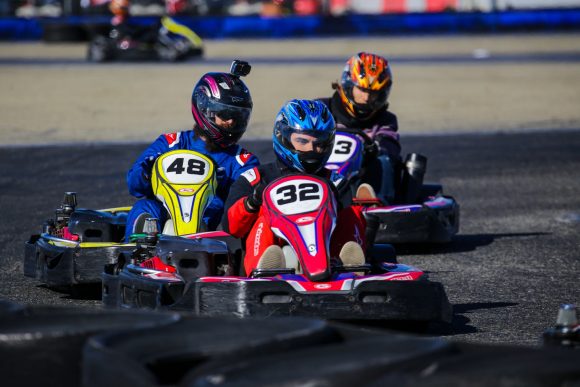 Announced last week, CalSpeed is proud to now offer the perfect way for new, local drivers to try out wheel to wheel racing at the Fontana, CA facility: The Grand Prix Series. The new entry-level competition is a four-race championship happening once a month from May through August, running on a Thursday evening from 5pm-7pm. With an optional practice, followed by a group qualifying session and then a 10-lap race, this series is the start of the sport karting ladder, with the popular Sprint Series and Super Series the next steps up. The first evening program at CalSpeed, this series is geared towards people living local and what to get some racing in after work. Live in the Inland Empire and are looking to try out sport karting or hone your skills to work up the ladder? The GP Series is the perfect place to do it!
The inaugural season will be a 4-race championship with 1 drop, with the winner getting to race on us at the Sprint Series Finale on October 15th! Here is the full schedule, and the track layouts they will be racing on:
Round #1 May 26 Tecnico
Round #2 June 16 Sportivo
Round #3 July 21 Nuotivo
Round #4 August 18 Classico
Round #1 is in 3 weeks on Thursday, May 26th with registration already underway. There are limited seats available, so be sure to reserve your spot today!
Registration Link: https://calspeed.configio.com/search?cid=498